Freelancing
How to Start Freelance Writing: The Beginner-Friendly Guide
Wondering how you can tap into the booming content marketing market as a writer? Here we share everything you need to know on how to start freelance writing today.
BONUS MATERIAL: MILLION DOLLAR EMAIL TEMPLATES
30 email scripts used and curated by Sumo and AppSumo to help develop business and client relationships.
Download Now
Content marketing is booming.
And you're wondering how you can tap into the opportunity.
In this post, you'll learn how to start getting paid as a freelance writer. I'll show you a roadmap from A to Z — everything you need to start a freelance writing career.
Let's go!
1. Ruthlessly Niche Down
The most common mistake freelance writers make when starting out is trying to serve an overly broad niche or, even worse, trying to serve multiple niches.
I get why. You want to increase your chances. It makes perfect sense. But here's why it's the wrong approach. When you're just starting out, you have no reputation. Zero credibility.
Are you really good at writing long-form articles for B2B tech startups, advertorials for wellness brands, OR investigative pieces on global affairs?
So how do you carve out the niche you want to serve?
Think about it like this: the right niche lays in the crossroads between your interests, knowledge, and experience.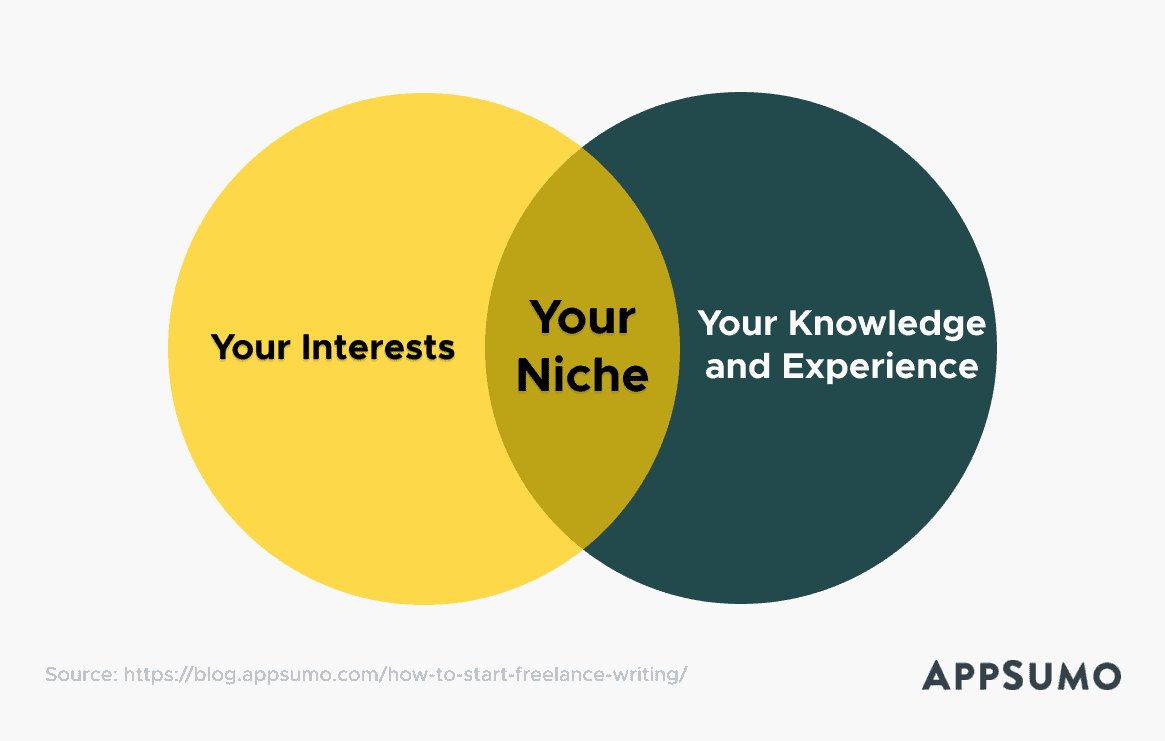 Here's a simple 3-step process to finding your niche:
List All Your Interests
Open your notes app and start listing all the things you really enjoy learning/reading about. Ask yourself, "if money were no object, would I continue being interested in these topics?"
If you don't have anything super specific you can think of, that's even better. Keep the topics rather broad as you list them.
List Your Experience and Expertise
The second step is all about listing what you know and have experience with. Ask yourself the questions below and list your answers. You should be looking for an overlap between your interests and your knowledge and experience.
What did you study in college?
What jobs have you held? What did you learn and what can you teach someone else?
What is your primary skillset?
Market Research
Your research should be focused on validating your interest (or passion) with an actual need people are willing to pay for in the market.
The easiest way is by searching for other writers in the same niche. If you can't find one, it's likely that there's little to no demand for that particular niche.
Here's an example of a search in my niche (Software-as-a-Service). There are a ton of results. Ka-ching!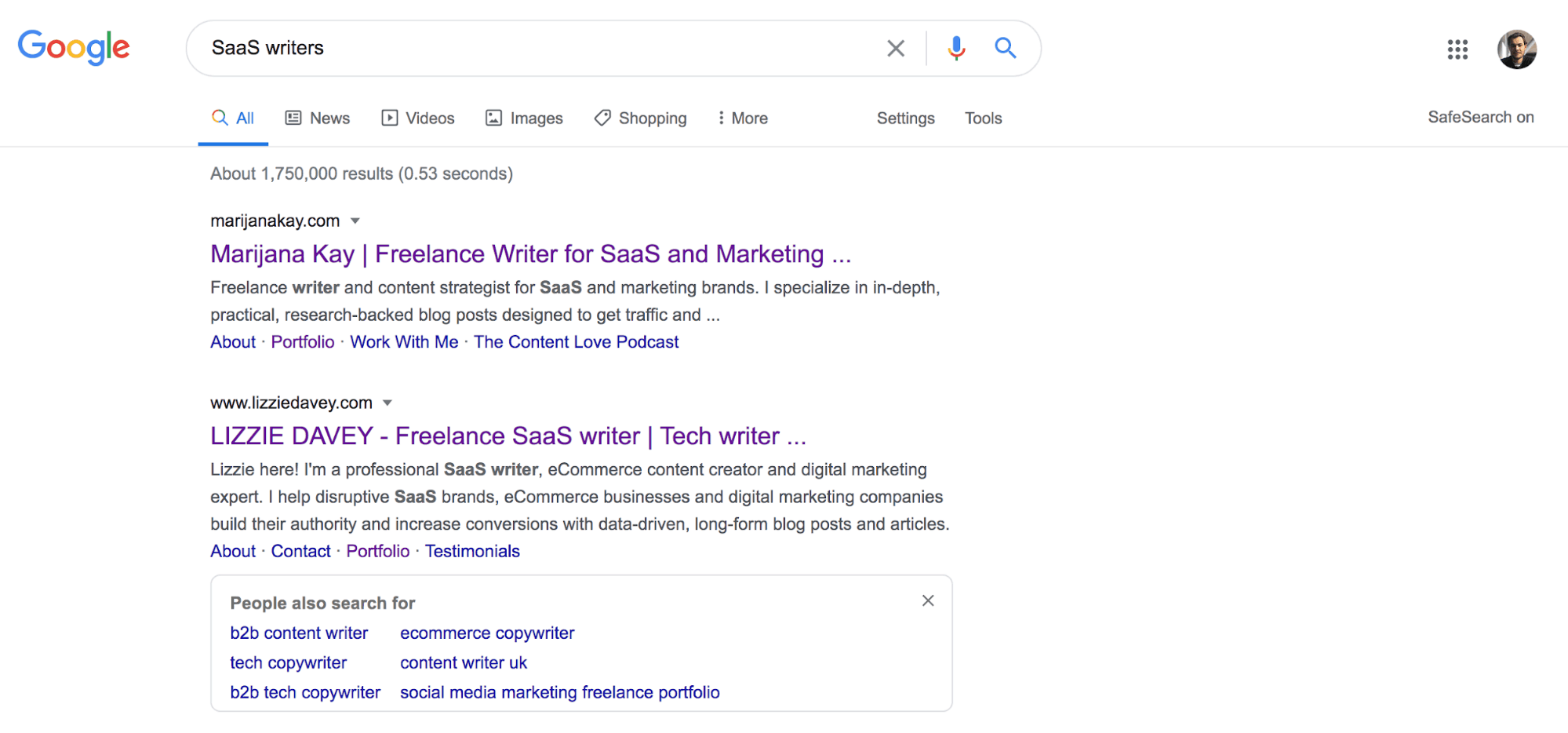 Now that you've identified your niche, it's time to start writing so you have a writing portfolio.
2. Work for Free to Build Your Writing Portfolio
Let's be honest — if you don't have any work to show for it, your chances of landing a decently paid gig are pretty slim. Imagine an ideal world where people approach you and say:
"Hello there. I heard you were thinking of writing something, someday and I'd love to pay you to see where that could lead." 
That's the mindset many people who want to write for a living are stuck in. Unfortunately, it doesn't come close to reality.
The best way to build your writing portfolio and get exposure for yourself at the same time is through guest posting. I'd argue guest posting is the most important thing that helped boost my freelance writing career.
Here's how to get started.
Build Your Dream 100 List
The dream 100 is a simple concept. All it involves is listing the top 100 people or companies you want to guest post on and want to work with.
The template is divided into two sheets:
Your dream 50 guest posting opportunities;
And your dream 50 clients.
The same exact concept applies to both. There will also potentially be some overlap between the two lists.
Create a spreadsheet with the following columns:

Name of site.
Blog URL.
Guidelines (The publishing or guest posting guidelines of your targeted sites)
Name of contact. (Name of the site editor or blog manager)
Email of the contact
Find Sites to Submit Your Guest Posts
The easiest and fastest way to find guest posting opportunities is to use advanced Google search queries. Here is a list of search queries you can use:
keyword + "add guest post"
keyword + "become a contributor"
keyword + "become a guest blogger"
keyword + "become a guest writer"
keyword + "become an author"
keyword + "contribute to our site"
keyword + "guest post by"
keyword + "guest post guidelines"
keyword + "now accepting guest posts"
keyword + "submission guidelines"
keyword + "this guest post is from"
keyword + "this guest post was written"
keyword + "this is a guest article"
keyword + "this is a guest post by"
keyword + "want to write for"
keyword + "write for us"
keyword + inurl:guest-posts
keyword + inurl:write-for-us
All you need to do is to copy the search query and replace the "keyword" into your targeted keywords.
In my case, my keyword would be a variation of "Software," something like "B2B tech," or "Marketing tech," and so on. This will ensure that the guest posting opportunities you find will be consistent by the niche you chose.
Here's an example of one of the search queries in action: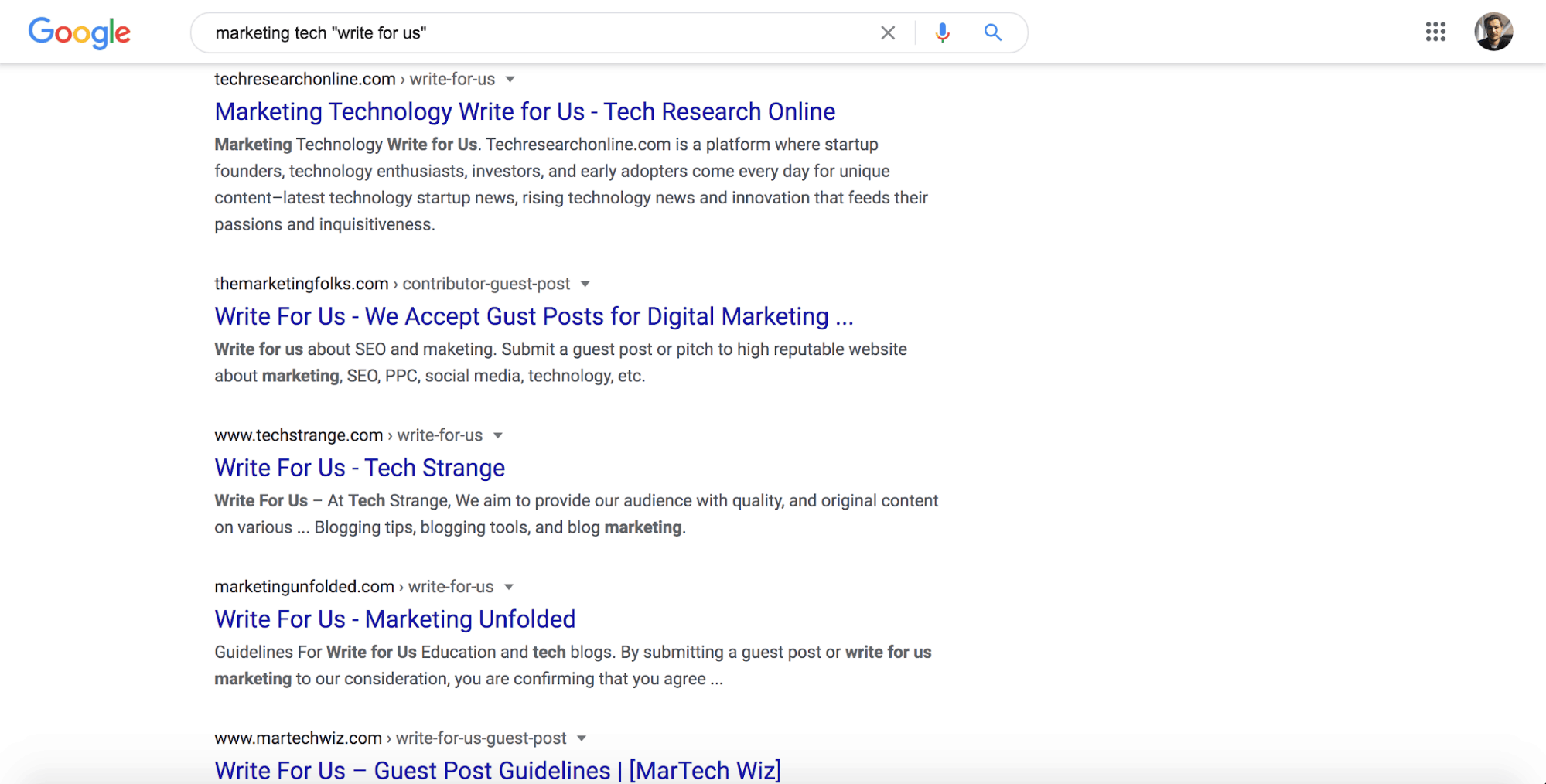 I recommend getting at least 25 sites on your list, but you should aim at getting the full 50.
Find the Email Addresses of the Person In Charge
To do this, you'll need to use two tools: LinkedIn and Find That Lead (available as an AppSumo lifetime deal at $49).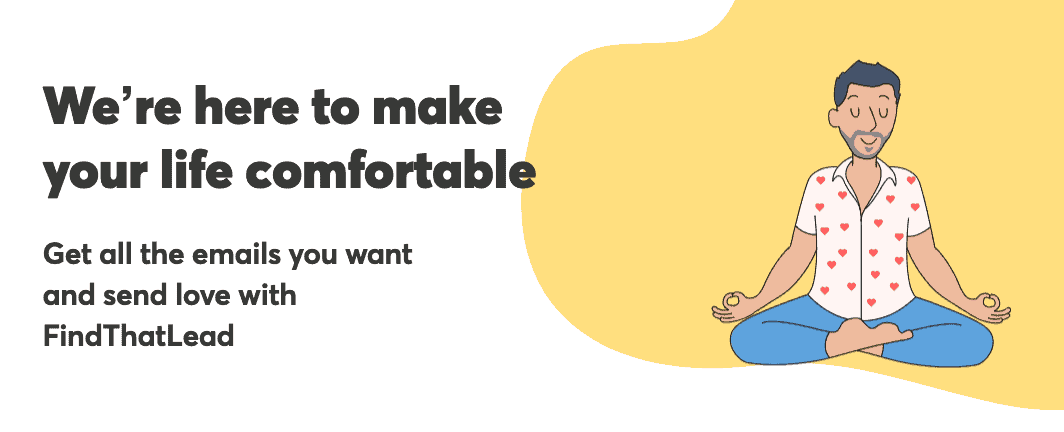 Source: FindThatLead
Let's take an example from my Dream 50 using the first site listed — ConvertKit.
Go on LinkedIn and search for the company. Click on the company to go to their page. You'll see this: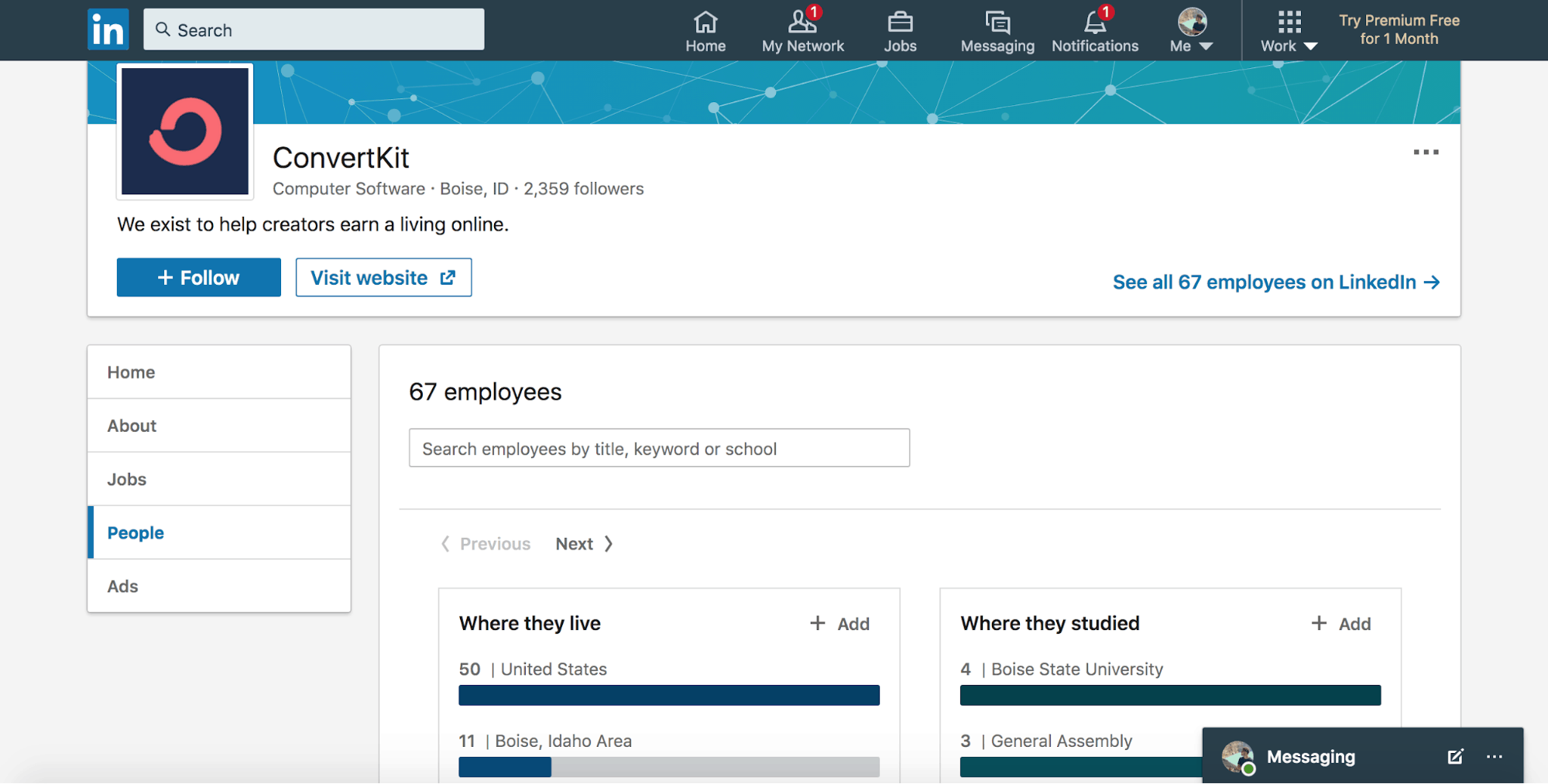 Then, click on People and search for the person in charge of content (content manager, editor, content specialist, etc).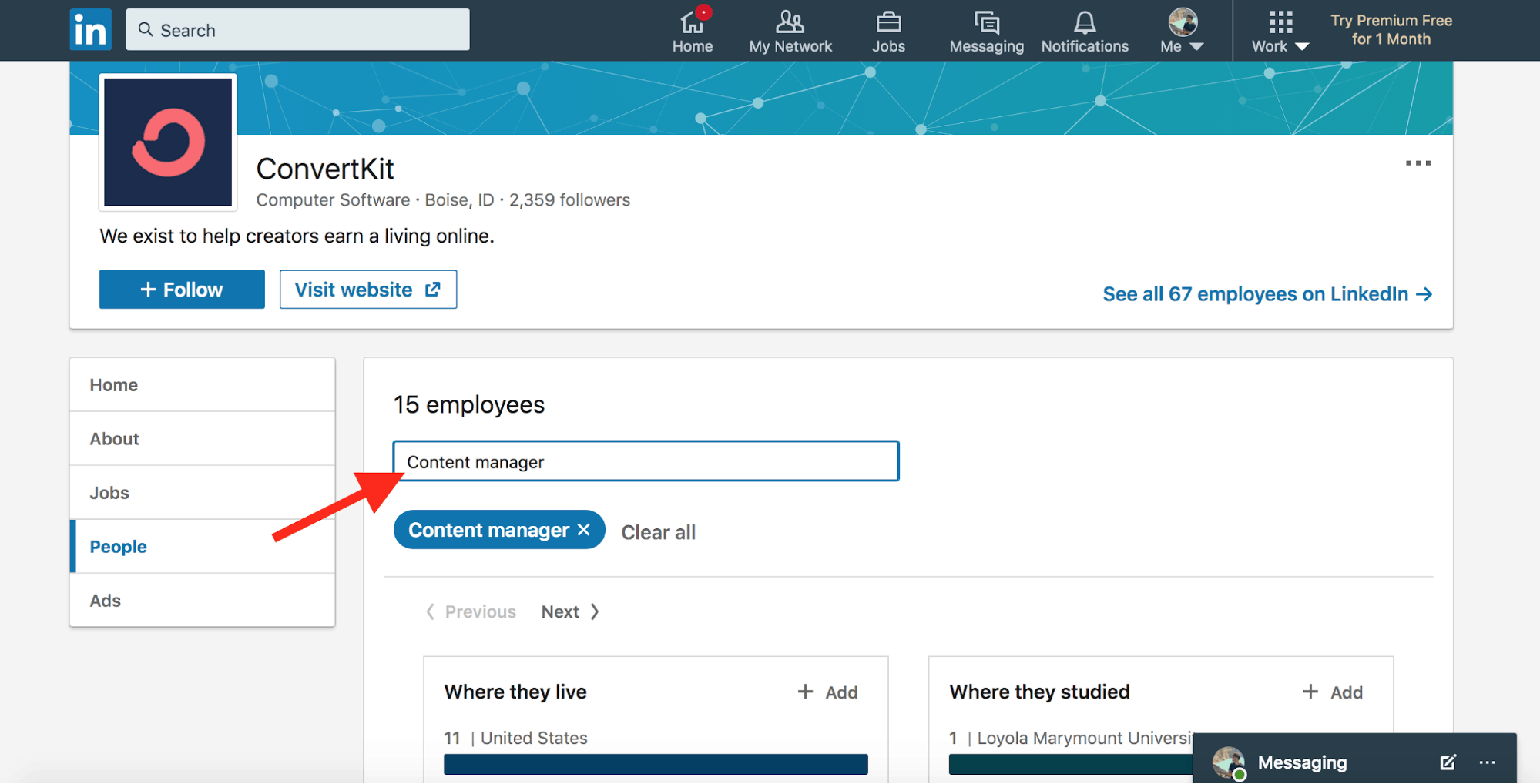 If you can't find a content manager, you can also use other search queries like "editor" or just "content" to keep it broad. Here are the targets from my search: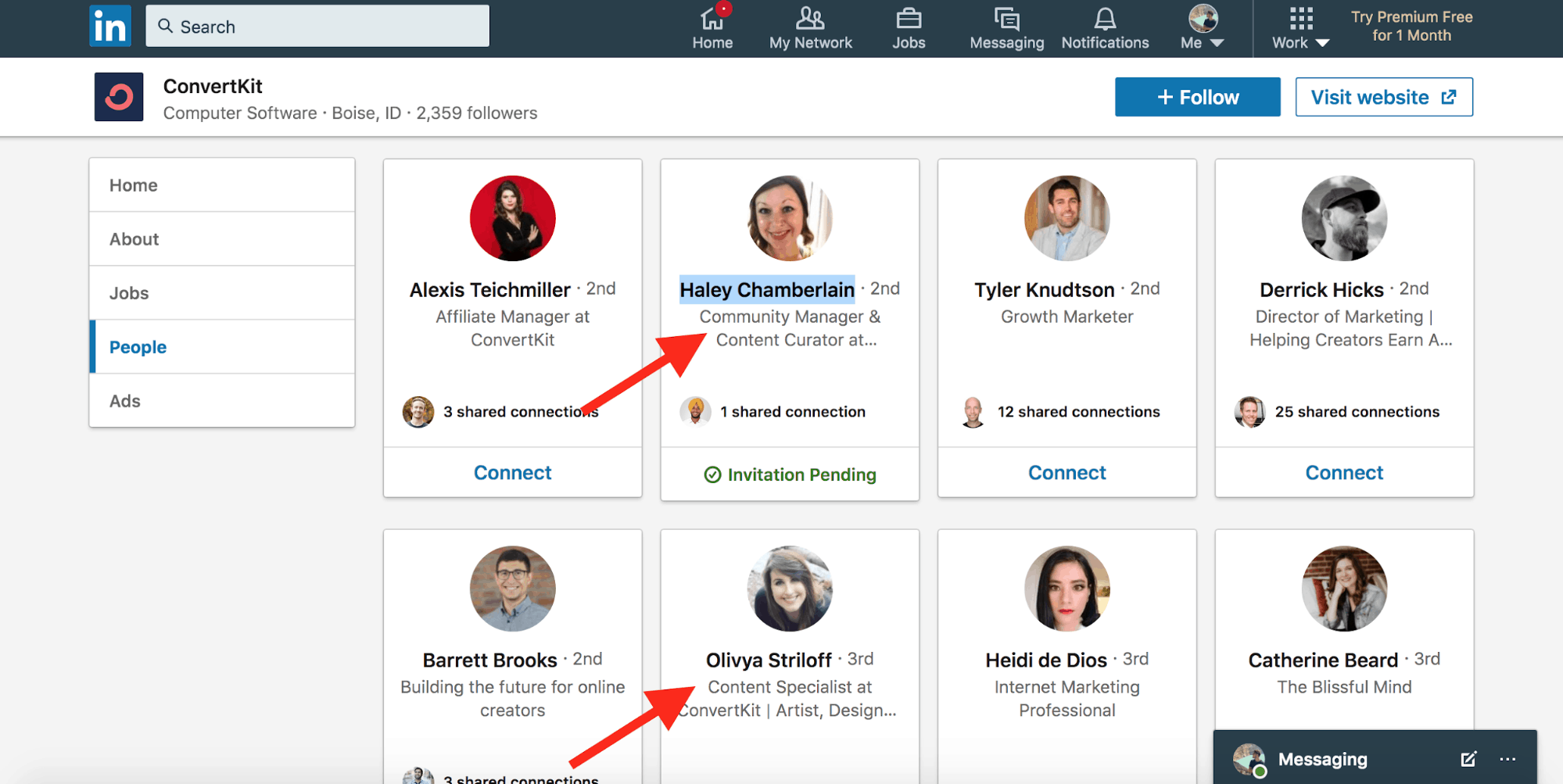 Two relevant results. Not too shabby. Now let's use FindThatLead to find their email addresses.
Log into FindThatLead and copy-paste the contact person into the NAME text box. Type the company name or their URL into DOMAIN OR COMPANY NAME field and hit search.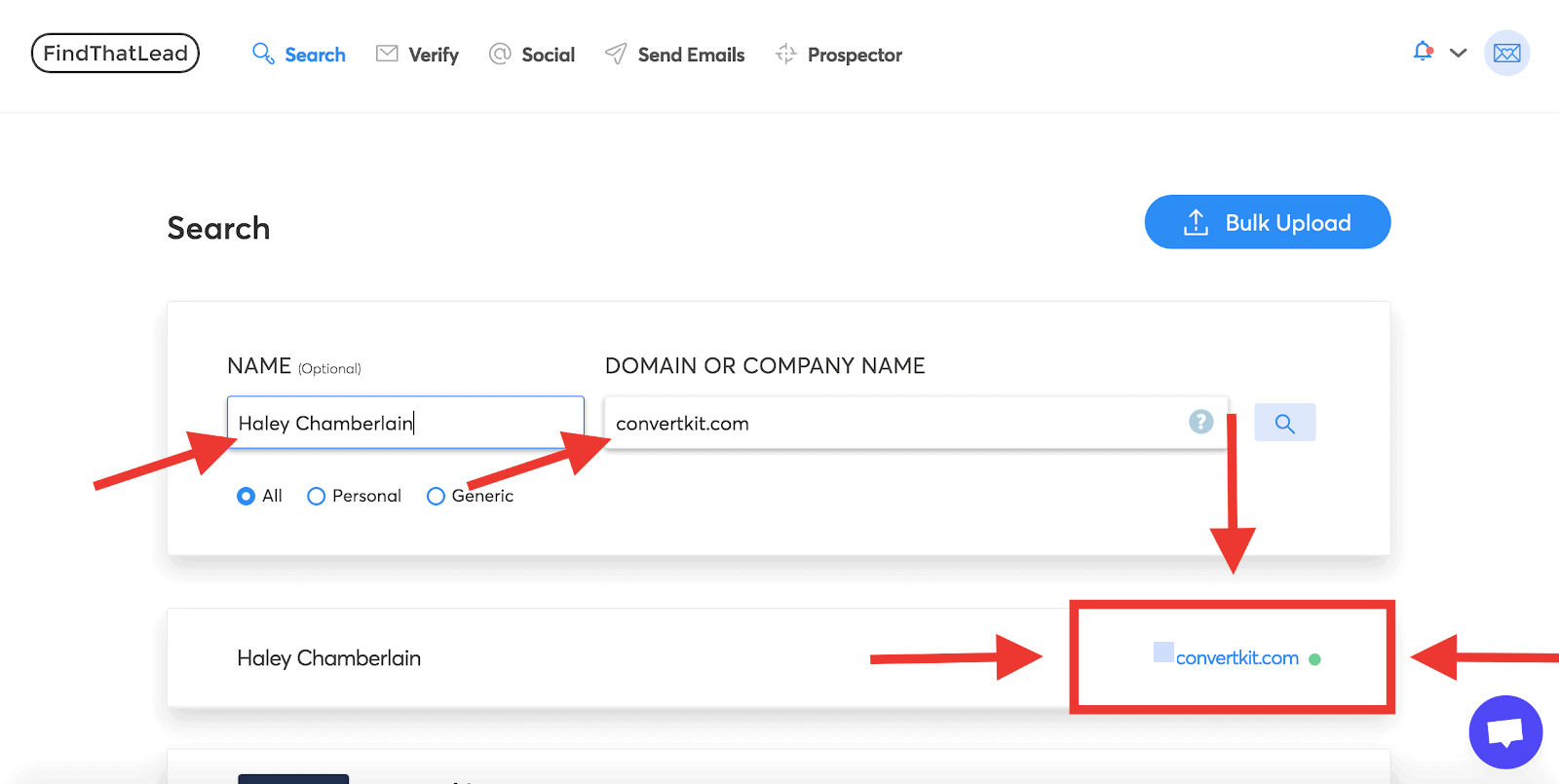 Voila. You now have their email address.
Do this for all the sites on your list using FindThatLead and fill in the Dream 50. Once you have your list ready, you can start pitching. Before we get into how to craft your pitch, let's briefly talk about cold outreach.
Pitch Your Guest Posts
Here's an example of a pitch I received that shows you exactly how you shouldn't go about your pitch.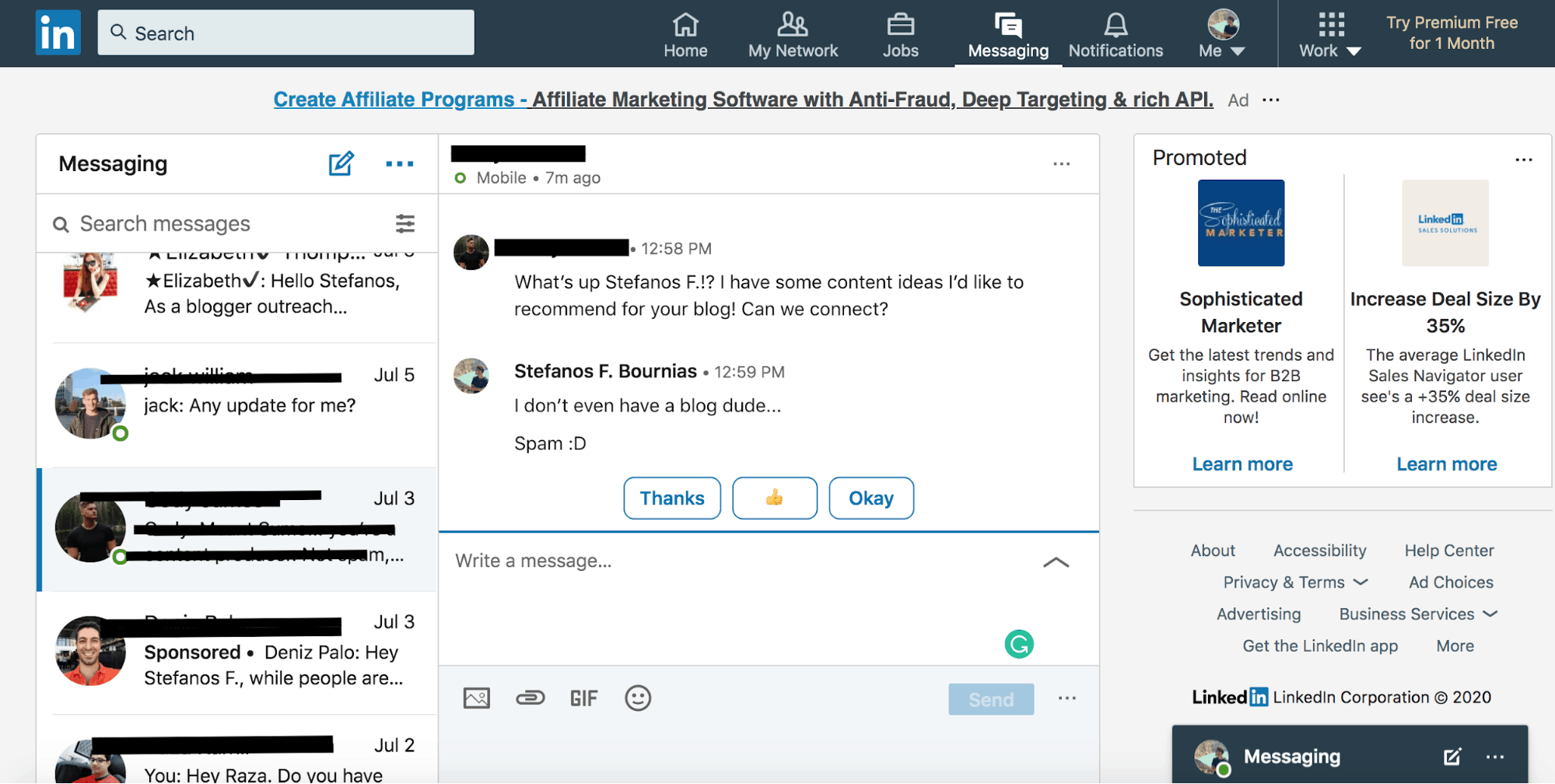 The pitch itself isn't terrible. It's short and to the point and he's asking for permission to connect. But he hasn't done his research. I don't even have a blog, so I know he hasn't done any homework on me or what I do.
I can safely assume that he's spamming everyone with this message — the good ol' spray and pray strategy.
Which brings us to the #1 rule before you even reach out to an editor: Do Your Research.
Not sure how to craft your pitch for cold outreach? Go to AppSumo and download our Million Dollar Email Templates PDF for free.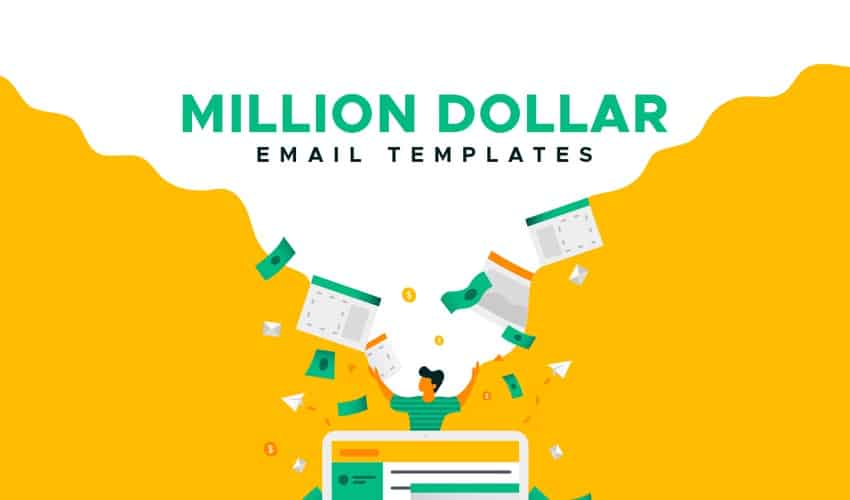 Source: AppSumo
The PDF comes with three email templates that help you to nail a guest post opportunity and many more that you'll be using on your freelance writing journey.
3. Set Up Your Writing Portfolio Page
The job of your portfolio is to tell potential customers, "Here's who I am, what I can do, and how I can help you with your business."
And the golden rule for freelance writers is "show, don't tell."
I use Contently to create my writing portfolio for free, and I'll show you how to do that below.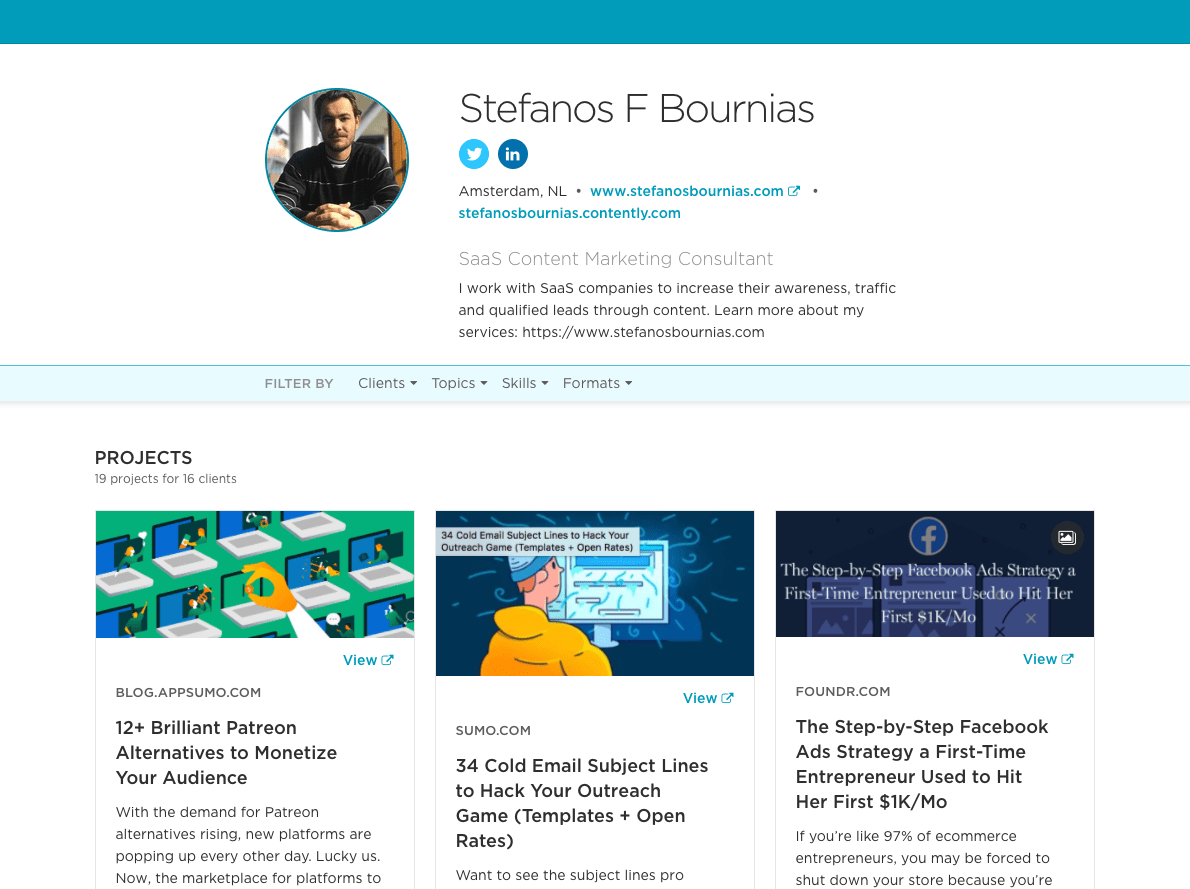 Note: If you already have one, feel free to jump to the next steps. Otherwise, let's start from scratch.
Make a List of Your Past Work 
Before you can build your writing portfolio, you want to make a list of all the content you've ever written. Ideally, it should be content related to the niche you selected.
For every guest post you've published using the previous step, copy and paste the URL to a spreadsheet. We'll come back to this later.
Next, go on to Contently and click on "Freelance with Contently" and follow the instructions to set up your account.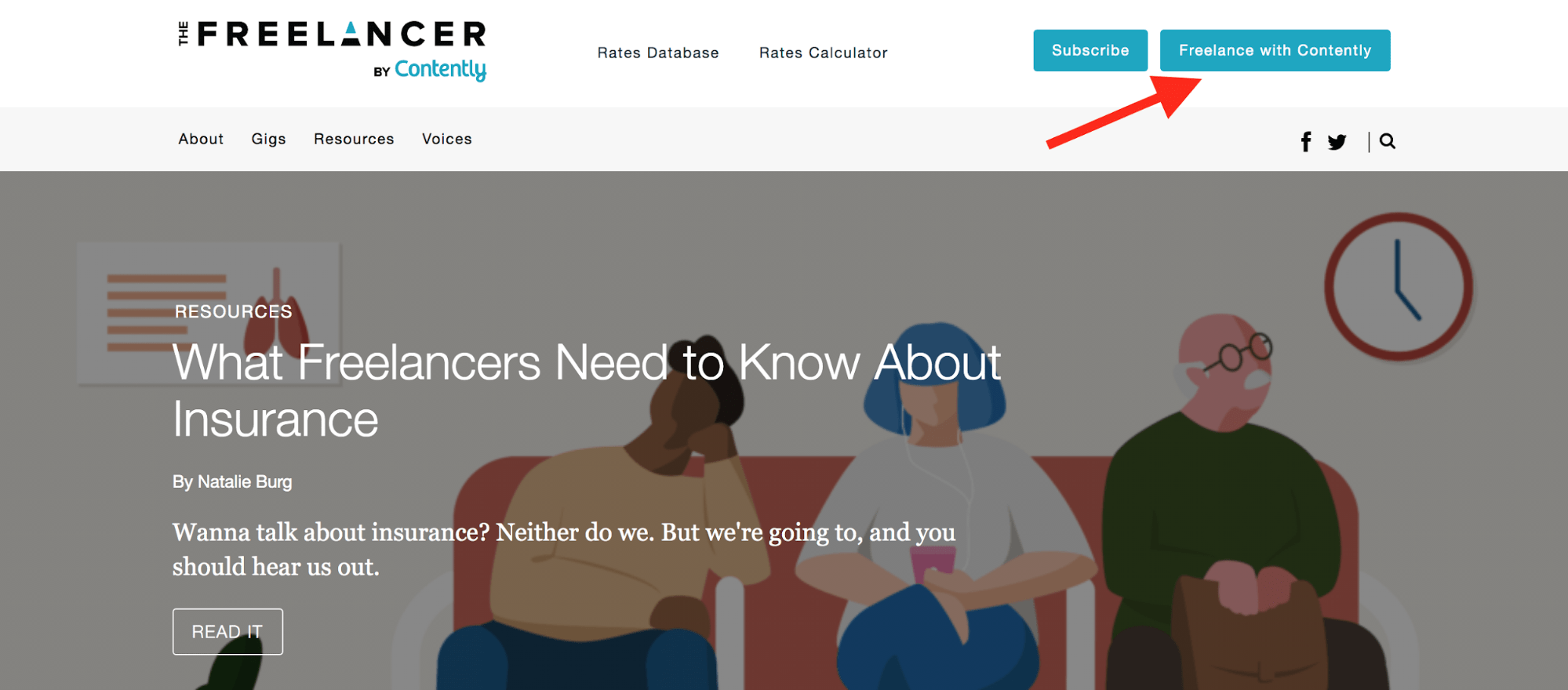 Now that you've created your account, you need to set up your writing profile.
Set up your writing profile
I showed my writer's profile on Contently earlier, but I'll pull it up again so we can break it down.

Adding images, a link to your website (it's okay if you don't have one), and social profiles are all straightforward. What I want to really emphasize here is your title and description. Think of these as your primary value proposition. You really want to nail them.
For your title, simply explain: 1) what you do and 2) for whom.
For your description, you want to add a succinct sentence for clarification. Think of it as an extension of your title.
There's no need to overcomplicate this. The only thing I added that makes it more powerful is the outcome — "increasing awareness, traffic, and qualified leads." Ultimately, that's what content marketing is all about.
The reason someone is paying you is they're expecting some form of outcome. The clearer you can be on that outcome, the better.
Add Your Work to Your Portfolio
Remember the spreadsheet with a list of work you've published? Now that you have your writer's profile set up, you want to start adding work to it.
To do so, go on your Contently portfolio and click on "Edit or add projects."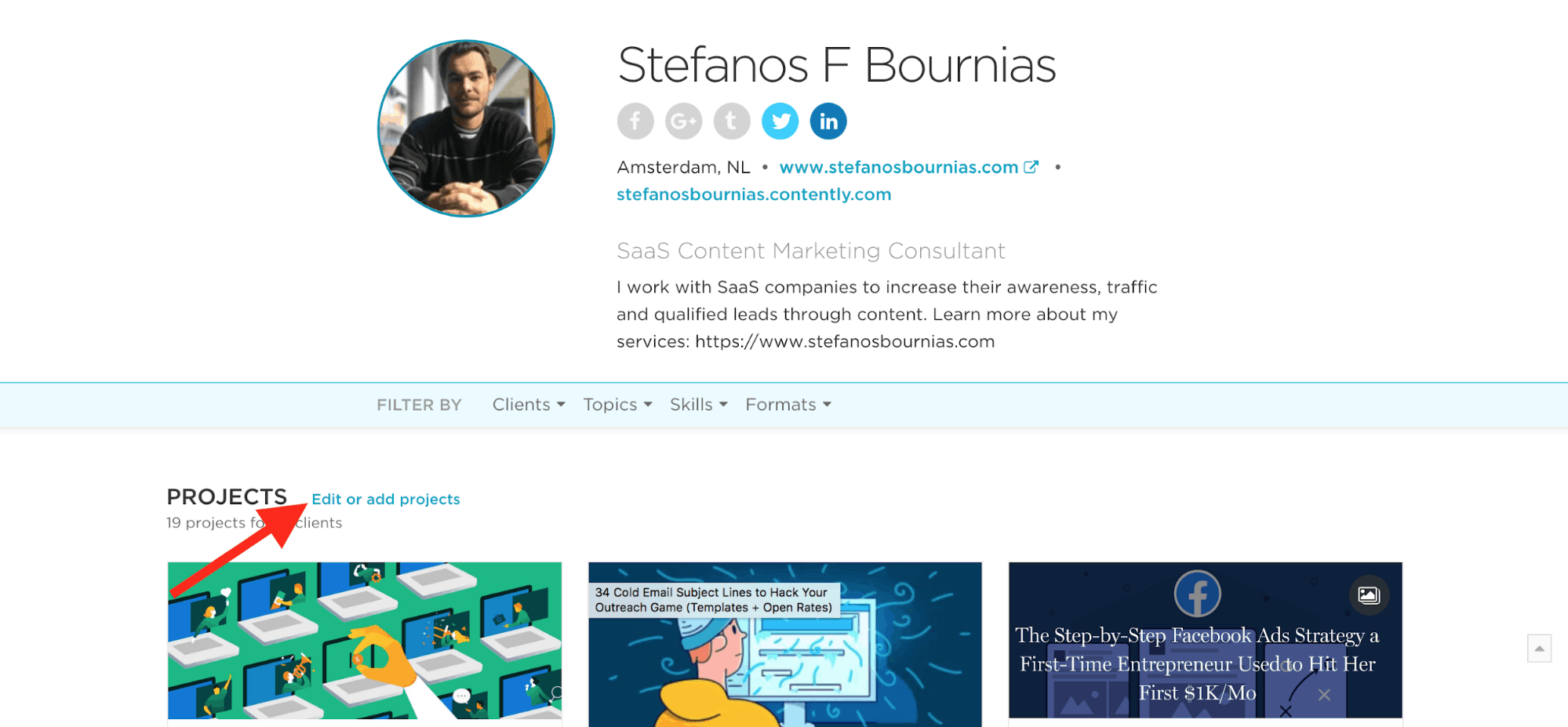 Then, click on the + on the right-hand side and click on "Import from a single URL."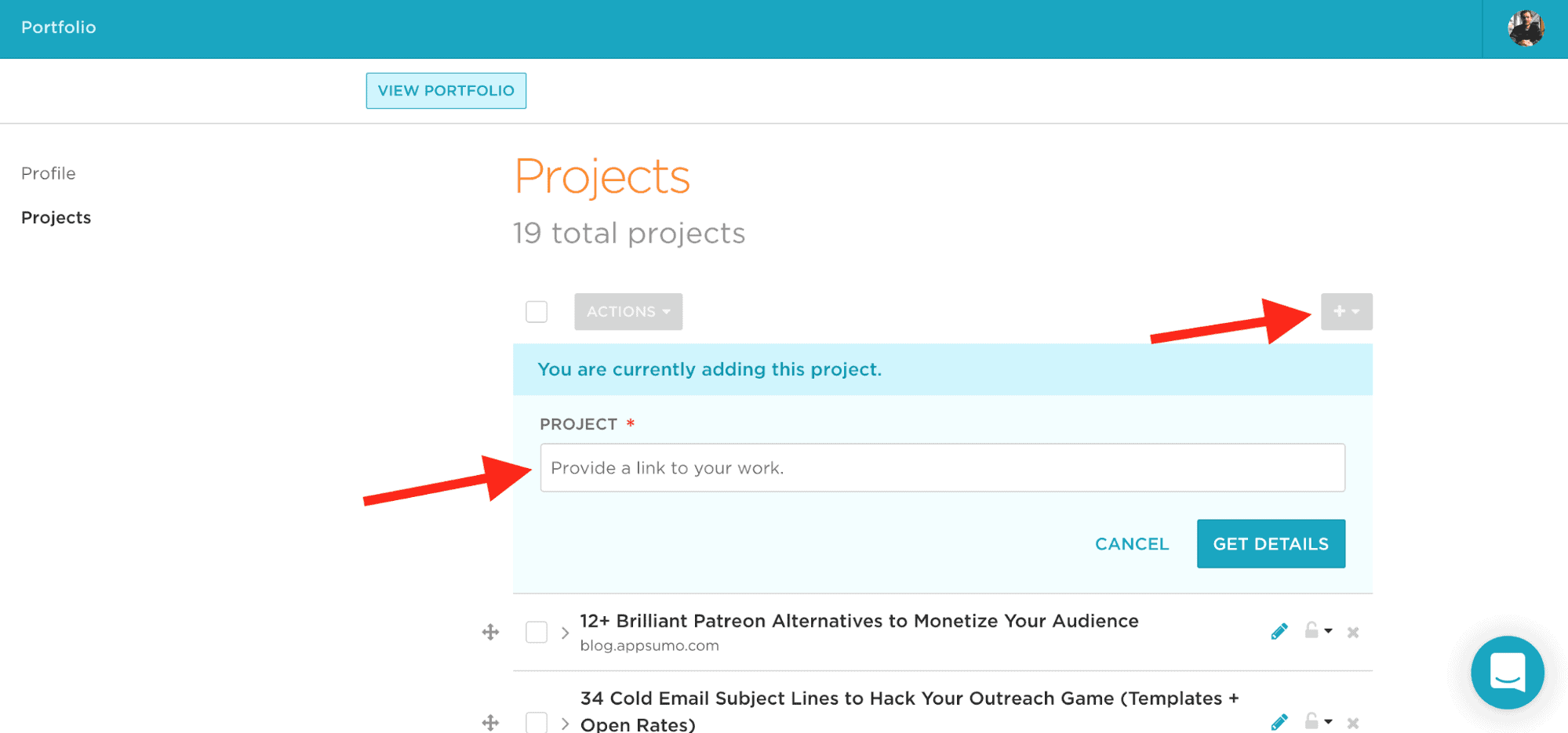 Paste the link in the text box and Contently will find the article and automatically pull all the information.
You might be wondering, "How many pieces should I have in my portfolio before pitching the Dream 50 client list?"
There's no definitive answer here. But you're definitely more prepared to succeed than most with only a handful of few pieces in your portfolio. In fact, I only had 3 articles under my name when I got my first client.
Onwards to getting your first client!
4. Get Your First Client
Now that you've done all the preparation and have a concrete plan for client acquisition in the form of your Dream 100 list, you're all set for the fun part!
Let's get into pitching your list to land your first client!
Reach Out to the Remaining Companies on Your Dream 100 List
Reaching out to your Dream 100 list for clients is pretty much the same as reaching out to secure guest posting opportunities.
The key difference is that you need to land a call with your potential client.
It should be clear by now that your pitch is all about positioning your services as a way to help your potential customer with a specific outcome.
Think of it like this: instead of selling yourself or your services right off the bat, all you want to do is open the doors for a conversation to start building a relationship.
Your only goal is to get a response so you can arrange a call. That's it. (Note: I don't recommend arranging a call as the primary CTA in your first email. Keep it less intrusive with something like "Could we connect?")
Here's an example of a pitch that gets me a ton of responses and (some) calls: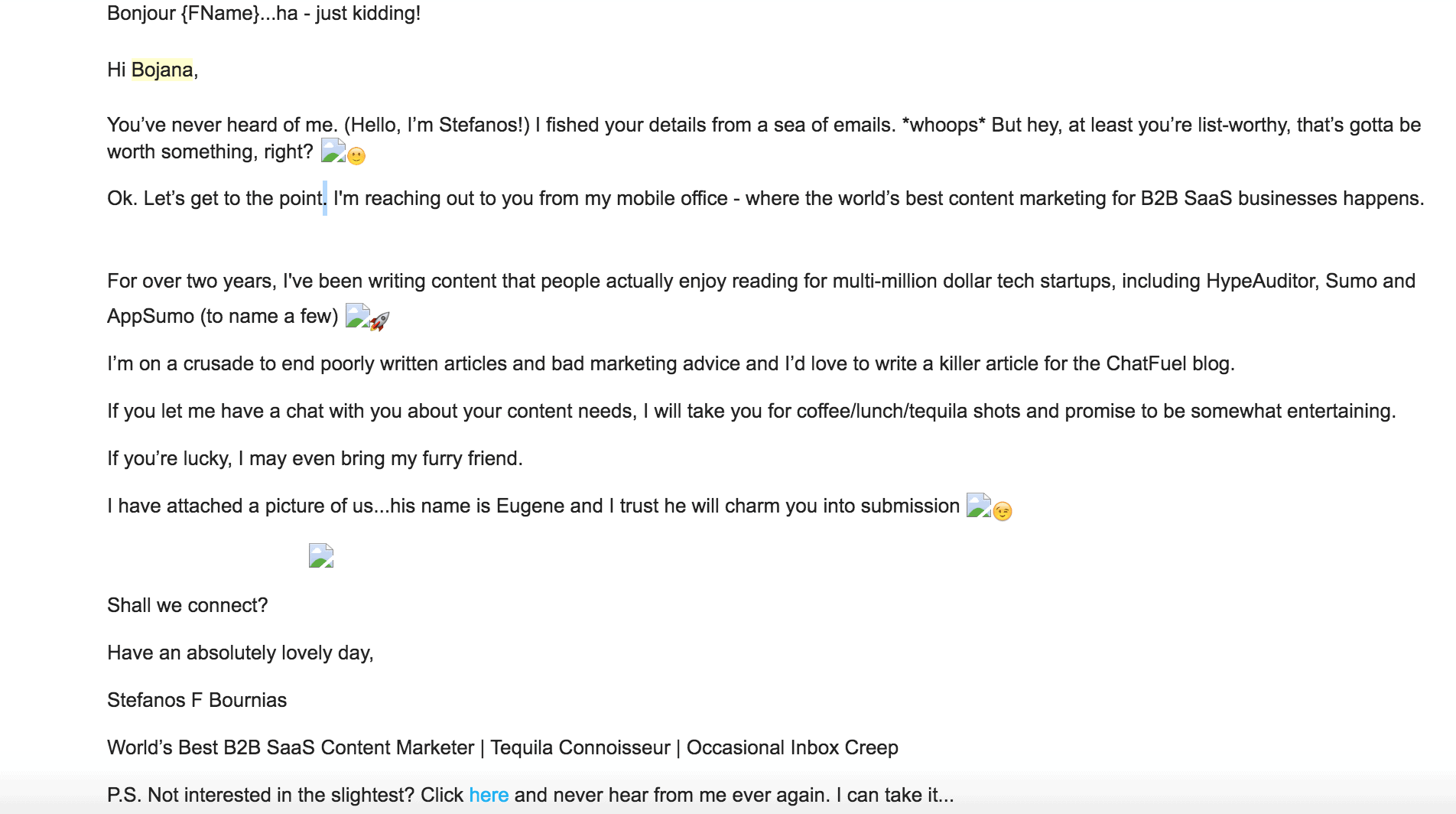 Of course, you can steal the entire pitch (or parts of it like I did), but make sure you inject a bit of your own personality into it.
If you choose to craft your own pitch, make sure to put time into making it as valuable and relevant as possible.
Here's a response I received from this pitch before getting on a call: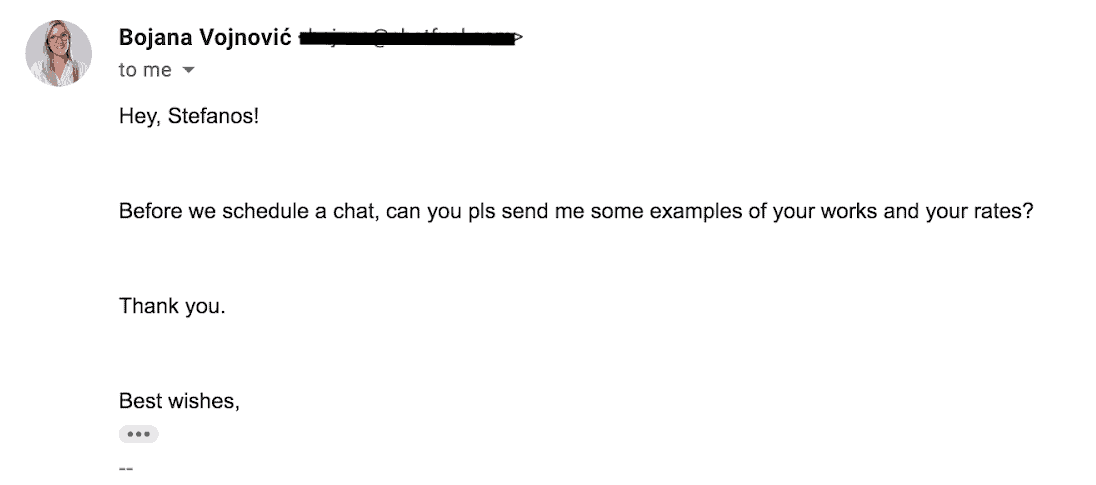 Which brings us to the next most important point about closing your first client: your rate.
One of the most common things that freelancers struggle with is pricing their services. This is especially the case when you're just starting out and insecure about your work.
So what is a good hourly rate for a freelance writer?
The hard truth is that most freelance writers make around $50-100 per 1,000-word pieces while others make $1,000 per 1,000 words. You'll definitely start off on the lower end.
I started off making $250 per 1000 words. Depending on the topic and the amount of research I have to do, it usually takes me about 5 hours. That's $50/hour, which is a pretty good starting point.
Based on my own experience, I'd recommend charging around $200 per 1,000 words when you first started, assuming you have some experience in the industry and some guest posts on authority sites in your niche. As you continue on your freelancing path, take a look at the financial metrics you should be tracking along with how to eventually raise your rates.
Get the Work Done
Here's the hard part: delivering the work and making sure your client is happy with it.
Delivering the work simply means writing the article and doing your best! There isn't much else to it. You either have the goods or you don't.
But getting paid consistently means you need to develop long-term working relationships with clients that want to give you consistent work.
That requires client management skills. And that's a skill that you'll develop with experience.
That said, let's not overcomplicate it. All you need to do to keep your client happy is:
Be proactive and work closely with the team. The minimal amount you can do here is to be responsive and fast with your communication. If you really want to go the extra mile, take the initiative to suggest content ideas, share relevant stuff you come across that could improve your work/the team, and make it a point to over-communicate and ask your client what you can do to improve.
Never miss a deadline. Always deliver your work on time. If you feel like you're not able to deliver to your standards of quality on the set deadline, ask for an extension.
Help to promote the content. This is a minimum requirement in being proactive but super important to show that you care about your work and getting results for your client. Do it. Even if you have like 3 followers.
5. Scale Your Freelance Writing Using Freelance Tools
Once you have a handful of clients, it'll become increasingly difficult to stay on top of everything while delivering quality work.
You might be tempted to hire an assistant (which you should definitely do at some point). But before you do that, you want to use freelance tools to streamline your processes and scale your business.
Here are three tools that you can use to make your sales, project management, and accounting processes simpler:
Quoters
With the number of proposals you'll be sending to new business prospects, you'll need a tool like Quoters to help you create proposals in no time.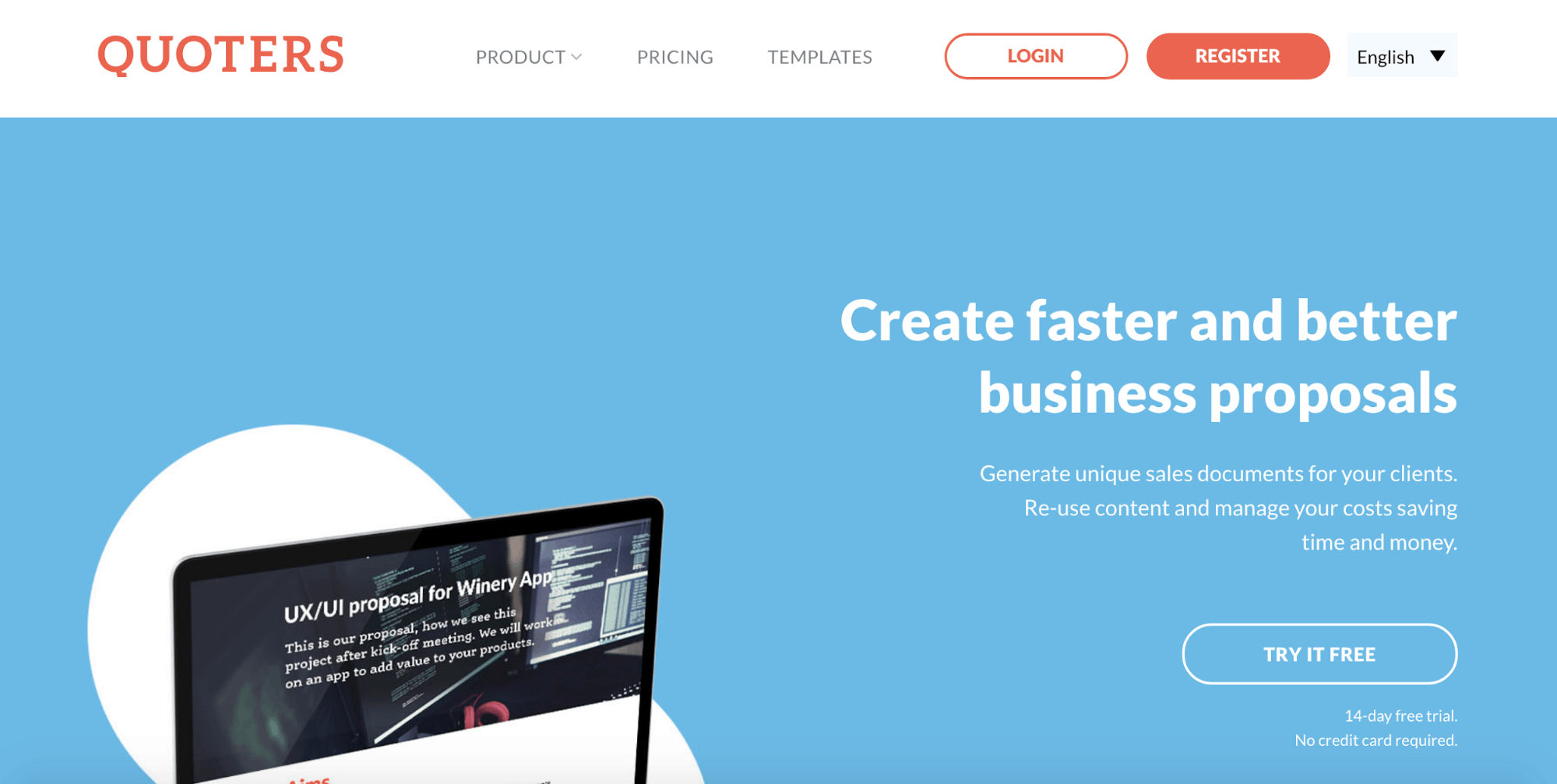 Source: Quoters
Not only will Quoters help you save time so you can be more productive, but it'll also help you create proposals that look more polished and professional. Get the lifetime Quoters deal on AppSumo for $49 available for a limited time.
Trello
With all the different hats you'll be wearing to run your freelance writing business, you'll want to use a tool to help you manage different projects and areas of your business.
Trello is one of the simplest and easy to use project management tools on the market. You can use it for planning a specific article, managing your daily to-do lists, or even planning an entire content calendar.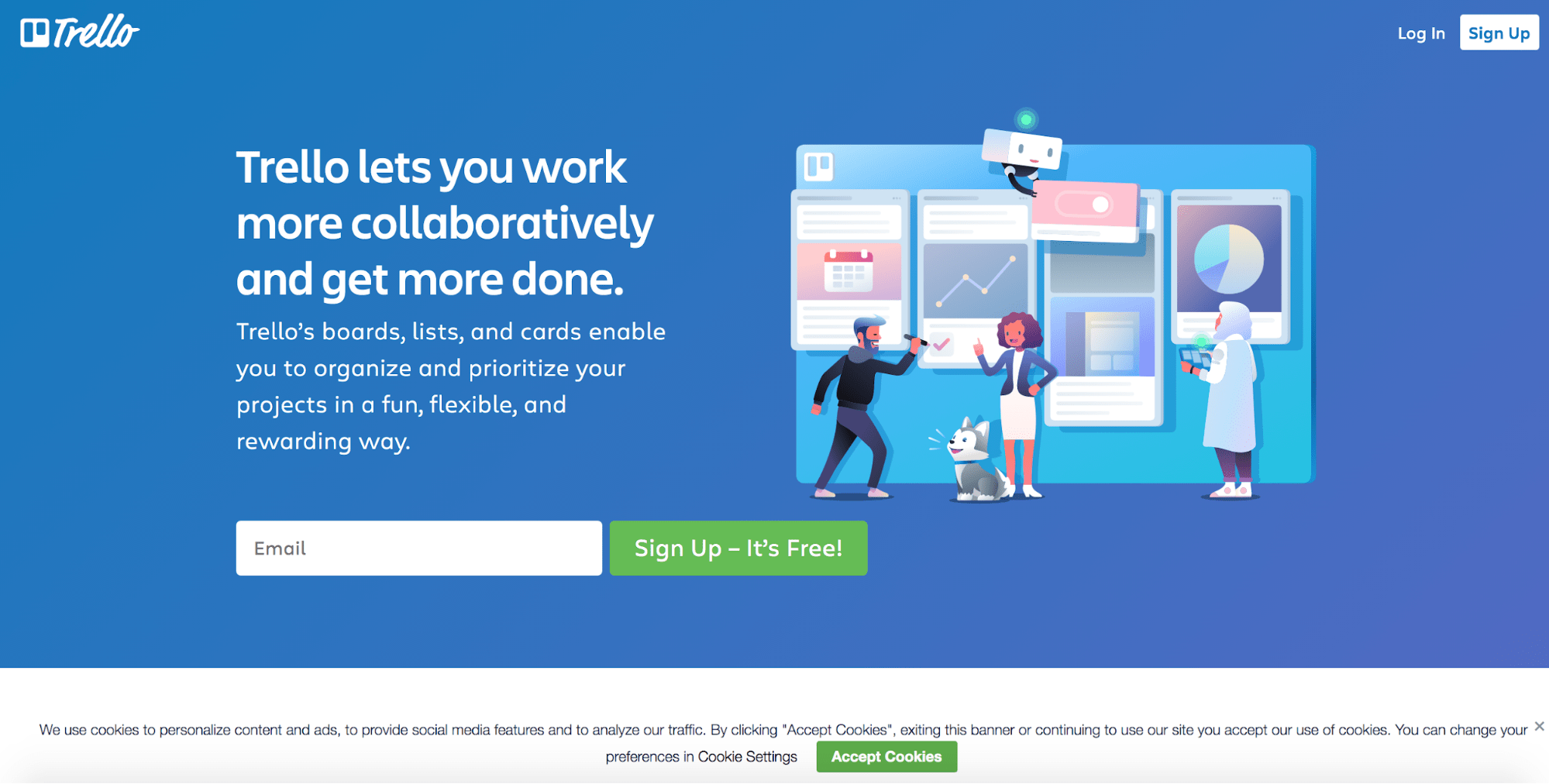 Source: Trello
There are a ton of project management tools out there, so be sure to check out all these Trello alternatives if you'd like to explore more options.
Bonsai
As a freelancer, managing your books and paying taxes is probably the least fun part. I'll take getting rejected on a cold-call with a prospect over managing my books any day!
But managing your finances is key to your business's growth. And a tool like Bonsai will alleviate a ton of the pain.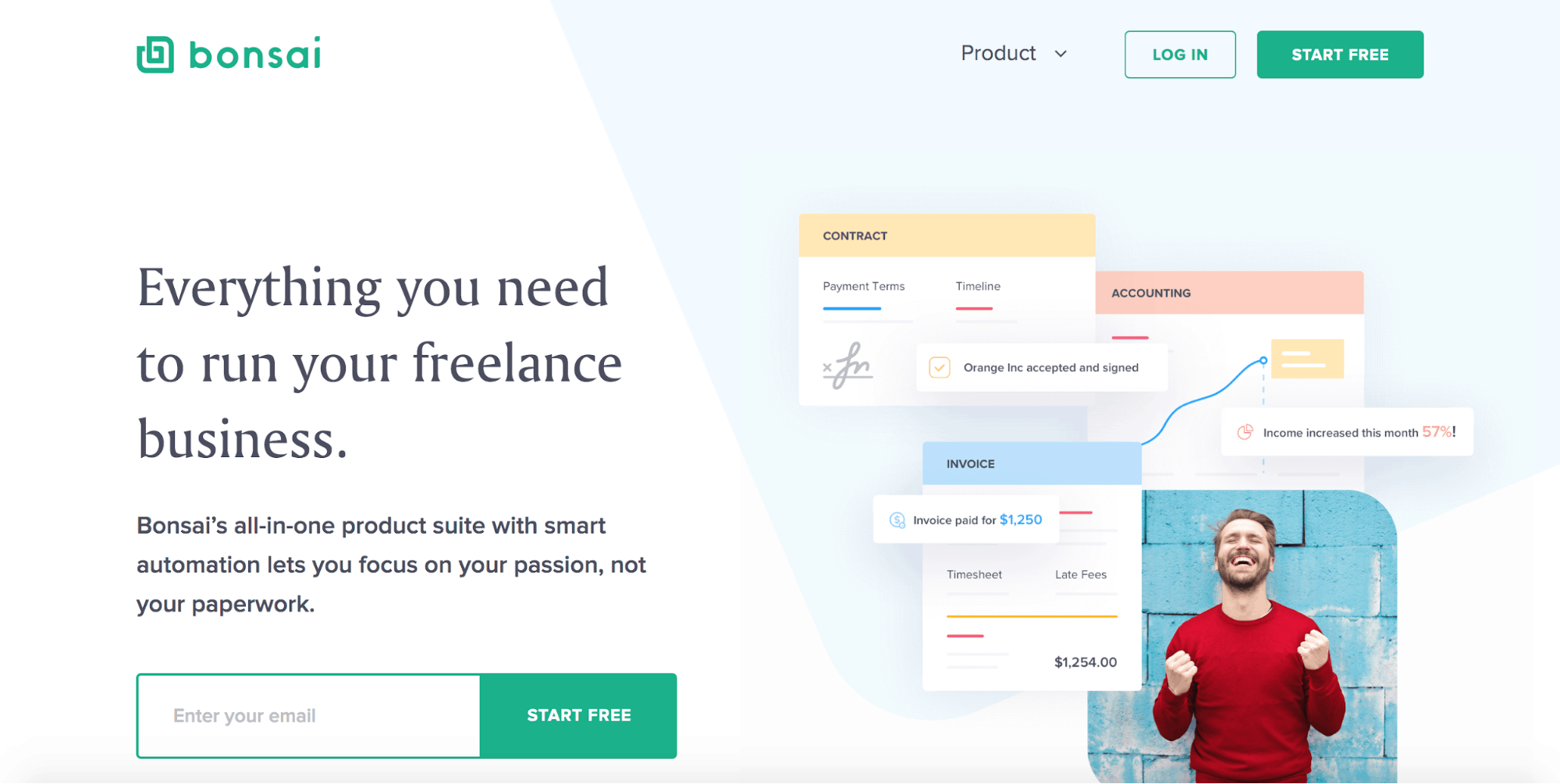 Source: Bonsai
Make sure you check Bonsai out and see if their all-in-one product suite suits your needs and read this post for a full guide on bookkeeping for beginners.
Start Making Money as a Freelance Writer
This guide walked you through the entire process to get started as a freelance writer.
If you implement each of the steps and persevere for at least a year, I guarantee you'll be surprised at the progress and results you'll reap.
While you're here, check out our software deals that have helped ten of thousands of freelancers just like you in growing their businesses.