Productivity, Software Alternatives
Best Trello Alternatives: 10 Kanban Tools For Efficient Work
What's one of the top complaints about project and task management software? "It's too complicated." So it's no wonder that millions of users have flocked to the straightforward Kanban-style tool that is Trello.
But when it comes to project tracking, it's not a popularity contest—it's about finding the best tool for your business. If Trello isn't the one, one of these 10 Trello alternatives may be for you.
A quick introduction to Trello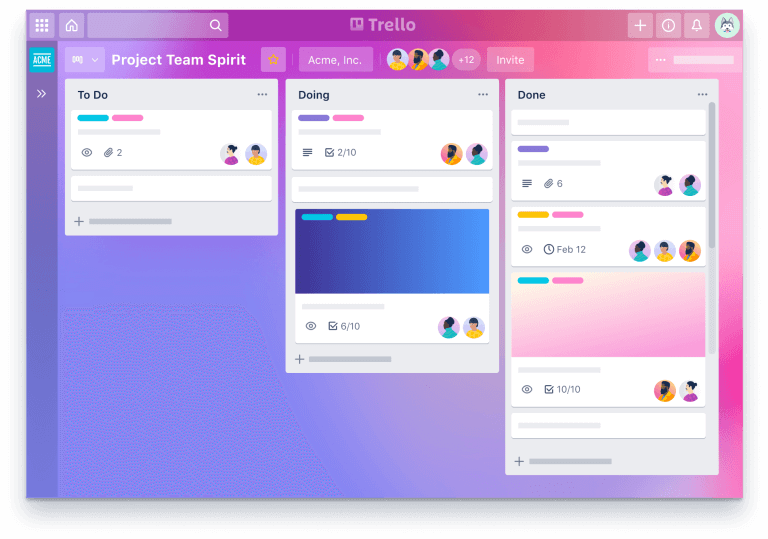 Source: Trello
To judge Trello alternatives fairly and find the best, we first have to know its strengths and weaknesses. Here's an overview.
More than 2 million teams and tens of millions of users rely on Trello to manage tasks and keep projects rolling full steam ahead. Its simplicity is its strength. The entire tool is built on the back of the Kanban view, which allows users to set deadlines, link resources, and assign tasks easily.
The bonus, thanks to custom templates, is that various teams in various industries can get up and running with Trello in no time.
Top features:
Drag and drop for moving cards between statuses
Board view sharing for seamless team collaboration
Templates for general business, design teams, marketing teams, and more
A built-in automation called Butler to speed up your workflows, while also taking manual work off your plate (thank goodness!)
Platforms supported: Windows, macOS, iOS, and Android
Pros: 
One of the quickest and easiest tools to learn and customize to your needs
Fairly inexpensive so you don't have to break the bank, especially if you work solo or only have a small team
Integrations with popular tools like Slack and Google Drive
Cons:
Since Trello is so flexible, more help documentation for a wider range of use cases would be great
Some Trello users feel the free plan is too limited
Depending on what you're trying to automate, setting up Butler can be difficult without previous experience or coding skills
Best for: Freelancers and small teams
Pricing: Besides the free plan, Trello's paid plans start at $6 per user per month and range up to $17.50 per user per month.
Top Trello alternatives in 2023
We've covered the highlights of what Trello offers and where it falls short. Now, let's dive into the pros and cons of other tools with Kanban views.
1. Asana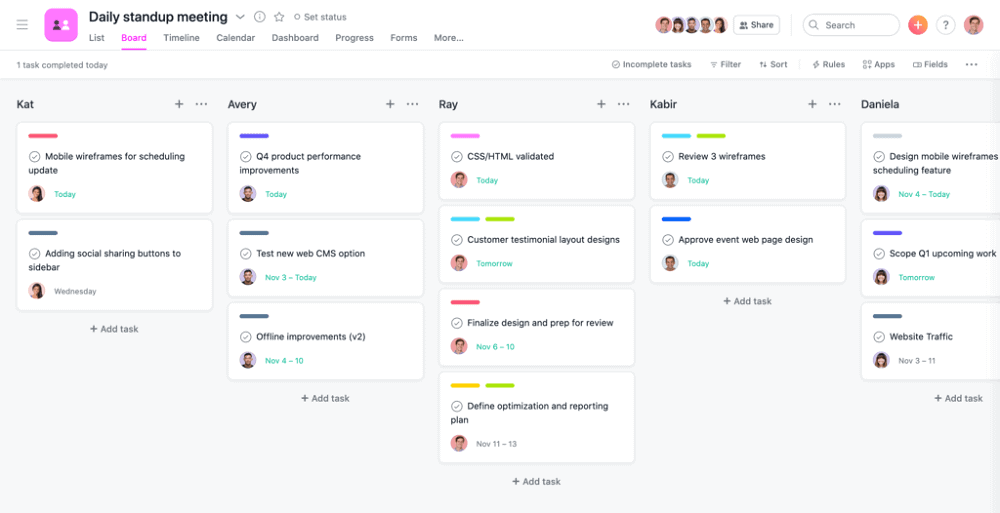 Source: Asana
Another robust Trello alternative, Asana is an all-in-one project management tool—and probably one of the most famous on our list. If you need more than a simple Kanban for tracking progress and managing projects, Asana has a robust toolbox with multiple views to keep you on task.
Plus, you can have conversations with your team members within the app and create simple to-do lists for the one-off tasks that require less oversight. You can also share files, create in-app teams, and create reports to document recent progress.
P.S. Do you like some of the features of Asana and want a similar tool that'll fit your needs better? Check out our list of the top Asana alternatives. Want to read a more in-depth comparison between Asana, Trello, and Plutio? We've got you covered.
2. monday.com

Source: monday.com
Let's move along now to another all-in-one tool, monday.com, and specifically its end-to-end project management tool, monday projects. Similar to Basecamp and ClickUp, it has Kanban boards but it also offers many other ways to visualize projects and tasks.
monday.com offers many powerful automations to make sure recurring tasks don't waste your time (there's nothing like project management software that alerts you to where the tedious work is) and it gives you the proper tool suite to streamline those repetitive tasks so you can focus on more important to-dos.
Whether you need to see the bigger picture, allocate work to teammates, or collaborate on projects from a distance, monday.com is a popular solution.
Top features: 
Dashboard gives you a bird's-eye view of ongoing and new tasks, budgets, goals, and more
Updates for asking task- and project-related questions, making requests, and giving your team timely progress and status reports
Pre-built and custom automations to help you work as efficiently as possible
Platforms supported: macOS, Windows, iOS, and Android
Pros: 
Makes it possible to cut way down on the number of tools you use daily
Friendly, fast, attentive, and helpful customer service team
Granular permissions available to make sure sensitive data is only available on a need-to-know basis
Integrates with tools like DocuSign, Zendesk, Shopify, Stripe, Pipedrive, and more
Cons: 
Some integrations could be more robust, simpler to use, and have more customization options
Users would like more training videos and use case–specific documentation to flatten the learning curve and reduce setup time
Rigid team size options mean you might end up paying for seats you don't need
Best for: Teams looking for a comprehensive tool that provides everything in one place
Pricing: monday.com has a free plan. Paid plans start at $10 per seat per month (with a minimum of three seats) and range up to $20 per seat per month on the Pro Plan. There's also custom Enterprise pricing available.
3. Basecamp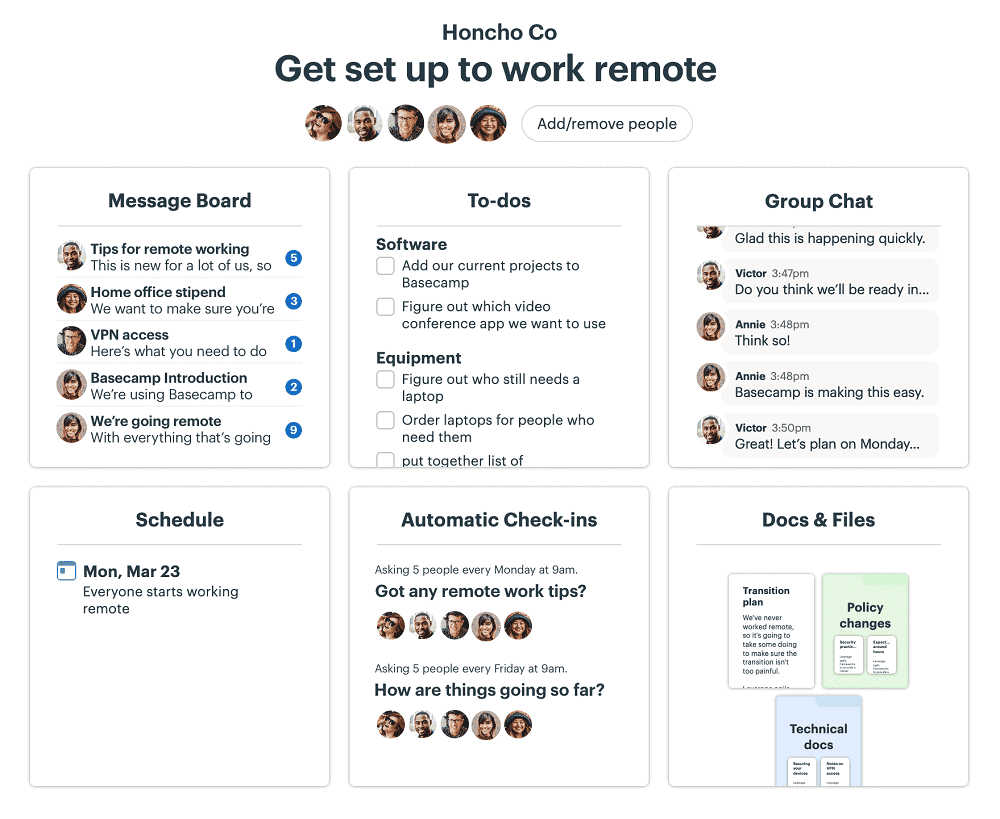 Source: Basecamp
Basecamp, like Asana, is a very popular tool for team-wide project management and collaboration. As far as Trello alternatives go, Basecamp is one of the most comprehensive on our list, boasting a large suite of functions to help you stay organized, focused, and productive.
From a project management perspective, you can check schedules, share files, check off to-dos, and use multiple views to see your progress. Like Plutio, Basecamp also has a client-facing side that allows you to pull clients into your workflow without giving them access to important information they don't need to see.
It takes a little getting used to, but once you're past the learning curve, Basecamp packs a lot of functionality into a single platform.
Top features: 
Calendar and task list views show upcoming due dates at a glance
Messages and real-time chat to help your team stay on the same page, that replace email and Slack
Templates for getting started on new projects quickly
Platforms supported: macOS, Windows, iOS, and Android
Pros: 
Designed to be a hub for all project discussions, tasks, and resources
Flat-fee pricing, which is about as transparent as it gets
Dozens of integrations with popular apps, including Tracked, which allow you to add workflows and labels to your to-dos with Kanban boards
Cons: 
If you have a smaller team but need Business plan features, you may end up spending more than you would on one of the many alternatives to Basecamp
Memory on free plan may be too limited for some teams, requiring them to use an additional tool for storage
Doesn't yet offer an overview of key information across all projects
Best for: Medium to large businesses—especially remote teams—that need to keep in constant contact about projects
Pricing: Basecamp Business is $99 per month for unlimited members. You can also get a free Personal plan, which is good for freelancers and solopreneurs.
4. Nifty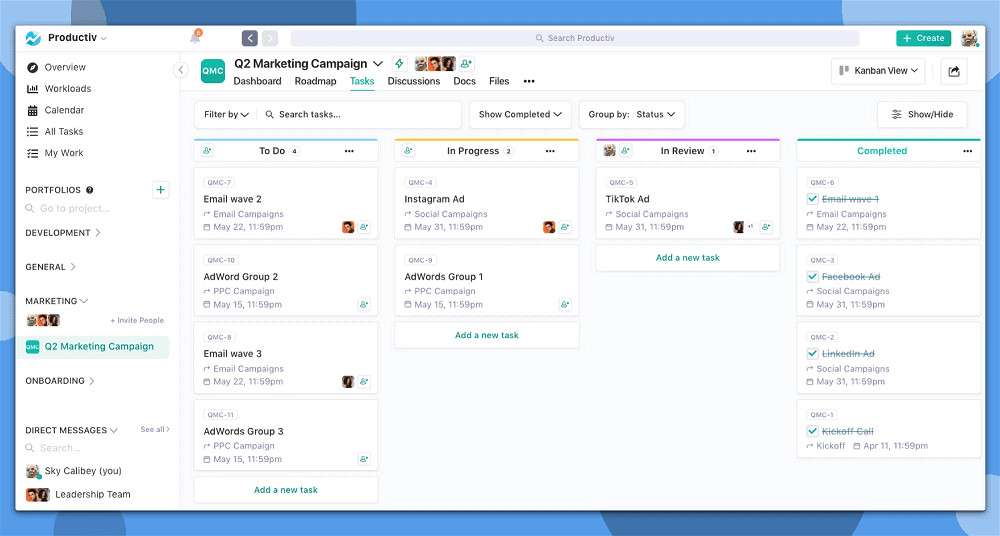 Source: AppSumo
Nifty is one of the best Trello alternatives out there because it brings "teams, goals, and actions into one place." With more functionality than Trello, Nifty makes it a no-brainer to leave the wildly popular Kanban tool behind (and ditch other tools like Slack in the process)..
For example, besides the Kanban view, it has a list view. It also has a Slack-like chat feature, file storage, and collaborative docs with two-way Google Docs, Sheets, and Presentations integrations.
Top features: 
Time tracking and reporting for transparency on where your time goes and to help you work more efficiently
Budget tracking to show where your money goes and help you spend wisely
Task and milestone dependencies to help you put first things first in your workflows
Docs and docs management built for collaboration
Built-in chat for keeping in touch with your team and communicating on one channel
Platforms supported: Windows, macOS, iOS, and Android
Pros: 
Lots of features (with more being added all the time) and flexibility so you can work your way
Nifty is a reliable tool compared to others like ClickUp that are a little glitchy
The attractive user interface and inutitive features are a hit with users
No per-user fee, which could save you money depending on the size of your team
Cons: 
The free plan is super restrictive, with unlimited members but only 100 MB of storage space and 2 projects
Some users have mentioned disappointment at not being able to edit time logs
Could use more templates to get users set up faster
Best for: Teams and businesses of all sizes
Pricing: A free plan and a 14-day free trial of paid features are available. Nifty's four paid plans start at $49 per month for up to 10 team members and range to $499 per month for unlimited users.
5. Wrike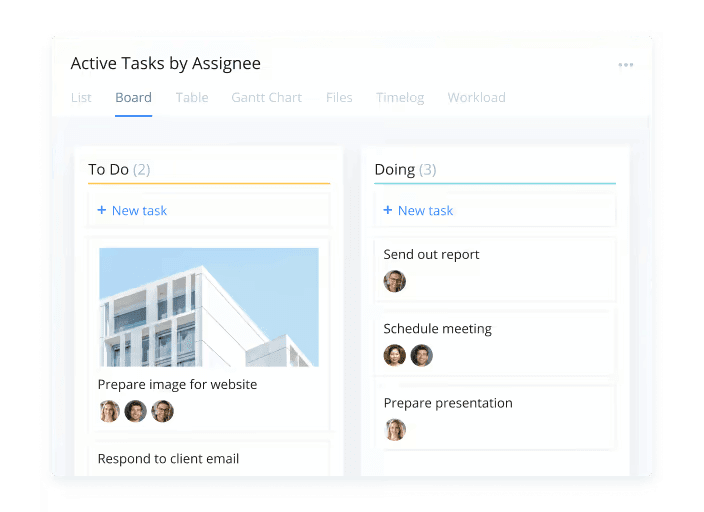 Source: Wrike
If you like Kanban boards but also want to visualize your work in other ways, Wrike is a good option. It's an all-in-one online business tool that provides dashboards and features to help your team strategize, work toward goals, track progress, and manage people and tasks. It also prioritizes collaboration across your team with features like image and video commenting so team members can provide creative feedback, even from far away.
Top features: 
Dashboards, workflows, tasks, and more that you can customize to fit the way you work
Real-time progress tracking via a live activity stream for full transparency into your team's work
Automated approval processes to get from "to do" to "done" faster
Platforms supported: Windows, macOS, Android, and iOS
Pros: 
More than 400 integrations from Google Drive and Outlook to HubSpot and Salesforce
Top-notch security including single sign-on (SSO) and control features such as admin permissions and custom access roles
Unlike many of Wrike's alternatives, this tool uses artificial intelligence—not just automation—to streamline the way you work
Cons: 
The time tracking feature could be more intuitive, especially on mobile
Finding tasks can be tricky depending on how you organize your project (or if you're not an assignee but need to view a task)
Takes time to figure out all that Wrike has to offer and set it up for your own use case (more use case–specific tutorials would be nice)
Best for: Midsize to enterprise companies that need to collaborate across many tools and departments
Pricing: A lite version of Wrike is available for free. The Enterprise plan requires a custom quote, and Professional and Business plans start at $9.80 and $24.80 per user per month respectively.
6. ClickUp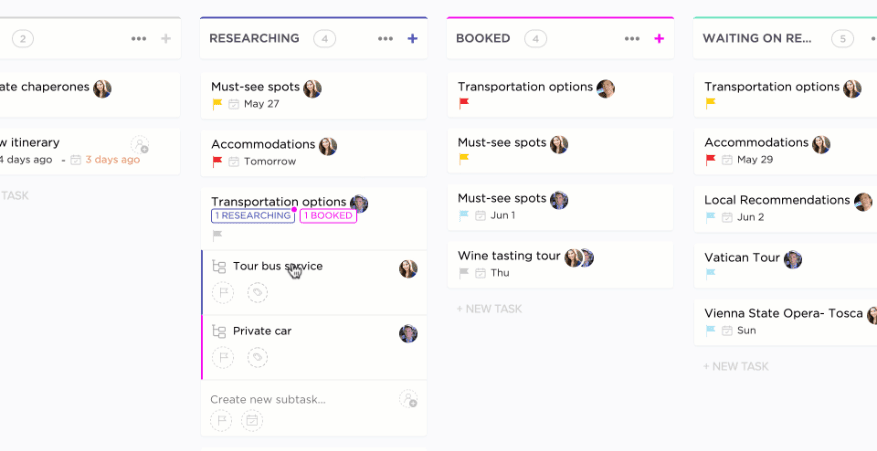 Source: ClickUp
ClickUp is a more comprehensive Trello alternative than any of the tools we've considered so far. Instead of simply offering project management tools, ClickUp provides a wide range of tools to keep your business running—including docs, notes, spreadsheets, time tracking, and more.
On the project management front, ClickUp offers multiple views (including Kanban) to make sure your team stays on task. ClickUp makes it easier for your team to collaborate, stay ahead of deadlines, and see progress in real time.
P.S. For a more detailed overview of what this all-in-one tool has to offer, check out our in-depth ClickUp review.
Top features: 
Templates for various types of teams across spaces, projects, lists, tasks, and even subtasks
Built-in email and chat features to facilitate team and client communication without having to switch from app to app
Custom and pre-built automations to handle repetitive, time-sucking tasks and prevent anything from slipping through the cracks
Platforms supported: macOS, Windows, iOS, and Android
Pros: 
More than a dozen task and page views besides Kanban, including Gantt charts, timeline view, forms, and embeds
Over 1,000 integrations with popular tools like Zapier and Zoom
Great customer support and in-depth help docs and webinars for different use cases
Cons: 
Multitude of features can be overwhelming for some users
Mobile app has limited functionality compared to the desktop and browser versions
Sometimes slow and glitchy
Best for: Teams looking for an affordable tool that's flexible enough to replace many or most of the tools in their current tech stacks
Pricing: ClickUp has a free version. Paid plans start at $9 per user per month and there's also custom Enterprise pricing if you need it.
7. Plutio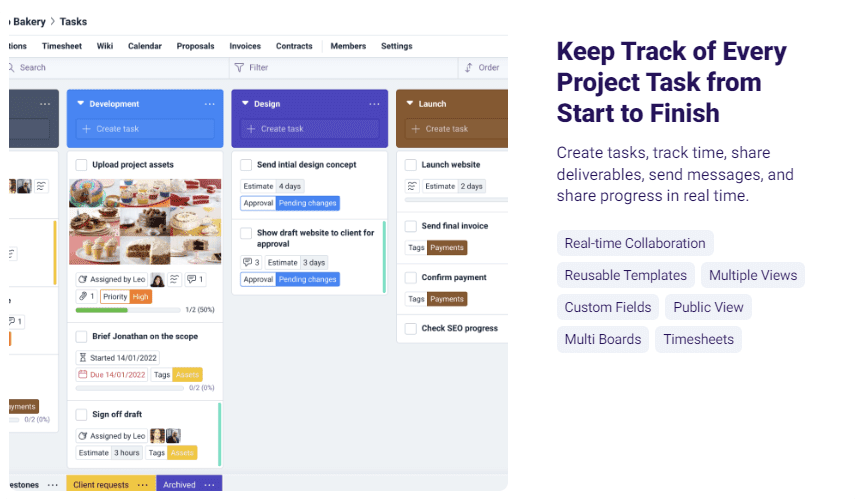 Source: Plutio
Plutio, which was a fan favorite when its lifetime deal was available on AppSumo, is a great Trello alternative for collaborating with team members and clients. From project management to invoicing, Plutio is a one-stop shop for dozens of your most common business software needs.
On the project management side, Plutio offers automations and templates to help small business owners work quickly. You can create recurring and one-off tasks, multiple project views, and normal features for editing things like deadlines and notifications. Plus, you can switch on the time tracker to see how long it takes you to accomplish certain tasks.
Top features: 
Unlimited project boards (i.e. Kanban boards), each with custom permissions, preferences, and colors
Customizable templates for proposals, invoices, forms, etc.
Multicurrency and recurring billing, as well as multiple payment methods
White labeling to make this project management tool your own and cement your brand in the mind of prospects and clients
Platforms supported: Windows, macOS, iOS, and Android
Pros: 
Reduces the need for other tools, allowing users to manage everything from proposals and onboarding to projects and invoicing
All plans include access to nearly all features (excluding white-label and single sign-on add-ons—different plans also include different numbers of clients and contributors)
Integrates with Zapier, Make (formerly Integromat), Square, Stripe, PayPal, Pabbly, and more
Cons: 
Can be a little glitchy
Several users have described the user interface as "clunky"
Customer support sometimes seems rushed and impersonal
Best for: Freelancers and agencies
Pricing: Plutio ranges from $19 to $99 per month, with custom Enterprise pricing available.
8. MeisterTask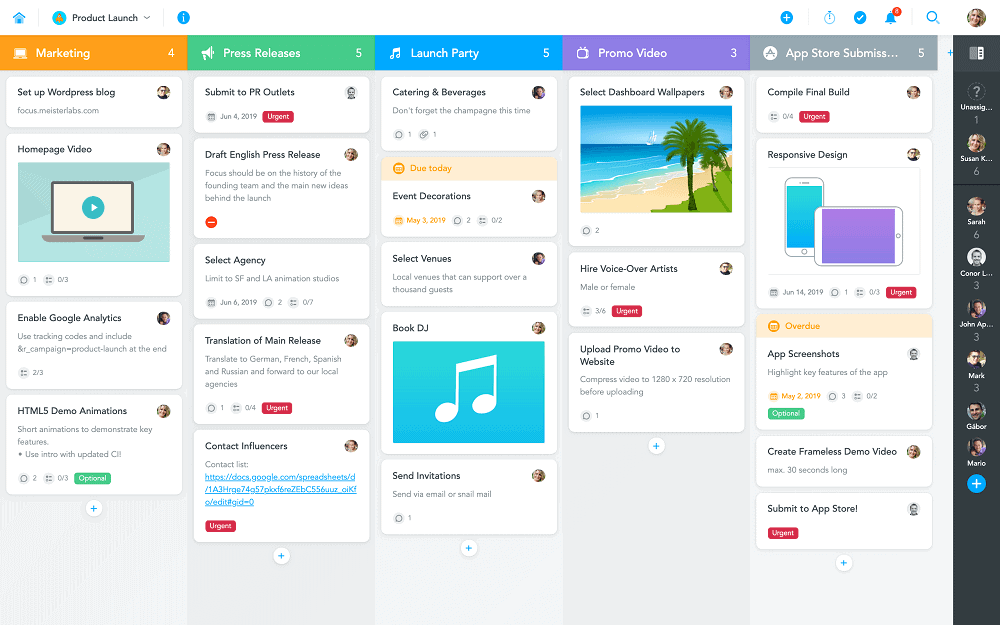 Source: MeisterTask
This list includes several tools with greater sophistication than Trello, but we also wanted to list true Trello alternatives like MeisterTask, which boast comparable simplicity with a slightly different UI and basic tool suite.
Like Trello, MeisterTask is a powerful Kanban board that makes it easy to keep your whole team focused on the task at hand. As a Kanban board moves to a new column, you can set it to auto-ping another team member to take over the next leg of the project. If you're using MeisterTask to keep up with your content calendar, for example, a writer can move a board from an "In Progress" tab to an "Editing" tab to automatically notify an editor that it's their turn to work on the blog.
Top features:
Customizable dashboard that shows what's due today, this week, and beyond at a glance
Private Agenda board just for you, where you can pin tasks from any project and organize them any way you like
User groups to easily share (or unshare) projects with certain teams
Platforms supported: macOS, Windows, Android, and iOS
Pros: 
Users seem to agree that it's fast and easy to get going with MeisterTask
Available automations and integrations could easily shave hours off of your workweek
Functionality can be extended with the mind-mapping tool MindMeister
Cons: 
Several key features like custom fields, roles, and permissions are only available on the Business and Enterprise plans
All paid plans are billed annually, so if you prefer monthly subs, you're out of luck
The mobile app could be more intuitive
Best for: Businesses of all sizes looking to manage projects across Kanban boards
Pricing: MeisterTask has a free version. Paid memberships start at $8.25 per user per month (billed annually) with the option to save 30% if you bundle MeisterTask with MindMeister. There's also custom Enterprise pricing available.
9. Kanban Tool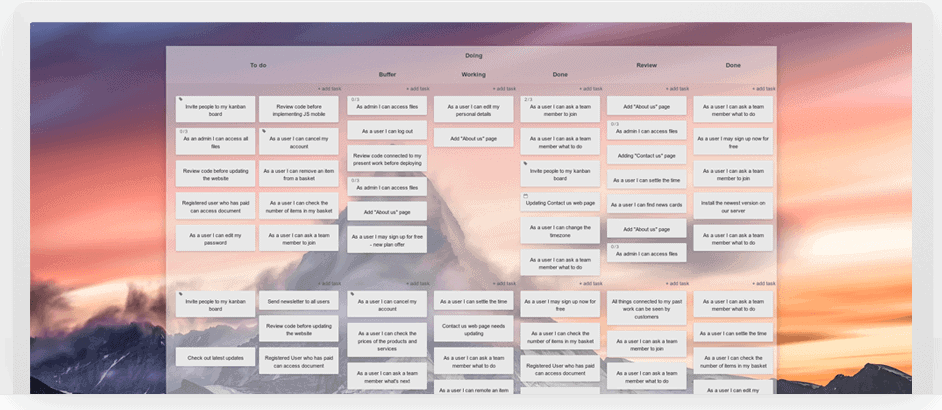 Source: Kanban Tool
You can probably guess what this tool is known for. Yep, Kanban boards are the star of the show in Kanban Tool. It offers a simple interface combined with a handful of adjacent tools, like time tracking, to help teams manage their projects and workflows.
If you like to keep your workflows simple so you can focus 100% on the tasks at hand, Kanban Tool is worth trying.
Top features: 
Horizontal swimlanes for tracking two or more projects on a single board
Power-Ups such as Calendar Widget, Recurring Tasks, Task Dependencies, and more for extending functionality
Basic, time, event, product development, and sales-driven Kanban board templates
Time tracking with cumulative flow diagrams for identifying (and obliterating) bottlenecks to reach peak productivity
Platforms supported: Windows, macOS, Android, and iOS
Pros: 
Constantly being improved, with process automation and user groups among the most recent updates
Available in nine languages, including English, Spanish, French, and Italian
Can be installed in 15 minutes and hosted on your server for added security
Cons: 
So flexible that you need to be absolutely sure about how you'll organize your projects and stick to it
Users want a better zoom/resize feature to make crowded boards and swimlanes easier to navigate
The mobile app could have more features, such as access to settings and offline mode
Best for: Small teams needing a simple Kanban board
Pricing: Kanban Tool has a very basic free plan, as well as a 14-day free trial of either of the two paid plans. The Team plan is $5 per user per month and Enterprise is $9 per user per month. There's separate annual pricing if you want the Kanban Tool On-Site self-hosted enterprise solution.
10. ProofHub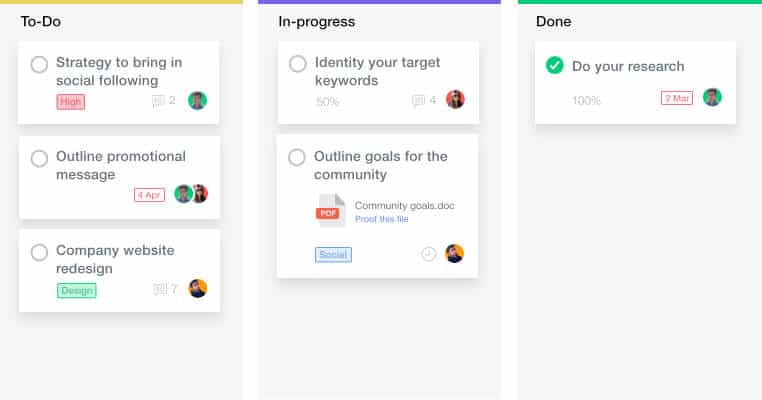 Source: ProofHub
ProofHub is a comprehensive project management and team collaboration software. Like Trello, it's fairly easy to use, with little to no learning curve. However, as an alternative to Trello, ProofHub offers much more than Kanban boards and other basic project management features.
For instance, ProofHub offers a built-in chat tool to simplify team communication and provide a dedicated space for real-time discussions. Plus, there's a powerful proofing tool, which lets you easily share feedback and review files.
Top features: 
Multiple views, including Kanban, Gantt, timeline, and calendar
Group chat and direct messaging to keep project discussions in the same space as project tasks and files
Email-in for chatting with your team, uploading docs and files, and adding tasks without logging in
Platforms supported: Windows, macOS, Android, and iOS
Pros: 
All-in-one tool with user interface and user experience improvements being made often
Integrates with tools that are likely already part of your workflows, such as Google Calendar and Google Drive
White labeling available for a completely custom experience
Cons: 
No access to reports unless you're on the Ultimate Control plan, which you may not need otherwise
Sometimes loads slowly, which can be inconvenient if you're in a time crunch
Mobile app has fewer features than web and desktop versions
Best for: Remote teams looking to replace their collection of business management apps with a single all-in-one, white-labeled solution
Pricing: ProofHub has a flat—not per-user—pricing model. The Essential plan is $50 per month and the Ultimate Control plan, with unlimited projects and users, is $150 per month.
Pick your favorite Trello alternatives
Which of these Trello alternatives is right for you? Finding the right project management tool can be challenging, especially with so many out there to choose from. But this list of the 11 best alternatives to Trello should help you whittle it down. And you can always browse the AppSumo store to check out the latest deals on project management software!