Tech Stack
8 Best Free Photo Editors in 2023
We live in a visual-first world. Brands these days create more photos, videos, infographics, and other visuals to market themselves, as people prefer this content type.
A good photo editor helps you construct images that stand out—and promote your content.
We are spoilt for choice when it comes to picking a helpful photo editor. There are so many good (and bad) options! This is why I've made a list of the top ones and discussed their unique features, pros, cons, and prices. Check them out below!
What makes a good photo editor?
Here are some essential features a photo editor should have. You must take them into account to pick the best one.
Ease of use. Tools for beginners should offer a drag-and-drop interface with a short learning curve. In comparison, sophisticated tools with tons of features meant for professionals should have options like keyboard shortcuts that save time. The software you pick must offer wikis, forums, tutorials, and guides to help you get started. Direct support via phone and email would also be ideal.
Templates. A powerful photo editor should include templates, filters, and presets that help you quickly modify your visuals and create new ones. It should also let you create your own templates and presets.
Works with different file types. You should be able to import different file types and save them in different formats. Some popular formats are JPEG, PNG, TIFF, GIF, PSD, PDF, and RAW. Check if the tool supports video formats if you work with video files too. If you edit files for clients, it will be necessary for you to pick a tool that supports almost all formats.
Basic photo settings. Advanced photo editors these days offer so many useful settings. But the most basic settings you should look for are saturation, adjusting exposure and white balance, sharpening images, and cropping.
Saving high-quality images. Your editor should let you save high-quality images in small sizes. Large images can negatively affect the website loading time and lower conversion rates. Therefore, the option to adjust the file size and quality is highly beneficial. Some tools let you share your files to social media and other platforms directly. If you chiefly create images for social media, make sure to pick an editor that allows you to post to these platforms directly.
Accessibility. The ideal software should work on multiple devices. But if you're going to use it on only one device, you can choose a tool that works best on that device. It's an added benefit if the software has collaboration features as your entire team can work together to create better visuals.
The best free photo editors you should consider
1. Pixlr [A powerful photo editor with two versions]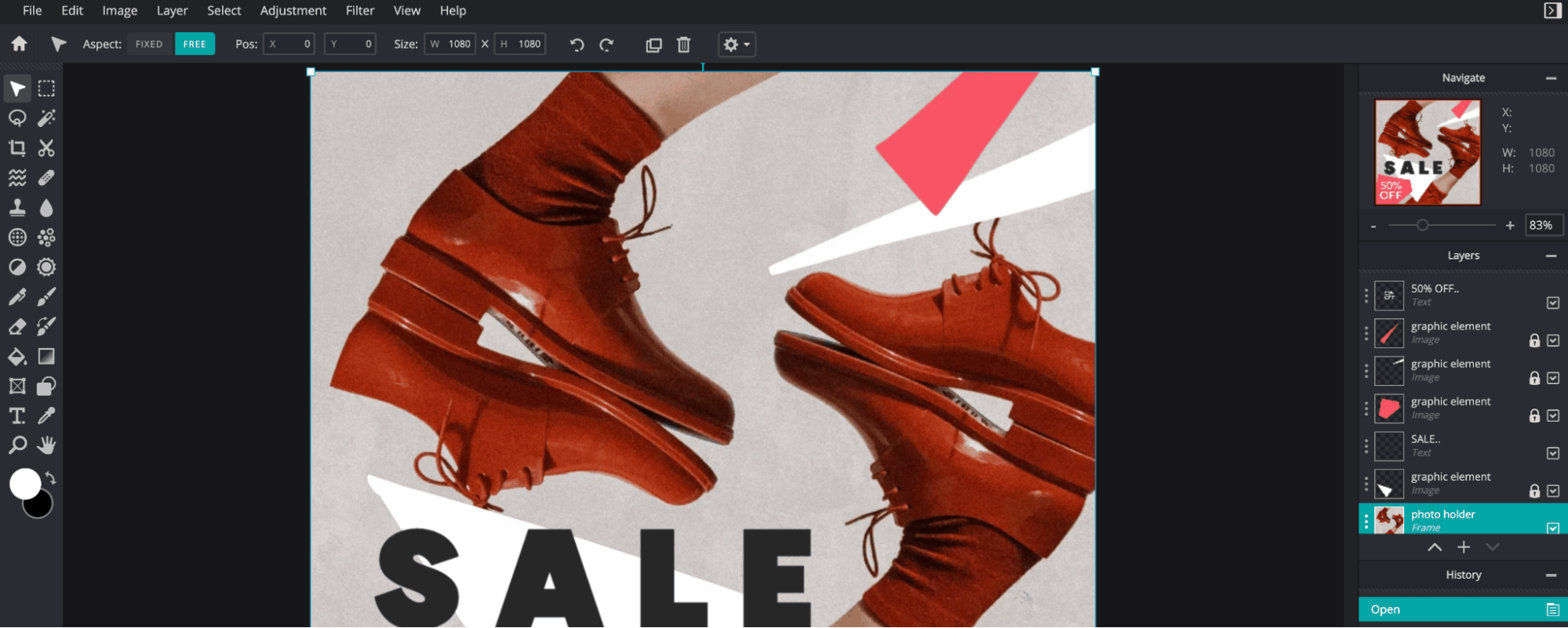 Pixlr is a popular photo editor with over 500 million users. The unique thing about Pixlr is that it offers two versions: Pixlr X and Pixlr E. Pixlr X is a basic editor with templates that make it easy for beginners to design images and make quick edits. Pixlr E is for professionals who want to make more advanced edits. Both are free to use, although there are paid versions. You don't even need to sign up to use either.
Pixlr also gives you access to 10 million free and premium design assets such as graphics, graphic templates, fonts, photos, stock videos, and audio clips. These quicken image and video creation. There are templates for all sorts of creations like social media posts, cover images, flyers, collages, and business cards.
Pixlr works with most file formats, including PSD, JPEG, PNG, and PXZ. Another powerful feature from Pixlr is the background remover. While removing image backgrounds using most software, you need to do some legwork to distinguish the background. But Pixlr automatically does this for you with its AI and instantly removes it.
This software is highly accessible. You can either use the web version or download software for Mac and Windows or download apps for Android and iOS.
Pricing: It starts with a free plan. The Premium and Creative Pack plans cost $7.99 and $29.99 per month.
2. Canva [Graphic design tool with a photo editor]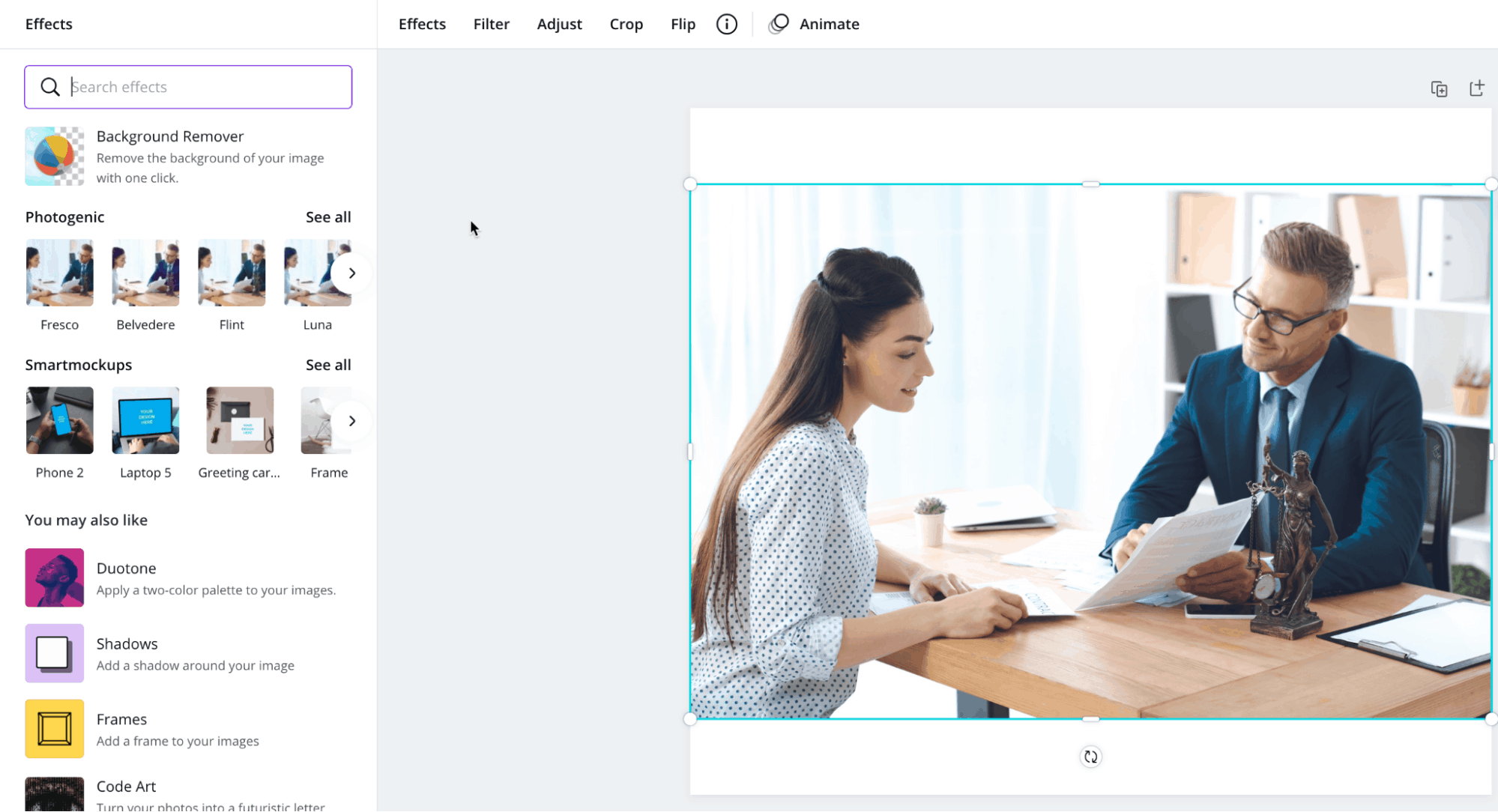 Canva is a ubiquitous graphic design tool. Most people use it to create social media images and make marketing material like flyers, ebooks, and newsletters. It is popular because it has a generous free plan, is easy to use, and offers thousands of templates that catalyze the design process.
Another free feature you can take advantage of is the photo editor. You can either upload your photo or choose one from the millions it offers and edit it. You can use the filters to make changes quickly or manually adjust brightness, contrast, saturation, blur, and tint. You can also remove backgrounds.
After you make the modifications, you can download the images or incorporate them into your designs. Canva also lets you schedule your posts on social media.
The main drawback of Canva is that the photo editing features are limited. It's more of a graphic designer than a photo editor.
Pricing: Starts with a free plan. The Pro and Enterprise plans cost $12.99 per month and $30 per person/month.
3. Crello [A good alternative to Canva]

Source: Crello
Crello, like Canva, is a graphic design tool that lets you quickly create visuals such as social media posts, ad images, and blog images. You can also design marketing materials such as posters, logos, infographics, and brochures.
Along with designing images, you can also edit photos. You can either upload the photos you want to edit or pick one from the Crello library. Crello even integrates with DepositPhotos, where you can find millions of stock photos.
After selecting the photos, you can modify brightness, contrast, saturation, opacity, and tint. Crello also allows you to remove the background, crop photos, add borders and animations. After you create your photos and designs, you can share them on social media or download them.
The biggest con of Crello is that the photo editor is very basic. It's better suited for people who want an advanced graphic design tool with a simple photo editor.
Pricing: It starts with a free plan. The Pro plan costs $9.99 per month, but you can get it on AppSumo for life for a one-time payment of $49.
4. Pixelied [Easy to use graphic design tool]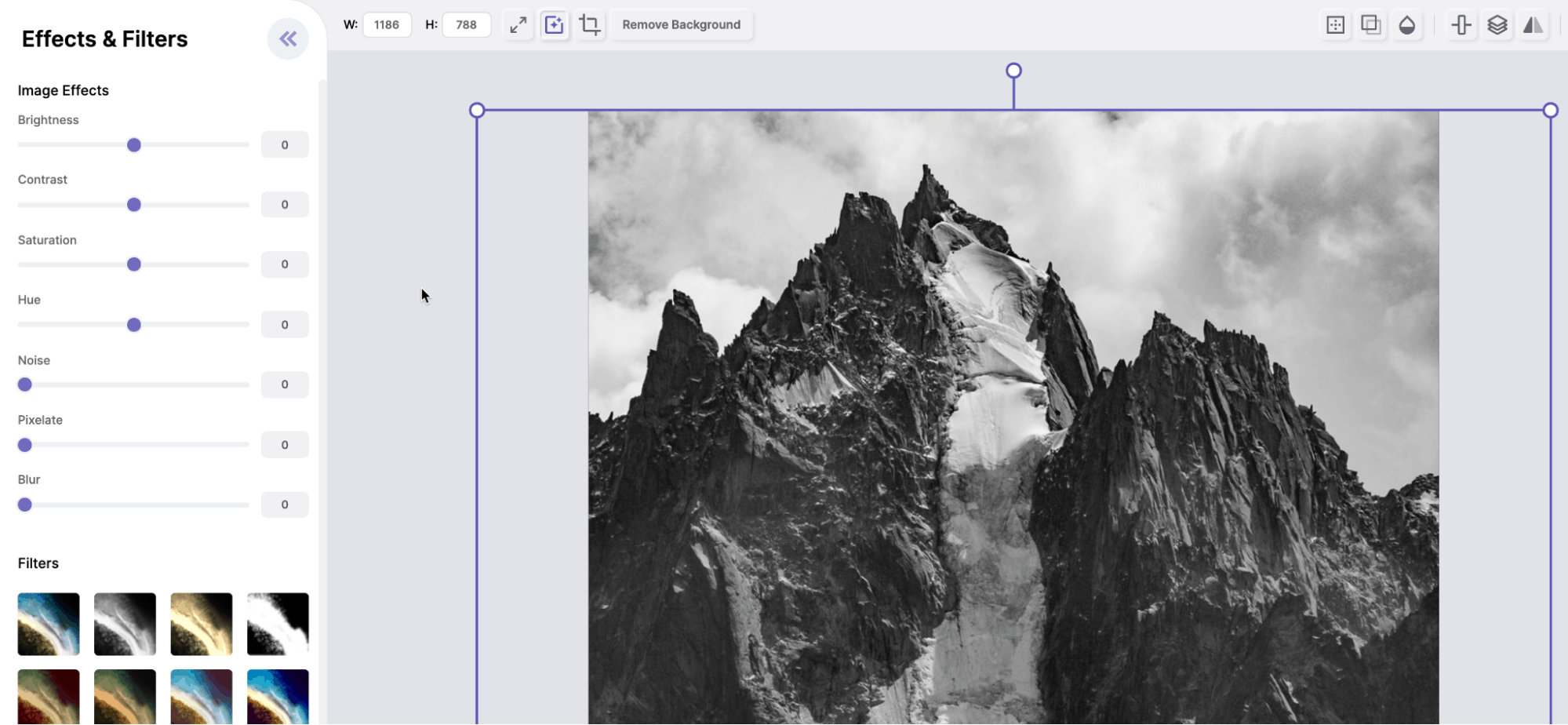 Source: Pixelied
Pixelied is a graphic design tool for creating images for social networks like YouTube, Facebook, Twitter, and Instagram. You can also create images for Soundcloud, Etsy, ebooks, and Patreon. It makes it easy to design images as it has several templates and a drag-and-drop editor. You can also overlay shapes, icons, and illustrations over your images.
Pixelied lets you add photos to your designs. You can either upload these photos or quickly import them from Unsplash and Pixabay as it integrates with both sites. After choosing an image, you can adjust the size, crop the photo, remove the background, add borders and shadows, and adjust the opacity.
You can add filters to quickly modify the appearance of the photos or individually change the brightness, contrast, saturation, hue, and noise.
This is an excellent option if you are looking for a graphic design tool with a short learning curve. Just note that it doesn't have the best photo editor.
Pricing: It has a free plan. The Pro plan costs $9.95 per month. But you can get it on AppSumo for a one-time payment of $59.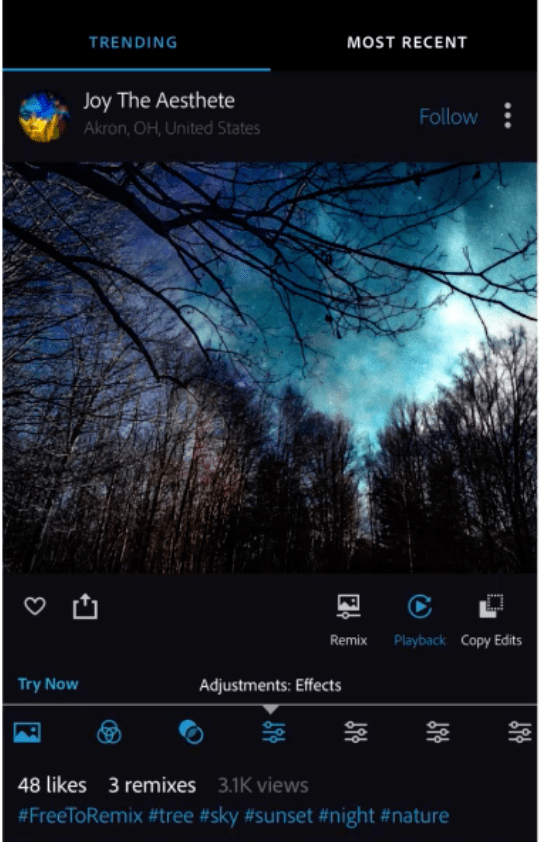 I'm sure you've heard of Photoshop before. This software is so prevalent that the word "Photoshopped" is synonymous with "airbrushed." If you've been hesitant to use Photoshop or Lightroom because of the price, check out the free version labeled Adobe Photoshop Express.
It's not as advanced as Photoshop, but this also makes it easier to use. It's got most of the features needed to edit professional-quality photos.
One of the standout features is Auto-Enhance. You simply upload your photo and click Auto-Enhance, and it'll automatically adjust the light and color to improve your photos. It also has filters that make it easy to edit photos quickly.
If you prefer to edit photos manually, you can take advantage of settings like light, color, effects, and blur. Manual adjustments will give you more control, and you can get the photos to look like you want them to. You can also transform, crop, and rotate photos.
Photoshop Express integrates with Google Photos, Facebook, and Dropbox. You can quickly import your photos from these sites and edit them.
The main drawback of Photoshop Express is that there is no web or Macbook version. There are apps for iOS, Windows, and Android devices only.
Pricing: Photoshop Express is free to use. The Premium version costs $9.99 per month.
6. GIMP [Free open-source image editor]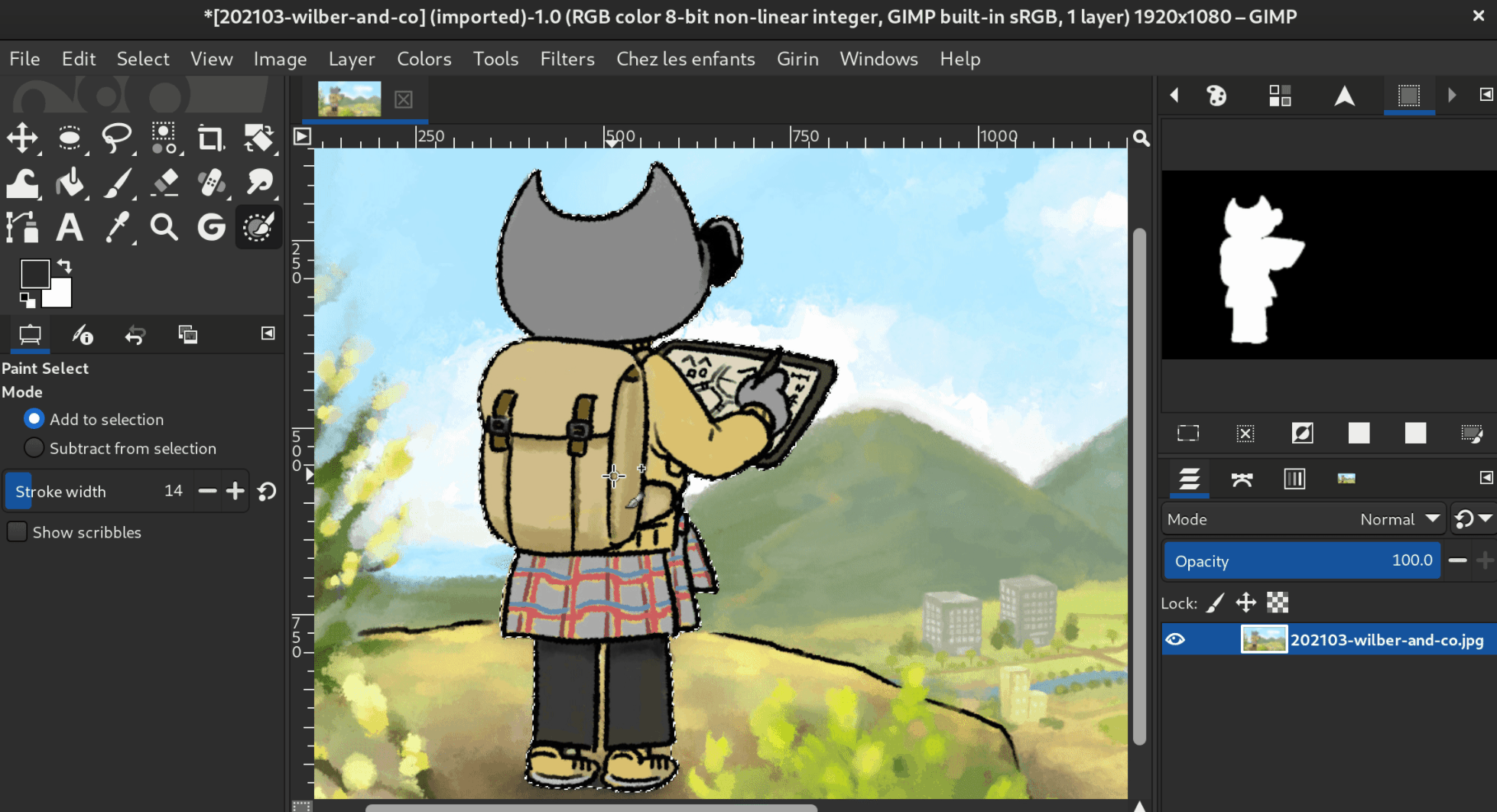 GIMP is a completely free image editor. You can also use it for drawing. The paintbrush lets you draw freehand, and the paths tool enables you to draw lines and adjust them. If you know how to draw, you can take advantage of this to create unique images for free instead of subscribing to tools like Illustrator.
Along with illustrating, it does all the things a photo editor does, like enhance photos and retouch them. The interface is easy to use. GIMP even lets you create a customized interface. It works with multiple file types such as JPEG, PNG, XPM, and TGA.
It's a good option for anyone looking for a completely free and open-source tool. The main drawback is that support is limited. You'll mainly need to rely on tutorials to learn how to use it. Another con is that there's no web version and app for mobile devices. You can only use the software downloaded on a computer.
Pricing: It's completely free. But you can make donations to support the software.
7. Fotor [A popular online photo editor]
Fotor is a freemium photo editor with over 500 million users. It's got a potent photo editor that lets you make basic and advanced edits such as removing the background, cropping, adjusting the color, blurring, and straightening.
It also has an exciting feature called AI Photo Effect. This lets you turn your photos into artwork with a click. You can adjust the strength of the effect too. There's also 1-Tap Enhance that automatically enhances your photos with one click.
You can use Fotor to retouch images, remove red eyes, blemishes, and whiten teeth. On top of this, it has got features like Photo Collage that help you create beautiful collages. Like many other tools on the list, it lets you create designs for social media and other platforms.
Another significant benefit of Fotor is that it's highly accessible. There's a solid web version, and there are software and apps for computers and mobile devices.
The only drawback is that the free version is a bit limited.
Pricing: It starts with a free plan. The Fotor Pro and Fotor Pro+ plans cost $8.99 and $19.99 per month.
8. Snapseed [Mobile-friendly photo editor]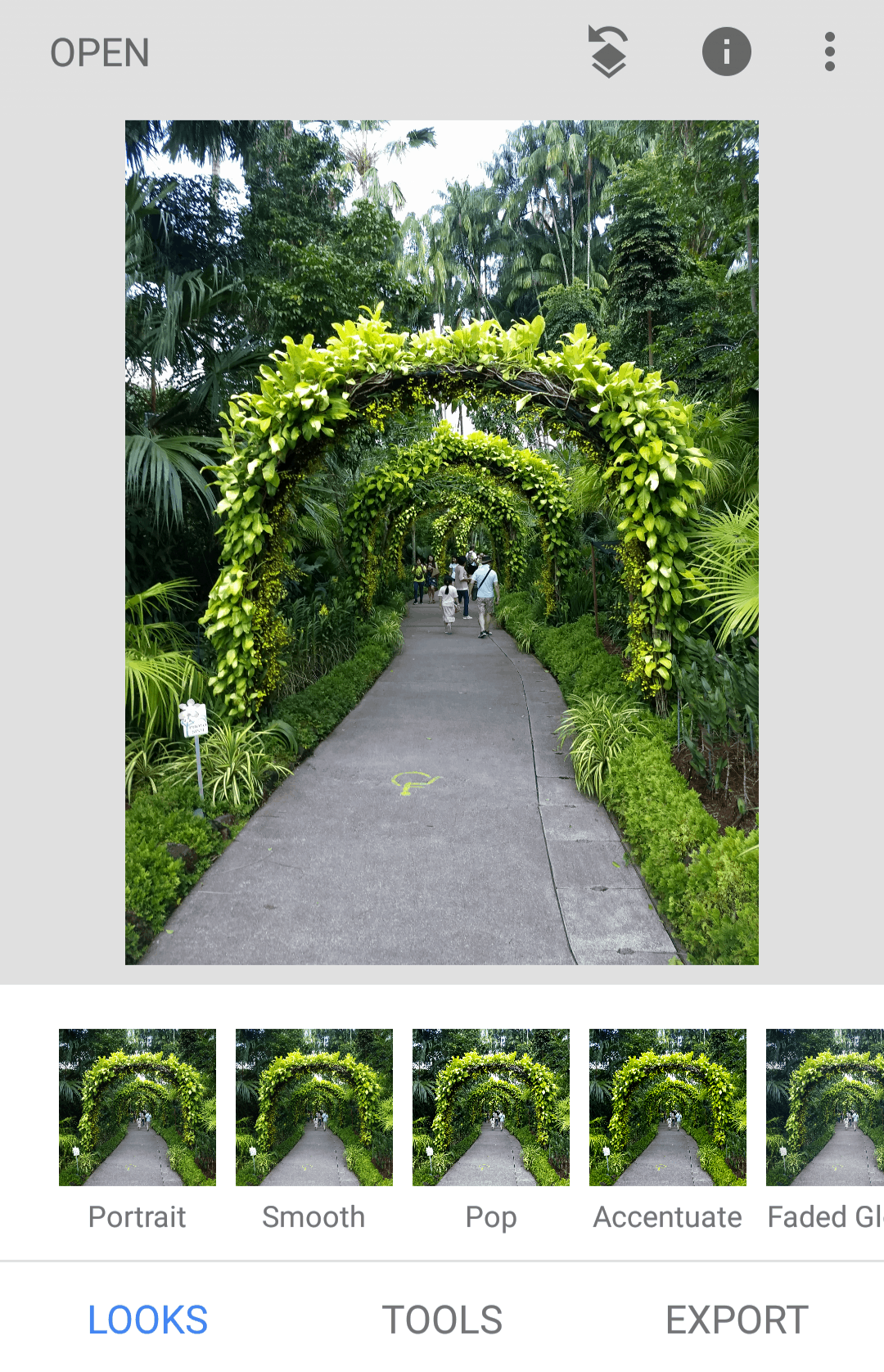 If you are looking for a powerful mobile-friendly photo editor, you should try Snapseed. It is free to use and has apps for both Android and iOS. The app is pretty advanced, but is still intuitive.
One of the important features you will like is the brush tool which lets you highlight specific areas in the image and modify only that area. You can adjust the color, brightness, blur, and sharpness on the selected area or the entire image. There's also a one-click option that can automatically edit your photo.
You have a lot of filters and presets to help you quickly modify your photos. To get the most out of Snapseed, you will need to improve your photography knowledge and practice using it as it has many features.
The one con of the tool is that it works on mobile devices only.
Pricing: It is free to use.
Which free photo editor do you like most?
There are several good free photo editors out there, but it can be hard to point to the best one because different tools will suit different individuals. You need to list the features you require and play around with the various tools to determine the best option for you.
If you mainly want a photo editor to modify Instagram images and photos you take with your mobile phone, Snapseed or Adobe Photoshop Express would be best.
But if you want a graphic design tool that doubles as a photo editor and works on multiple devices, Crello would be ideal.  For a limited time, you can get it for life on AppSumo, for a one time payment of just $49.
To get premium photo editors and graphic design tools for a fraction of the price, check out the AppSumo store. We have annual and lifetime deals for some of the top software.