Marketing
Talking About You: About Me Page Examples and Best Practices
Looking for stellar About Me examples to inspire you? You've found the right article.
Why are so many people bad at talking about themselves? Even if you aced every college essay, you probably draw a blank when you sit down to write a short overview of your life and experience. Why is that?
If you're like most website owners, the About Me page is one of the hardest pages to create. It's like being asked what you do for a living. The challenge is talking about yourself in a way that's both interesting and sincere.
Let's look at this from the perspective of someone who writes About Me pages all the time: a copywriter. After all, a good About Me page is supposed to be writing that can "sell" you, right? Here's everything you need to know about drafting a powerful About Me page (with a few inspiring examples).
What is an About Me page?
The About Me page (also called the "About Us" or just "About" page) is a page that helps site visitors quickly assess what a website is about and who it's for. It tells people who you are or what your business does.
An About Me page can usually be found in one of two places on the website: in the top-level navigation or at the bottom of the website in the footer.
So, why do you need an About Me page, anyway? What's the big deal?
An About Me page can serve many purposes. Most of those purposes can be lumped into a few simple buckets:
Sell yourself: Many people view About Me pages as vital elements in their sales funnel. That's a marketer's way of saying that for the right product or service, an About Me page doubles as a sales page. It's where casual website visitors convert into customers.
Showcase your expertise: About Me pages are a great place to pack the nitty-gritty details of your background. You can tell a longer story than you might tell on, say, your home page. Some people see their About Me page as an online resume.
Give context: This is especially important for bloggers. Often, new readers to a blog can get more from everything they read once they know more about the author. For example, if someone loves a blog you wrote about tax saving strategies, they'll be elated to learn (on your About Me page) that you're a certified public accountant with years of experience helping real people save on taxes.
Tell us your story: Humanize yourself. When someone arrives on your website, they know it hasn't existed forever. Your blog, services, and products began somewhere. Many people use About Me pages to tell that story—and hopefully connect on a deeper level with customers and readers.
But just because an About Me page is important doesn't mean it's easy to create. There are many common mistakes.
Some people say too much on their About Me page and come across as self-absorbed or boring. Other people say too little and provide no indication to readers about what the website offers.
The good news is, you don't have to reinvent the internet. Here are eight steps (with examples) to writing a great About Me page.
8 tips for writing an effective About Me page (with examples)
1. "About Me" is really about them (your audience)
An effective About Me page is technically about you, but it's really for the intended audience of that page. As you consider what to write, it's best to work backward from the goals of your audience.
If your intended audience is a future employer (like it might be in a portfolio), then your About Me page should highlight skills that are relevant to them. If your intended audience is blog readers, then an About Me page should detail the core subjects discussed on your blog—as well as a few credentials to explain why you're the ideal person to author this blog.
About Me pages for nonfiction authors are similar to effective blog About Me pages. You want to discuss your books and why you're the best person to have written them.
Common About pages for companies might contain a highlight reel of the team. They might also serve as another page for promoting the core products.
The point is: An About Me page can be written a thousand different ways. But you always want to start from the same place: working backwards from the goals, desires, and intentions of the ideal reader.
For our About page at AppSumo, we went through many iterations before settling on the current version. We wanted site visitors to immediately know that we're on their team. That meant writing empathetic copy that cut to the core of entrepreneurship.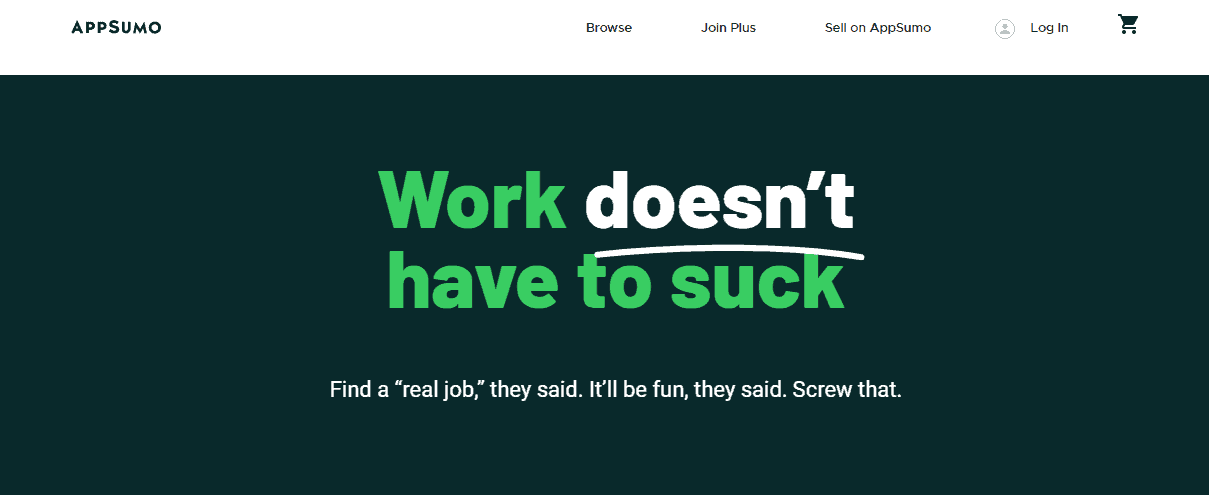 Source: AppSumo
2. Invite readers to experience something bigger than themselves
Some of the best About Me pages go beyond the person they describe. These pages talk about you, sure. But they also invite the reader to experience a better version of themselves.
Many of the most successful lifestyle and travel bloggers walk a fine line between talking about their real experiences while making readers feel like they're on an adventure of their own.
Oneika the Traveler nails this, giving readers a snapshot of her world within the context of how Oneika adds value to her readers and supporters.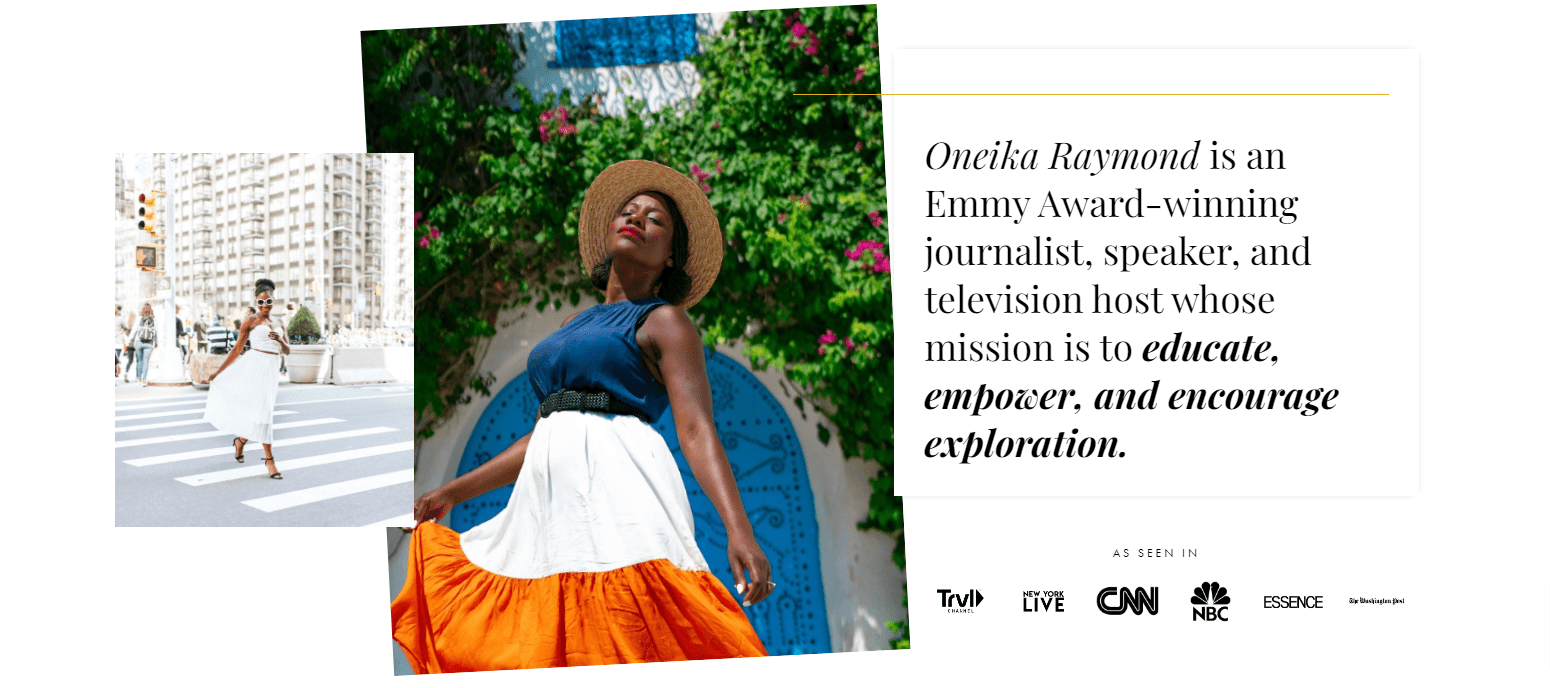 Source: Oneika the Traveler
3. Combine writing, images, and (if you're comfortable on camera) video
No one wants to arrive on a webpage that's just a wall of text. It's intimidating and also feels highly impersonal. The best About Me pages use multiple forms of media, combining written descriptions with high-quality photos and videos.
The multimedia approach adds a personal touch to your page and makes you and your website more memorable to the site visitor. Also, it gives viewers a chance to see your personality or ideas expressed in another context. If you're a regular YouTuber, for example, then having a video on your About Me page can serve as a traffic driver to your YouTube channel.
On the website Goats on the Road, you're immediately met with a down-to-earth introduction video of the creators, as well as a mix of written content and pictures. It helps their story jump off the page, while humanizing their brand.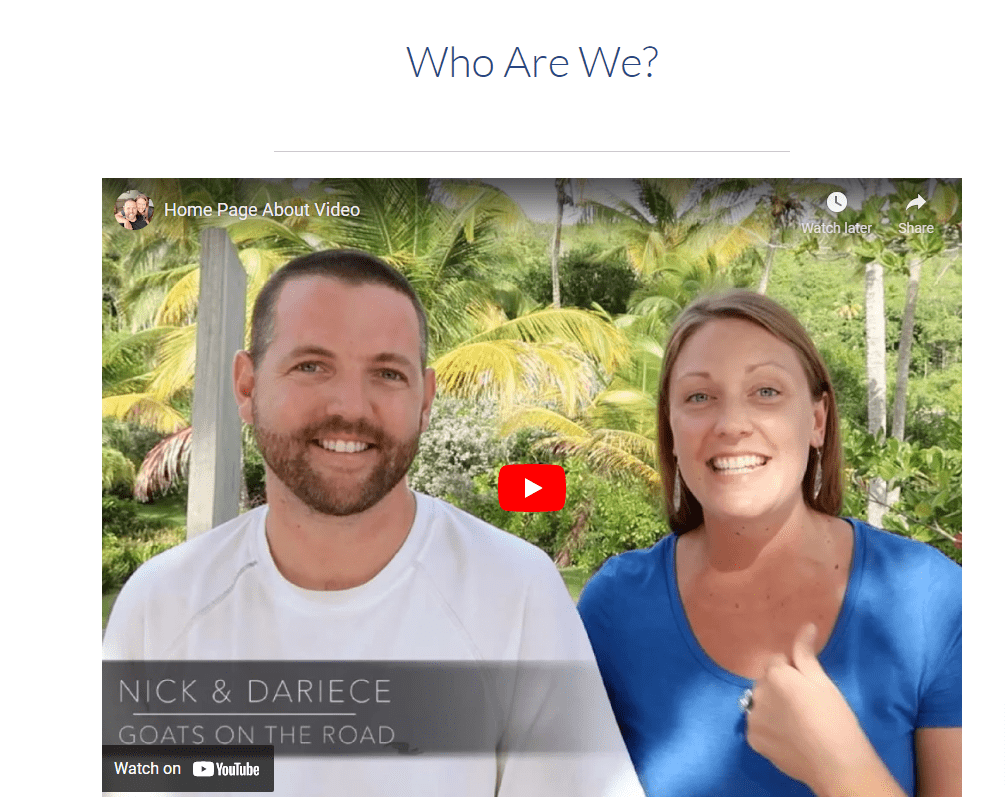 Source: Goats on the Road
4. Encourage readers to engage
One way to define an unsuccessful About Me page is a page that doesn't nudge your audience to take action. A blogger's About Me page should turn readers into devoted subscribers. That means either showing them your best articles (so they continue reading) or asking them to sign up for your email list (so they see your future posts).
Our founder and CEO does this on his personal blog, OkDork. On the About Me page, Noah gives the reader a quick overview of himself and his interests. Then, he shows us the best ways to connect more with him.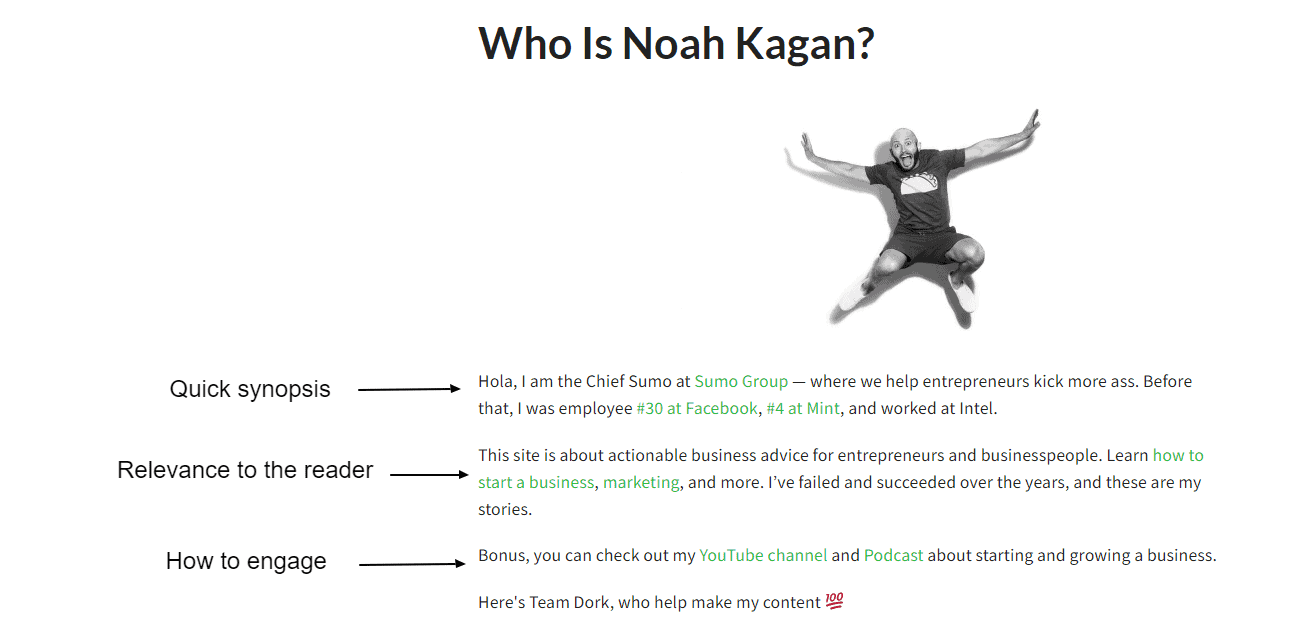 Source: OkDork
5. Give a clear call-to-action
When you're writing an About Me page, it's easy to forget that this shouldn't be the final stop for readers. You want to keep them on your site by giving them the next step. That next step must be clearly conveyed using a call-to-action.
Chris Guillebeau uses one of the most common and powerful forms of call-to-action: an email sign up. Email is still one of the most powerful tools for online marketing. By nudging readers toward his email signup box, Guillebeau is steadily building his readership base one subscriber at a time.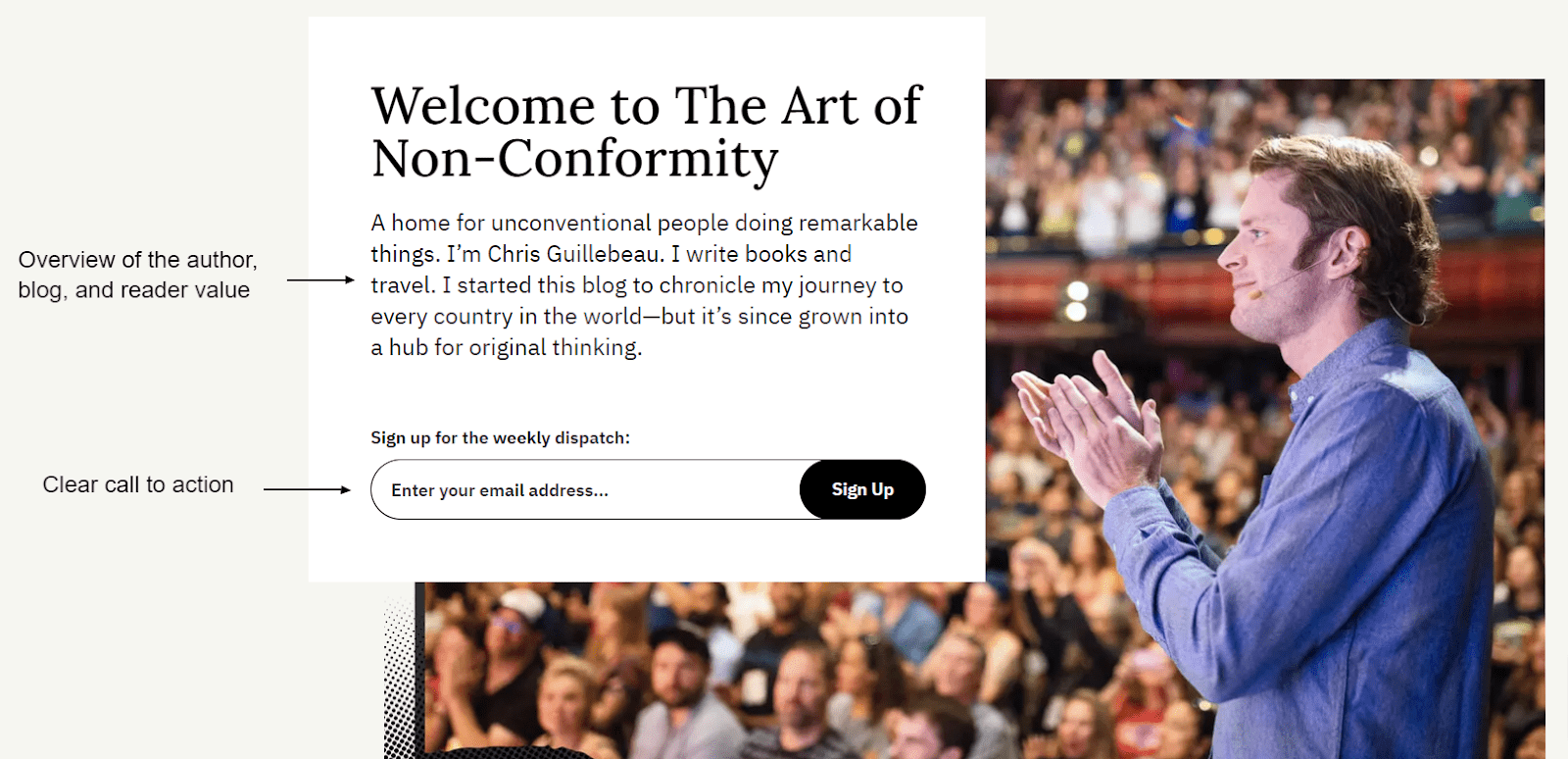 Source: Chris Guillebeau
6. Showcase your credentials (in the simplest way possible)
When you're talking about yourself, often less is more. Give readers a glimpse into your credentials and background—without writing a memoir about yourself. Take Brian Dean's About page on Backlinko as an example.
Brian Dean showcases his SEO credentials through social proof. Rather than telling you all about his years of experience, he just shows what a handful of reputable media sites have said about him.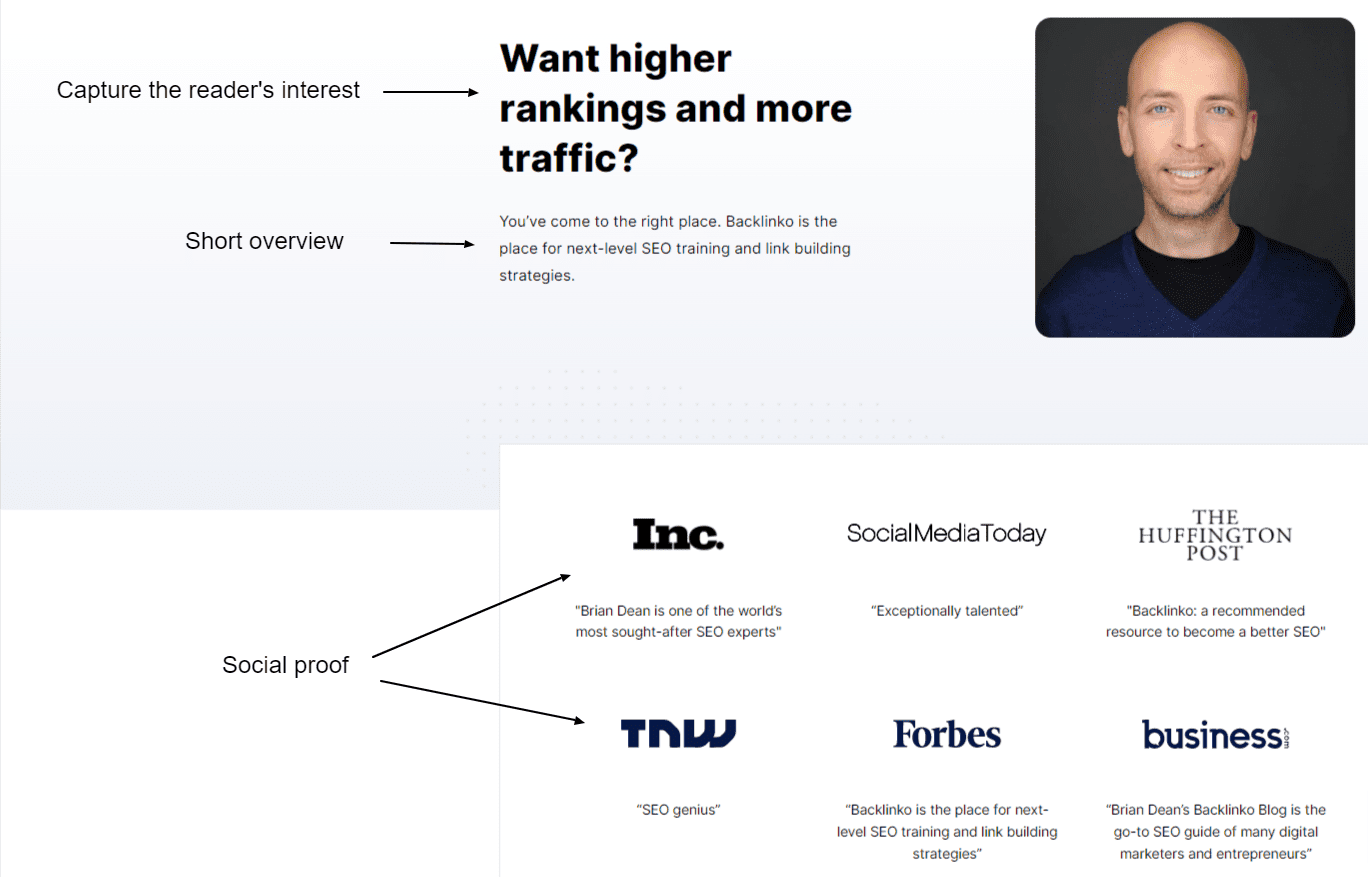 Source: Backlinko
On that note, how do you get awesome testimonials? Funny you ask. We have an entire article about how to ask for testimonials and use them as social proof.
7. Pull readers into your story
You didn't get here overnight. Your dreams, success, and hardships have all played immeasurable parts in shaping who you are today. One of the best things to showcase on your About Me page is that story.
Discuss the learning curves, the roadblocks, and the points of confusion. Tell readers where you started. Story is one of the most persuasive tools in a copywriter's toolbelt. If you learn how to tell your story effectively, you can win lifetime customers and readers to your website.
Pinch of Yum is a popular food blog. While people come to this website for great recipes, they also come simply to follow the company's founder. The About Me page does a great job of combining both of these interests.
Pinch of Yum uses the About Me page to tell the story and bio of founder Lindsay Ostrom. This plays two functions. First, it gives Lindsay's fans a place to learn more about her background. Second, it gives food enthusiasts (count me in that club) context about the recipes on the website.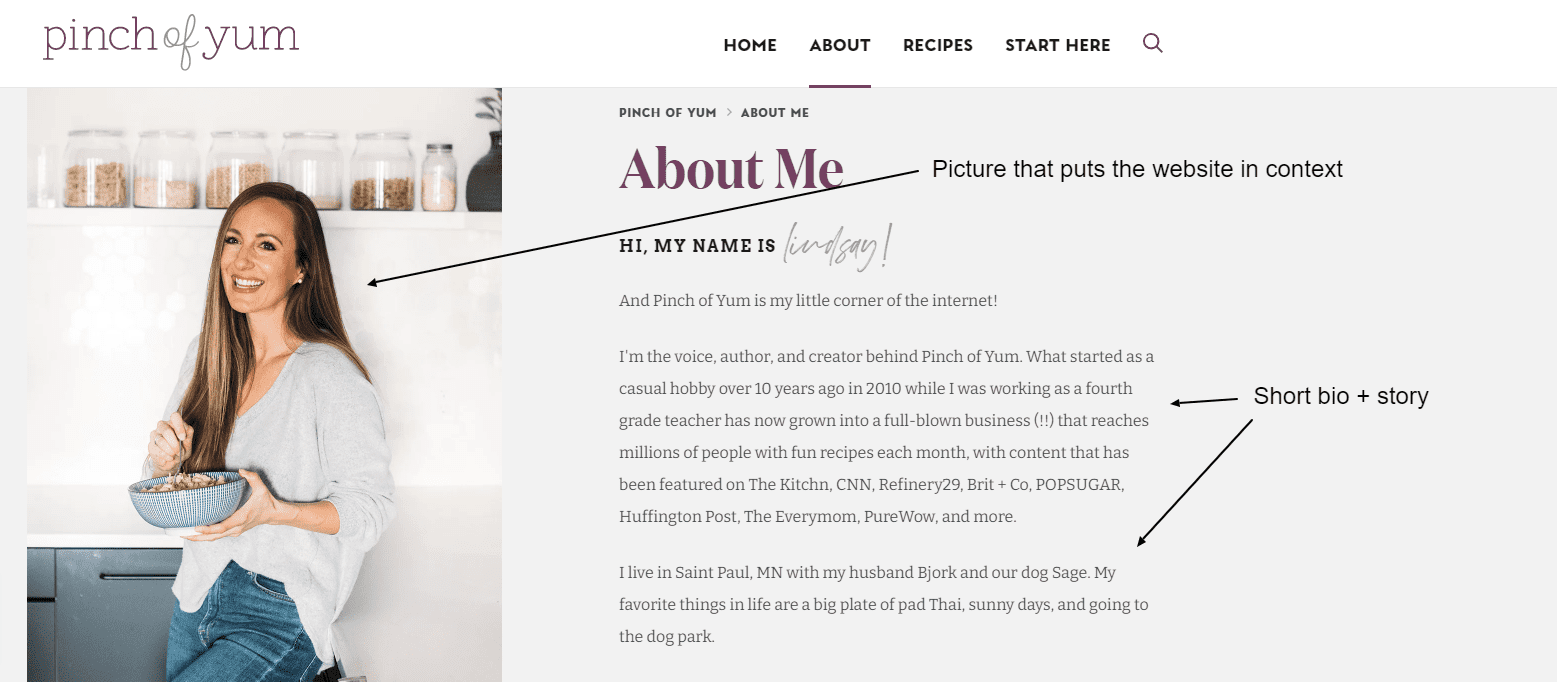 Source: Pinch of Yum
8. Think outside the box
It's helpful to understand that your About Me page is yours. Sure, in this article we've covered many ideas that can be described as best practices. But at the end of the day, it's okay to break the rules and think outside the box.
While researching this article, our favorite website didn't even have individual pages. The creator's About Me section—and really, every part of his website—was baked into a single unconventional experience. Developer Bruno Simon turned his portfolio into a literal video game in which you drive a car to explore his offerings.
And while the page contains very little text, we'd argue that you can learn more about Bruno from his playful design than he may have been able to convey with a standard About Me page.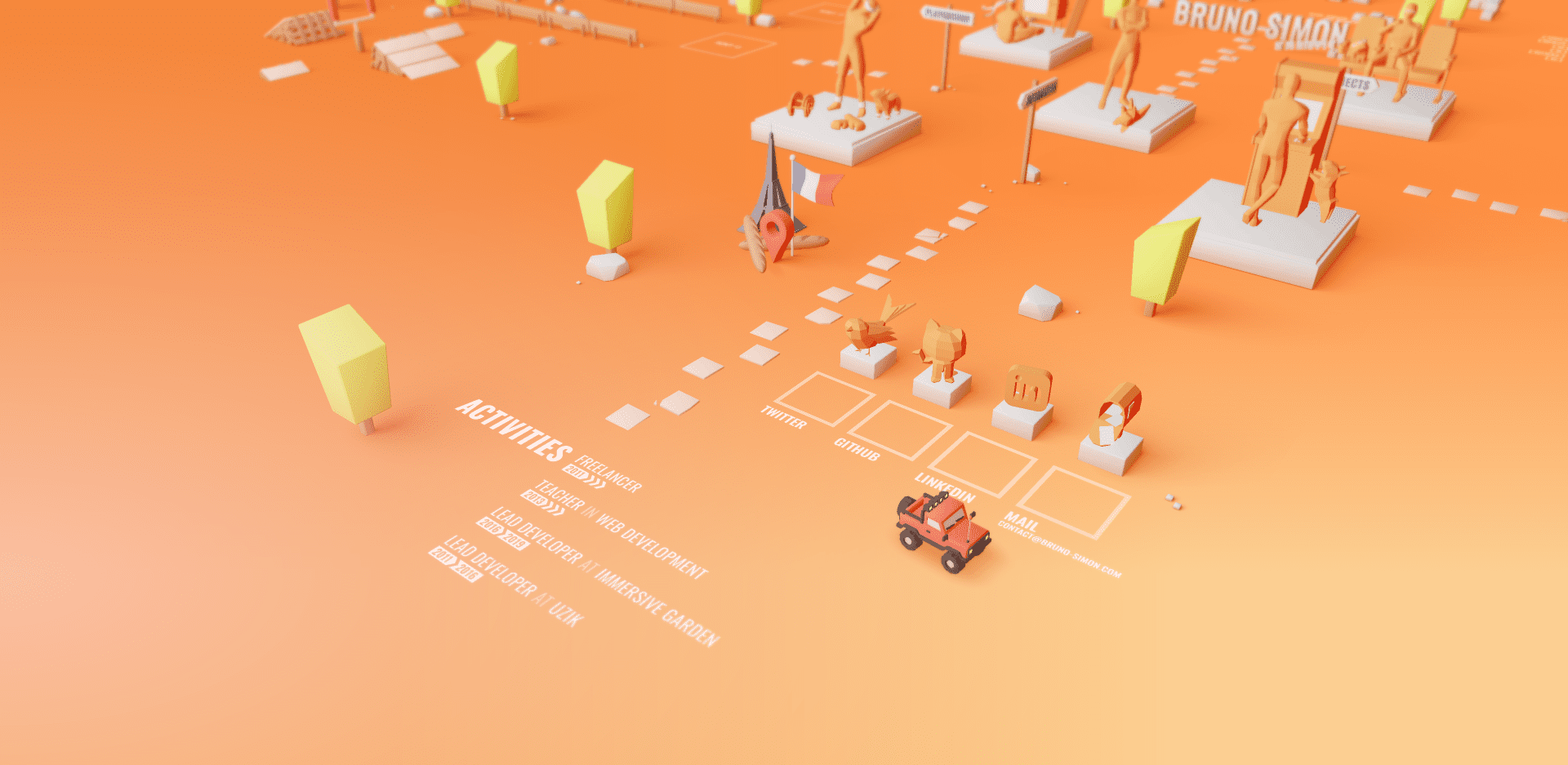 Source: Bruno Simon
Craft your About Me page with confidence
Part of what makes About Me pages difficult to write is exactly what makes them so important: They're personal.
About Me pages serve as an important relationship-builder between you and your customers or readers. As you begin writing your About Me page, hopefully some of these examples inspire and help you.
Good luck!