Software Alternatives
11 Paid and Free Teachable Alternatives for 2023
Teachable's expensive transaction fees and limited functionality are forcing users to look for alternatives.
In this guide, we share the top contenders sorted according to use case, features, and potential limitations.
Teachable overview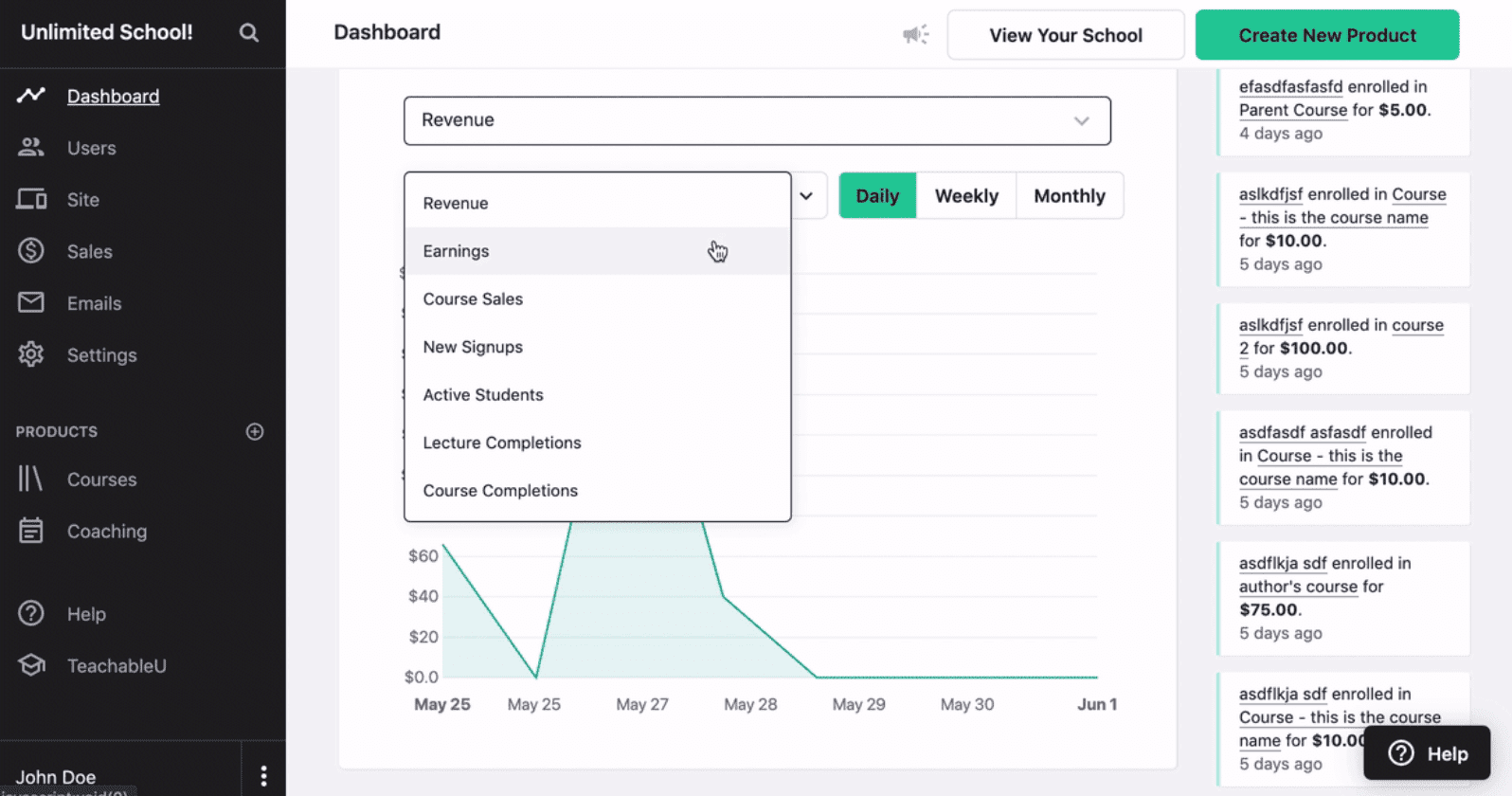 Source: Teachable
Teachable has won the hearts of over 100,000 creators, thanks to its beginner-friendly user interface, tax handling, and unlimited hosting.
However, this simple learning management system (LMS)  is not for everyone.
Users looking for Teachable alternatives cite reasons such as limited features (e.g., no built-in community) and unreasonable transaction fees that can only be avoided by upgrading to the Pro and Business plans.
10 top Teachable alternatives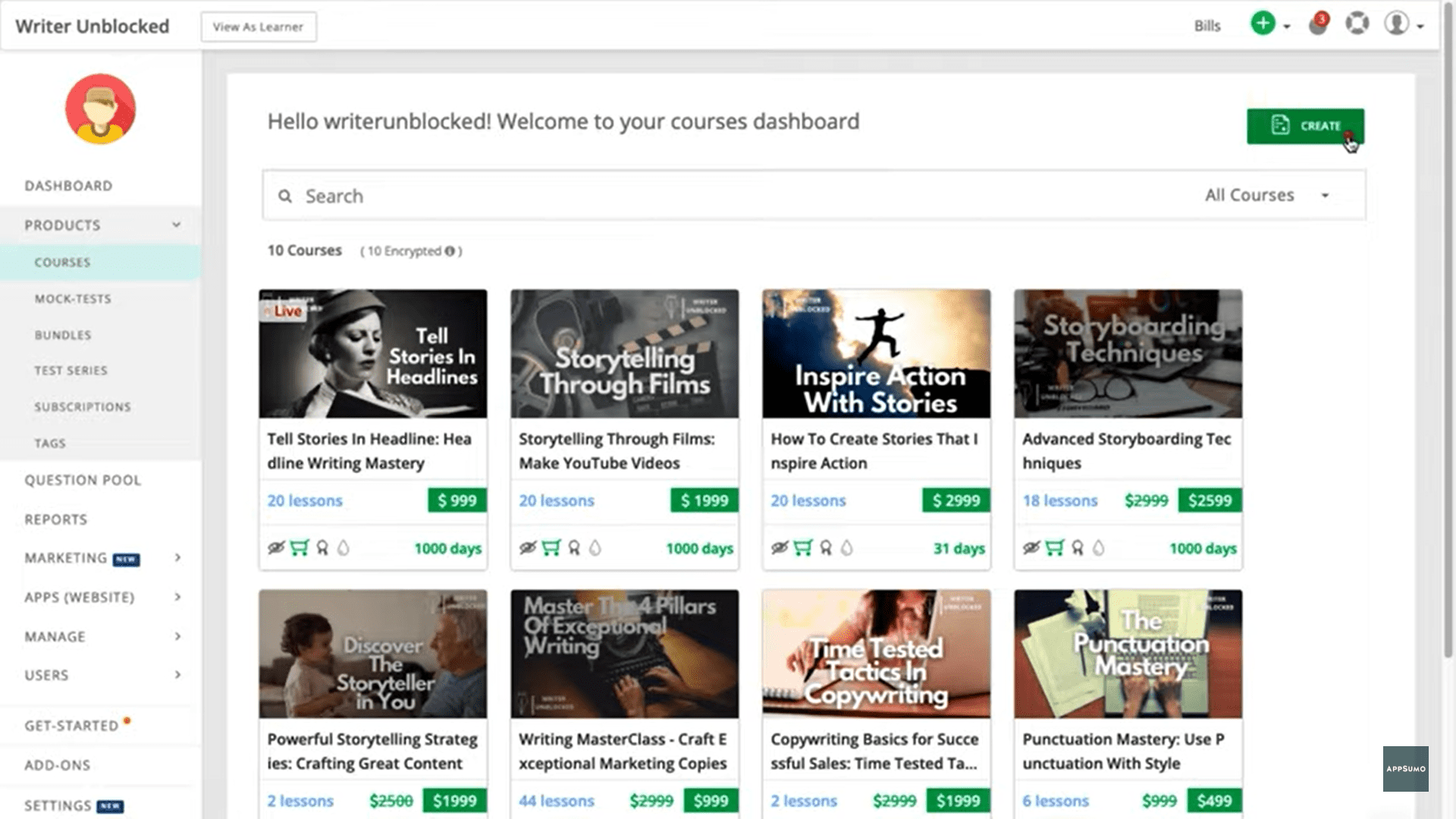 Learnyst is a highly secured course platform that gives course creators peace of mind.
Enable OTP login, restrict watch time for videos, and encrypt your content from illegal downloads in a click. You also get 100% of your course sales without any additional transaction fees.
Best features:
Security features Learnyst boasts excellent security tools like OTP login and watch time and screen capture restrictions
DRM encryption: Learnyst also stores your courses (e.g., videos, PDFs) in DRM form, preventing users from downloading them
100% revenue: Receive 100% of your course sales, with zero additional transaction fees, directly to your bank account via secure payment gateway integrations
Payment options: Get paid via a variety of payment processing systems like Stripe, PayPal, Razorpay, Instamojo, CCAvenue, and HDFC
Limitations:
User interface isn't as polished as other Teachable alternatives
Can get expensive fast if you want to unlock add-ons and premium features (e.g., you need to be a Professional user to access Categories, a feature that organizes your content)
No free plan
Pricing:
14-day free trial
Essentials: $49/month with custom domain, unlimited landing pages, encrypted courses, and more
Professional: $149/month with everything in Essentials + coupon codes, advanced reports, and more
Premium: $249/month with everything in Professional + screen recording restrictions, essay evaluation, and more
Grab the Learnyst lifetime deal on AppSumo today for $79.
2. Best for busy entrepreneurs: Terrain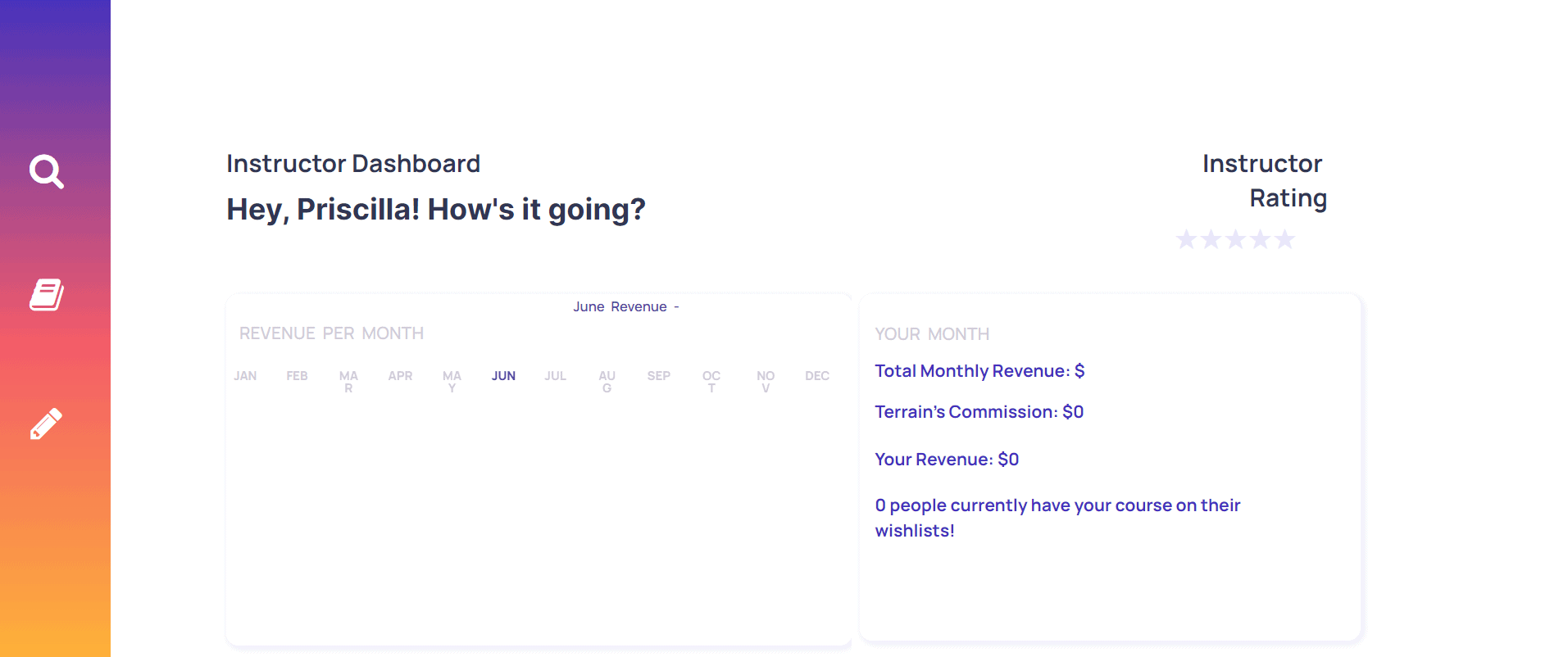 Terrain is a one-of-a-kind social learning platform. It takes care of all your marketing once your course is up. The best part? You don't need to invest a single dollar in ad spend and hosting.
Best features:
Marketing: Delegate your Facebook ads and sales emails sequences to the Terrain team while you sit back and relax
Community: Connect with students on discussion boards and in-app messaging
Learning tools: Students maximize their learning experience with automatic transcripts, an on-screen note-taker, and action plan builder
Peak points: Hang out in Terrain's Slack community and participate in conversations to earn peak points (note: peak points are cashed out through your Terrain account every month)
Limitations:
User interface isn't as polished as bigger competitors (e.g., dashboard loads slow occasionally)
Pricing: 25% of course sales
3. Ideal for WordPress: LearnDash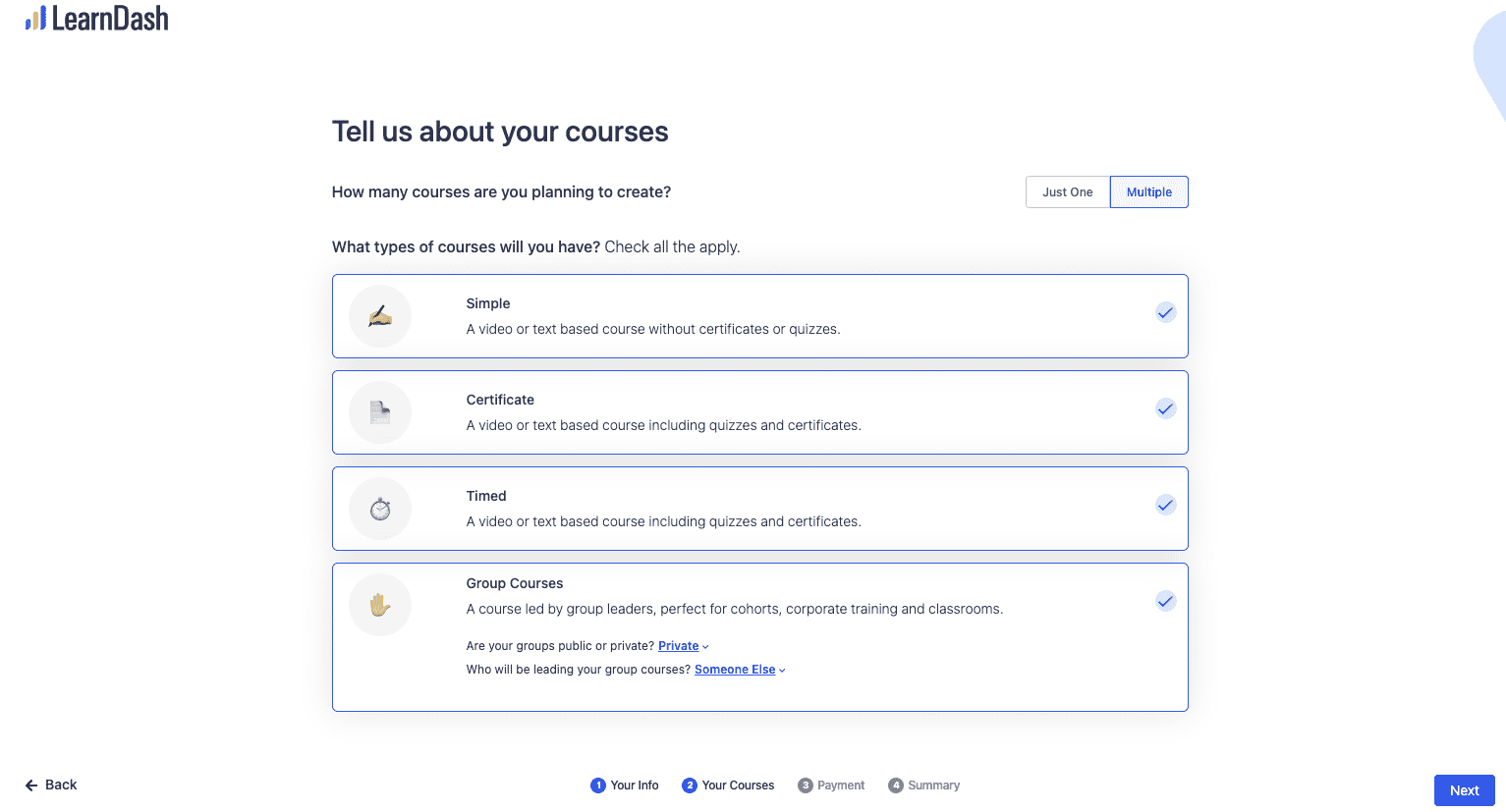 Source: LearnDash
LearnDash is the only WordPress LMS in this list.
This exceptional plugin sets up your course for you, saving you the hassle of clicking through dozens of buttons. You can also customize just about anything on your site, thanks to its massive integration library.
Best features:
Add-ons: LearnDash's impressive add-on library offers literally everything (e.g., integrity plugin to protect your content from spam, challenge exams to let members skip ahead a module or course)
Customization: You can customize your site down to the last detail with its sleek integrations with Elementor and Divi
OnBoarding Wizard: Install LearnDash with your plugins and settings within minutes
Limitations:
No free plan
Lack of free trial, though there is a 15-day money-back guarantee if you change your mind
Pricing is based annually, not monthly
Website may get bloated since you need to integrate LearnDash with many plugins to get the most out of it
Pricing:
Basic: $159/year for 1 site license, unlimited course and users, and more
Plus: $189/year for everything in Basic + 10 site licenses and more
Pro: $329/year for everything in Plus + 25 site licenses and more
4. Beginner-friendly: Teachery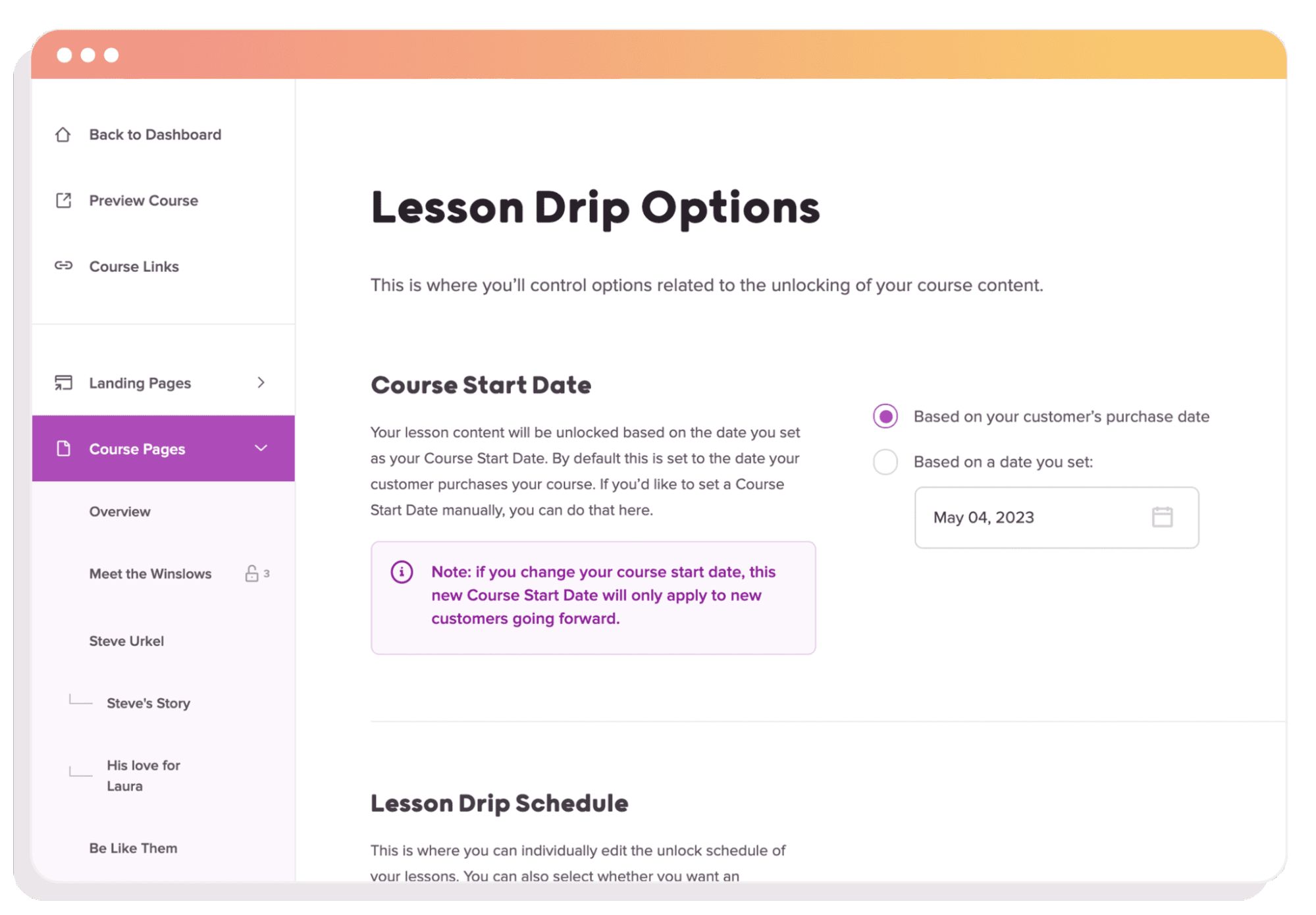 Source: Teachery
If complex tech makes you nervous, look no further.
Teachery is an easy-to-use course platform made for complete beginners who care about simplicity. It equips you with the essentials to get your business rolling. Highlights include a superior customer service and intuitive interface.
Best features:
Transaction fees: Teachery doesn't charge users additional transaction fees (excluding fees from payment processors)
Customer support: Even though Teachery doesn't offer 24/7 support, the team tries to respond to support queries as quickly as possible according to its website
User interface: Teachery's UI is extremely straightforward—anyone can navigate the platform within minutes
Limitations:
No free plan
Doesn't support PayPal
Only two course templates available (Minimal and Sidebar)
Very basic features (e.g., Teachery lacks course templates, though this is reportedly in the works)
Pricing:
14-day free trial (tip: message Teachery with the quote "livedemo" to unlock an extra week)
Monthly: $49/month for unlimited courses, lessons, students, and more
Yearly: $479/year for everything in Monthly
5. Best for large volume of students: Thinkific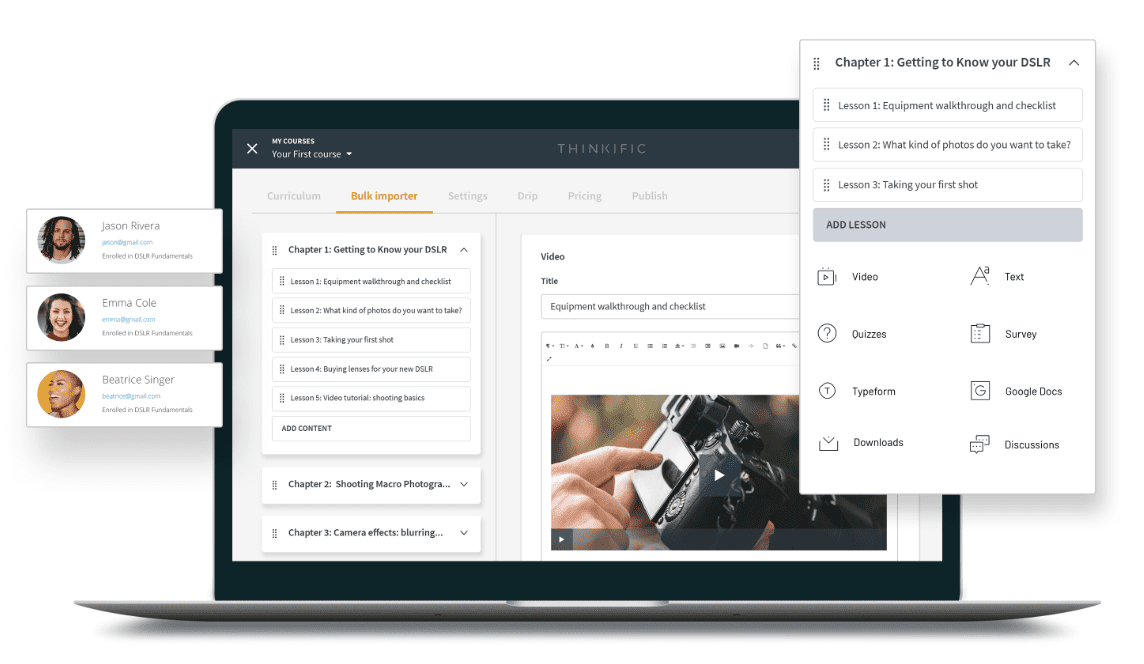 Source: G2
No LMS comparison list is complete without Thinkific.
Its enterprise-grade offering, Thinkific Plus, offers best-in-class features like additional course hubs, service level agreement, and unlimited user access.
This platform is ideal for revenue generation, customer and employee training, and lead generation at scale.
Best features:
Transaction fees: Thinkific doesn't take a cut off your course revenue as it operates on a zero transaction fees model
User interface: Thinkific's user-friendly interface is one of the most beautiful in the market
Pricing: Start for free or choose your ideal pricing from Thinkific extensive plans
Thinkific Plus: Launch online programs to boost activation, onboard employees, and educate large volume of students at scale
Limitations:
Lack of design templates in course and website builders
Thinkific Payments, Thinkific's payment processing system, is available only in the USA, UK, and Canada
Pricing:
Free: $0 for limited courses, unlimited students, templates, and more
Basic: $49/month for everything in Free + unlimited courses and content, live chat support, and more
Pro: $99/month for everything in Basic + private and hidden courses, completion certificates, and more
Pro + Growth: $149 for everything in Pro + branding removal, advanced student segmentation, and more
Premier: $499/month for everything in Pro + white labeling, unlimited communities, and more
Plus: Custom for everything in Premier + dedicated sandbox site, advanced password complexity, and more
6. Revenue sharing: Udemy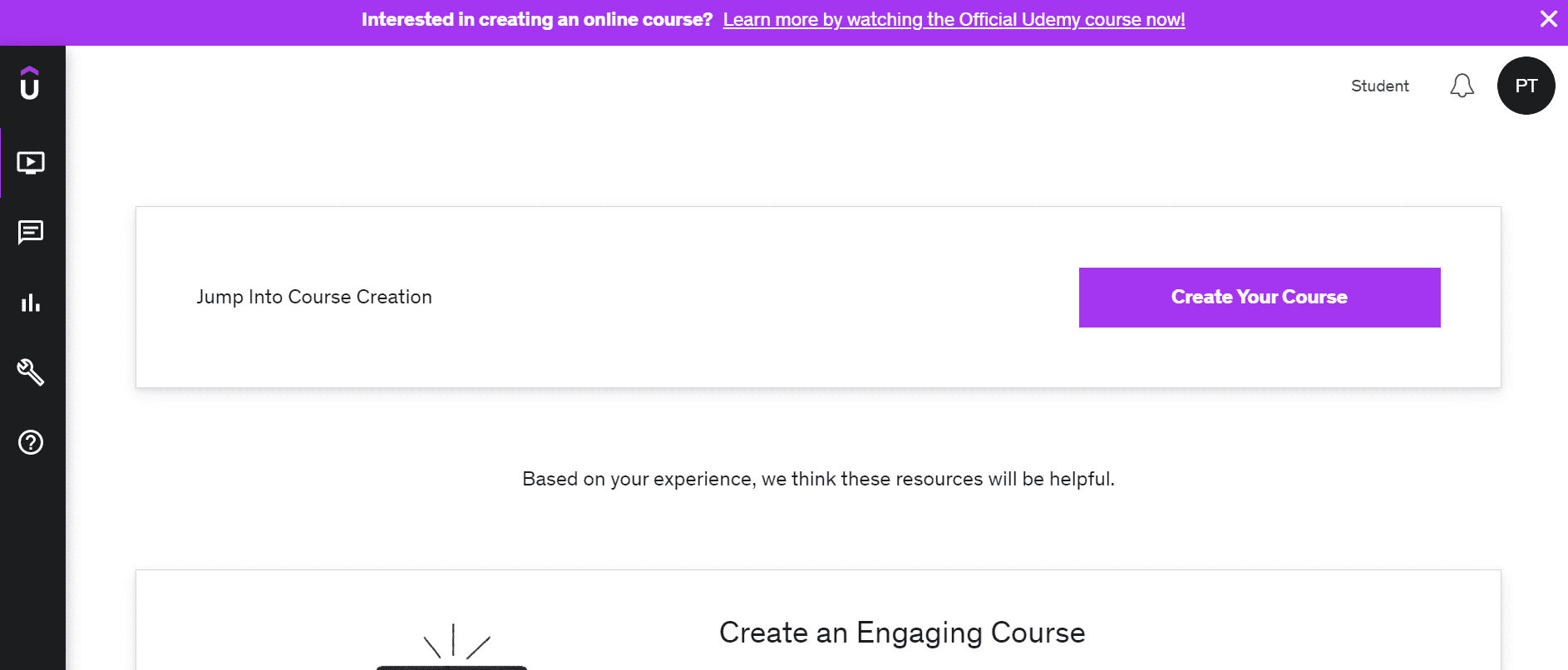 If you don't want to pay a monthly fee, then consider Udemy. This popular teaching marketplace provides you just the essentials to teach learners and get paid for each enrollment.
Best features:
Test Video: Send a two-minute video of your course for review and receive personalized feedback from Udemy
Community: Udemy offers two main communities for new and published instructors to encourage one another, build connections, and grow their business
Marketplace Insights: Start on your best foot by validating your course idea or topic with Udemy's marketplace data tool
Pricing: Udemy operates on a revenue sharing model
Limitations:
Udemy pays on a monthly basis
Only video courses are accepted (note: Udemy host other file formats under additional materials in the Course Resources tab)
Extremely basic features (e.g., no access to students' email address, which makes lead generation extremely difficult)
Pricing: 
Instructor promotions: Receive 97% of revenue when students purchase your course with your coupon or referral link
Udemy promotions: Receive 37% of revenue when students purchase your course from an Udemy ad or browsing the Udemy marketplace (click here for more details)
7. All-in-one: Podia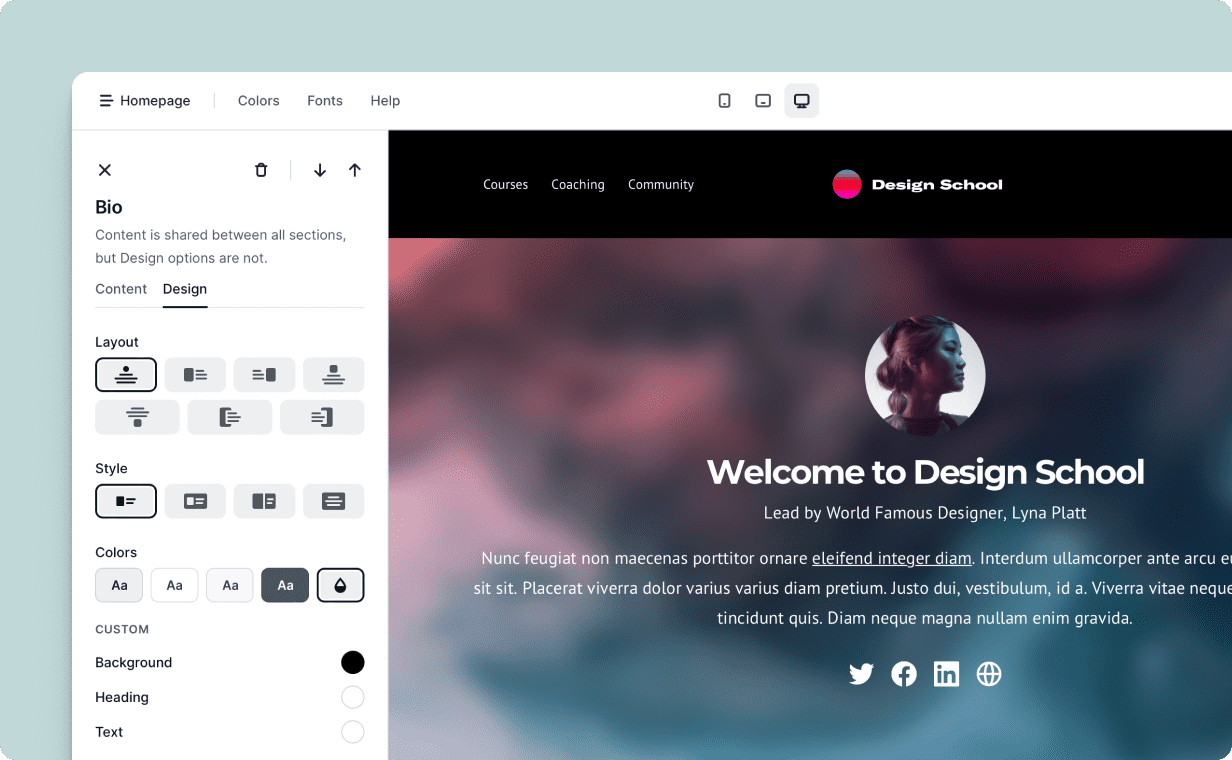 Source: Podia
Podia scores high for its creator-friendly website builder and embeddable buy button. With the latter, customers can buy your courses or memberships directly from your external sites without ever having to leave the page.
Best features:
Website builder: Drag and drop to create a beautiful and functional website with zero coding involved
Communities: Podia offers a built-in online community for all plans
Pricing: You can immediately start selling your content on Podia for free
Embeddable buy button: Sell your content on any non-Podia website without requiring visitors to leave the site
Limitations:
Users on free plan have to pay 8% transaction fee (excluding fees from payment processors)
Pricing:
Free: $0 for 8% fees, full website, full community, email marketing, and more
Mover: $39/month for everything in Free + zero transaction fee, unlimited downloads, and more
Shaker: $89/month for everything in Mover + affiliates, unlimited webinars, and more
Earthquaker: $199/month for everything in Shaker + monthly creator call, priority support, and more
8. Best marketing tools: Kajabi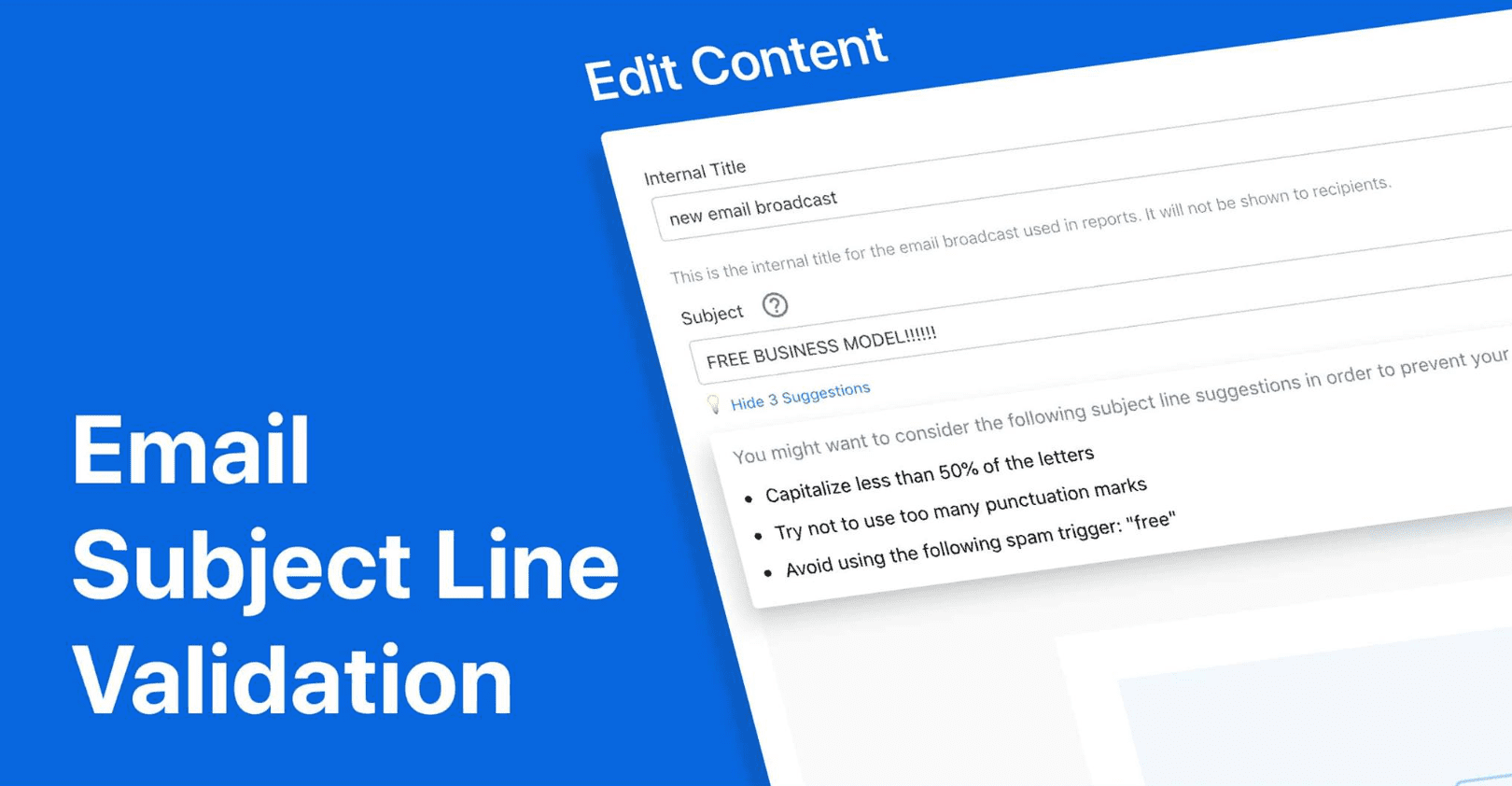 Source: Facebook
Kajabi understands not all creators are marketers, so it's created a built-in marketing suite to help you promote your business. Stand-outs include premade playbooks for your funnels and built-in email marketing tools.
Best features:
Transaction fees: Kajabi doesn't take a cut from your revenue
Pipelines: Kajabi offers ready-to-use playbooks (including pre-written copy developed from high sales-converting funnels) for many types of funnels, like product launches, coaching campaigns, and webinars
Email tools: Kajabi boasts many built-in email marketing tools (e.g., validate your email subject line to promote deliverability, filter out high-risk contacts during import)
Limitations:
No free plan
One of the most expensive online course platforms in the market
Many themes look basic
Restrictive landing page builder that makes it difficult to customize to fit your brand
Pricing:
14-day free trial
Basic: $149/month for 10,000 contacts, ready-to-use templates, unlimited landing pages, and more
Growth: $199/month for 25,000 contacts, everything else in Basic + Kajabi branding removal, and more
Pro: $399/month for 100,000 contacts, everything else in Growth + code editor, and more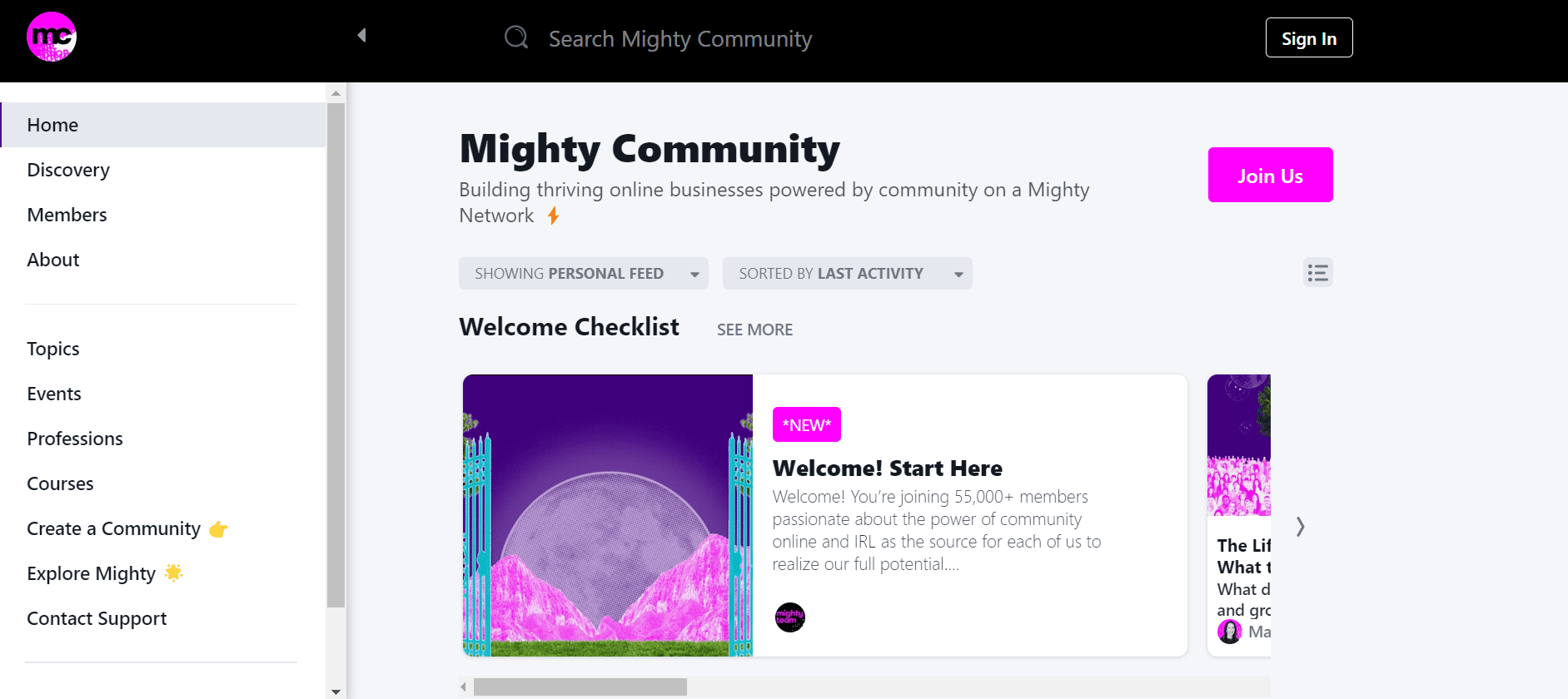 Source: Mighty Networks
Mighty Networks is a community-centric course platform. It offers unlimited members at every tier, making it a no-brainer for entrepreneurs who want to create a course with a vibrant community.
Best features:
Pricing: Mighty Networks runs on a no volume based pricing
Native Video: Record and upload your video directly to Mighty Networks without using a third-party recording tool
Meet: You can set up categories to connect your members around a common interest, speciality, profession, and more
Mighty Effect™: Create a unique feed for each member, ensuring that they receive relevant content
Limitations:
2-3% transaction fees (excluding payment processing fees) for online courses, groups, bundles, etc.
Basic customization options like branding and colors
No discount or coupon code functionality (tip: to overcome this, create a hidden plan and share the link)
Pricing:
Free 14-day trial (note: once the trial ends, you can either upgrade or continue using the free plan with limited features)
Community: $39/month for native live streaming and video, chat, and more
Business: $119/month with everything in Community + live cohort course creation, analytics, and more
Pro: Custom with everything in Business + app listing, branded app notifications, and more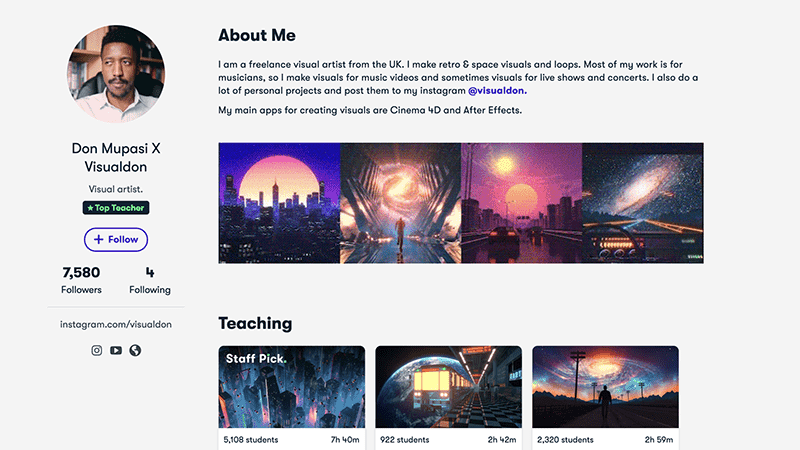 Source: Skillshare
Like Udemy, Skillshare runs on a revenue-sharing model. This popular bite-sized course platform has strict guidelines on its courses. Based on this list, you can't go wrong with topics like photography, illustration, and graphic design.
Best features:
Programs: Skillshare offers several programs for first-time and top teachers (e.g., Teach Lab, a three-month program, provides one-on-one coaching, production guidance, and video editing support)
User interface: Skillshare's clean and simple interface makes it easy to publish all your learning materials
Class topics: Skillshare often updates its in-demand topic list to point you in the right direction
Limitations:
Strict with topics (e.g., Skillshare doesn't accept topics like fitness, medicine, and passive income business strategies)
Only video-based courses
No discount option
Complex payment terms (e.g., you must hit at least 75 paid minutes across all classes within a month to receive royalties for said month)
Skillshare pays on a monthly basis
Pricing:
Royalties: % of minutes watched by your students (based on Skillshare's royalty pool)
Referral revenue:
Membership Payments – Refunds = Net Membership Payments
60% of Net Membership Payments = Your Monthly Referral Earnings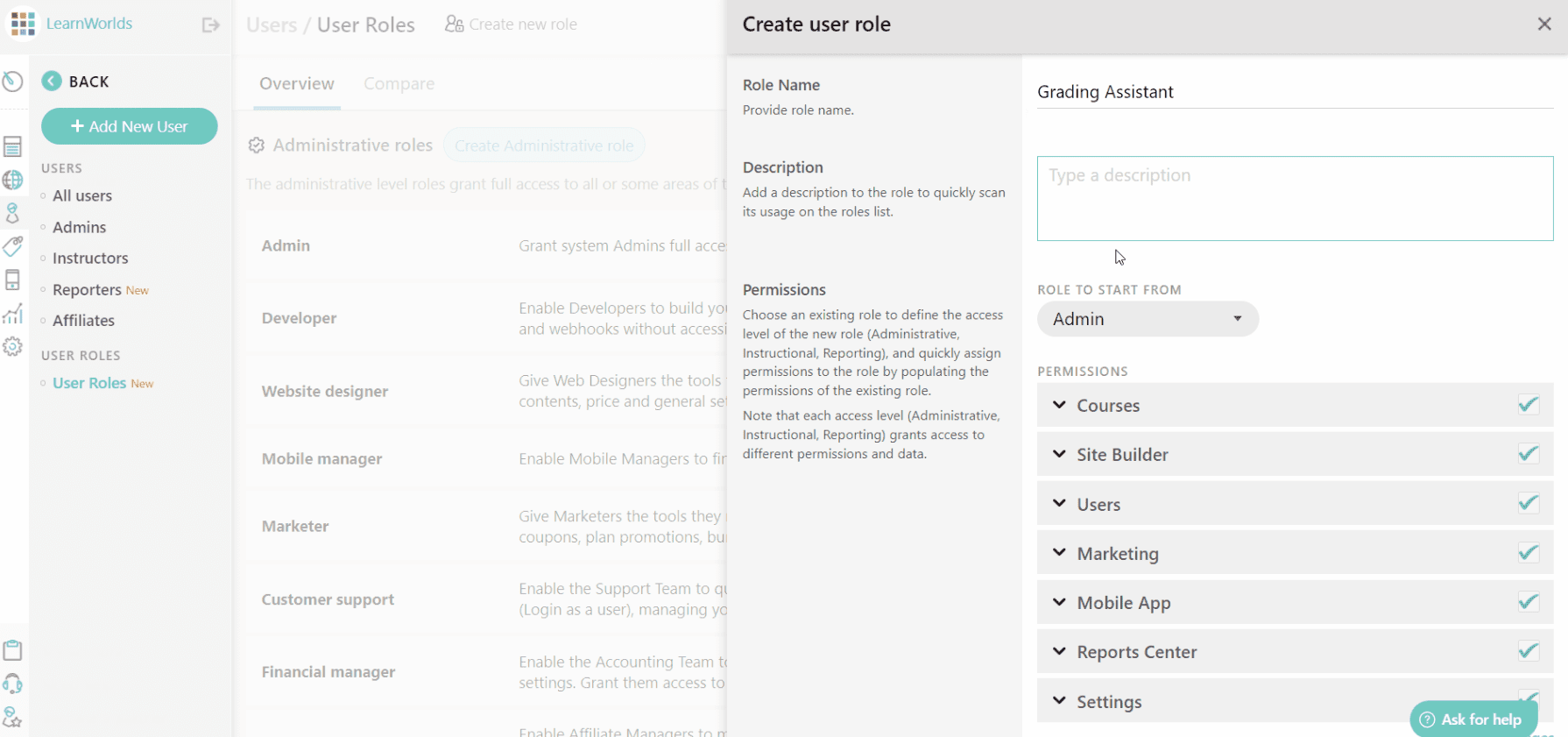 Source: LearnWorlds
LearnWorlds is a massive and versatile LMS.
It offers an almost-perfect uptime guarantee and lets you collaborate with your team with clearly defined roles. But the best part is its custom services, where a team of specialists handles your course content from start to finish.
Best features:
Uptime guarantee: LearnWorlds offers a 99.9% uptime guarantee on Starter, Pro Trainer, and Learning Center plans, and 99.95% uptime guarantee on High Volume & Corporate plans
Custom services: Outsource content development, customization, and editing to a group of specialists for a custom quote
Custom user roles: Assign roles to each team member, grant access and permission levels, and streamline your workflow
Limitations:
No free plan
The starter plan requires a $5 fee per course sale
Limited feedback options for quizzes and exams
Pricing:
30-day free trial
Starter: $29/month for 3-paged site builder, built-in community, custom domain, and more
Pro Trainer: $99/month for everything in Starter + complete site builder, unlimited courses, installments, and more
Learning Center: $299/month for everything in Pro Trainer + bulk user actions, white label, and more
High Volume & Corporate: Custom for everything in Learning Center + branded corporate academy, additional admins, and more
Teachable alternatives FAQs
1. What is the difference between Thinkific and Teachable?
Thinkific offers more enterprise-grade features such as service level agreement and advanced password complexity, making it a better choice for mid-sized businesses and enterprises that want to deliver an online learning experience at scale.
2. What is the difference between Udemy and Teachable?
Udemy operates on a revenue-sharing model, while Teachable operates on a subscription model.
3. Which is the best platform to sell courses?
Some of the best online course platforms include Teachable, Thinkific, Podia, Udemy, and more. But only you can decide what works best for you. Scroll back up to review these Teachable alternatives' use cases.
Which Teachable alternatives will you try today?
It's impossible to pick a winner, as each of these tools has its own strengths and limitations.
Go through our list and make full use of the free trials and free plans. That should help you pick your ideal course platform.
If you want to save money down the road, opt for our current lifetime deal, Learnyst. Or continue exploring 12,000+ tools on AppSumo.