Software Alternatives
Best Slack Alternatives: 14 Free and Paid Team Chat Tools
With more than 18 million daily active users, Slack is one of the giants of the team communication world. At this point, we've pretty much all used it.
But just because it's the popular kid in school doesn't mean it's automatically the best tool to manage your team's communication. If you suspect that might be the case, this goes out to you.
We've put together a list of the top Slack alternatives to help you communicate with ease and stay on top of your work. And this guide goes beyond messaging. We'll also look at other relevant features like project management and task organization. Whether you want to gather feedback during a final meeting or get everyone on the same page throughout multiple ongoing projects, you'll find the tool here that best suits your needs.
Why are these 14 team communication platforms the best Slack alternatives? Let's find out.
1. SmartTask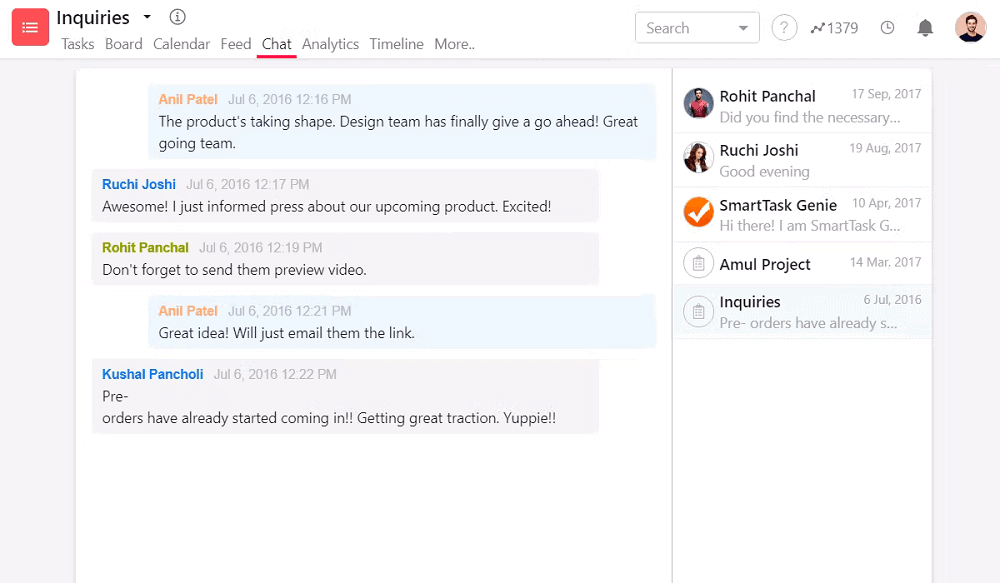 Source: SmartTask
Racking your brain to figure out who's done what and what else needs to be done? Check out SmartTask, a platform that allows you to communicate with your team and track projects in one place.
Top features:
Team collaboration (including instant messaging and video conferencing)
Task and project management
Customer relationship management
Time tracking
Analytics and reporting
Platforms supported: Windows, iOS, and Android
Pros:
Start video meetings with one click when viewing tasks and chats
Drag-and-drop functionality to delegate work to co-workers
Can customize workflows to your needs with advanced filters
Reward team members' performance and keep them motivated with karma points
Cons:
Team-based video conferencing is limited to a maximum of 30 people in a meeting
No desktop app for Mac
Best for: Small teams looking to streamline internal communication during ongoing projects and get all stakeholders on the same page
Pricing: Free plan available. The Premium and Business plans are $9 and $14 per user per month.
2. Chanty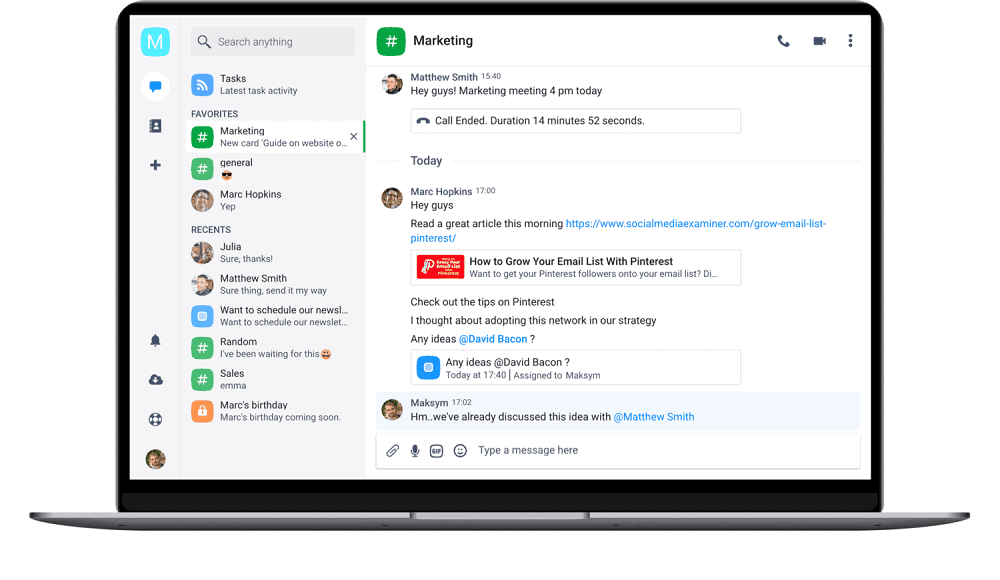 Source: Chanty
Chanty is proof that excellent team collaboration software tools don't need to be complicated. Even on the free plan, it offers unlimited public and private conversations, unlimited voice messages and one-on-one audio calls, and unlimited search history.
Top features:
One-on-one and group video or audio calls
Voice messages
Task management
Teambook, which is a central hub for organizing tasks, conversations, and content
Platforms supported: Windows, macOS, Linux, iOS, and Android
Pros:
Easy to navigate the tool, even as a new user
Integrates with tools you may already have in your arsenal, including Basecamp and Google Drive
Excellent customer support and fast responses
Cons:
Occasional minor glitches for new features (for example, group audio calls used to be unstable but have gotten better)
Only has the Kanban board task view, which might not be ideal if you like to visualize your work in other ways (e.g. lists, Gantt charts, timelines, etc.)
Best for: Teams who want a single hub for text, audio, and video communication with almost no learning curve.
Pricing: Free version available and the paid plan is $4 per user per month. (Chanty also has a neat little calculator showing exactly how much you'll save with Chanty compared to Slack and other tools.)
3. Vectera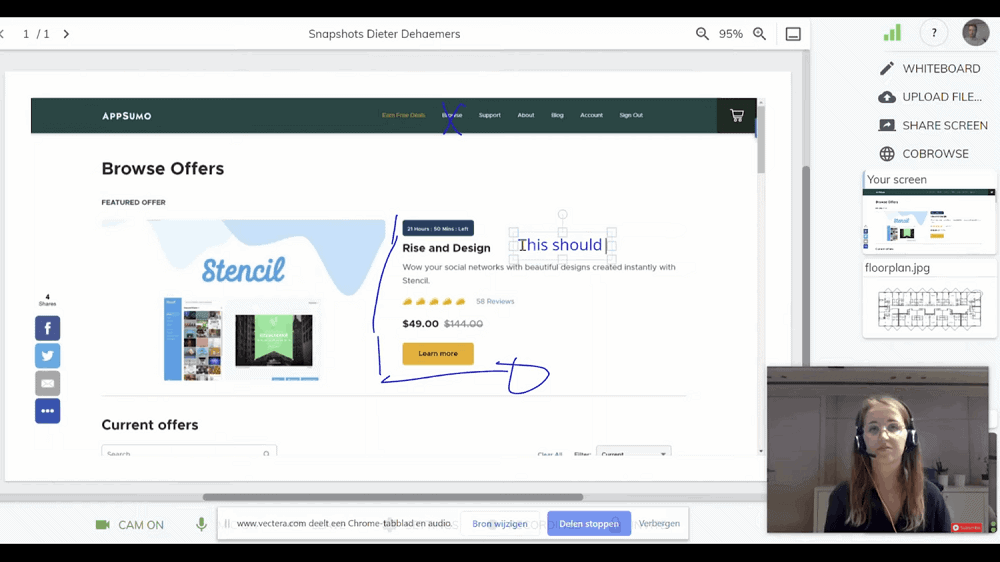 Source: YouTube
Looking for a communication tool to host client meetings? Look no further than Vectera.
This handy collaboration app allows you to upload documents in virtual rooms and sketch on them to explain your ideas. Best of all, it stores your content for fast access, making it easy to pick up a conversation where you left off.
Top features:
One-click video meetings
Whiteboard and document annotation
White label for full customization including custom domains
Intelligent meeting scheduling
Platforms supported: Browser based
Pros:
Dedicated meeting rooms for each client with easy access to content and past communications
Payment collection for discovery and consultation calls
Ability to gather customer feedback to improve future calls
Cons:
No mobile or desktop apps
Group video meetings only allow up to six people
More expensive than other collaboration tools on this list
Best for: Running one-on-one or small group meetings with clients
Pricing: Free forever plan available. Paid plans start at $30 per host per month.
4. Microsoft Teams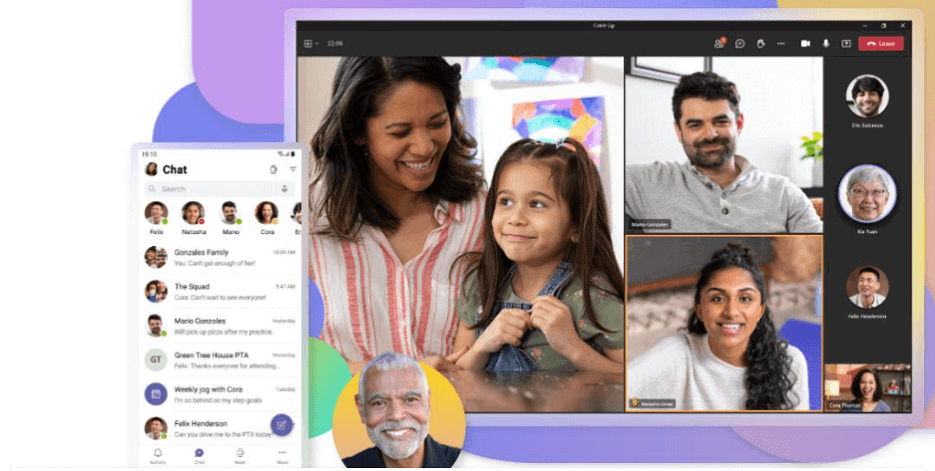 Source: Microsoft Teams
Microsoft Teams combines instant messaging, video meetings, audio calls, and team collaboration features in one platform.
Its interface may not be as sleek as Slack, but if you're already using Microsoft products like Excel or PowerPoint, it can be a powerful tool in your business.
Top features:
Unlimited group and one-on-one meetings
Instant messaging and group chat
File sharing and storage
Outlook calendar syncing
Platforms supported: Windows, macOS, Linux, iOS, and Android
Pros:
Excellent quality audio and video calls
Past conversations are always within arm's reach thanks to chat history, meeting recordings, and transcripts
Some paid plans come bundled with other Office apps that your team might find useful
Cons:
Messages sometimes go missing, although you can typically solve this with a quick cache cleanup
Awkward interface (for example, when attaching a file in chat, Microsoft Teams doesn't show it uploading)
Lack of options in notifications settings, such as switching off message notifications from specific people in a group
Best for: Teams currently using Microsoft products who want a reliable tool for calls and video meetings
Pricing: Free forever plan available. Paid plans start at $4 per user per month.
5. Loop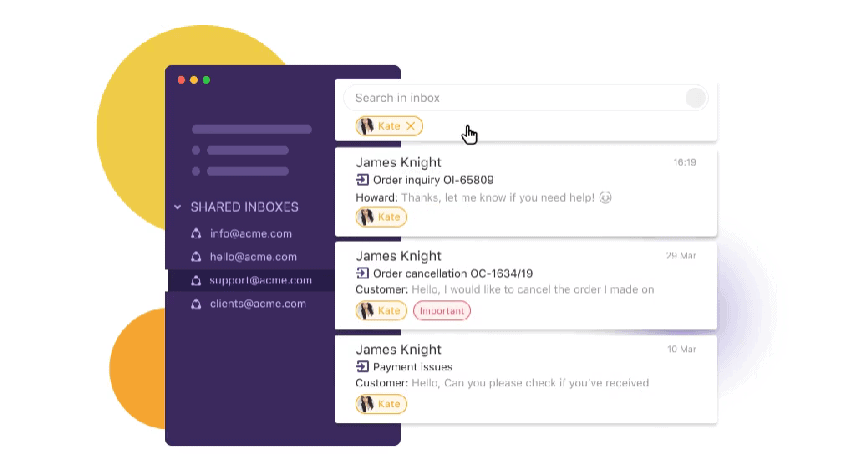 Source: Loop
What if you could view all your inboxes in one location? That's the premise of Loop.
This team communication tool eliminates the need to click between multiple browser tabs to check your different email accounts. It's a dream come true for businesses that deal with a lot of shared email addresses.
Top features:
Real-time chats
Shared inbox
Email open tracking
Canned responses for sending common replies quickly
Platforms supported: Windows, macOS, iOS, and Android
Pros:
Clean, beautiful, and intuitive interface with workflow automation
One-click email delegation for assigning emails and tasks to team members without endless forwarding
Speedy customer support
Cons:
Missing helpful features like folders, tagging, and 2-way syncing of shared inboxes
Can't schedule emails for later or snooze them
Best for: Companies and organizations in which managing emails is a team sport and a bit of a hassle
Pricing: 14-day free trial available. From there, pricing starts at $12.50 per user per month.
6. Flock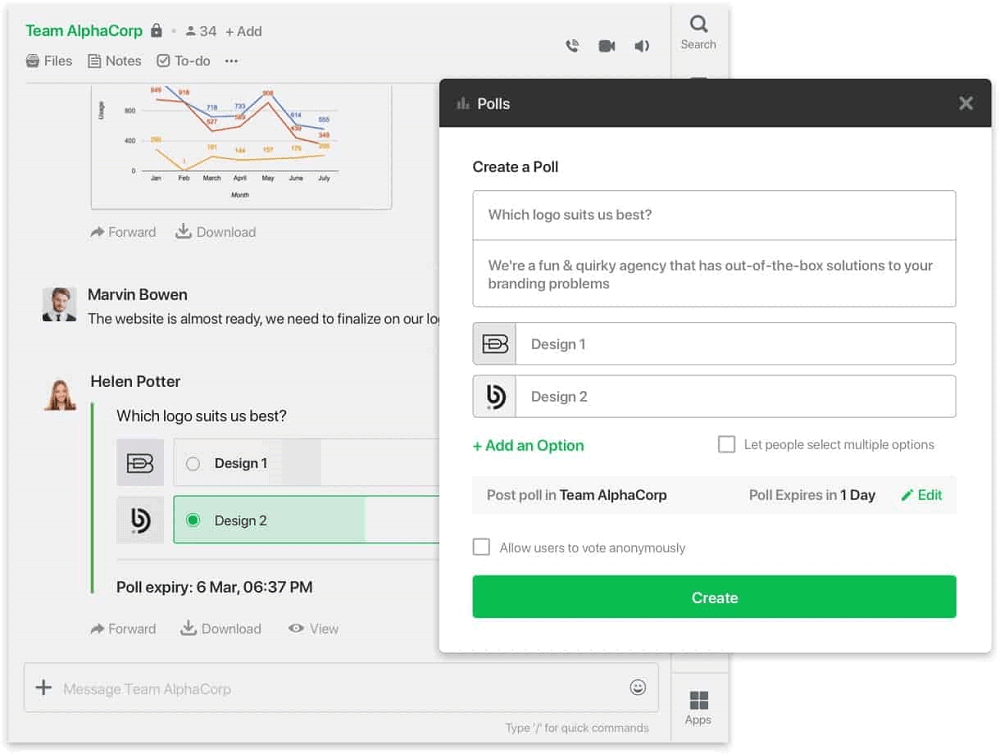 Source: Flock
It's a pain gathering team feedback via text. Fortunately, Flock's built-in polls are here to save the day. Create a question, add options, and let your team vote. You can even set an expiration date and download a report to see which is the most (or least) popular option.
Top features:
Video conferencing
Channel messaging
Voice notes
Integrated search
File sharing
To-dos, polls, and reminders
Platforms supported: Windows, macOS, Linux, iOS, and Android
Pros:
Affordable and easy to use
Allows info to be shared on a need-to-know basis via groups
Integrates with internal learning, human resources, and other management systems
Cons:
Search functionality needs work so that it's easier to find the files or messages you're looking for
Customer support could respond faster
Not as robust as Slack or alternatives that offer task management
Best for: Surveying your team members to make important decisions (e.g., choosing the best logo)
Pricing: Free version available. Paid plans start at $6 per user per month.
7. Plutio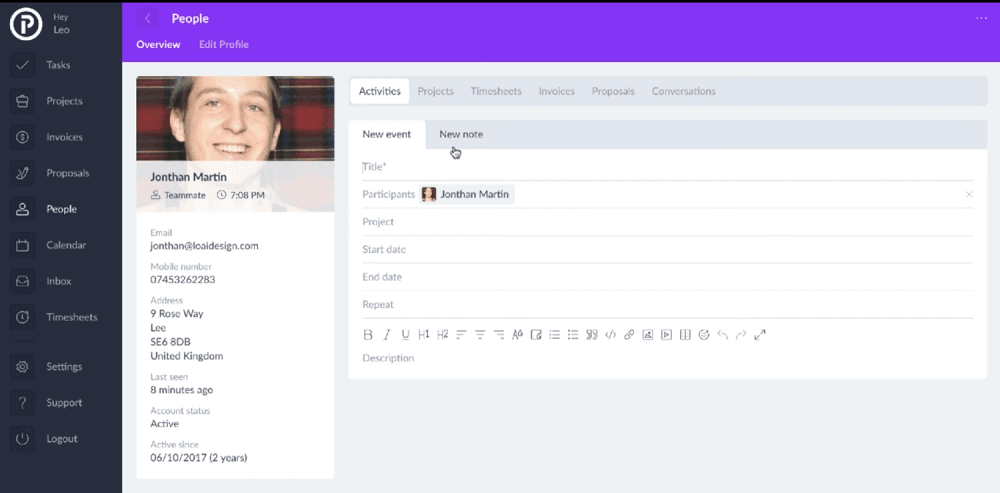 Source: YouTube
Are your project assets and messages scattered across Google Drive, DocuSign, Asana, and Slack? You need Plutio, an all-in-one platform that helps you run your entire business online.
Not only can you stay in touch with clients in real time, but you can also create proposals, send invoices, set project deadlines, and more.
Top features: 
Inbox that includes real-time messaging and integrated emails
Chat widget
Task and project management
Invoicing, proposals, and contracts
Client management
File manager
Knowledge base, forms, and surveys
Platforms supported: Browser based, with apps for iOS and Android
Pros:
Easy to simplify your tech stack and speed up your workflows
More than two dozen languages supported, as well as multiple currencies and payment methods
Bank-level security so you'll have no worries about your and your clients' sensitive information
Cons: 
Occasional bugs and glitches
Some users feel the tool is more "clunky" than they'd like
Best for: Freelancers or agencies who want a single tool for communication and end-to-end project management
Pricing: Free trial available. Pricing starts at $19 per month for solo users and $39 per month for teams.
8. Google Chat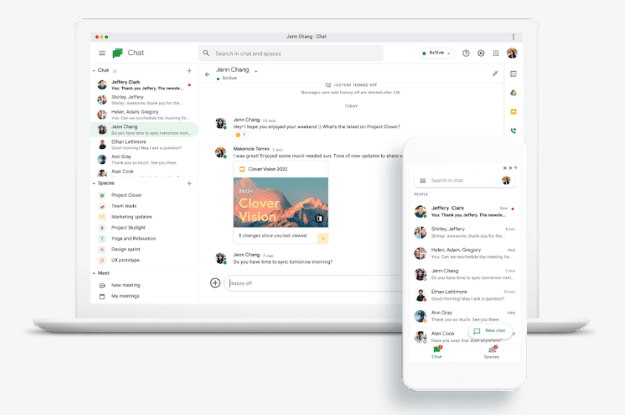 Source: Google Chat
This wouldn't truly be a "top Slack alternatives" list without Google.
As a standalone tool, Google Chat may leave a lot to be desired—but use it together with Google's other collaboration tools, and you'll see how it integrates seamlessly with your Workspace.
Top features:
Direct messages
Group conversations
Dedicated rooms
Bots for automating simple tasks
Platforms supported: Browser based, with apps for iOS and Android
Pros:
Seamless integration with Google Docs, Gmail, and other Google Workspace apps
Integration with third-party apps like Salesforce and Jira
Google's secure-by-design infrastructure with features built in to protect your information
24/7 Chat, email, and phone support available
Cons:
Messy conversation threads that are a headache for users to sort through
Pop-ups can be distracting when you're trying to focus
No desktop apps
Best for: Teams already using Google Workspace who want a seamless team communication experience
Pricing: Google Chat is included in Google Workspace subscriptions. Workspace plans start at $6 per user per month and you can do a free 14-day trial before committing.
9. Ryver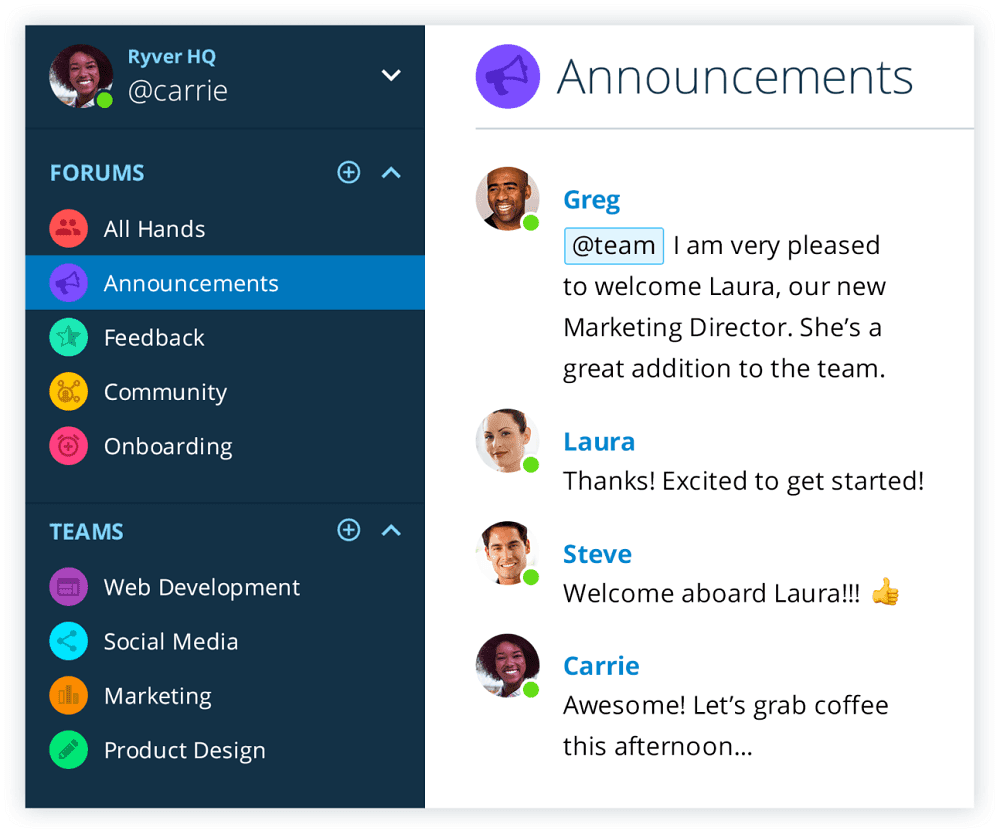 Source: Ryver
What would happen if Slack and Trello had a baby? You'd get Ryver.
This two-in-one app does what the aforementioned tools do best: team communication and task management. Want a way to boost your team's productivity? This could be it.
Top features:
Voice and video calls with screen sharing
Topic-threaded chat
Direct messages
Custom invite links
Personal and team task managers
Platforms supported: Windows, macOS, iOS, and Android
Pros:
Allows you to convert messages into tasks so you can walk the walk, instead of just talking the talk
Unlimited collaboration, task management, data, and guests so you won't run into any extra costs
Enhanced data security with all plans
Cons:
The tool looks and feels dated
Users report feeling underwhelmed by the dashboard and confused by the similar features in task management view
Best for: Teams who want a straightforward task management and team communication tool without a ton of usage limits
Pricing: 14-Day free trial available. Paid plans start at $69/month.
10. Meetquo

Source: AppSumo 
It's difficult running meetings with teammates scattered across different time zones. Luckily, there's Meetquo.
This remote meeting and team communication platform allows your co-workers to participate in virtual sessions on their own schedules.
Need to request feedback on the proposals you just created? Share them on Meetquo and get your co-workers to rate which is the best.
Top features:
Video meetings
Proposals
Asynchronous feedback on meeting documents and proposals
Meeting tracker
Platforms supported: Browser based
Pros:
Clean, simple, and sleek interface
Easily peg a proposal as a clear winner with the built-in rating system
Provides one co-created document with every team member's insights so you're not forced to sift through and compile each person's notes
Cons:
No temporary meeting room, which forces clients and vendors to create Meetquo accounts
Much leaner tool than alternatives, Slack included
Best for: Running asynchronous meetings and aligning every stakeholder of final decisions
Pricing: Free plan available. Pro Plan is $4 per user per month for unlimited meetings, unlimited signatures, and premium support.
11. Mattermost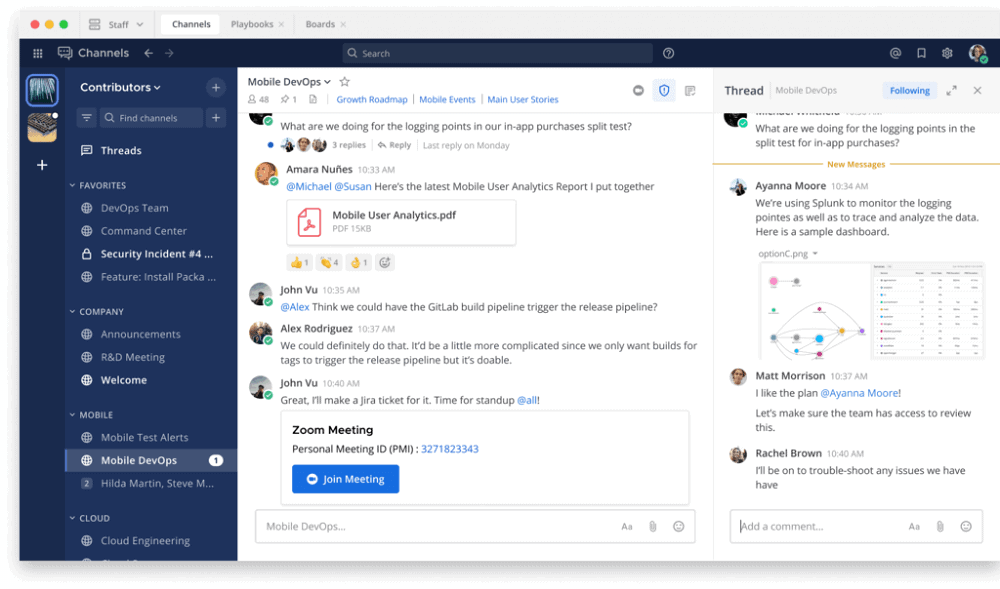 Source: Mattermost
Built for developers by developers, Mattermost asserts that "general-purpose collaboration tools just aren't made for the challenges developers face every day." If you nodded vigorously as you read that claim, this is probably the Slack alternative for you.
Top features:
Unlimited channels
Threaded discussions
Both real-time and async messaging with integrated voice and video
One-on-one calls and group calls with screen sharing
Multi-language code syntax highlighting
Platforms supported: Windows, macOS, Linux, iOS, and Android
Pros:
According to one user, "It has all that you would expect from a Slack replacement—channels, mentions, file and image exchange, history, ability to create private groups and rooms, 3rd party tools integration, and more."
Integrates with GitHub, Jira, Zendesk, Confluence, and more to help your team operate efficiently
Security and compliance features such as self-hosted or private cloud deployment, multi-factor authentication (MFA), and SOC 2 Type I (Cloud)
Cons:
Notification system could be better—it's easy to miss incoming messages
According to user reports, installing the server requires system administration skills
No option to start an instant call
Best for: Developers interested in a flexible, open-source platform for seamless teamwork
Pricing: Free forever plan available. Paid plans start at $10 per user per month.
12. Taskade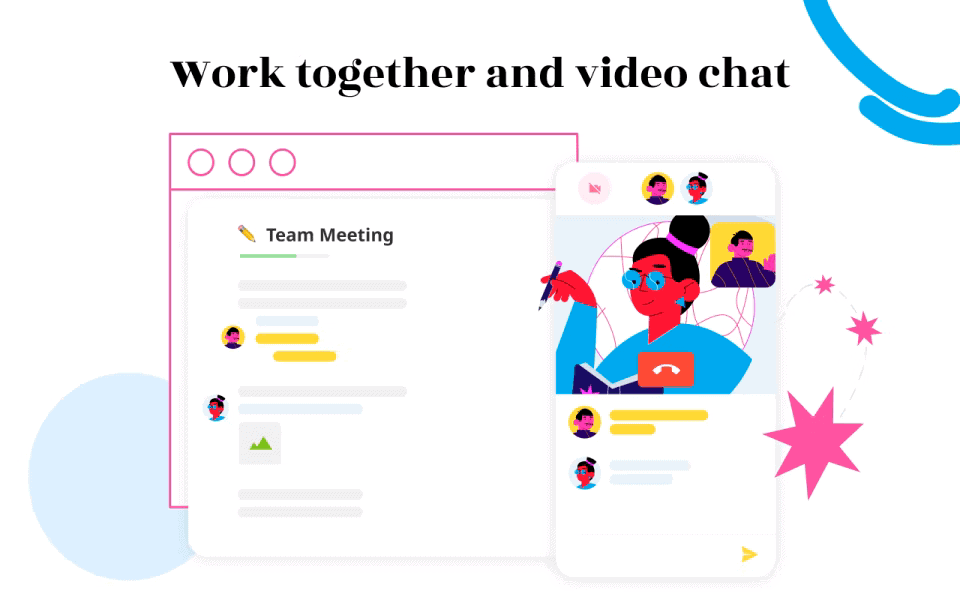 Source: Capterra
Taskade is a real-time conferencing and messaging platform used by companies like Netflix, Sony, and Capital One. It's not just an alternative to Slack—it's also an alternative to knowledge and project management tools like Trello and Notion.
Top features:
Chat and messaging with @mentions
Video conferencing and screen sharing
Guest collaboration
Activity feed for full visibility into workspace activity
Platforms supported: Windows, macOS, Linux, iOS, and Android
Pros:
Generous free plan includes unlimited tasks, projects, folders, teams, members, and guests
Templates and repeating tasks speed up your workflows
99.99% Uptime guarantee and 24/7 customer support
Cons:
Settings and some other features aren't available in the mobile apps
Basic compared to some similar go-to tools
Best for: Teams looking for a single tool to manage and communicate about projects and tasks
Pricing: Free plan available. Paid plans start at $5 per seat per month (billed annually). Even better, get lifetime access to Taskade via the AppSumo store starting at $59.
13. Fleep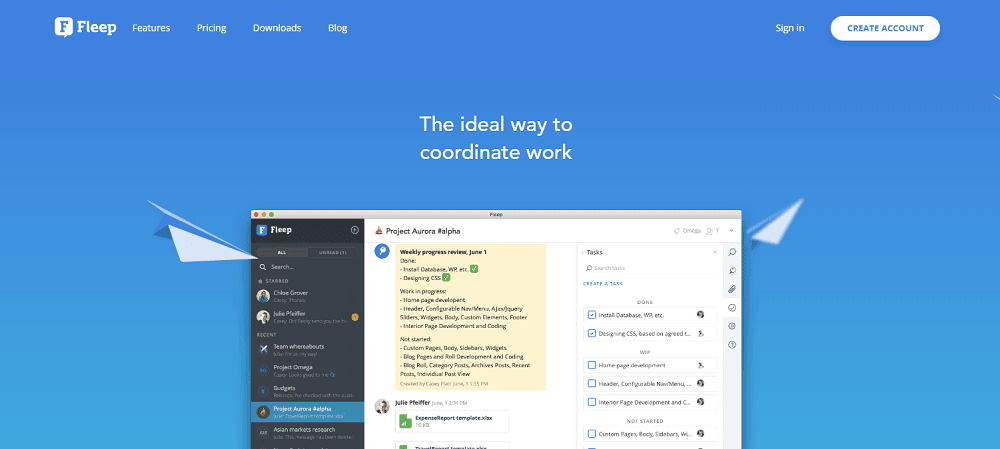 Source: Fleep
Fleep labels itself as "an ideal way to communicate." But what makes it ideal? It gives collaborators maximum control over conversations. For example, Fleep supports project, team, and topic-specific conversations. And it allows you to turn the plans you discuss into action items.
Top features: 
One-on-one and group conversations with full message history
Pinboard to keep the most important messages in each conversation visible
File drawers for each conversation
Audio-video calls with screen sharing
Platforms supported: Windows, macOS, Linux, iOS, and Android
Pros:
Makes it easy to keep track of important messages and take action on team discussions
Slightly cheaper than Slack and some of the alternatives we've covered
Integrates with 20+ tools, including email, webhooks, Trello, Zapier, and Google Drive
Cons:
Could use more granular notification settings
Has fewer integrations than more well-known tools like Slack
Minimal compared to similar tools
Best for: Teams of all sizes who want a mainly chat-based tool that also allows for synchronous audio and video chats just in case
Pricing: Basic free plan available. Business pricing starts at €5 per user per month, billed annually (in Euros).
14. HeySpace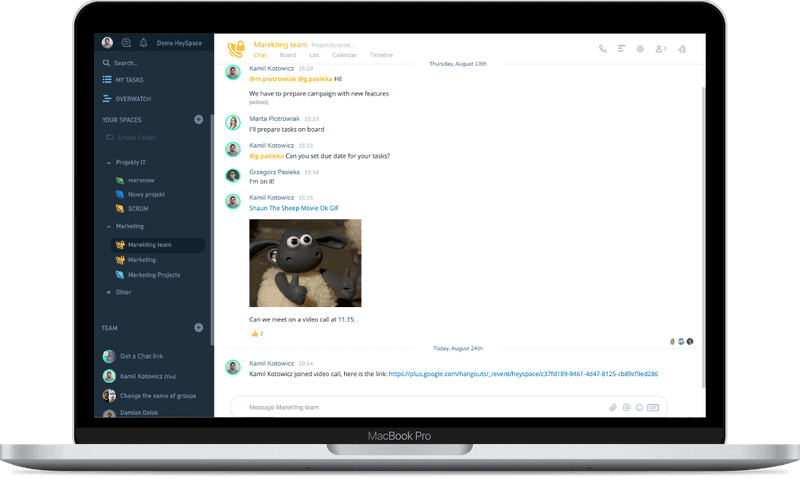 Source: HeySpace
HeySpace is another great Slack alternative that has features for keeping on top of projects and tasks. Its strength is simplicity. It doesn't have too few features to be functional for small teams, but it also doesn't have so many features that it's overwhelming for users.
Top features:
One-on-one and group chats in cards and spaces
Reactions, @mentions, and indented replies
Video calls
Unlimited file storage
Multiple task views (board, calendar, timeline, etc.)
Platforms supported: Windows, macOS, Ubuntu, iOS, and Android
Pros:
Offers team communication features and task management
Straightforward and easy to use
Integrates with tools like Trello, Dropbox, Gmail, TimeCamp, and more
Cons:
No search functionality to help users quickly find info from chats and cards
Needs speed improvements
Best for: Small teams looking for a simple, affordable tool that doesn't take long to set up or learn
Pricing: Free plan available. Paid plan is $5 per user per month. You can also get lifetime access to HeySpace on AppSumo for $69.
Which of these Slack alternatives will you try?
Many of these Slack alternatives may look similar at first glance, but as you dig deeper, you'll realize each one has unique features and use cases.
For instance, Meetquo is excellent for gathering asynchronous feedback on your proposals, but if you're looking for an all-in-one task management and team communication tool, it might not be the best choice. In that case, options like Taskade and HeySpace may be better. Want to test them out? Right now, you can grab Taskade for as little as $59 and get HeySpace for $69 in the AppSumo store.
Here's to effortless communication and maximum productivity!