Software Alternatives
DocuSign Alternatives That Are Changing the Game in 2023
Getting digital signatures is pretty straightforward, right?
Well, that's what I thought… until I tried out some e-signature solutions for this article. And what I found was a whole wide world of e-signature programs beyond the beloved DocuSign. A world where you can build and customize documents that can improve your sales process and customer experience.
Join me for a quick tour of the land of DocuSign alternatives where you'll find some solutions that might just change the way you think about electronic signatures.
Live on AppSumo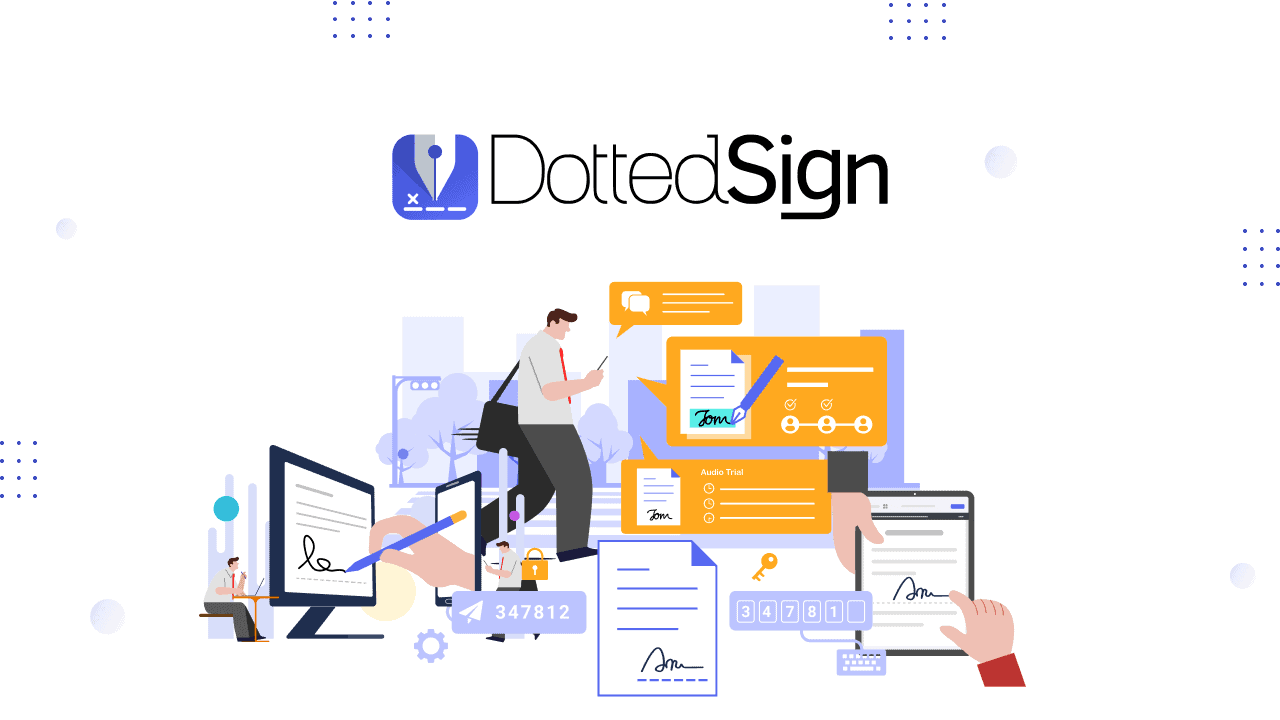 Effortlessly sign documents and get signatures from others in a legal and secure process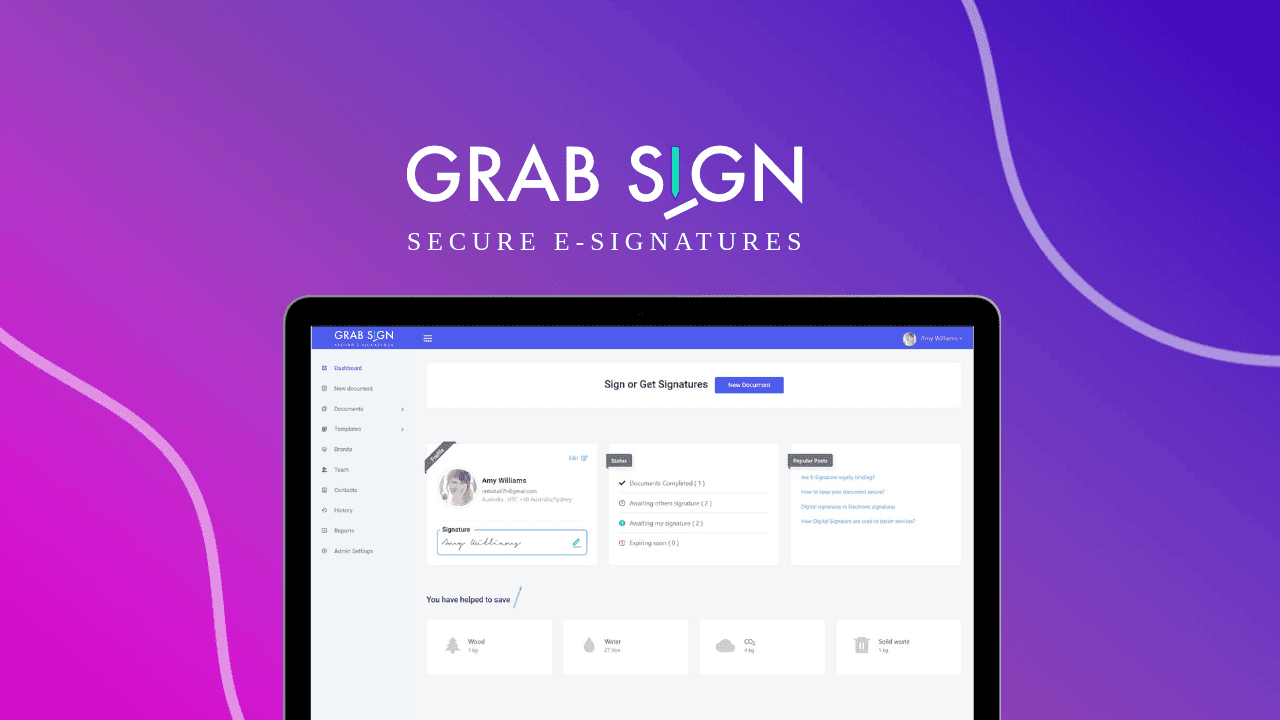 Sign confidential documents digitally and track them with a complete audit trail and reports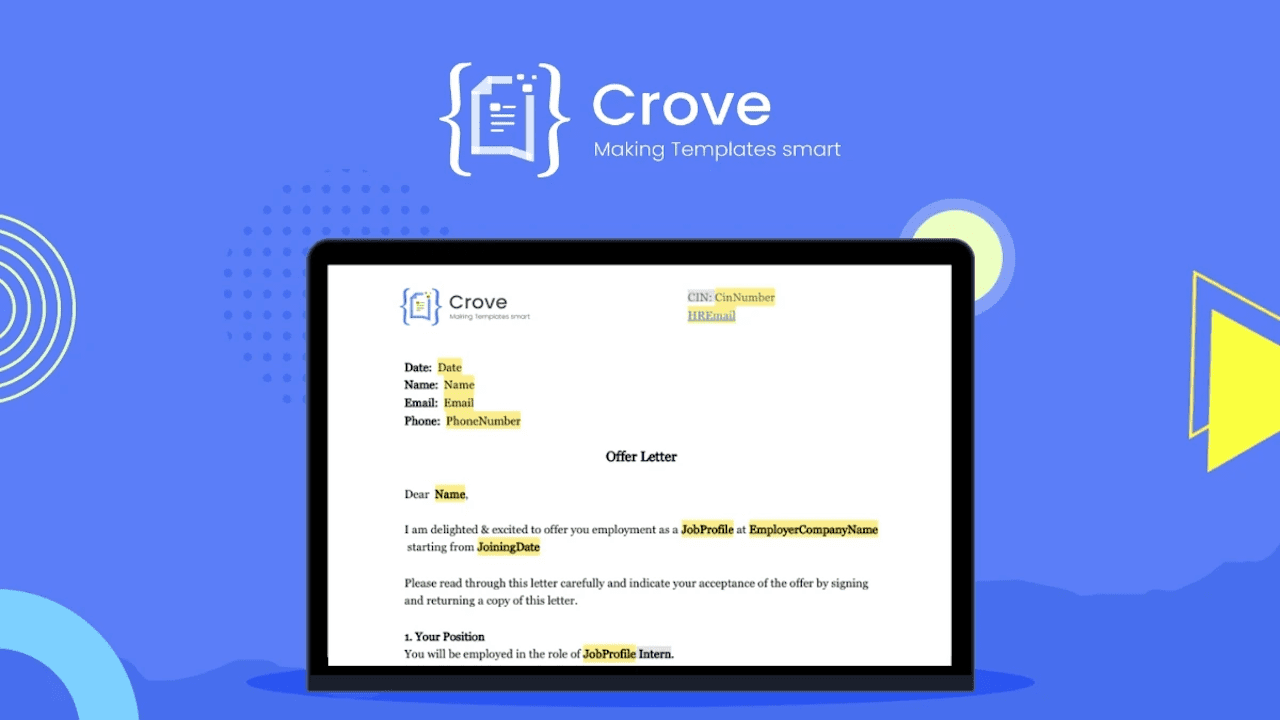 Automatically create repetitive business documents to streamline your workflow
Overview of DocuSign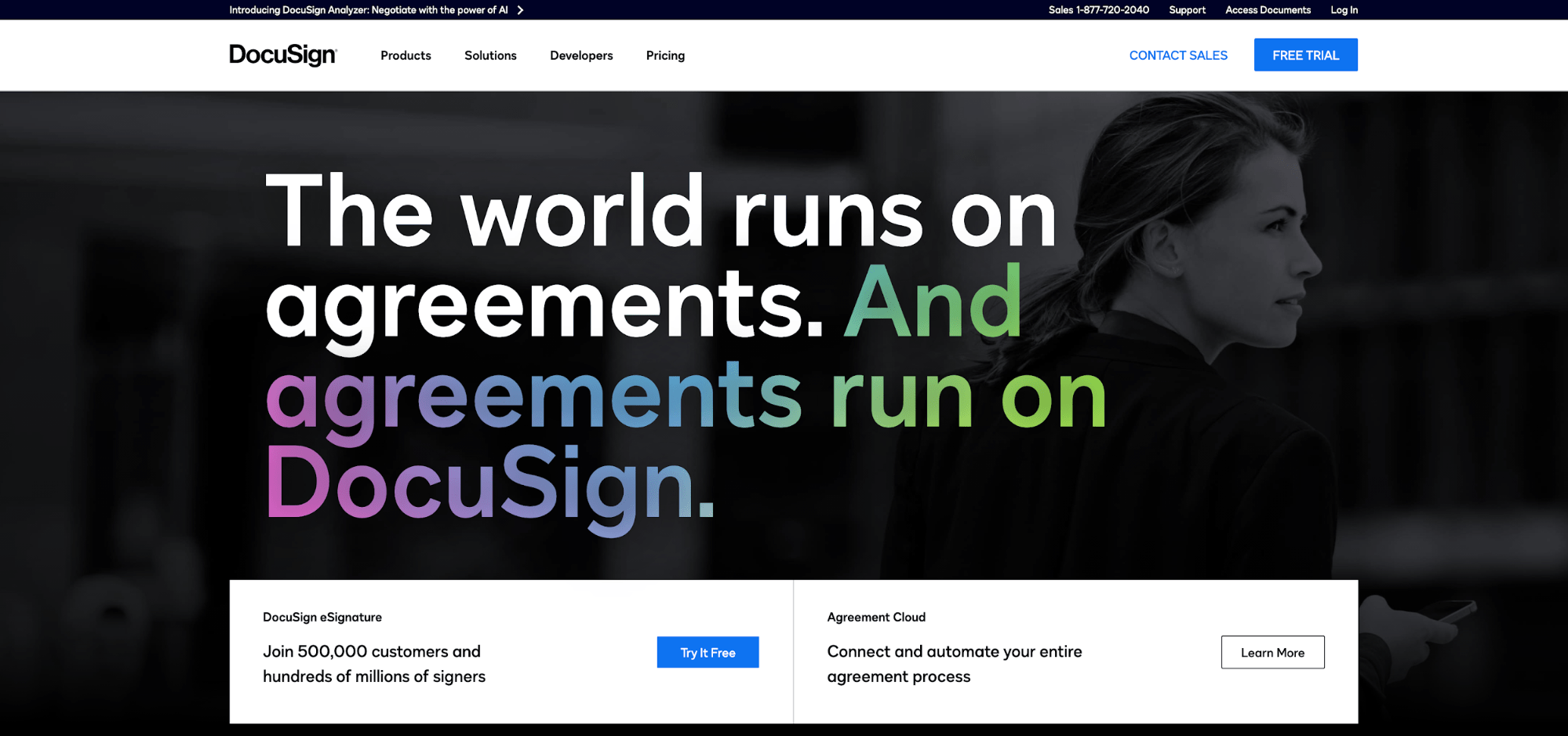 In the world of electronic signature solutions, DocuSign is the industry leader. Since it came on the scene in 2003, it's been a pioneer of e-signature technology, changing the way companies prepare, sign, and manage signed agreements. DocuSign has over 500,000 paying customers and hundreds of millions of users across 180 countries.
With features like sign from anywhere, reusable templates, and instant status visibility as well as 350+ integrations, DocuSign is full of benefits. The Personal Plan is $10/month for a single user who only sends five documents each month. The Standard ($25/month) and Business Pro ($40/month) plans offer more users and features..
It's easy to see why companies like Facebook, Apple, Uber, and Visa use DocuSign. The product goes beyond electronic signature management to include a suite of applications like contract lifecycle management, document generation and negotiation, contract analytics, and more.
…which is great IF you have a big enterprise organization that needs all of that. But if you're a solopreneur, small business owner, agency owner, or working with a team that doesn't need all the bells and whistles then DocuSign may not be the best solution for you.
Let's dive into some DocuSign alternatives that might be more up your alley if you're looking for something a little more simple yet still feature-packed.
13 top Docisign alternatives
1. Adobe Sign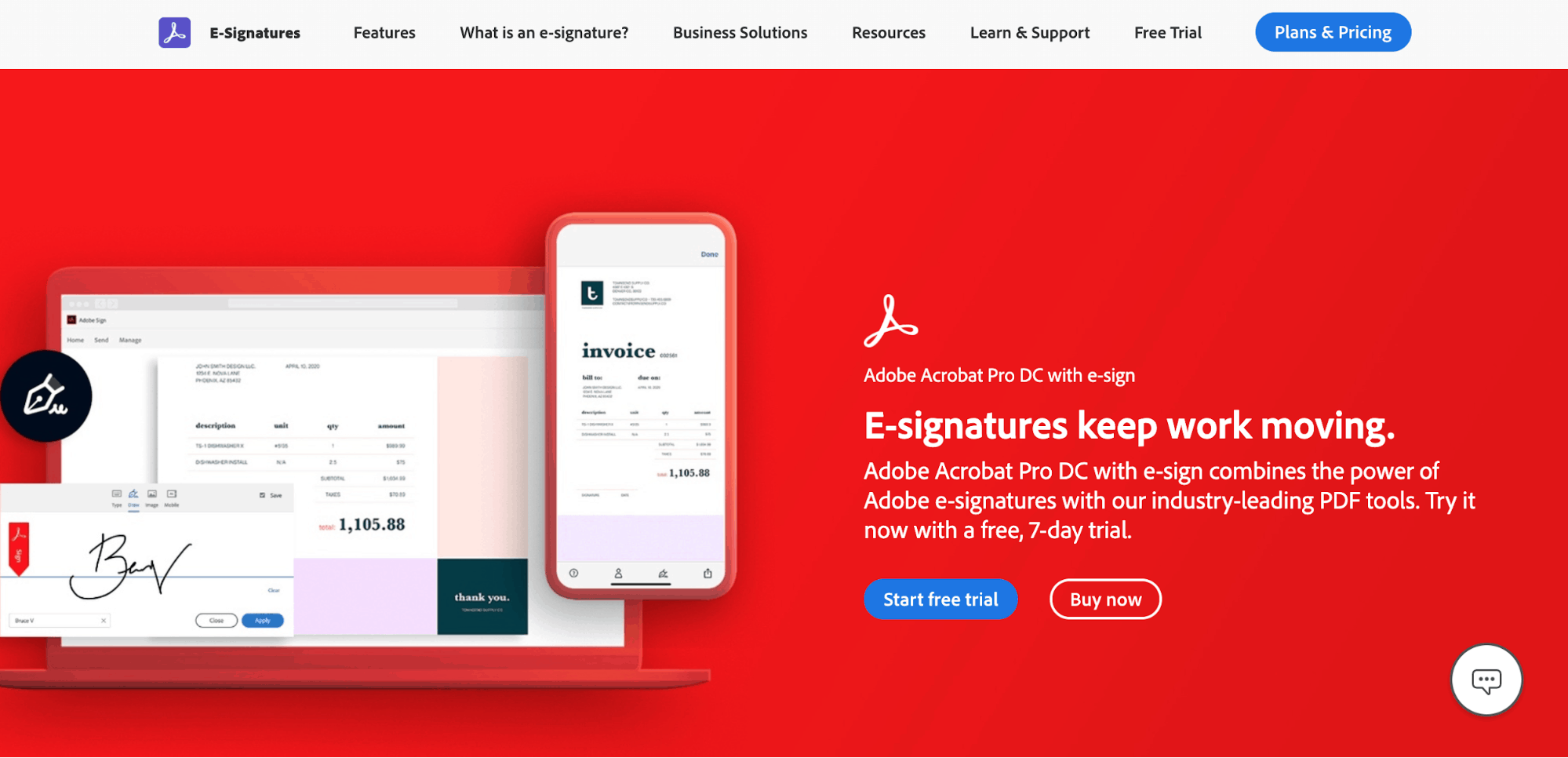 Well known for its creativity software, Adobe offers Adobe Sign through Adobe Acrobat Pro DC with e-sign. This solution may be one of the easiest DocuSign alternatives to use as you can send, track, and collect electronic signatures with a click, tap, and swipe. As a part of Adobe Acrobat DC, the e-sign feature is included as part of the entire solution, which allows you to create and edit PDFs while collaborating with others.
Main Features:
Send, track, and collect legally binding e-signatures, including bulk signatures
Automatic reminders and notifications
Customize branding and logos
Collect payments and signatures on same form
Workflow designer tool to create error-proof signature processes
User authentication with automated ID-based signer identity verification
Integrates with Microsoft Teams, Outlook, Word, PowerPoint, Dropbox, Salesforce, Workday, and more
Security compliance with ISO 27001, SOC 2 Type 2, and PCI DSS
Price: Plans start at $9.99/month per license
Who should use Adobe Sign: Any individual or organization already using Adobe Acrobat DC for PDF creation or organizations that want to include payment processing on the same form as e-signatures.
2. DottedSign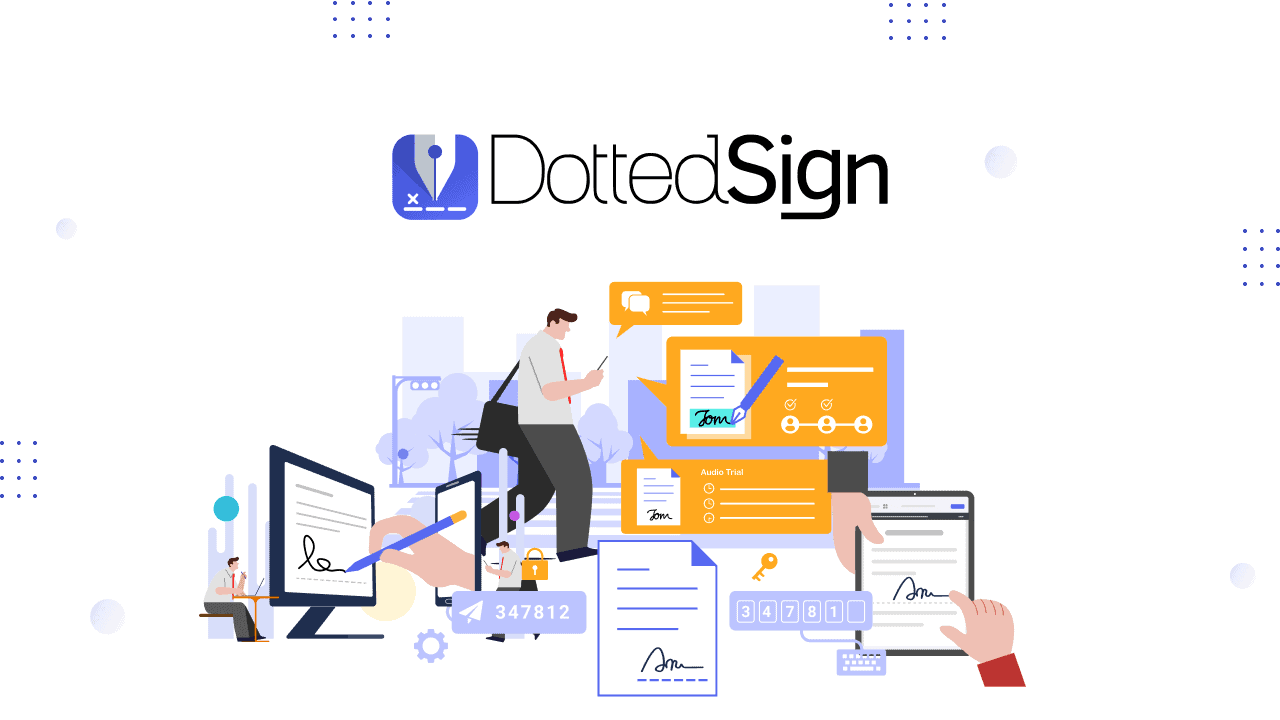 Another DocuSign alternative you might consider is DottedSign. It's a tool that exists to help you quickly and securely sign your contracts and agreements–right from your mobile device or computer.
One of the most important aspects of any digital signing tool is security. DottedSign uses TLS/SSL, AES-256, and RSA-2048 encryption protocols, as well as digital certificates issued by an AATL-supported CA.
DottedSign also goes beyond mere security, with features to help you stay productive. You can track each signer's progress in real-time.
Main features:
Use across your favorite devices
Receive notifications and reminders to keep yourself (and other signers) on task
Track real-time document signing progress
Cloud-based storage and access
View, sort (by signed, not yet signed, etc.), and engage with all your docs in one place
Price: DottedSign is available in four pricing tiers: Free, Pro ($8/month), Business ($15/month), or Enterprise (Custom Quote). You can also purchase a year-long deal on AppSumo for $40.
Who should use DottedSign: DottedSign is ideal for remote teams, sales managers, and small businesses.
3. Grabsign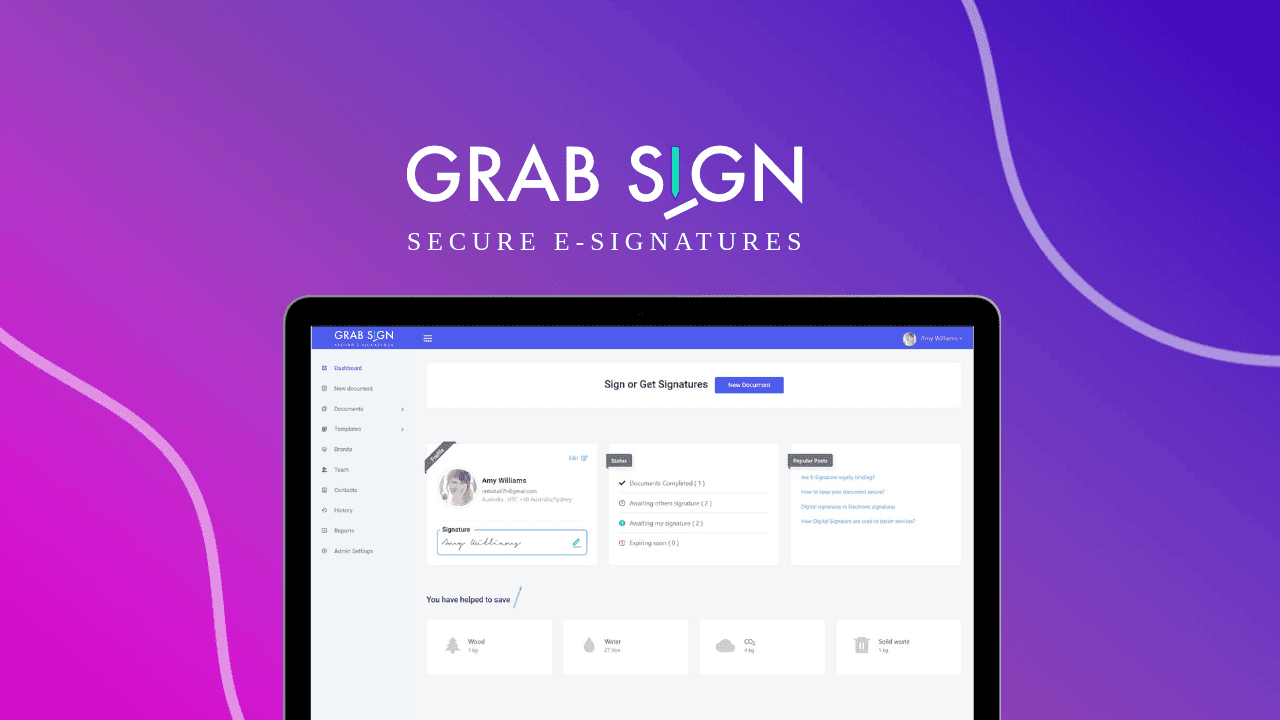 Grabsign is an easy-to-use digital signing tool. The tool combines a simple interface for requesting and signing documents, as well as a cloud-based dashboard for storing and organizing important files. Grabsign allows you to quickly upload and convert documents for signing.
Grabsign also includes tools made specifically for business owners–especially those with service businesses. For example, Grabsign allows you to save contracts as templates for future use. You can also add contacts and communicate with them from within the app, making it easy to collaborate on documents with your team.
Main features:
Manage the documents of multiple brands
Easy cloud-based dashboard for storing and organizing documents
Track real-time document signing progress
Send contracts via email or link for signatures
View any document's history to see who viewed it, how and when it was changed, and when it was generated
Price: Grabsign is available in four pricing tiers: Free, Starter ($14/month), Standard ($35/month), or Business ($79). You can also grab a year-long deal on AppSumo for $69.
Who should use Grabsign: Grabsign is ideal for accountants, consultants, and real estate professionals.
3. AltoSign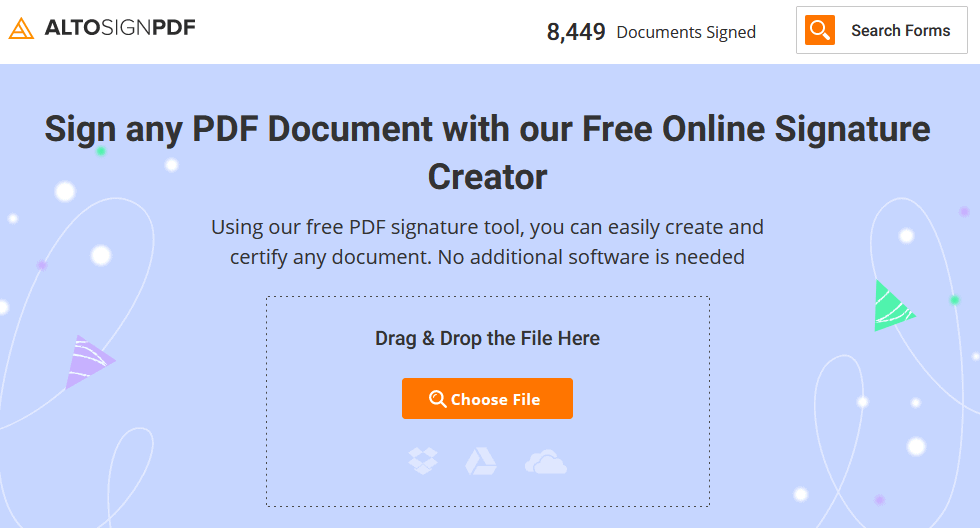 AltoSign is one of the only DocuSign alternatives on our list that's totally free. This web-based solution lets you sign any PDF document online for free. With drag-and-drop functionality, it really could not be any easier to sign your PDF documents. While this option may not be ideal for enterprises, it's perfect for individuals who need to sign the occasional PDF.
Main Features:
Use on web, Chrome, Windows, Mac preview, and with Adobe Acrobat reader
Drag-and-drop document upload
Type or draw your signature using the mouse
QR code scan for signing on mobile device
Unlimited cloud storage
24/7/365 support
Price: Free
Who should use AltoSign: Individuals who need a quick and free way to add legally binding signatures to PDF documents.
4. DocHub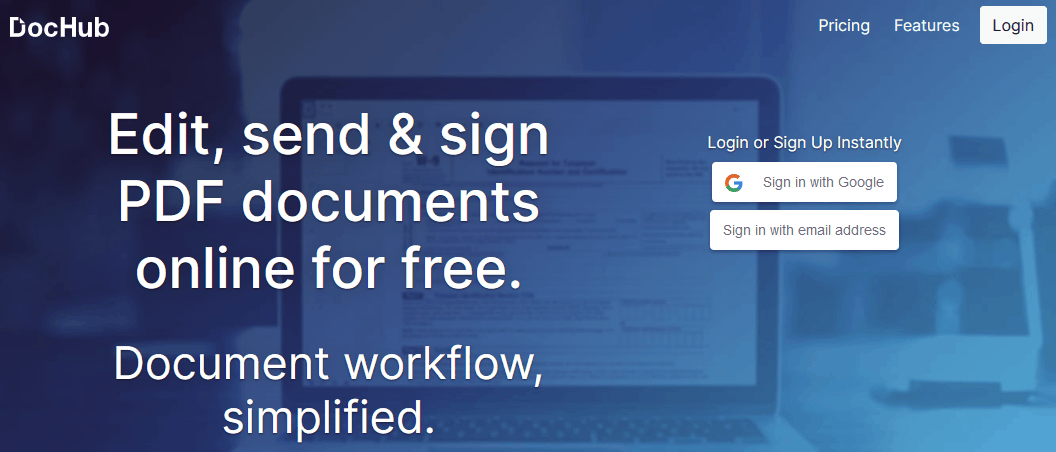 DocHub is more than an e-signature solution. It also allows you to edit PDFs and create PDF forms and reusable templates. DocHub is ideal for those who just need something simple and affordable but also want to edit PDFs. If you don't all the bells and whistles (or hundreds of integrations), then DocHub may be the best alternative.
Main Features:
Legally binding e-signatures
Import document straight from inbox
Drag-and-drop your signature
Request signatures or completed forms from recipients
Workflows for multiple signers
Authentication details recorded
Batch/bulk document signing (coming soon)
Price: Free plan available. Pro plan $4.99 per month/user, billed annually.
Who should use DocHub: Individuals, entrepreneurs, and small business owners looking for a simple and affordable e-signature solution with PDF editing capabilities
5. eversign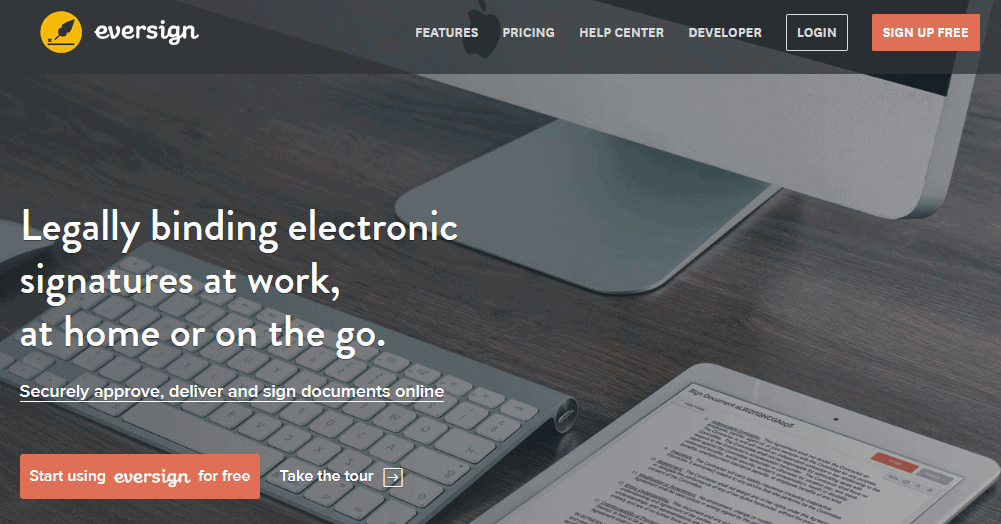 Brought to you from Vienna, eversign is an electronic signature solution that guides you through setting up workflows and signing documents. While this DocuSign competitor doesn't have any surprising features, it is intuitive and easy to use. It's also very affordable with a free plan for up to five documents per month, making it ideal for those with low volumes or small teams.
Main Features:
Legally binding e-signatures
Draw, type, or upload signature
Secure storage for eversign documents.
Document editor for existing PDF documents
Detailed audit trail containing names, email, IP addresses, and time stamps
Contract or form templates
Create teams of up to 25 members
Contact management with contact profiles
Fully featured JSON-based REST API
Integrates with Google Docs, Zoho, Dropbox, Salesforce, and more
Price: Free plan available Paid plans start at $9.99/month per user.
Who should use eversign: If you have a low volume of documents or a small team and need an affordable, reliable, easy-to-use solution.
6. Formstack Sign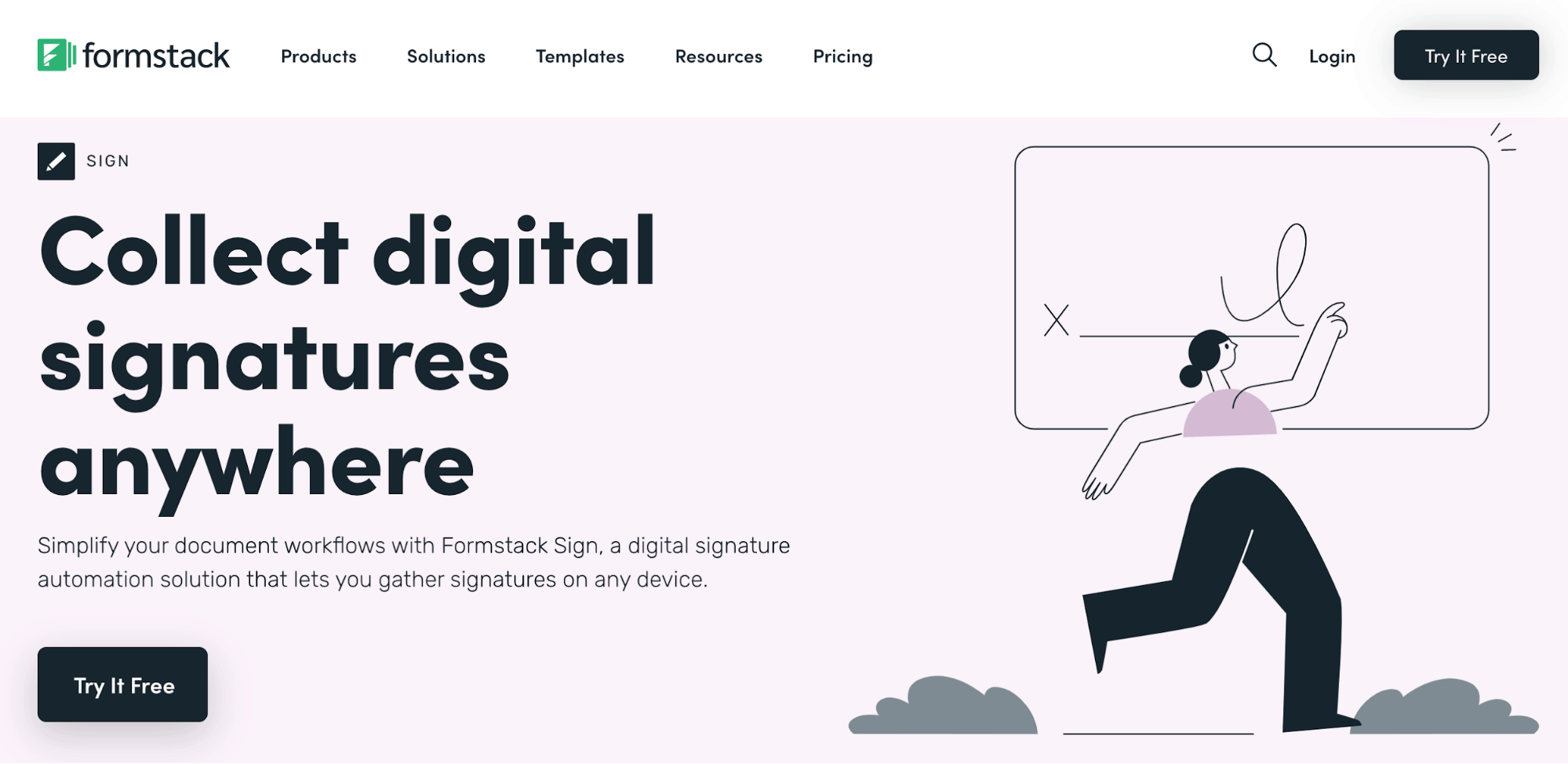 Formstack Sign helps organizations simplify their workflows. Templates and a drag-and-drop builder help save time and customized branding provides a more seamless experience. With 100+ integrations, Formstack Sign can be integrated into your current workflows, allowing for powerful automations.
Main Features:
Unlimited legally binding e-signatures on every plan
SMS signing
Templates and drag-and-drop document setup
Add logo and other customized branding like redirecting to landing page after signing
Supports any file type, including PDFs, JPEGs, PNGs, and Microsoft documents
Automatic backup and storage
Legally compliant audit trails
Integrates with Gmail, Outlook, HubSpot, Mailchimp, Salesforce, Stripe, PayPal, and more
Custom data retention and custom geographical data centers
API available
Price: Plans start at $16/month per user
Who should use Formstack Sign: Those using other Formstack programs, need SMS texting, or need a platform with API access.
7. HelloSign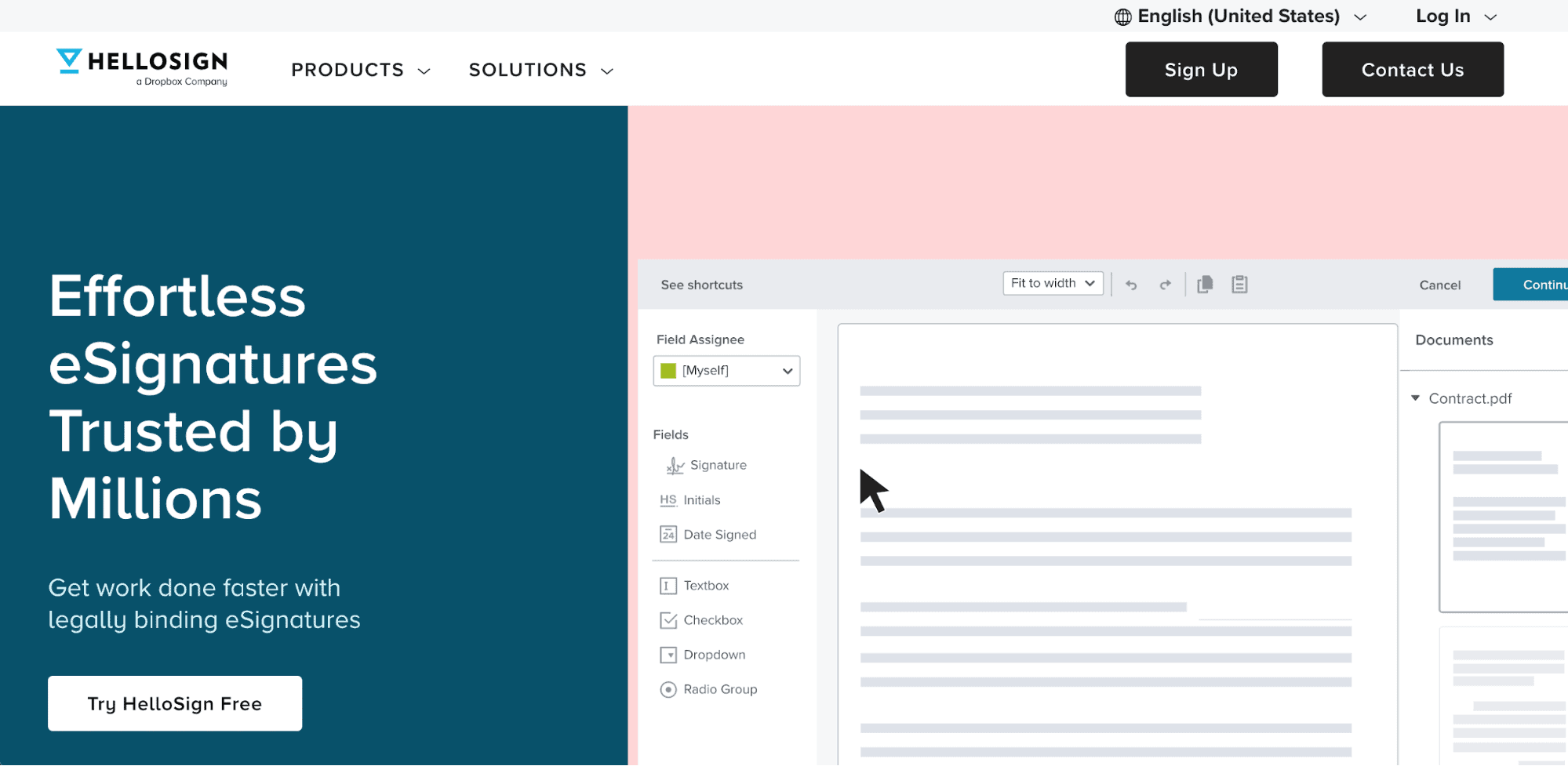 Now a Dropbox company, HelloSign is one of the most popular DocuSign alternatives. And it's easy to see why. Trusted by Instacart and Vote.org, HelloSign offers flexible signer flows and team management while integrating with all the systems you're already using like Gmail, Google Drive, Salesforce, HubSpot, Evernote, Slack, and Dropbox. With affordable plans and tons of features, HelloSign packs a powerful punch
Main Features:
Legally binding electronic signatures
Integrates with Dropbox, Google Drive, OneDrive, Salesforce, and more
Templates to save time on frequent documents
Customized branding with colors and logo
Advanced team management with user permissions
Signer attachments can be required
Embed e-signatures on website, applications, and platforms
White-labeling with the HelloSign API
Price: Free plan available. Paid plans start at $15/month per user
Who should use HelloSign: Organizations that will put all the features to use or those that want a powerful API for e-signatures
8. OneSpan Sign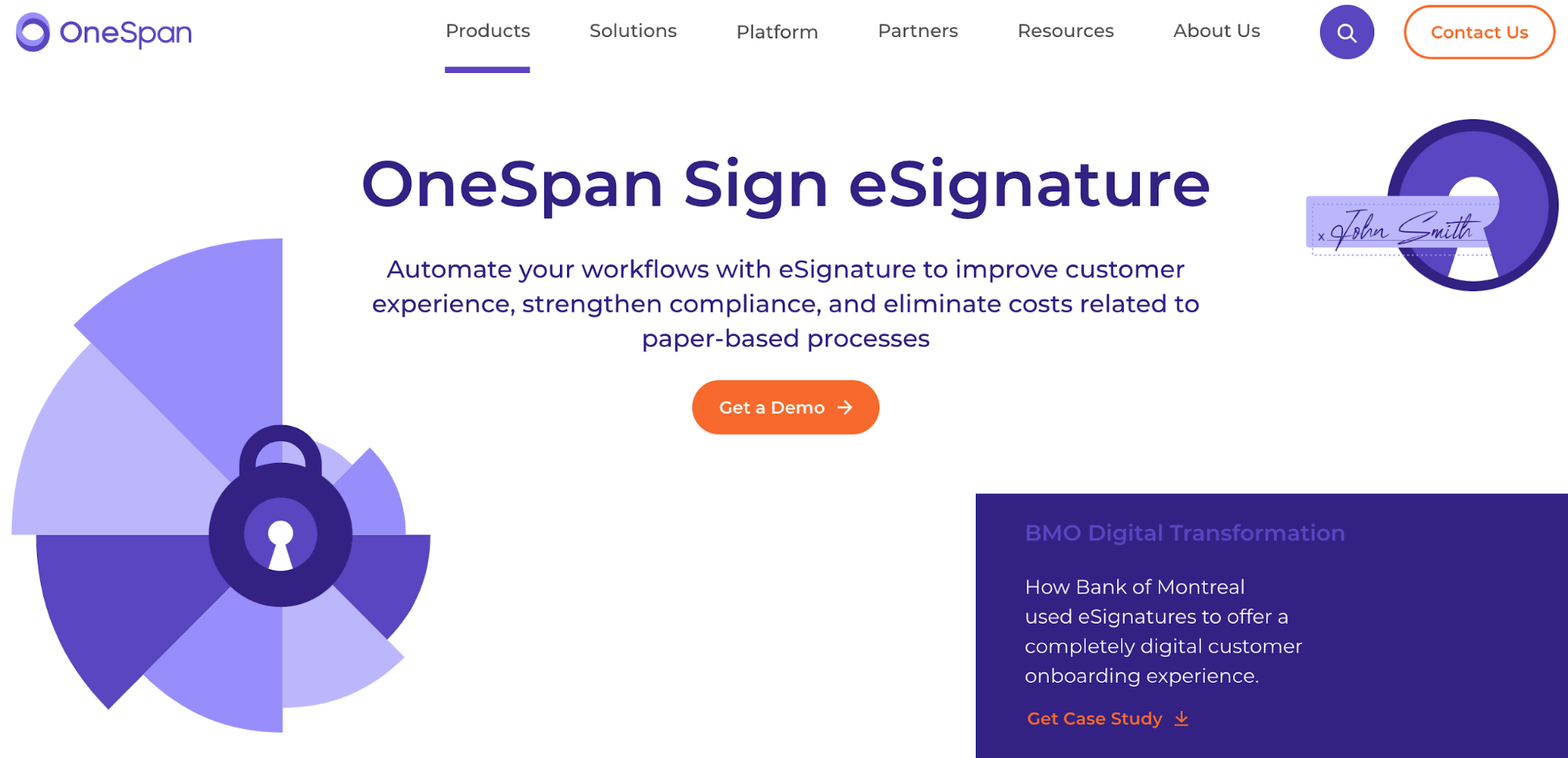 Trusted by big brands like U.S. Bank, Wells Fargo, BMW, and RBC, OneSpan Sign offers a flexible and scalable solution for e-signatures. With multiple deployment options — on public cloud, private cloud, on premises, or a combination — it offers a lot of options for businesses where they are now but also in the future.
Main Features:
Legally binding electronic signatures on web or from mobile devices
Forms and reusable templates to save time
User attachments and role-based signing rules and permissions
Vendor-independent audit trails
White-label solution with customized branding
User account verification through email, SMS, and Q&A
Signer authentication through personal digital certificates, derived credentials, facial and fingerprint biometrics and more
Integrates with Salesforce, SharePoint, Dropbox, and more
SOC 2 Type II security audit, FedRAMP Cloud compliant, HIPAA compliant
Price: Request pricing
Who should use OneSpan Sign: Enterprises that need a white-label solution for electronic signatures and companies that need a range of user verification options.
9. PandaDoc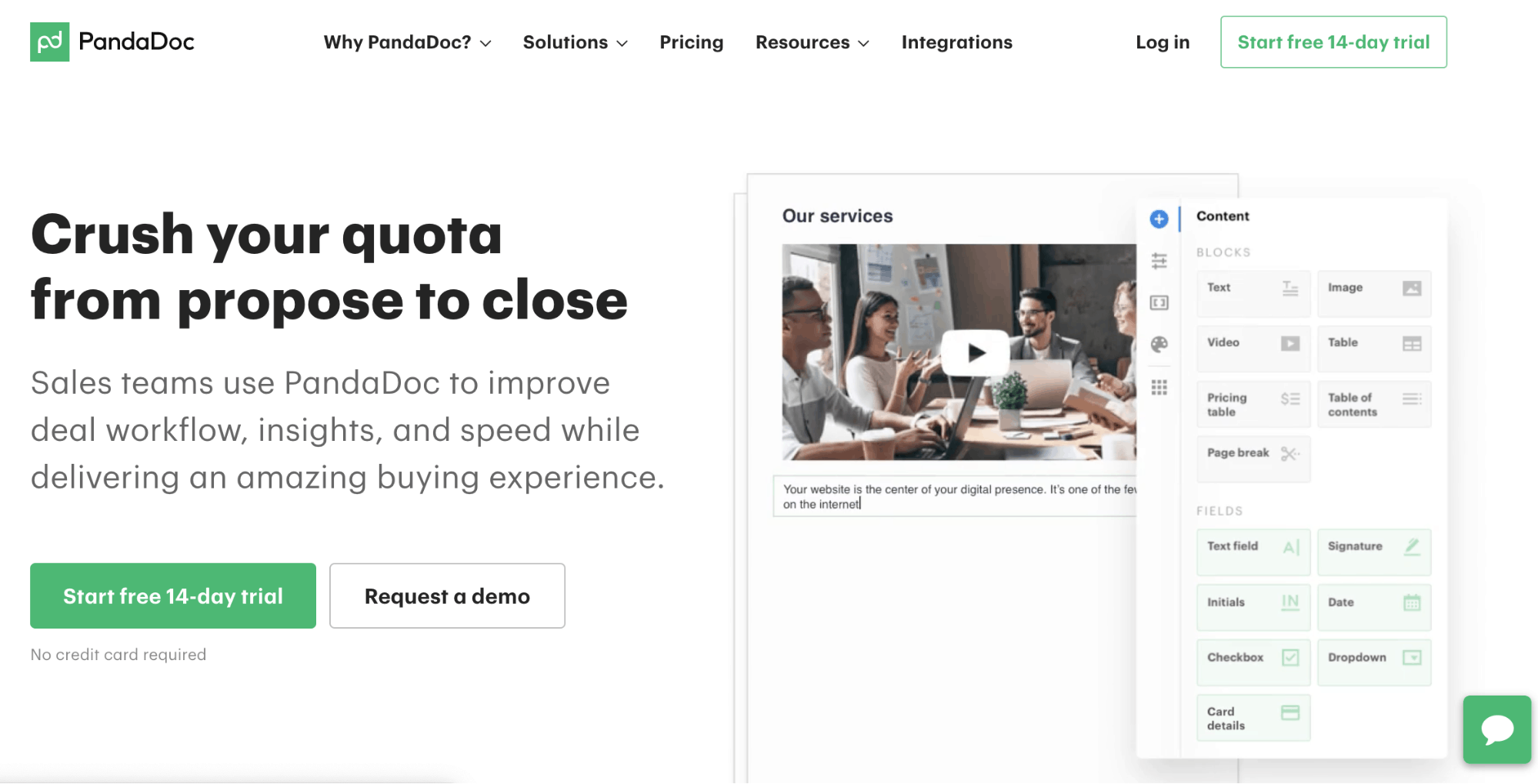 PandaDoc is trusted by over 20,000 companies including Hilton and Drift, and positions itself as a powerful sales tool to streamline your sales workflows and speed up the sales process while delivering an excellent buying experience. With drag-and-drop functionality, you can quickly build branded sales proposals in minutes — making it ideal for sales teams that want to kick it up a notch.
Main Features:
Unlimited legally binding e-signatures with free plan
Drag-and-drop document builder for customized proposals in minutes
Automate signing workflows for review, approval, and more
Public or custom templates for proposals, contracts, and more
Accept payment via PayPal, credit card, or ACH
Collaborate with internal and external reviewers
Track engagement and get email and mobile notifications when recipient takes an action
Audit trails show every stage of the document
Integrates with Salesforce, HubSpot, Zoho, Google Drive, QuickBooks, Canva, and more
Price: Free plan available with paid plans starting at $19/month per user.
Who should use PandaDoc: Sales teams that need a drag-and-drop proposal builder with digital signature integration or those that want a powerful free option
10. RightSignature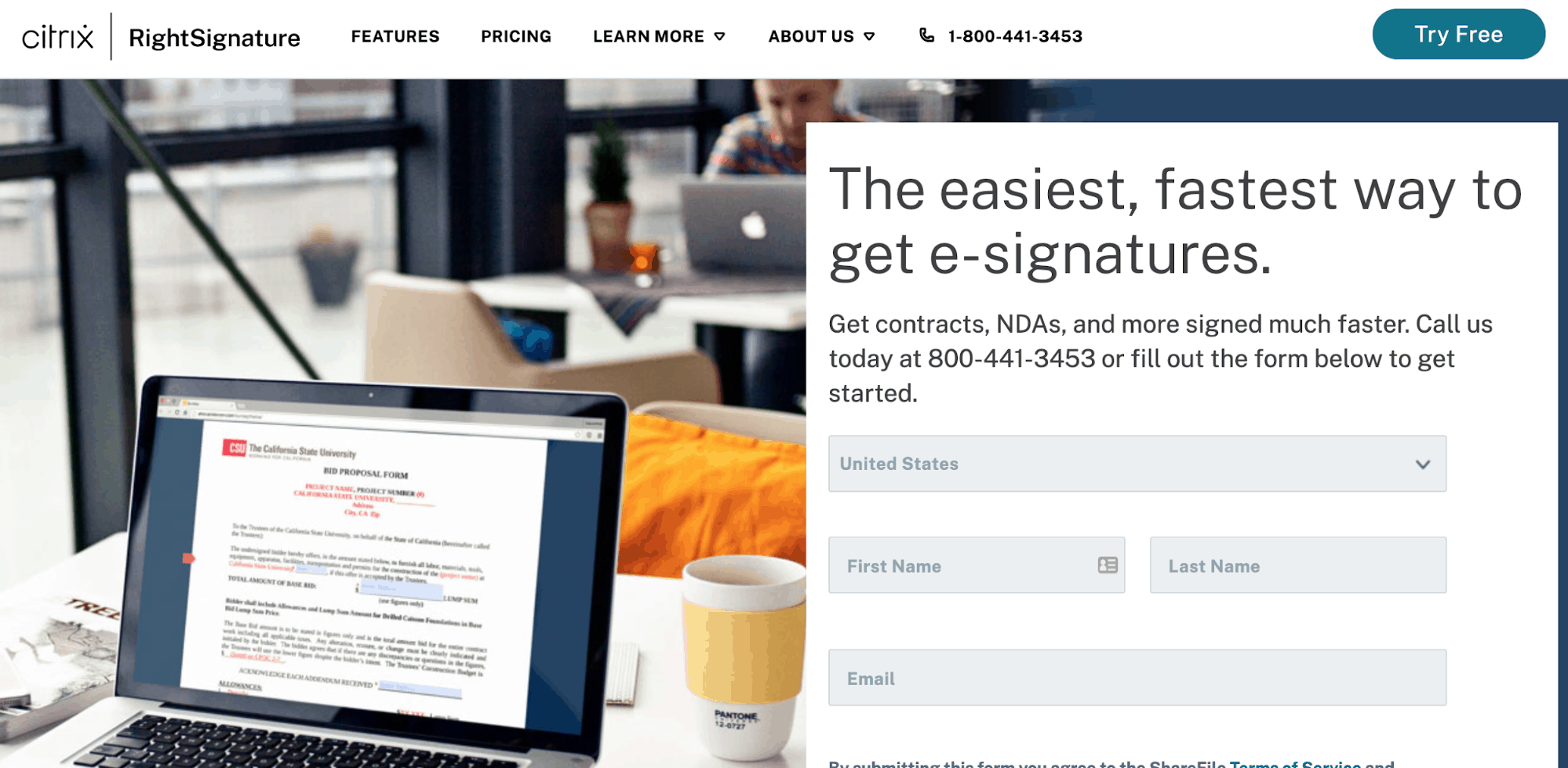 Acquired by Citrix Systems in 2014, RightSignature offers easy ways to deliver documents and get legally binding signatures. This solution is quick to set up and integrate into your existing workflows, making it a great option for those not technically inclined. RightSignature has customized plan options to accommodate your needs, making it one of the most flexible options on this list.
Main Features:
Legally binding electronic signatures, including handwritten signatures
Upload existing documents and create fillable forms with automatic field detection
Professional, customized branding on documents
Works on any device — PC, Mac, iPhone, iPad, Android, and more
Multi-party signing
Batch document sending
Team collaboration options
Secured with full audit log, biometric data capture, and 256-bit SSL encryption
Personalized plans and pricing available for all budgets
Price: Plans start at $12/month for one user.
Who should use Right Signature: Organizations that want a customized plan with specific features or those who need security features like biometric data capture.
11. SignEasy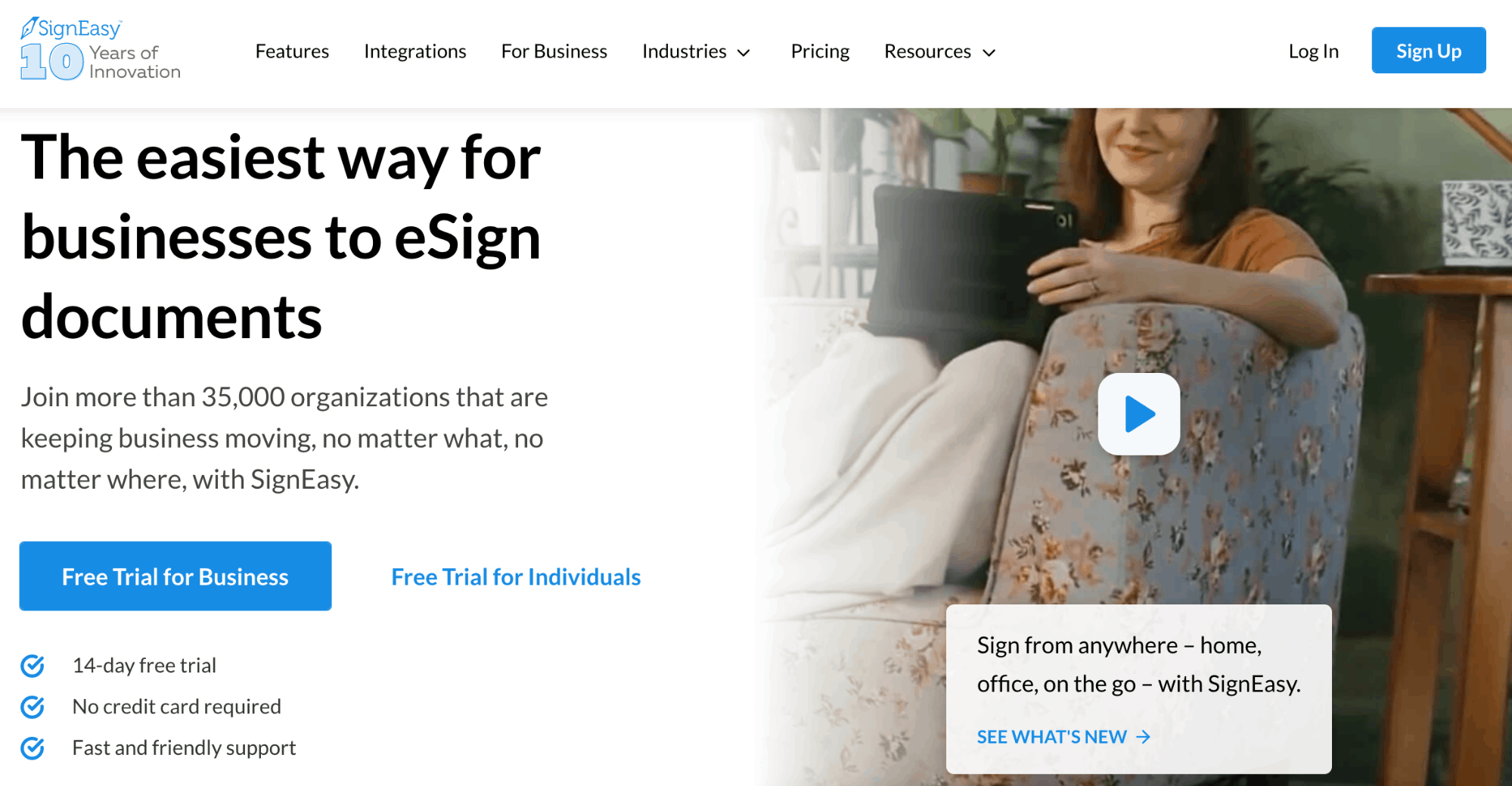 As the name implies, SignEasy makes it easy for businesses to send and sign documents. While most software on this list is pretty intuitive, SignEasy offers one of the most simple and quick user experiences. But don't mistake this for a lack of features or functionality. SignEasy has all of the features that the average entrepreneur would need from an e-signature solution.
Main Features:
Legally binding signature, compliant with ESIGN Act and eIDAS
Smooth signature interface for hand-written signatures
Sequential and parallel signing
Document progress tracking with status notification
Send reminders to signers
Add text, images, initials, annotations, and checkboxes to document
Works for docs in multiple file formats, including PDF, Word, JPG, PNG, and more
Integrates with Google Drive, Dropbox, Evernote, Gmail, Zoho, and more
Digital audit trail for evidence of email, device, IP, document fingerprint, and timestamp
Advanced security features like passcode and fingerprint authentication
Available in 24 languages including Spanish, French, German, Arabic, and more
Price: Plans start at $12/month for one user.
Who should use SignEasy: Entrepreneurs looking for a simple, affordable option that's still packed with features and offers great support.
12. signNow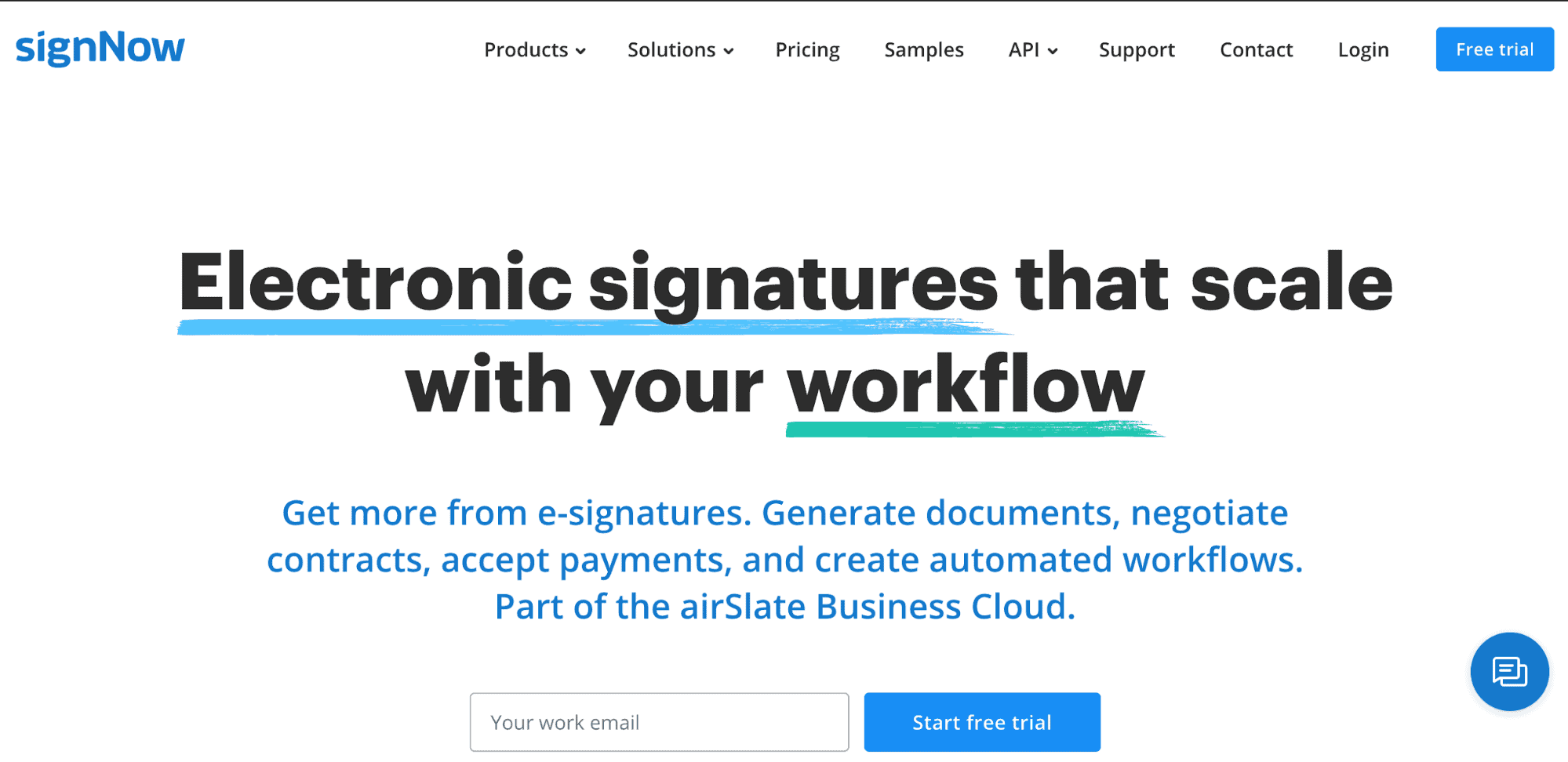 With millions of users and award-winning customer support, signNow offers an enterprise-grade e-signature solution that works for businesses of all sizes. This DocuSign alternative scores higher than many similar solutions in user reviews on G2 and Capterra. With affordable plan options, signNow offers small business owners and solopreneurs a feature-rich solution that won't break the bank.
Main Features:
Legally binding digital signature on any device
Create web forms and e-signature documents on the web
Contract management tools to access and track forms and contracts
Dynamic workflow building and automation in a single workspace
Negotiate and collaborate on contracts right in the solution
Embedded payment system where recipients can sign and pay at the same time
API for integrating the e-signature solution into your site or CRM
PCI DSS certification, SOC 2 Type II certification, and compliance with GDPR, HIPAA, and 21 CFR Part 11.
Price: Plans start at $8/month per user.
Who should use signNow: Organizations that need to comply with HIPAA or PCI DSS or those that want to build complex signing workflows.
13. SignRequest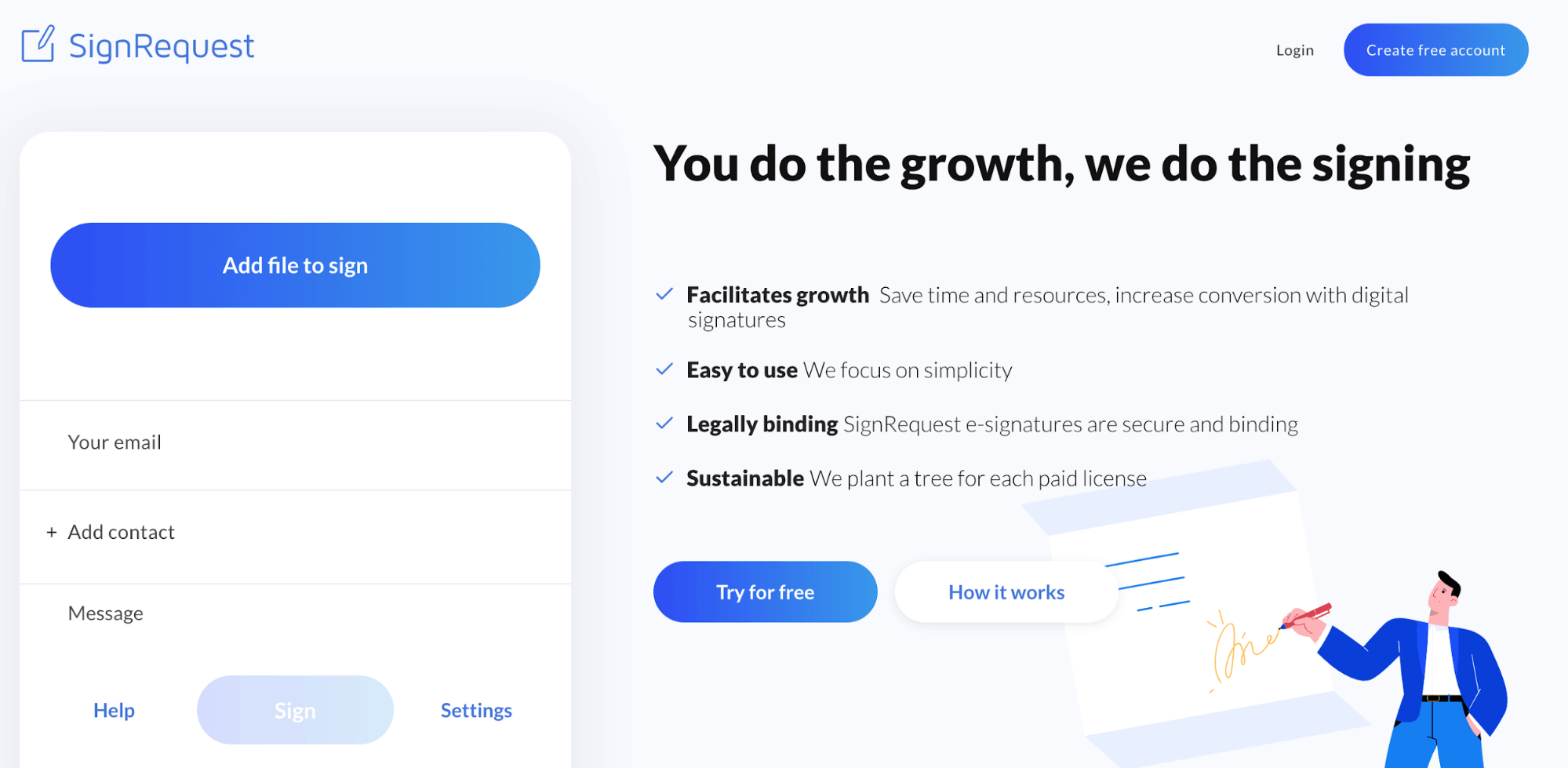 SignRequest aims to facilitate growth by giving businesses the tools they need to save time and resources while increasing conversions with digital signatures. This DocuSign alternative is one of the most affordable on this list, and their free forever plan is also one of the best on this list, making it ideal for entrepreneurs on a limited budget. Need another reason to choose SignRequest? For every license you purchase, they plant a tree.
Main Features:
Legally binding e-signatures from any device
Signing order for multiple signatures
Team accounts where you can collaborate on documents
Sharable public signing link for many signers on one document
Customizable branding
Automations like templates, reminders, and notifications
Integrates with your own website, CMS, or CRM
Supports document attachments
Integrates with Google Drive, Dropbox, Slack, Zapier, Salesforce, and more
256 bit AES encryption and ISO 27001 certification.
Price: Free plans available with paid plans starting at $9/month per user.
Who should use SignRequest: Individuals and businesses looking for a simple solution that can collect signatures from multiple signers on one document (like petitions).
How to choose the best DocuSign alternative
The best DocuSign alternative for you will depend on the features you need most and, of course, your budget. There are many budget-friendly, feature-rich options on this list that will make a fine alternative to industry-giant, DocuSign. Test out a few for yourself to see which one you like best from a user standpoint.
If most of the docs you send to be signed are proposals, then you may be interested in our post on the Top 10 Proposal Software Tools for Agencies and Freelancers, where we compare proposal software. (DocuSign alternative PandaDoc makes an appearance!)
And if you're on the hunt for deals on other SaaS products for entrepreneurs, keep an eye on our AppSumo deals. We may just feature the next DocuSign one day!