Freelancing
10 Tips for Maximizing Freelancing Website Conversions
Did you know that almost 50% of the global workforce are freelancers? That's 1.57 billion people or a mindblowing amount of talented workers.
If anything, that proves that freelancing is here to stay. But most importantly, it shows that freelancing is incredibly competitive, and you need to stand out from the crowd for success.
That's where a well-designed website comes into play. A freelancing website is the modern-day equivalent to a business card; a window display into the value you bring to the table. It should convince visitors that you are the expert they need to solve their top pain points.
It sounds simple, right? Unfortunately, not all freelancing websites are created equal. Most freelancers slap together a quick site without taking the time and attention it deserves, which often results in poor conversion rates.
To take your freelancing website from below-average to out-of-this-world, you must optimize it for maximum conversions. Today, we'll teach you how to turn your freelancing website into a conversion powerhouse.
1. Use a branded domain name
Treating it like a business is the key to success in the freelancing world.
Why? Well, because it is a business. And behind every good business is a brand.
In this case, you are the brand. So you can keep the brand as your legal name (which is very common for freelance writers), or take it one step further and market yourself under a new name.
For example, Maria West chose to use the branded name DTC Mom instead of her name. But she still shares the face behind the brand on her website, killing two birds with one stone.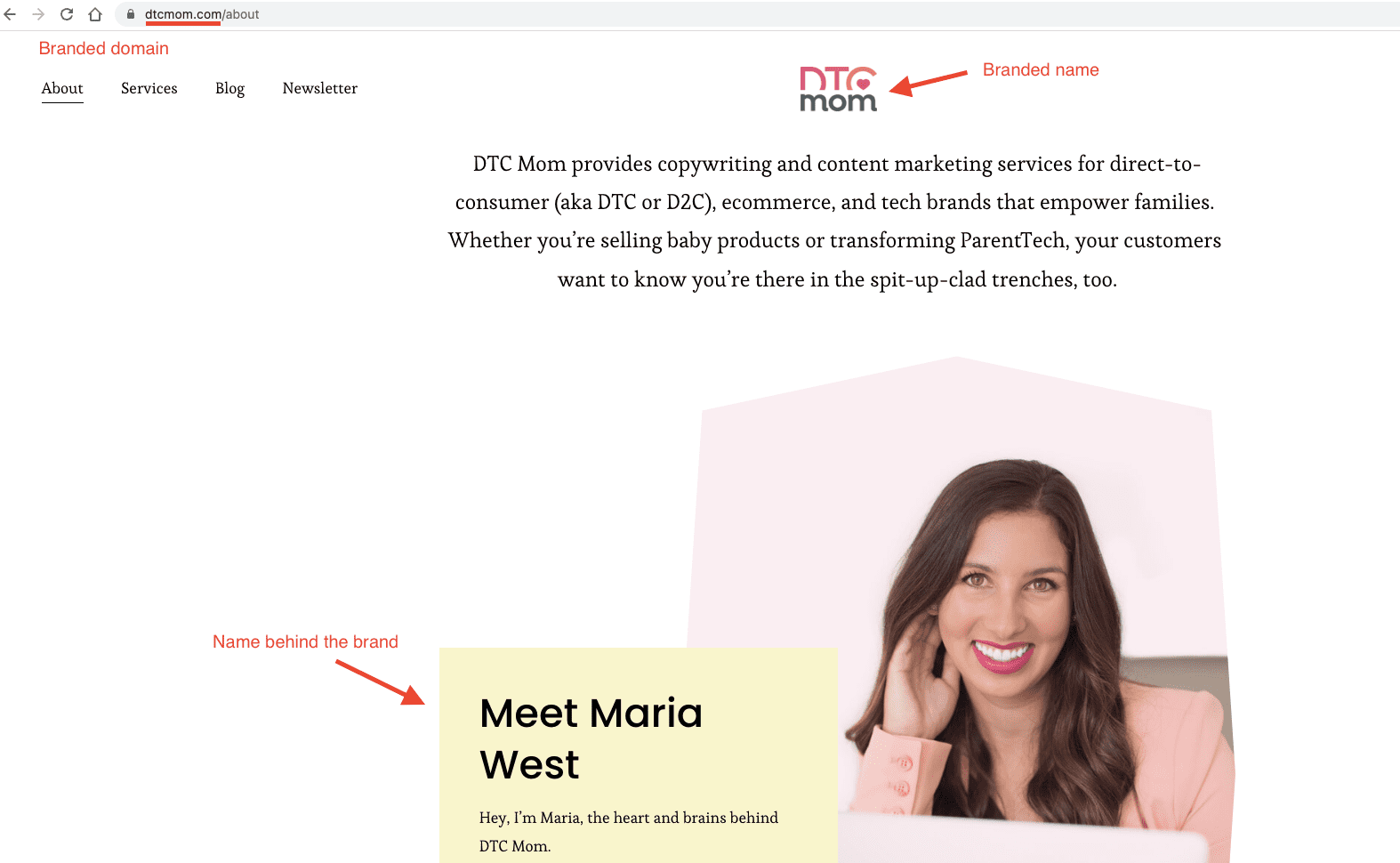 Using DTC Mom helps visitors know right off the bat that she specializes in DTC products for moms (and children, for that matter).
Maria also uses the branded domain for DTC Mom. Using a branded domain name shows clients that you are committed to your business and are willing to invest in building your brand.
If it comes down to a client choosing between you and another freelancer, having a branded domain versus a free portfolio site might be all it takes to push that client into your open arms.
2. Create a consistent design with branding elements
What is the first thing you do when you land on a poorly designed website or one that's slow to load? You bounce.
Why? Because you instantly think it's spammy and untrustworthy. You return to the search engine results page to find the next best option.
If visitors to your freelancing website have a similar experience, your bounce rates will be through the roof, and conversion rates will plummet. And that's what we're trying to avoid.
People typically access your site using a variety of devices. Whether they are using a small mobile phone or a desktop computer, your website should respond to the screen size for optimal viewing pleasure.
Using a headless CMS, you can easily load your content to a website, mobile app, or any other channel using your preferred framework.
You can also reach a global audience because a headless CMS offers full localization support and a translation workflow for rich text, URLs, SEO metadata, and responsive images. Say goodbye to slow page speeds for good!
But page speed isn't the only factor to consider. You should also prioritize the design and aesthetic of your website.
Ask yourself these questions:
Can my visitors find what they are looking for?
Is the design consistent with my social platforms? (LinkedIn, Twitter)
Is my logo visible on all pages?
Is the font professional and consistent across the site?
Does the color scheme fit my brand?
A well-designed website is pleasing to the eyes, easy to navigate, and includes consistent branded elements.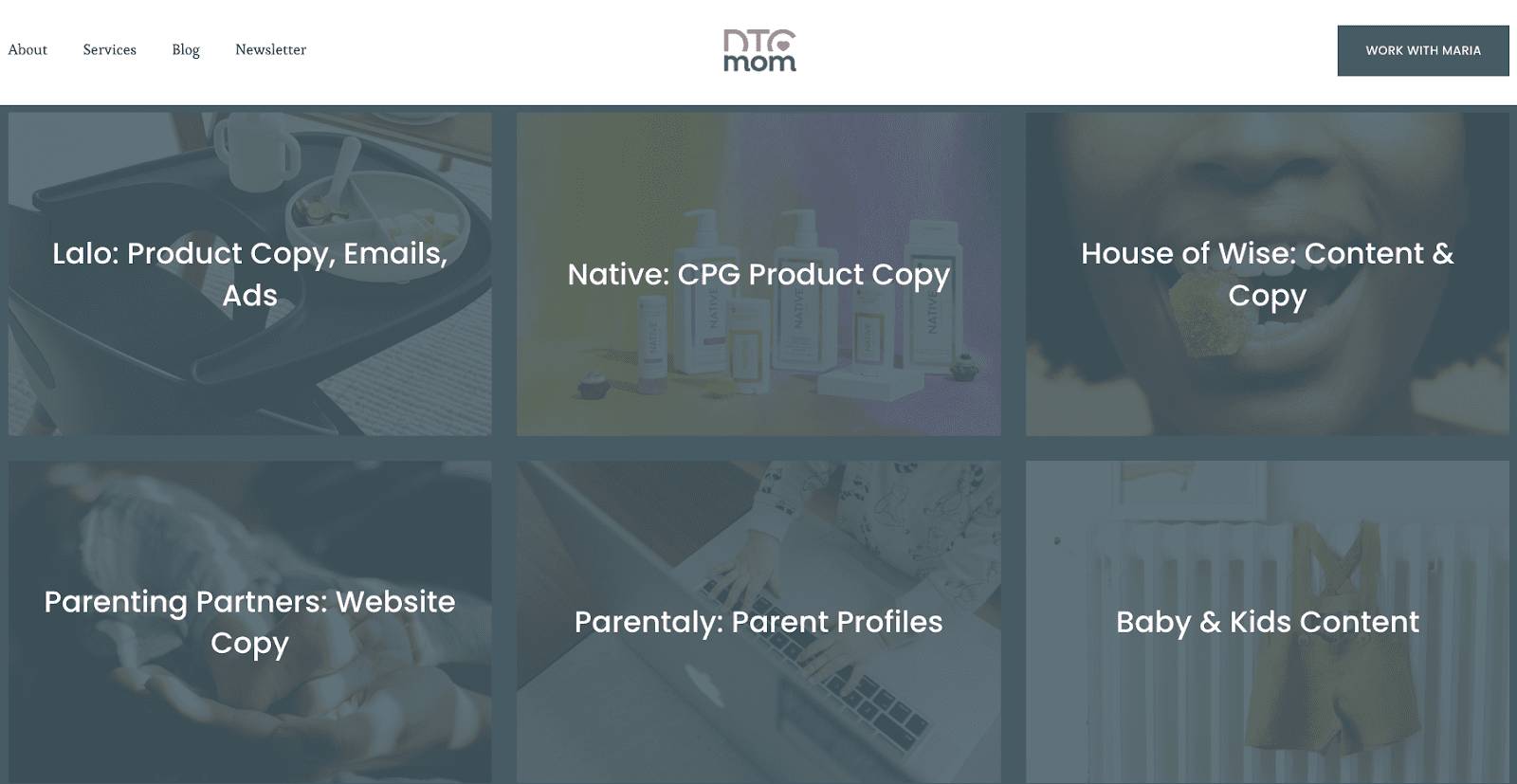 DTC Mom does an excellent job here as well. Her logo is front and center on every page of her website. The design elements match the exact gray color in her logo. And her portfolio examples align with her branded name.
Nothing on her website is confusing or hard to find. Everything is wrapped up in one cohesive bow. And it's clear that her expertise is in DTC products serving mothers and children.
3. Add a well-developed portfolio
A portfolio is one of the first things clients will check for on your freelancing website. They want to see your past work to understand if you are a good fit for their needs.
Treat your portfolio like a trophy case. Highlight the shiniest things you've worked on. And don't be afraid to toot your own horn. Put your best work, the stuff you're most proud of, at the top to show off your skills.
If you are a freelance writer specializing in a few sectors, highlight each niche by creating separate categories and organizing your portfolio accordingly.
Looking for some inspiration? Use Alyssa Towns' portfolio page as a guide.
You can share a few pieces from each niche to showcase your diverse skill set. Then share an additional link with the entire portfolio for filtering options by publication or subject.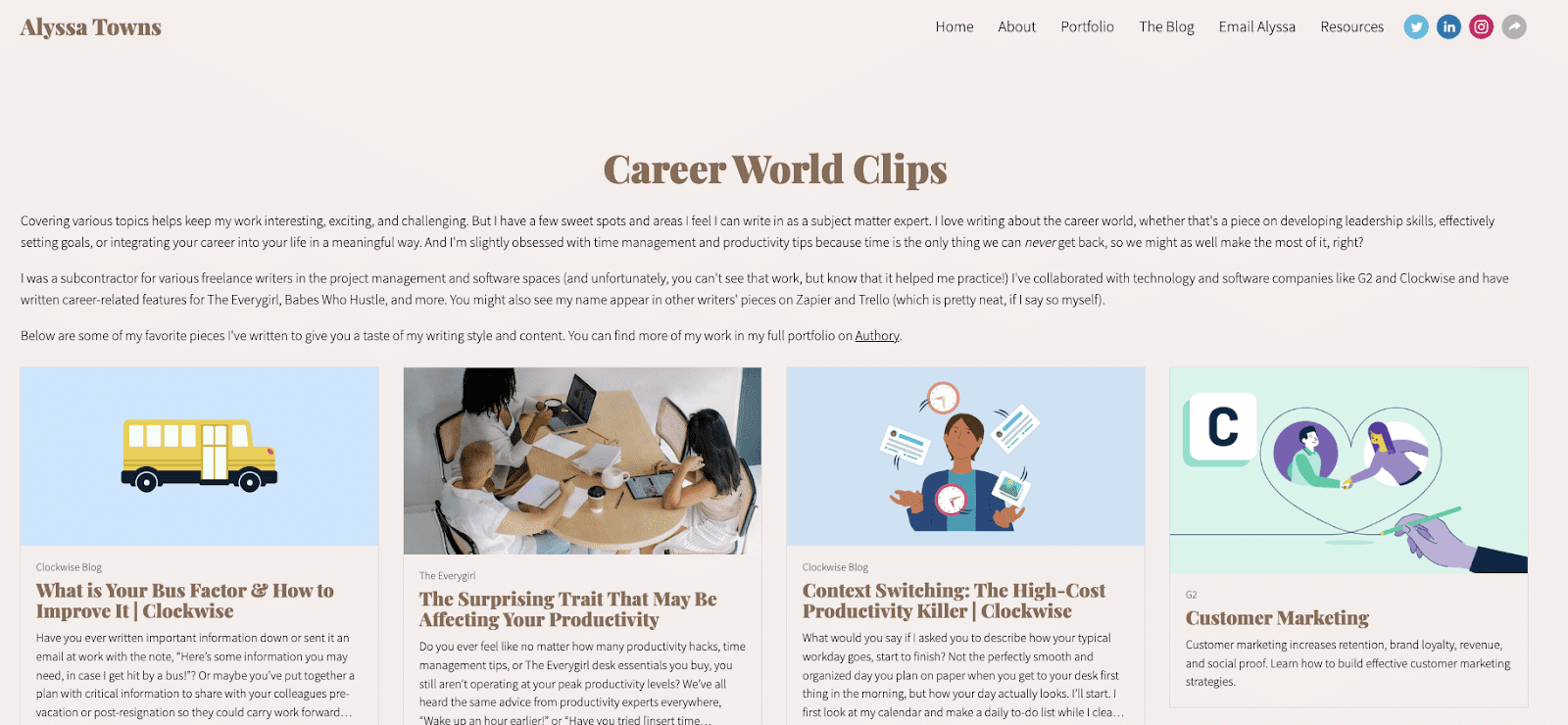 On the flip side, if you only have a few pieces of work to show off, that's fine too. The goal is to give your clients a little sneak peek of what they can expect when they hire you.
As we mentioned earlier, the freelancing space is quite crowded. What do you bring to the table that makes your work unique from the next writer?
Clients can't read minds. And first impressions count. You need to be very straightforward on your freelancing website about why you are the best person for the job.
Grace Baldwin outlines six reasons she's the go-to freelancer for SaaS companies and proudly displays this information on her "About" page.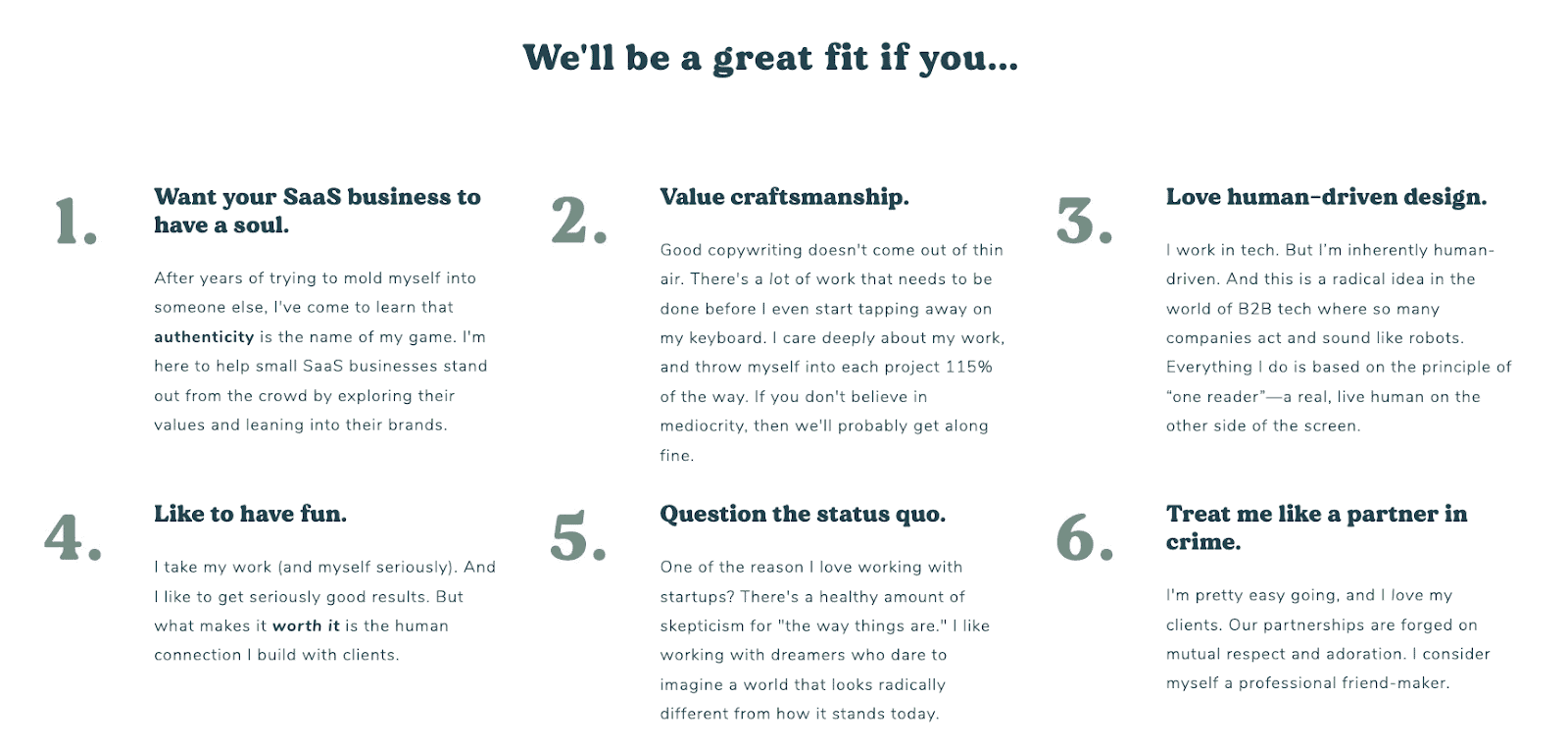 Displaying your unique value proposition can have enough power to propel a client to book a discovery call or go right into placing orders. It's a must-have.
5. Showcase client testimonials to build trust and credibility
In digital marketing, most businesses gather key customer information, like names, credit card details, and personal addresses. They use this data to help a business personalize content for the consumer.
Consumers love personalized experiences, but data privacy is a top concern. To follow privacy laws and keep consumer concerns at bay, companies generate a privacy policy to display on their website. This message assures customer that their sensitive data is safe.
Now, you might be wondering what this has to do with freelancers. Well, adding client testimonials to your freelancing website provides that same sense of trust with new visitors.
When it comes to selling a product or a service, trust is everything. So use positive reviews as evidence that you are the cream of the crop and produce high-quality work.
For example, if you worked on a project for a car cleaning business that sells various products like floor mat cleaner, leather cleaner, or tire shine, ask them if they would be willing to write a testimonial. Clients with a good experience are typically more than willing to share some kind words.
Once you have compiled a few positive testimonials, display them loud and proud by adding them to your portfolio page on your website. Or better yet, park them on your home page like freelancer Rochi Zalani does.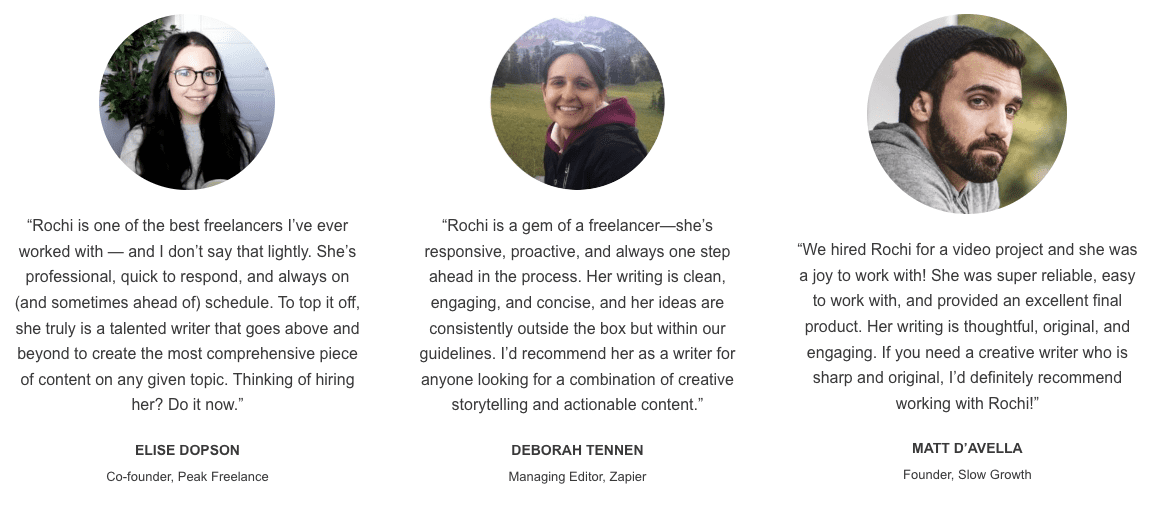 People are more inclined to purchase from a business with positive customer feedback. Don't underestimate the power of social proof. It builds a sense of trust in seconds.
6. Write an engaging "About" section
Freelancing websites are similar to employment websites: they aim to connect with the right people by reducing as much friction as possible.
For example, Salarship uses filtering on its website to make it easier for job seekers to find a job that fits their industry and experience without spending hours scouring through job listings.
And on a freelancing website, a client should be able to tell your expertise and niche within seconds of landing on your website.
Your important information should be easy to find on your home page or on a dedicated "About" page.
Ideally, you want to build a case that proves you can meet all of the client's needs (and do it better than anyone else).
Not sure what to add to your "About" page? Take a note from Kelly Fiorini, who breaks down the process into three simple steps.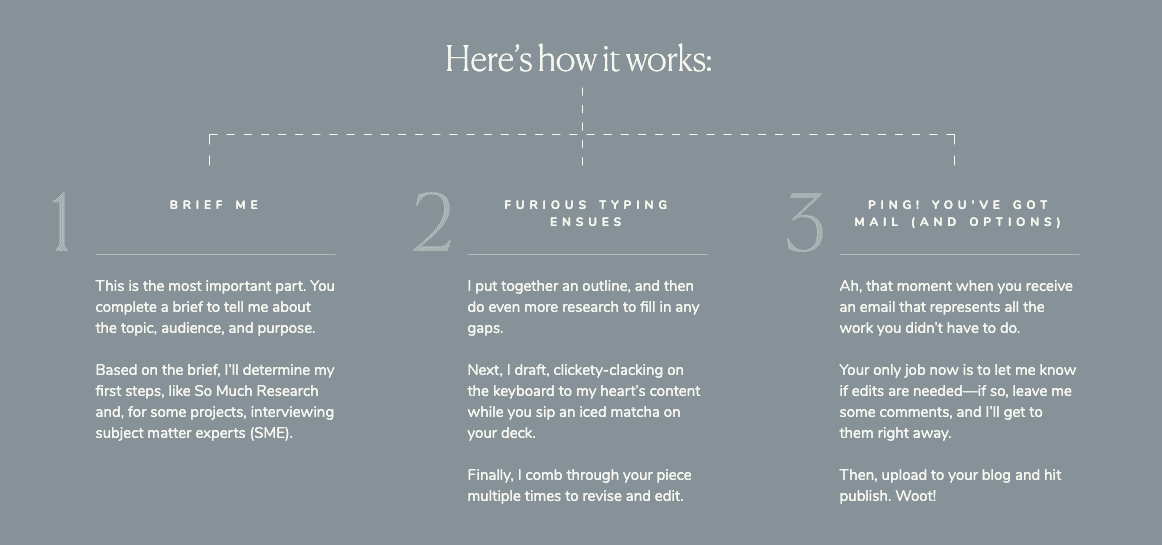 Her strategy works because it shows that the process is simple. She is an expert in her craft, and the client barely has to lift a finger. It's almost impossible to say no to purchasing the service.
7. Build a blog that positions your business as an industry leader
It's crucial to produce top-notch work for your clients while managing various administrative duties that help keep your business running smoothly.
Balancing these responsibilities can be challenging, but focusing on process improvement for your work can help take your business to new heights.
With an efficient workflow and the proper tools, you can deliver the best content to your clients while simultaneously establishing yourself as an industry expert.
Agnee Ghosh does so by writing in-depth guides on becoming a freelance writer or overcoming burnout. When you can teach someone your craft, you know you are a subject matter expert.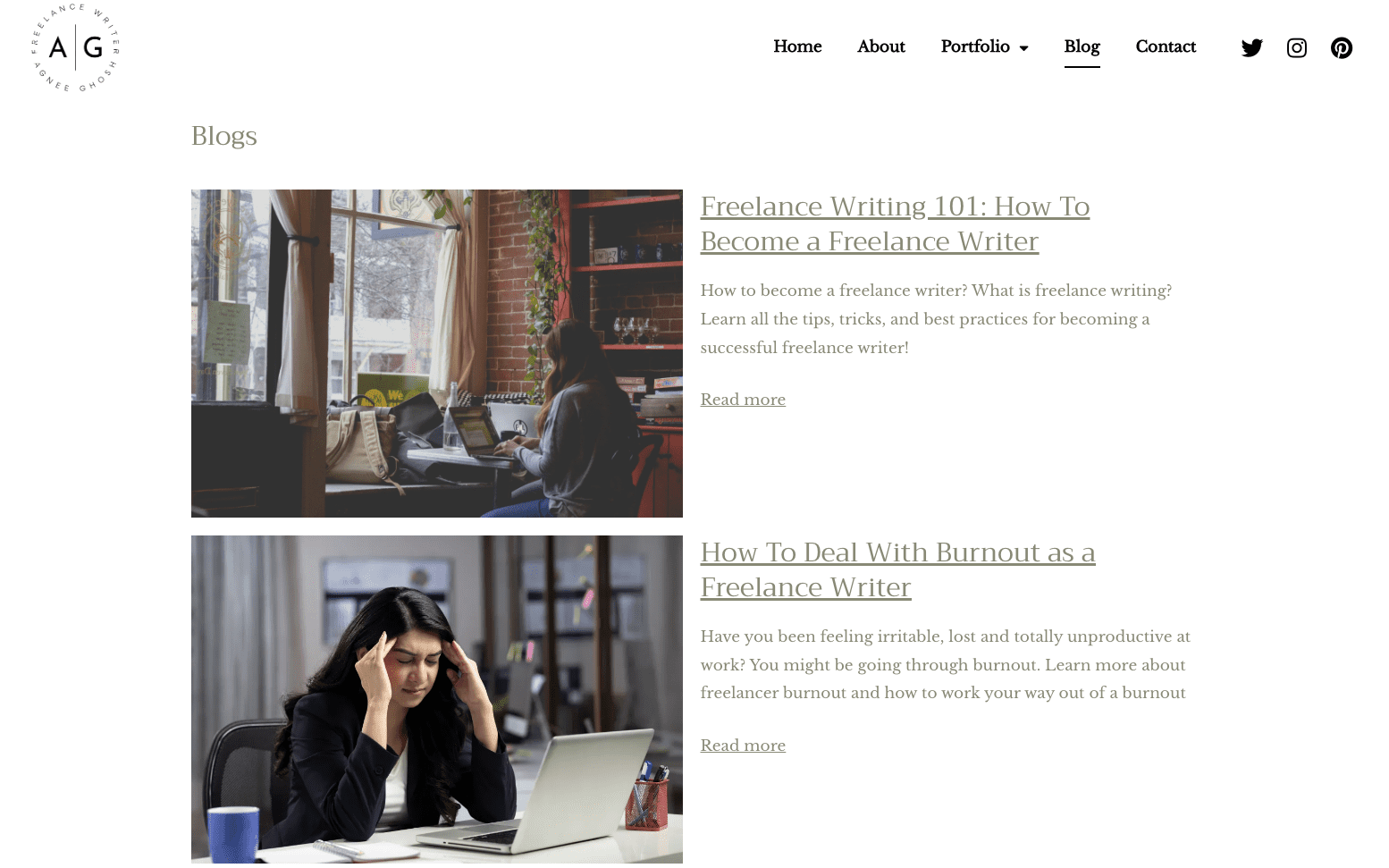 Plus, it'll help drive organic traffic to your website. It's a win-win.
8. Create compelling lead magnets
A high-quality lead magnet is another way to drive organic traffic to your freelancing website.
By sharing an SEO-friendly template or guide, your website can rank in search results whenever people look for information about that topic.
It can also help build your email list with leads who aren't quite ready to commit.
For instance, Kelly Fiorini uses a free guide to teach people how to edit content and capture the email addresses of visitors who aren't ready to spend money on outsourcing the editing process.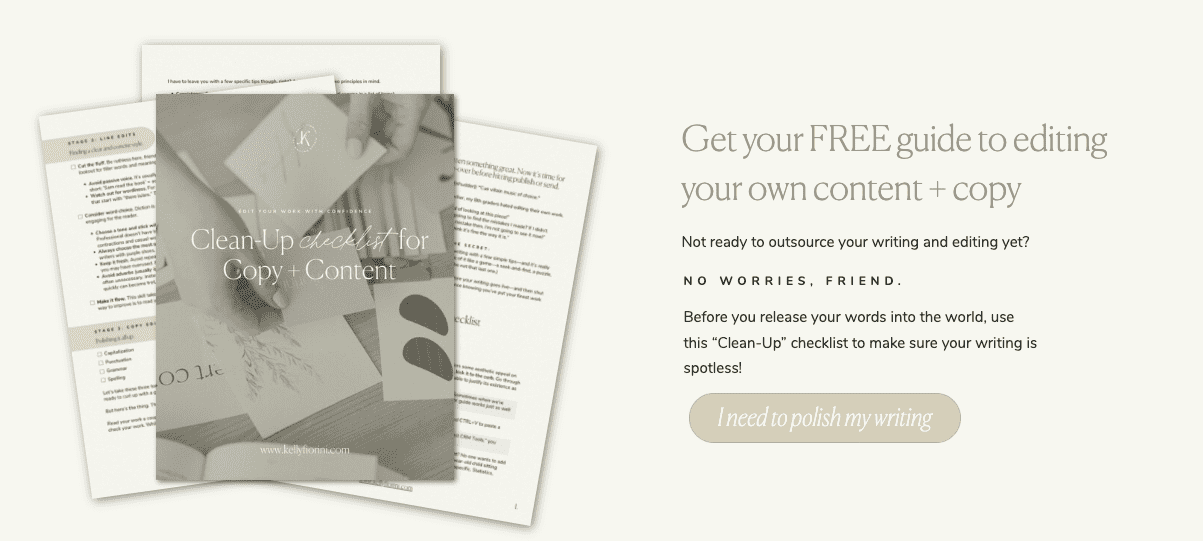 But there's still work to do after the lead hits the download CTA button. It's critical to track these leads to determine where they are in the sales funnel and when to take action to move them closer to the sale.
Thankfully, you don't have to do this all manually. With a tool like Plus, you can track and analyze your leads to engage at the right times and prevent warm leads from going cold.
9. Add your contact information
As basic as it sounds, make sure your contact information is easy to find.
Generating organic traffic to your website is hard enough. The last thing you want is for your visitors to bounce because they can't find your email address or another way to get in touch with you.
Not sure how to display it? Use Jessica Jone's website as the perfect example.
She created a dedicated landing page for customers looking for more information about her branding services. She also included a "Contact" link in the website header and footer, so it's easy to find from any page on the site.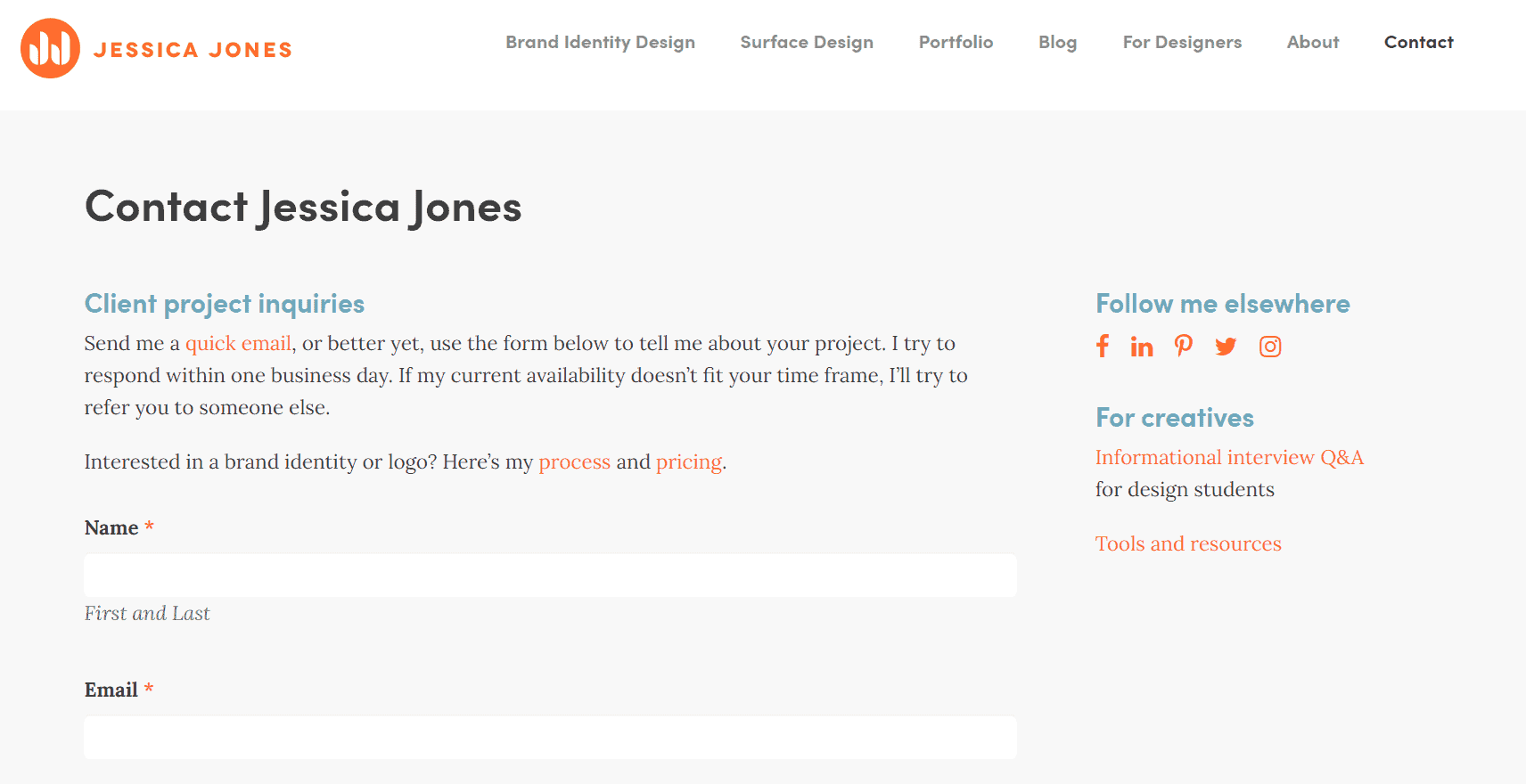 You can also add a contact form if you want to streamline your emails into one CRM platform or share your direct email for simplicity.
10. Display a detailed pricing page
Reduce the time wasted on back-and-forth pricing conversations by creating a dedicated page for all your pricing information.
Emily Krings has a dedicated page that clearly outlines the price for her different services. Of course, there's always room for custom quotes.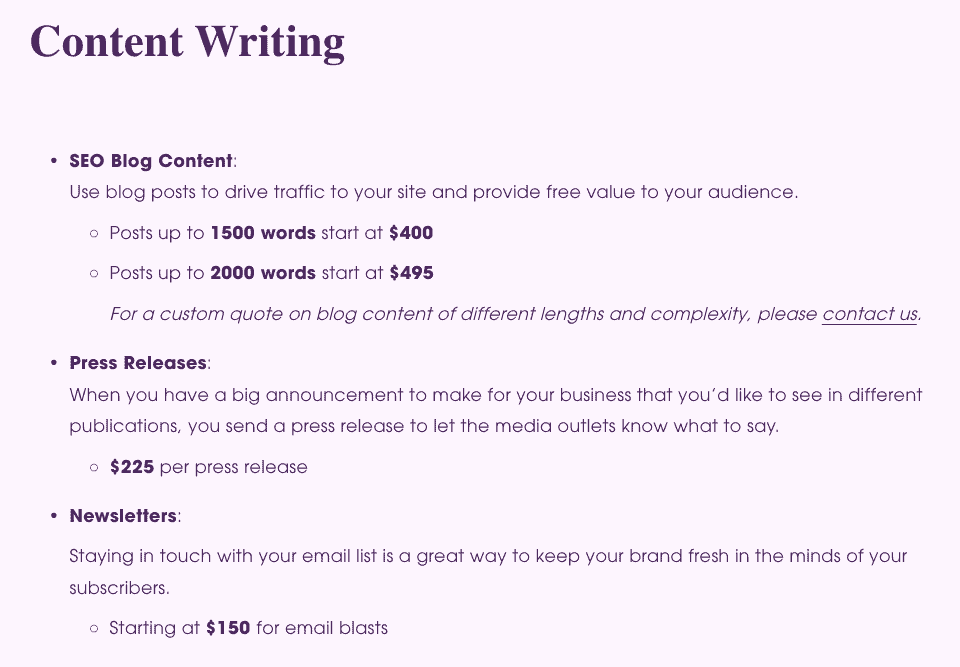 But as someone who's hired many freelance writers, the pricing page is one of the first things I look for on a freelancing website. Why? Because this information helps me understand if I can afford to hire the person.
After all, we're all on a set budget. If the writer doesn't fit within my allocated budget, I understand that I need to continue my search. But if the price falls within my desired range, I can continue my due diligence by checking out their portfolio and reading testimonials.
It's important to note that the pricing page isn't just beneficial to the client. It works both ways.
As the writer, it helps filter out clients that aren't worth your time. Because there's nothing more frustrating than spending days or weeks going back and forth over email just to find they can't afford your rates.
Turn your freelancing website into a conversion powerhouse
The highest-converting freelancing websites cover all of the bases.
Little things matter, from a well-designed website with branded elements to properly displaying customer testimonials. The key is to reduce friction during the sales process and establish yourself as an expert in your niche.
It's not always about increasing conversions—if you can also increase the lifetime value of each customer, that's even better. So sprinkle in a few lead magnets to build your email list for future upselling or cross-selling opportunities.
With these simple tips, you'll be on your way to creating a freelancing website that draws in visitors, builds trust from the start, and then turns them into brand advocates. And nothing is better than business from referrals.
For discounts and other offers on tools that'll help you on your freelance journey, check out the AppSumo store. We have plenty of courses to help to grow your business to new heights.
Jeremy is co-founder & CEO at
uSERP
, a digital PR and SEO agency working with brands like Monday, ActiveCampaign, Hotjar, and more. He also buys and builds SaaS companies like
Wordable.io
and writes for publications like Entrepreneur and Search Engine Journal.