Software Alternatives
11 Of The Best Wrike Alternatives That Make Life Easier
Whether you're a seasoned manager or project management padawan, there'll be something for you in this detailed list of Wrike alternatives.
Bonus material: Class is in session. Learn game-changing lessons from world-class experts like Chris Voss, Marie Forleo, James Clear, and more.
What do Gucci, Armani, and Wrike have in common?
They're all popular brands, but that doesn't mean they're a perfect fit for everyone.
Whether you're fussy about fashion or not (I prefer Steve Jobs' dress code myself), picking the best project management solution is a lot harder than choosing the right clothes. You're probably already grappling with questions like:
Which user interface fits our team's style?
Do we need resource management features?
Should we opt for a premium project management platform or stick to the free version?
With so many apps to choose from, they can blur together when you start comparing them against your team's needs. To top it off, you've got plenty of important details to weigh, especially if you're after an effective Wrike alternative.
Fret not. Whether you're a seasoned manager or project management padawan, you'll find a detailed list of reliable alternatives to Wrike in this post.
An Overview of Wrike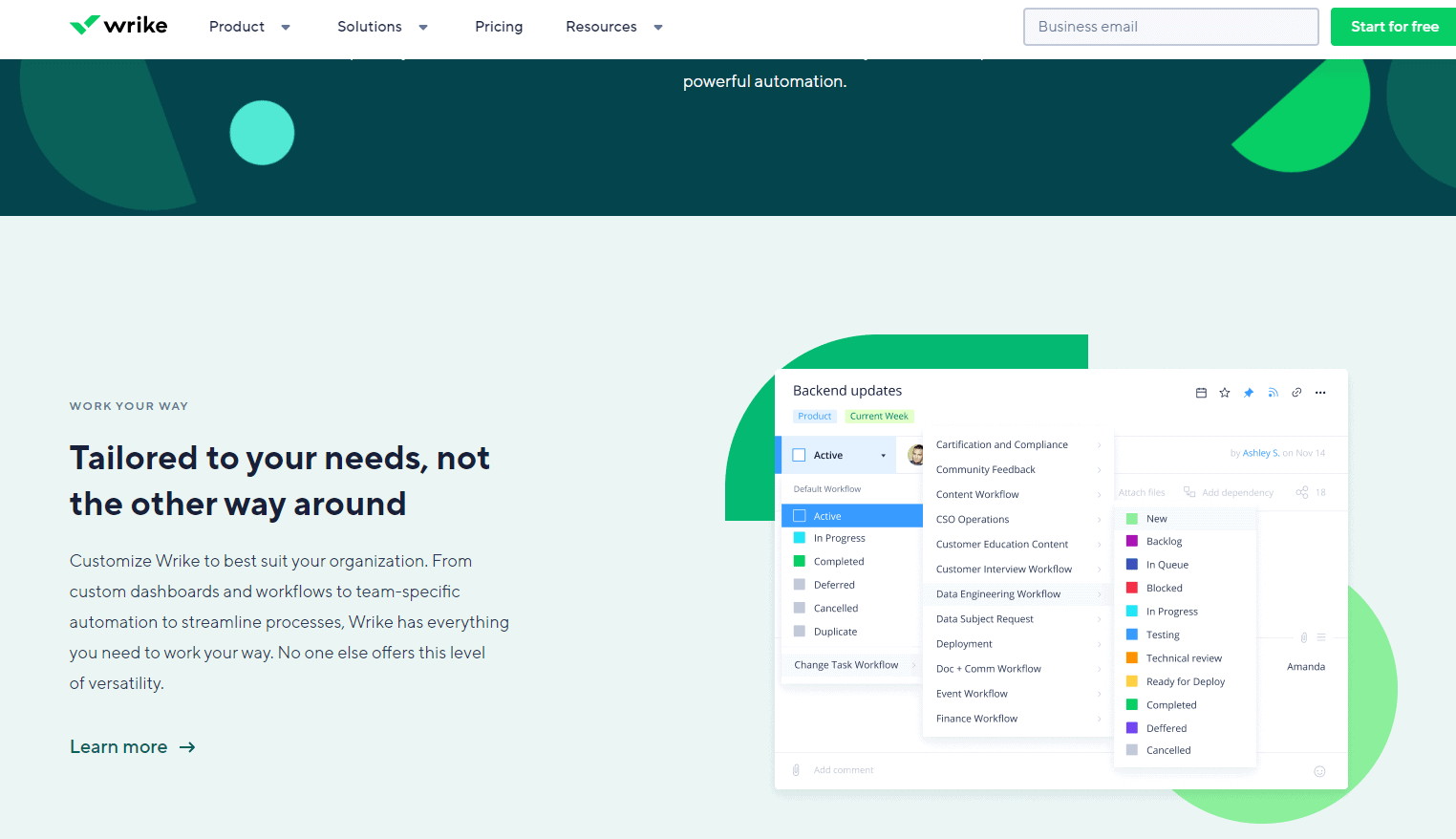 Founded in 2006, Wrike is a project management and collaboration platform that optimizes teamwork for enterprise and midsized businesses. Their goal is to give your team full visibility and control over all your tasks and projects.
Key features: Wrike enables quick, direct interactions for different projects and schedules. The customizable platform is known for team-specific automation capabilities, resource management, detailed reporting, and team management features.
Potential drawbacks: Wrike has a steep learning curve.
Cost: Basic plan is free; up to 5 users. Paid plans start at $9.80/month per user.
Best for: Large businesses that need flexible project management and collaboration tools to manage global operations.
11 Of The Best Wrike Alternatives
Whether you're a small business owner, agency director, or project manager, this list will have a project management tool with the combination of features, pricing, and style that meets your needs.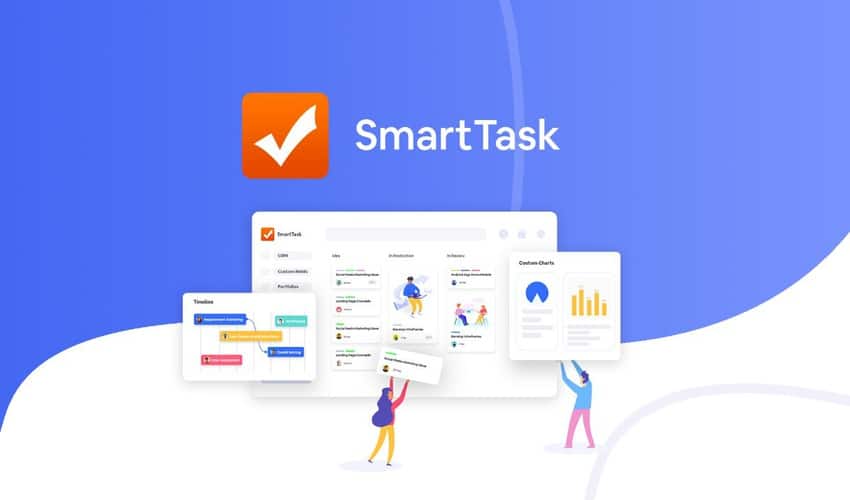 Keeping up with multiple tools is a lot of work. If you're not careful, it could become a nightmare quickly. SmartTask streamlines communication, information, and project management on one single platform.
Key features: SmartTask helps maximize your team's productivity by having task and project management combined with CRM on one single platform. You can also tailor your workflow with custom fields, custom charts, and custom views.
Potential drawbacks: With a wide range of features, the learning curve to fully utilize SmartTask is bigger than other tools.
Cost: The base plan is free. Paid plans start at $4/month per user, billed annually.
Best for: Project managers, salespeople, and operations teams looking to get on the same page and boost efficiency.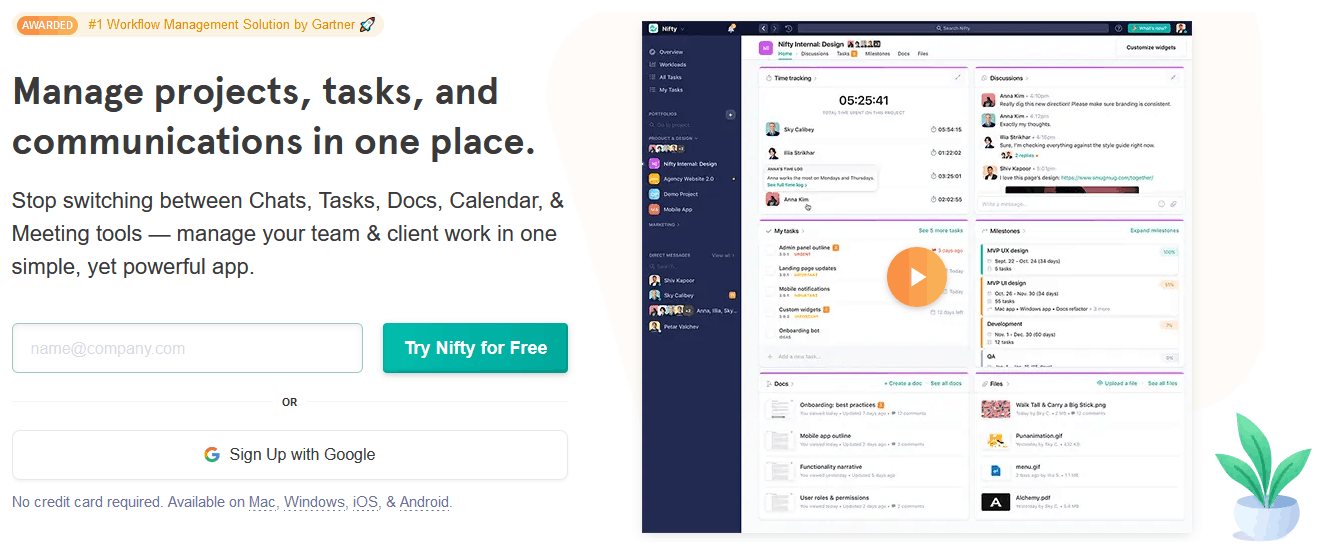 Need a powerful all-in-one project management tool at a good price?
Nifty brings projects, workflows, and communication all in one place.
Key features: Nifty allows you to save time by automating client reporting as tasks are completed. There are time-tracking tools, file storage, and milestone views with Gantt charts.
You can engage in real-time discussions with project members, or speak to your internal team, making Nifty a great Wrike alternative for digital agencies and product teams that need a feature-rich, collaborative workspace.
Potential drawbacks: Advanced features such as team workloads and time tracking cost an additional $20/month each.
Cost: Plans start at $39/month, billed annually.
Best for: Marketing, product, and legal teams that need a feature-rich workspace to communicate and collaborate efficiently.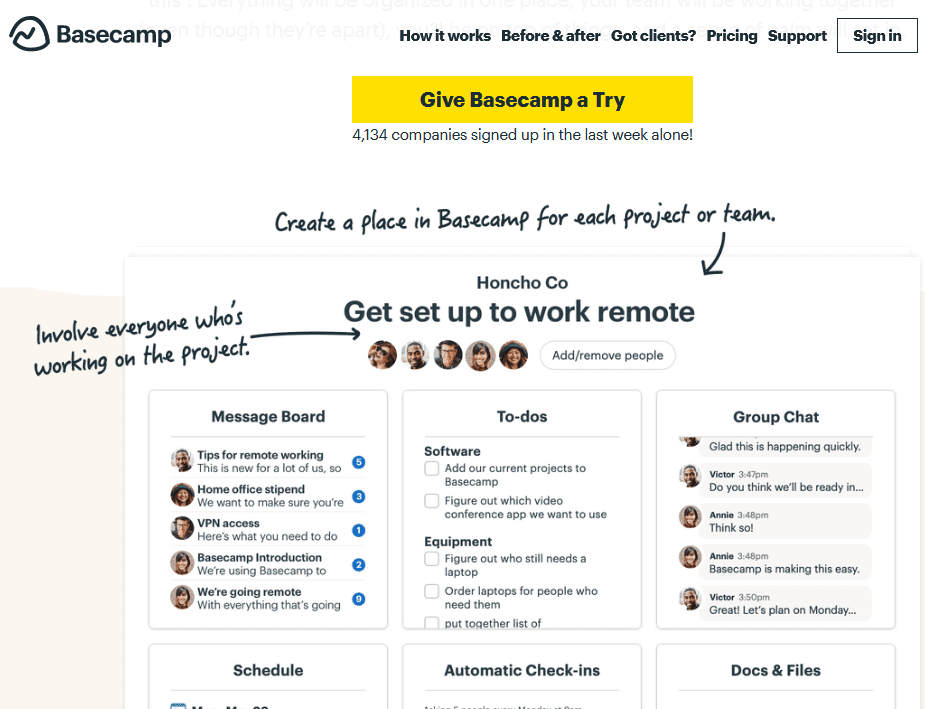 Basecamp is a project management tool that emphasizes being in "one place, not all over the place."
Ideal for busy project managers and professionals, Basecamp is an alternative to Wrike that uses minimalistic and intuitive design to make project management simpler and less confusing.
You can read more about Basecamp alternatives here.
Key features: Users love Basecamp's simplicity and easy-to-use interface. This makes managing and including the relevant people in your tasks a breeze. You can create, assign, and follow up on tasks without worrying about technical issues. And everything in one place without being cluttered is also a pretty big deal.
Potential drawbacks: Basecamp's poor file/document filtering makes it less suitable for advanced project management.
Cost: Personal plan (3 projects, 20 users, 1G storage) is free. Business plan is $99/month for unlimited users.
Best for: Freelancers and small business owners managing small to medium-sized teams, who don't have complicated day-to-day tasks.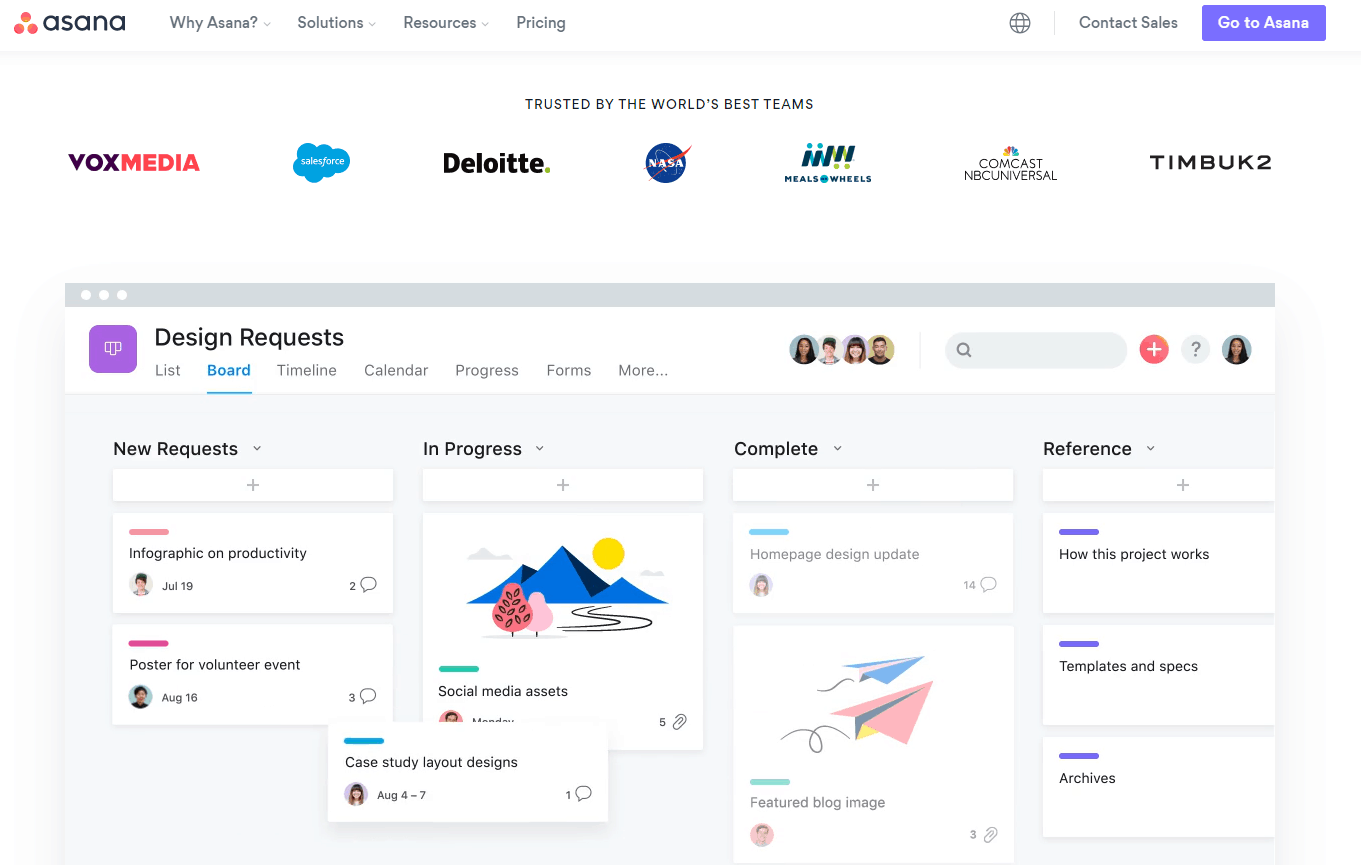 Asana simplifies team-based project management and collaboration. The app lets you create projects, assign work to teammates, set deadlines, and communicate directly within the app.
Looking for an alternative to Asana? Here you go.
Key features: Thanks to its color coding and folder structure, Asana is awesome for managing and visualizing multiple projects on your desktop, Android, or iOS device. You can create beautiful Gantt charts within minutes and switch between different visual formats with ease.
Recently added features include goal tracking and work request forms.
With over 100 integrations, Asana also fits into your existing workflows and systems.
Potential drawbacks: No options for condition-based (completed tasks or days passed)
task scheduling conditions.
Cost: Basic plan is free. Paid plans start at $10.99/month per user, billed annually.
Best for: Tight-knit creative teams or execution-oriented teams that need to collaborate on complicated tasks.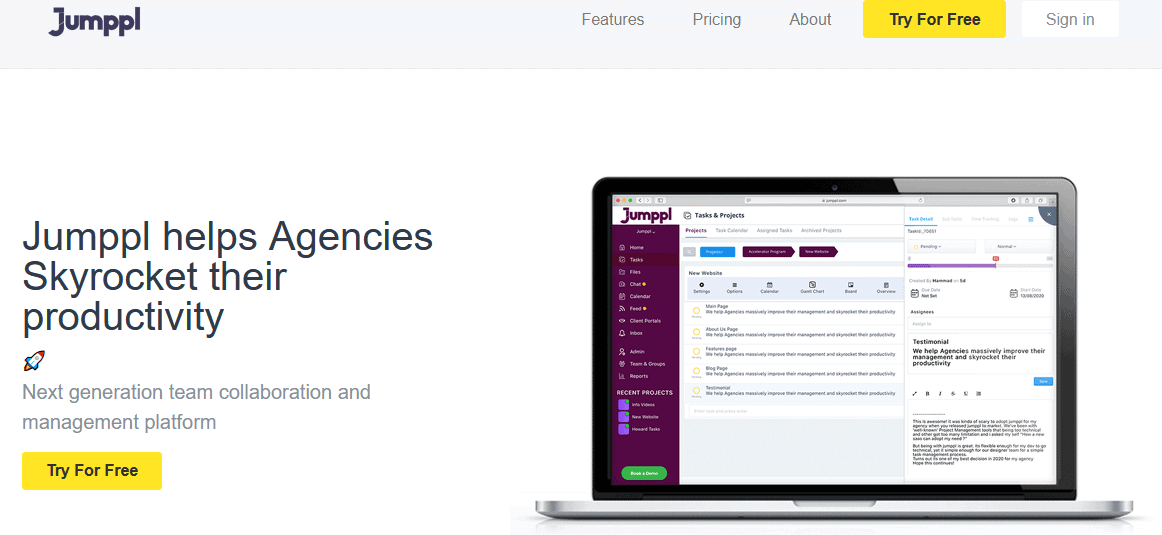 Jumppl is a digital workplace tool for collaborative project and team management. It specializes in large scale communication and client management for your business or bustling agency.
Key Features: Jumppl offers project management, communication, file storage, client portal, and calendar tools all under a single and easy-to-use system.
What makes Jumppl special, however, is its elegant client management tools and chat portal features. This makes internal team or external contractor/client collaboration seamless.
Potential drawbacks: Limited file storage and no free plans.
Cost: Paid plans start at $24.99/month and start with 30 users included.
Best for: Agencies or businesses with loads of internal team members and external contractors or multiple clients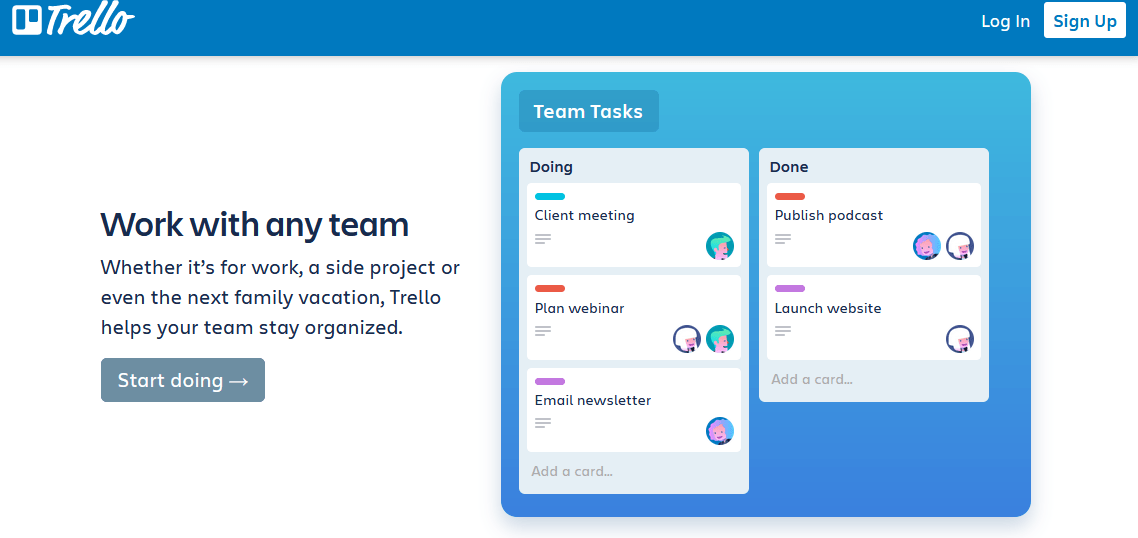 Trello, an Atlassian subsidiary, is a web-based Kanban-style project management tool. It's ideal for to-do lists and step-by-step project management.
Learn more about Trello and its alternatives here.
Key features: Trello has an intuitive interface, a simple pricing structure, and is great for fans of the Kanban board system for project management.
Potential drawbacks: A lack of customization. You're limited to simple descriptions and Kanban boards, which isn't ideal for complicated projects that need long, detailed descriptions.
Cost: Basic plan is free. Paid plans start at $9.99/month per user, billed annually.
Best for: Small teams and freelancers who specialize in content creation such as videos, articles, or social media posts.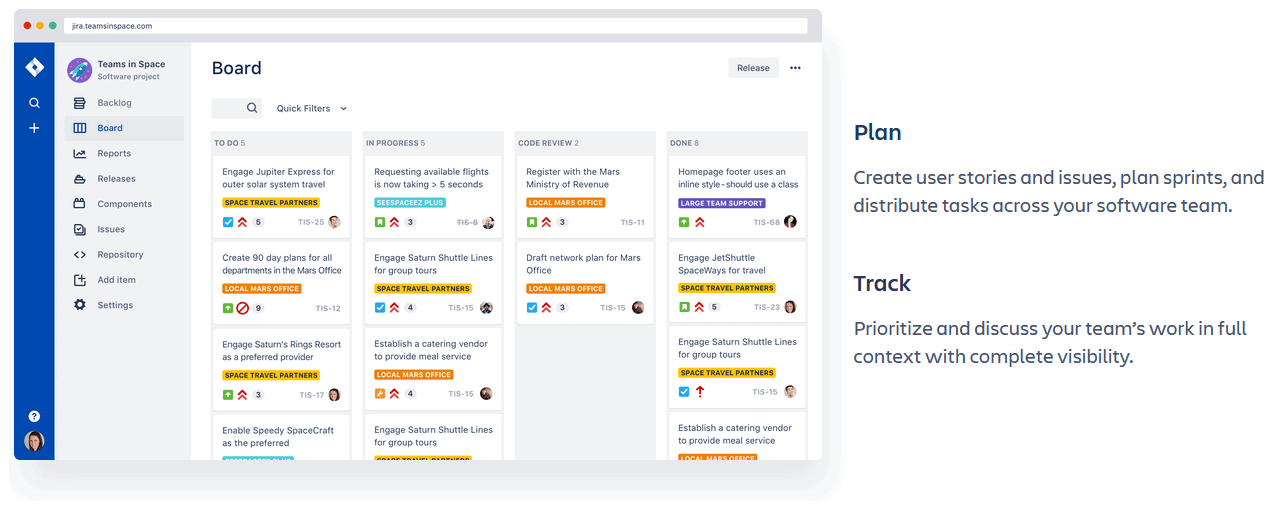 Jira Software is another project management tool by Atlassian. Unlike Trello, however, Jira is a robust all-in-one customizable tool for software development and complex projects.
Key Features: Originally a bug tracking software, Jira is now the leading tool in Lean and Agile project management. It has detailed issue tracking, prioritization capabilities, and supports Hybrid, Scrum, and Kanban frameworks.
Potential drawbacks: Jira can be hard to understand or overly complicated if you're not using all its features.
Cost: Free for 10 users. Paid plans start at $7/month per user
Best for: Large IT, development, marketing, and software teams that need flexible and customizable project management features.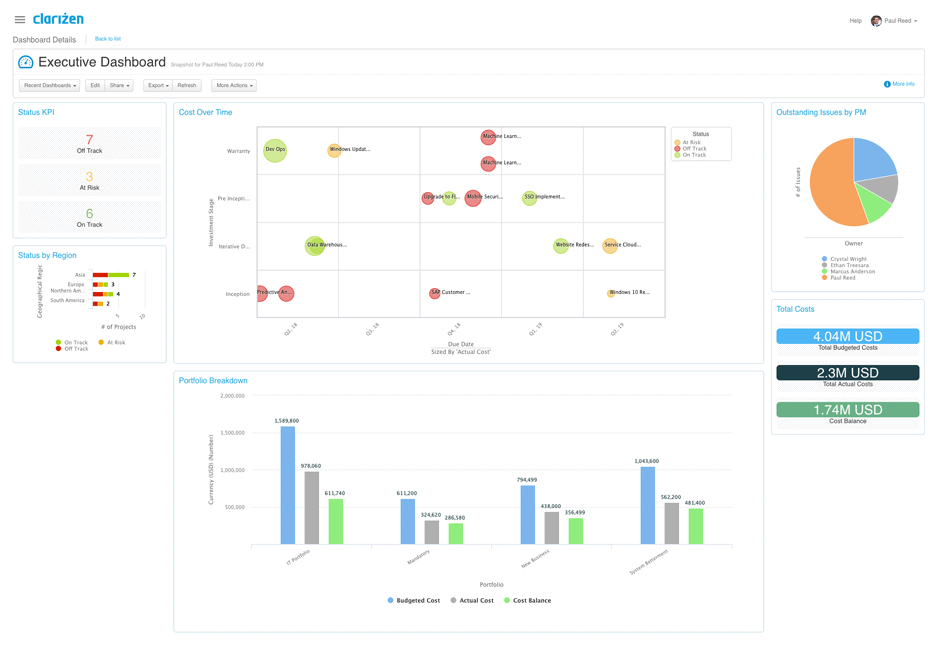 Clarizen is a leader in enterprise work management software. The SaaS solution helps larger companies simplify work, streamline communication, and manage multiple projects.
Key features: The tool enables conversations with colleagues and customers; these interactions can be tracked directly on relevant tasks, documents, and projects. Clarizen also offers sales and accounting functions that allow you to generate risk and work estimates for different departments.
Potential drawbacks: The tool has a steep learning curve and isn't known for being user-friendly, especially for beginners.
Cost: Pricing information must be requested.
Best for: Large product management, sales, or financial teams that need to manage projects across multiple departments.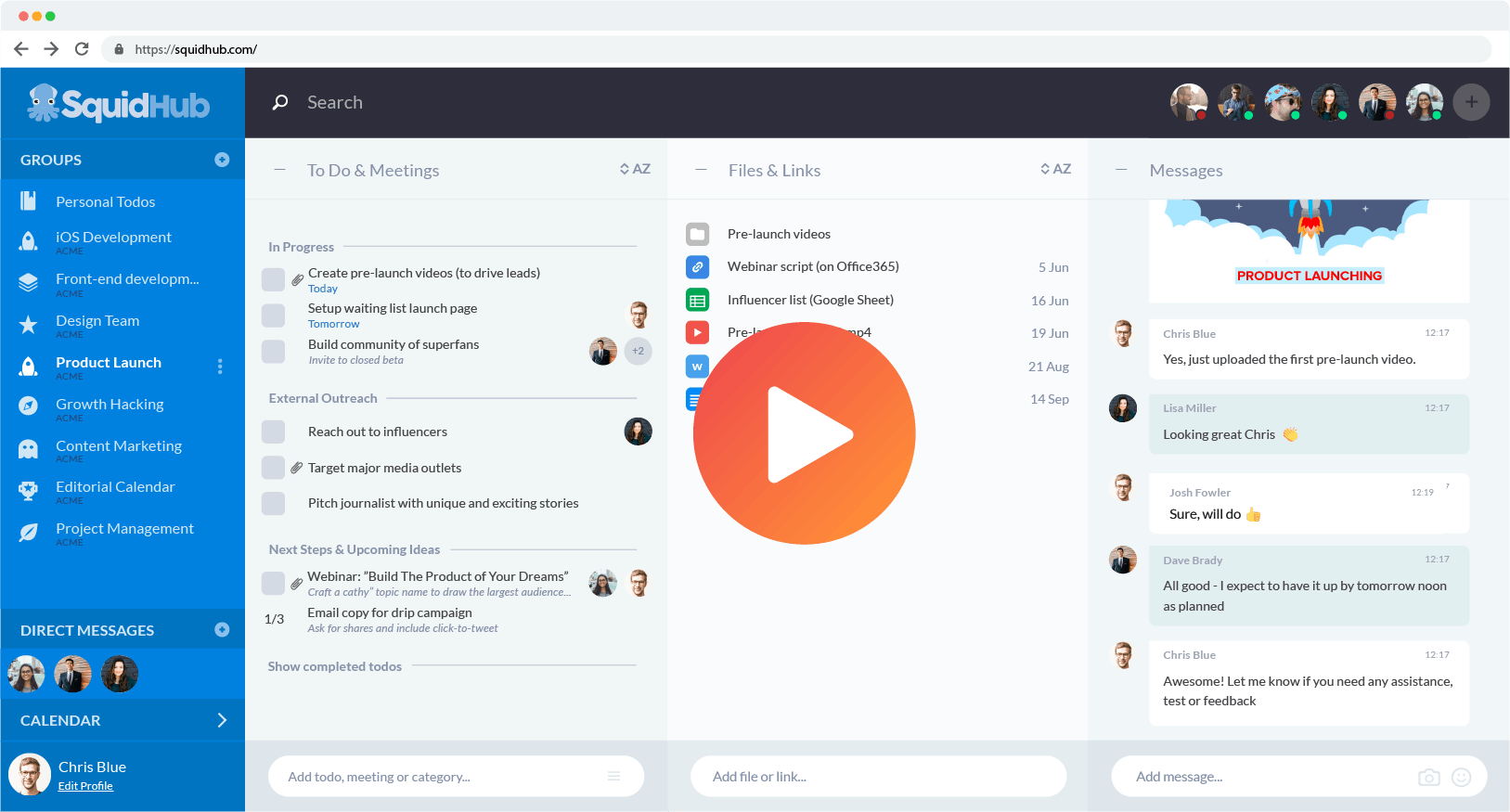 SquidHub is a cost-effective collaboration app for people who prioritize clarity, simplicity, and want a stress-free way of working together.
Features: Available on iOS, Android, and desktop, SquidHub has a very user-friendly interface.
Unlike Trello, which some find overly minimalistic, SquidHub allows you to split projects into groups and add details to subtasks. The app also integrates with Google Calendar meetings.
Potential drawbacks: Some users report that the Files & Links section is slow and broken.
Cost: Basic plan is free. Paid plans start at $4.99/month per user
Best for: For growing teams collaborating on creative projects who need to get up and running fast, and don't want to be slowed down by features they don't need.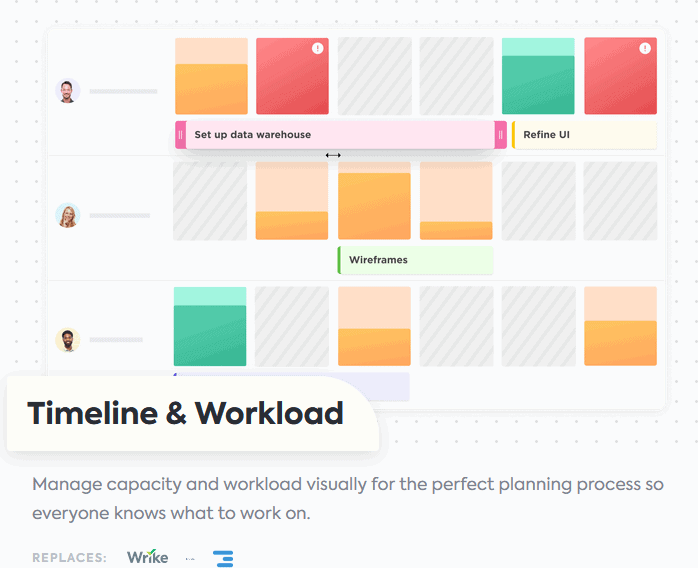 ClickUp is an all-in-one suite for all workplace tasks. Its mission is to remove workplace frustrations, inefficiencies, and disconnect by offering intuitive tools for managing people, projects, and everything in between
Key features: Well known for organizing projects in a clean, efficient way, ClickUp's core features include to-do lists, project management, file sharing, and chatrooms for internal and external collaboration.
With over 10 view styles, including Kanban, Gantt, list board, the app can appease the fussiest of teams.
Potential drawbacks: Not user-friendly for those with no prior experience with project management tools.
Cost: Basic plan is free. Paid plans start at $5/month per user, billed annually.
Best for: Medium to large teams that frequently juggle multiple clients and different projects.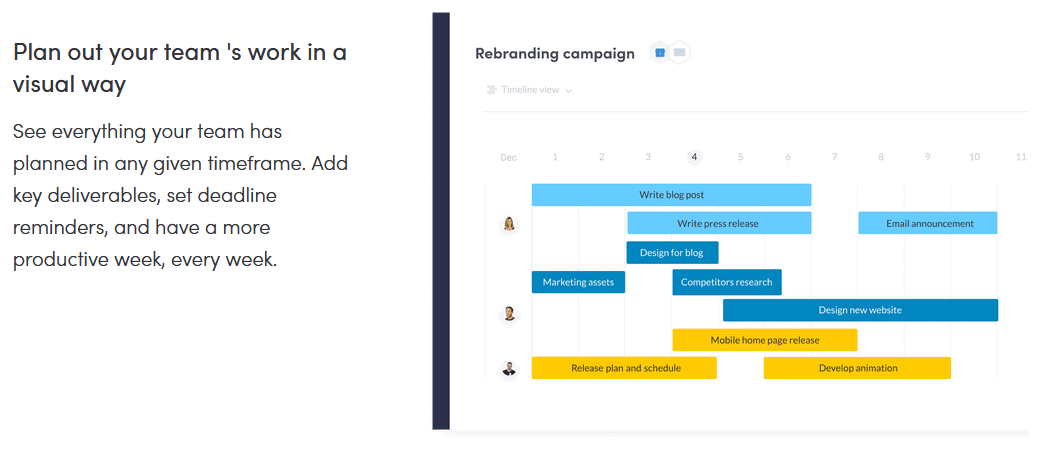 Thanks to its robust and well-structured layout, Monday.com (formerly dapulse) is a popular Wrike alternative. It features a beautiful design and a rich template library to kickstart and streamline collaboration between teams.
Key features: Monday.com offers a host of useful features like time tracking, issue tracking, and project progress. Users love the ease of navigation, colorful designs, and technical support.
Potential drawbacks: Multiple users report the tagging and notification system features are limited and lack customization.
Cost: Paid plans start at $8/month per user, billed annually.
Best for: Agile medium to large product development or marketing teams.
Not All Project Management Tools Are the Same
Phew! That's a lot of project management software, isn't it?
The good thing is that this list includes something for everyone – entrepreneurs, executives, managers, agencies, and small business owners.
And now, you don't have to worry about switching to a Wrike alternative that doesn't meet your needs. Using the list above, you can pick the perfect app for your team and get started.
For other tools to power project management, productivity, and more, check out the AppSumo store.