Tech Stack
Stencil Vs. Canva: Which Design Tool Is Best for Entrepreneurs?
Canva and Stencil step into the boxing ring. The crowds roar and a mic lowers from the ceiling for the announcer.
"On my right, we have the drag-and-drop graphics editing heavyweight, Canva. Looks like someone's got a reputation to defend. And on my left, we have Stencil, the scrappy, fast-swinging new(er) software with something to prove. Looks like it's going to be a good fight."
The ref draws both boxers into the middle. The bell rings — the fight is on!
Hold up. I'm going to stop right there.  
What are these two fighting about, anyway? Can't their differences be resolved over a civil conversation? (After all, this isn't the 1800s.)
Let's try.
What is the best graphic design tool for entrepreneurs?
Entrepreneurs are not your average straight-laced professional. We hustle harder, have exactly 2 gazillion business ideas per day (yes, I counted), and people rely on us to make sh*t happen.  
We disrupt entire industries on the weekends, build self-driving cars on Tuesdays, and ride our Peloton bike while listening to our favorite podcast, Noah Kagan Presents. #ShamelessPlug
So we need tools that can keep up without stealing from our bottom line. This all begs the question: which online design tool caters best to entrepreneurs?
Features you'll find in both tools
Let's set a foundation. Canva and Stencil offer many similar features for small business owners and entrepreneurs. Before I dive into how they differ, it's worth sharing the great features they have in common.
Canva and Stencil are internet-based graphic design tools. They both offer easy, basic graphic creation and photo editing capabilities. They are both very intuitive to use, unlike some Adobe products we all know (looking at you, Photoshop).
Both tools also offer a free version of their service. You don't have to pay a monthly fee to start using them. Of course, to access the most features from each tool, you must become a paid member.
Here's a bird's eye view of what you get with both Canva and Stencil:
Pre-made templates to create images that fit perfectly across common social media sites
Ability to upload images or use royalty-free images offered by Canva or Stencil
Drag-and-drop icons, text, or images over graphics and pictures for easy design
Access to a bunch of fonts to overlay graphics with quotes or headlines
Ability to download designs and use them immediately in either web or print media

Optional app integrations
Now that we've covered their similarities, let's get to the real reason you're all here: how are they different?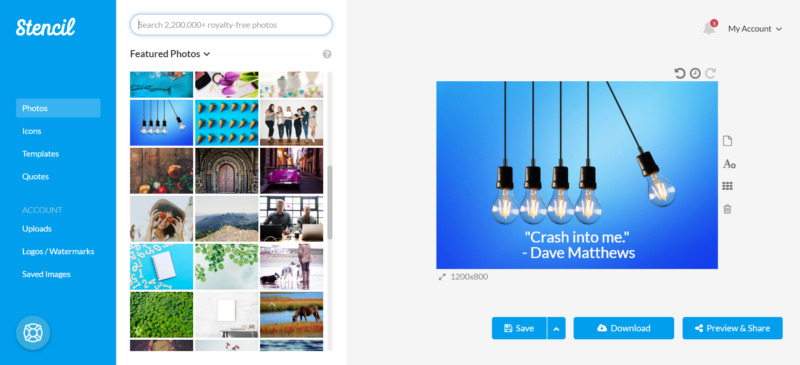 How they differ
Pricing
Canva and Stencil can both honestly claim that they are cheaper than the other.
Ahem. Let me explain.
If you're paying month to month (i.e. you don't pay for a year subscription all at once), Canva is the lower-cost subscription service. Their premium monthly offering is $12.95 per month. Stencil is $15 on a month-to-month basis.
But wait a second! Stencil is cheaper than Canva if you choose to pay yearly. Stencil is $9 per month billed annually. Canva is $9.95 when you break it down by month. It's not a big difference, but if your accountant is looking over your shoulder to make sure you get the best deal, Stencil is the clear winner.
*Caveat: if you grab Stencil during our Lifetime Deal promo, aka *now,* then the pricing really becomes a no-brainer. Check out the deal here: https://appsumo.com/stencil/
Efficiency
Entrepreneurs need tools that work quickly and don't slow them down. While both tools are efficient insofar as they're both online (and you don't have to wait for a program to load), Stencil does offer a browser extension for Chrome, Firefox, and Safari.
Instead of opening a new tab and switching back and forth between screens, Stencil appears right where you're working for easy photo editing and graphic creation.
Open, edit, save it, done.
Final image
On the surface, both tools offer the features necessary to create stunning graphics.
It mostly comes down to your artistic abilities and your eye for design. Stencil and Canva each make it easy for entrepreneurs to throw together fast, quality images for their website, social feed, or sick album cover (in case you're still chasing those singer/songwriter dreams in your spare time).
But longevity has to count for something. As a graphic editing veteran, Canva arguably has a lot more template options (sometimes random stuff like a bunch of Venn diagram templates, for example).
When all is said and done, I think Canva's templates and design elements (like the ability to change the colors in multi-color icons, for instance) make it a strong choice for some entrepreneurs. But note that many key elements that you may really need like image resizing, transparent backgrounds, and uploading fonts are limited to the paid subscription plan.
Stencil offers fewer template options than Canva, and those templates only become available in their Pro and Unlimited plans.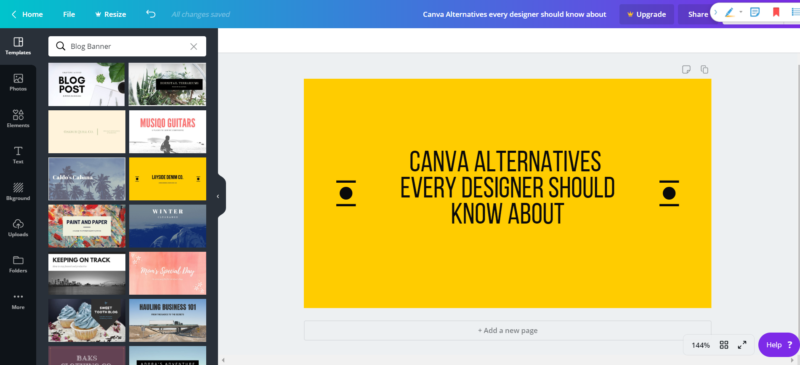 Simplicity
Let's talk usability. Which tool is easier to navigate?
As I mentioned before, Canva and Stencil are both extremely user-friendly. You won't encounter an enormous learning curve with either. The functionality on both websites is simply drag-and-drop.
However, Stencil has one feature that perhaps makes it even simpler than its counterpart. That feature is the social media live preview and posting tool for both desktop and mobile.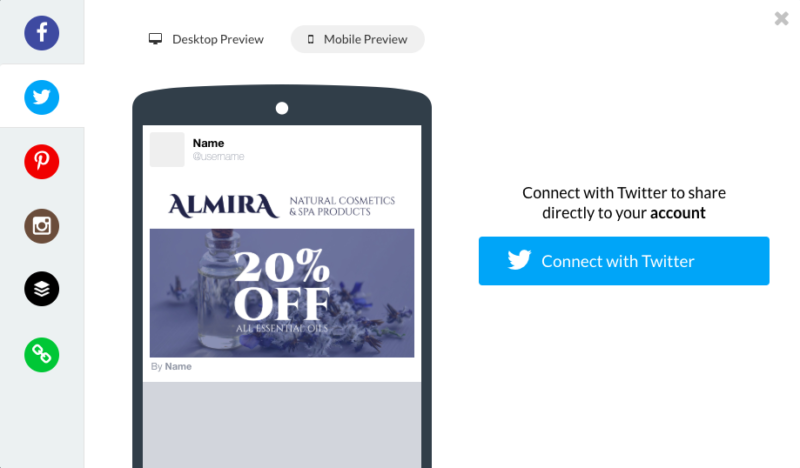 Plus, Stencil recently added a feature to their preview tool. The tool shows you where text will cut off in social media headers and cover images. (Maybe this will finally stop people from cutting me out of photos and blaming the graphic tool. Maybe.)
Before you finish a new design, download it, and share it to social, Stencil lets you preview how that design will look as a social post. This saves you from that long, unnecessary slog of downloading the same graphic like 5 times before you get it right. (Poster1.jpg, Poster2.jpg, Poster3.jpg, Poster4.jpg…)
Entrepreneur-catered features
Below are the specialty features that seem to be designed specifically with entrepreneurs in mind:  
Stencil Entrepreneur Features
100,000 quotes to automatically drop in the doc (i.e. you don't have to Google around for a half hour to find an inspiring quote for your social post)

In all versions (yes, including free), you can create images with transparent backgrounds (a feature Canva only offers in its Pro Package)

Saved watermark (when you add a logo/watermark to Stencil, it remembers its last position and automatically appears in the same spot)

Preview social media posts

Access to 2,500+ Google fonts within the tool (no special font uploading required)

Access to exclusive icons

Browser extension
Canva Entrepreneur Features
Logo maker

Color wheel color matcher

Team access and shared folders

Loads of templates (

8,000)

Access to millions of photos starting at $1 each

GIF creator (it's what the kids are into these days)
Free feature comparisons
In Stencil, you can download an image with a fully transparent background in the free version, while in Canva you cannot. So if you want to create a deliverable with a clear background, go with Stencil.
Live previews in Stencil mean you can actually check if your graphics look appropriate for each social media network, and the quick custom image resizing capabilities are really freeing if you've been stuck using Canva's free plan for a while.
Canva vs. Stencil: Paid versions
Canva's Pro plan centers more on giving you additional editing capabilities (like image sizing and background) and shared team options. Stencil's Pro plan focuses more on additional graphic elements, templates, and the ability to send up to 25 SMS messages a month (so you can get that post to Instagram, fam). Both Pro plans give you more storage, icons, and images.
With Canva Pro, you get a brand kit including setting custom color palettes, additional image resizing options, the ability to add animated graphics, shared templates and folders, and the capability to export images with a transparent background.
Stencil, on the other hand, is super unique with the ability to use the browser extension to edit right on the page. Stencil allows you to directly access any of Google's 2,500+ fonts and access to the entire Noun Project icon collection (plus 30,000 additional icons) created by top designers. Saving your watermark automatically in Stencil can save you a lot of time if you add it to every image you export.
With over 2 million photos to choose from on Stencil's Pro plan, you don't have to go to Unsplash or Pexels to find the right image for your graphic—unlike Canva where there's often a $1 paywall for many of the best images even on the Pro plan. (Hey, I'm not cheap, I'm conservative with my money.)
So all-in-all, while Canva may have more strength in templates, I think Stencil is set up to move faster and save you a lot of that back-and-forth that can happen when creating graphics for social media marketing and blogs.
Which tools for entrepreneurs would you like us to compare next? Tell us in the comments!