Marketing
Facebook Cover Video: Sizes, Tips, Tools, and More in 2023
Facebook is among the best networks on which to market your businesses. It's the biggest social media platform, with over 2.5 billion users. You can't ignore it.
To successfully market yourself on the network, you need to set up  an inviting page. If your page looks good, more people will like it, check out your posts, and engage with them. One of the essential parts of a Facebook page is the cover as it appears at the top. While setting up the cover, you have the option to set up a regular static image cover or a video cover.
What is a Facebook video cover?
A Facebook video cover is similar to an image cover. It appears at the top of your Facebook page. The main difference is that it is a video, so it will attract more attention, and you can include more information.
It might also gather more engagement if you update your cover, as Facebook will inform your fans that you recently changed your cover and will place it in the feed. Facebook's algorithm favors videos over other types of posts.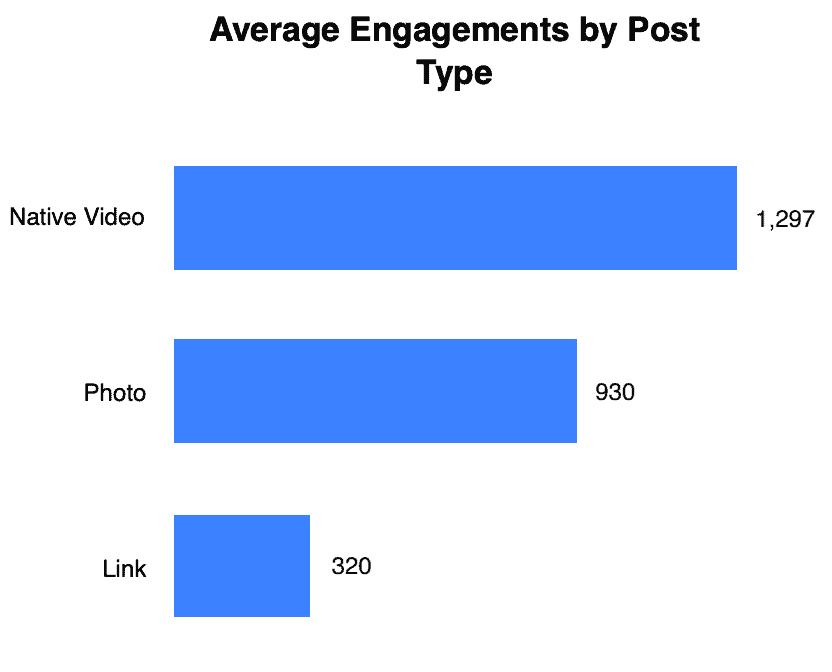 Therefore, you will see an uptick in engagement and visits to your page if you regularly update your cover with a video.
Facebook video cover specs
Here are the different cover video specs to ensure you create a video that attracts views and engagement.
Dimensions: Facebook recommends the dimensions 820 x 462. The platform will resize it to a 16:9 aspect ratio after you upload it.
File sizes: Facebook doesn't have a recommended file size for cover videos, but generally, you can upload videos up to 1.75 GB on the network. Try to keep it under this.
Video length: It can be 20 to 90 seconds long and will play on a loop.
Format: Facebook recommends MP3 and MOV formats. But you can use so many more.
5 steps for creating a compelling Facebook video cover
Here's a simple step-by-step process to make an attractive Facebook video cover.
1. Choose a goal
Ask yourself what you want to achieve with this video? Is it just engagement, or do you want something more, like leads or sales, or fans?
You should then create a video that helps you achieve your goal. It's best to choose a goal that adds to your bottom line, like leads or sales. Getting more fans can be a productive goal if you have a well-thought-out plan to nurture these fans with content and get them to convert.
A good example of a Facebook cover video with a clear goal is this one from Easil.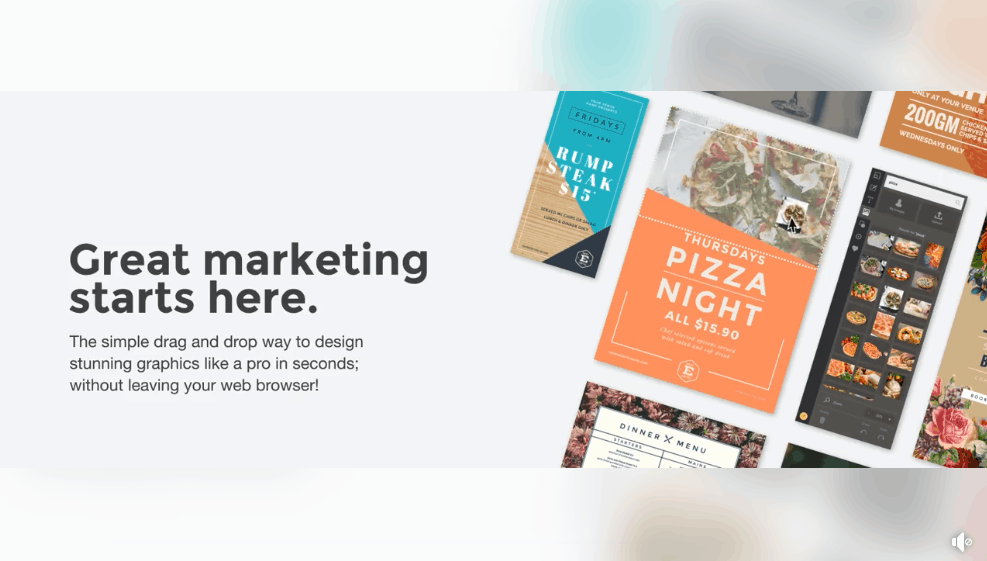 The video focuses on getting people to try the product.
2. Record video footage and collect images
If you are comfortable in front of the camera, you can record a video introducing people to your page. It can be similar to the welcome video you see on YouTube channels. Otherwise, you can record footage of something relevant to the goal you have in mind. You could also take photos to use in your video.
If your camera skills aren't strong, there are sites like Yay Images where you can purchase premium stock images and video footage.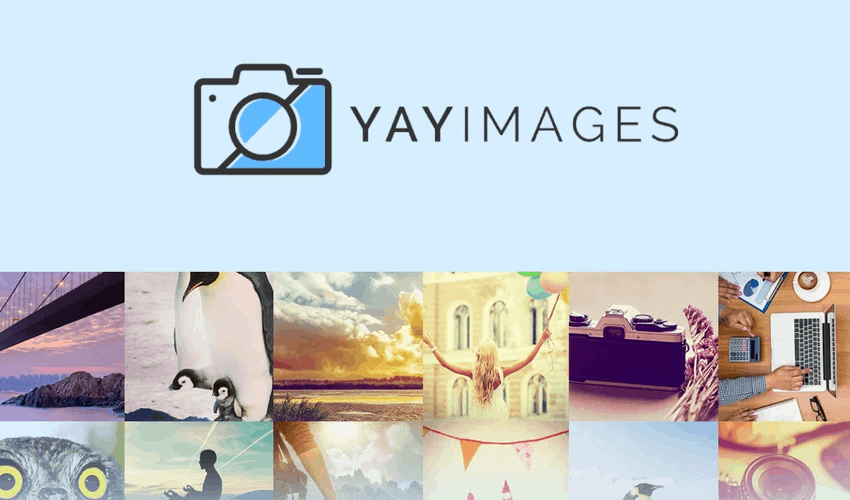 3. Get a video maker with templates
The easiest way to create the video is to get a video maker with ready-to-use templates. A good one is FlexClip.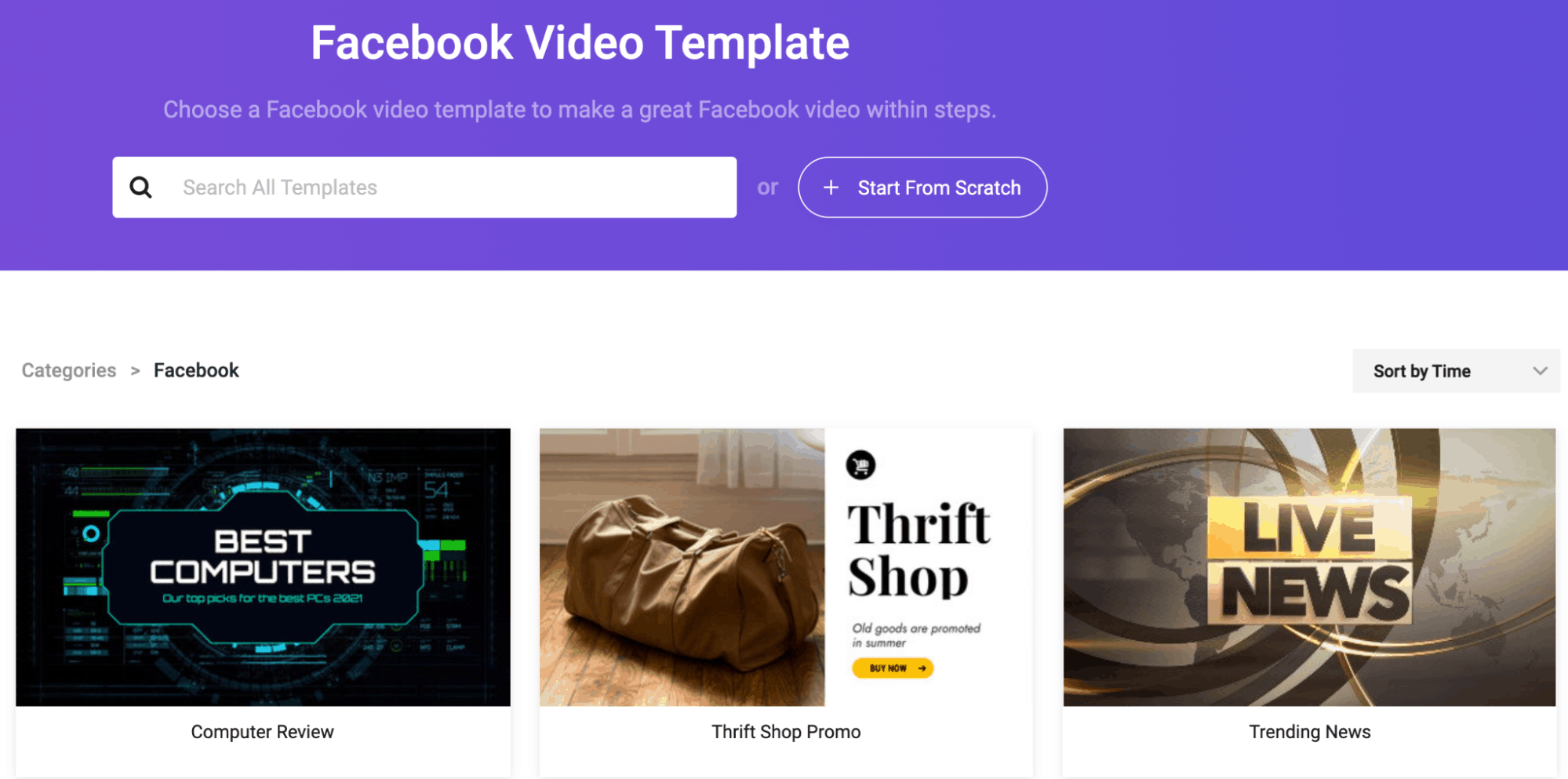 Source: FlexClip
You can simply go to its Facebook video templates page and choose a template in your industry. There are a lot of landscape templates that are ideal for Facebook cover videos.
You can use FlexClip for free. However, to get the most out of it, you must subscribe to the Basic, Plus, and Business plans, which cost $9.99, $19.99, and $29.99 per month. But on AppSumo you can get it for life with a one-time payment of just $49.
4. Assemble footage, images, and text
After you pick a template, you can quickly modify it with FlexClip's drag-and-drop editor.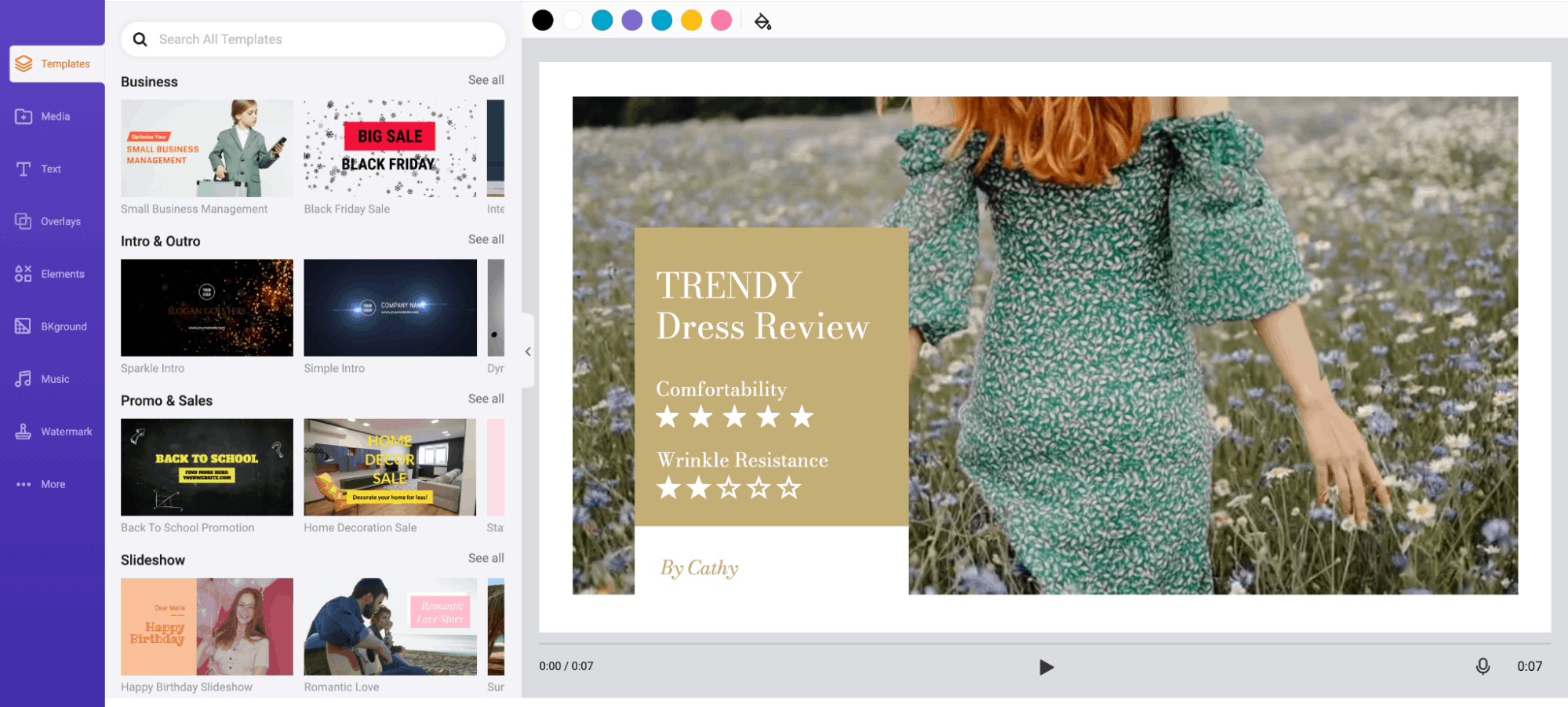 Add your footage and images and get them to appear at the right time. You can also use videos, images, and music from its library. It even lets you overlay elements such as icons and text. The editor makes it easy to get all these elements to flow smoothly, even if you are new to video creation or design.
When you finish designing, you can review and download it.
5. Upload to Facebook
To upload the video, go to your Facebook page, and click the change cover icon and upload it. Alternatively, you can use the business manager.
After you upload it, make sure you stay attentive and respond to comments.
5 bonus tips for creating your cover video
Here are some extra tips for creating a better cover video.
1. Keep it short
A common mistake people make while marketing on social networks is to take full advantage of time limits. Your Facebook video cover and in-feed video posts can be up to 90 seconds and 240 minutes long, respectively, but this doesn't mean that's the ideal length as found by Hubspot.
After analyzing the videos published on its Facebook page, Hubspot found that 1-minute long videos generated the highest engagement.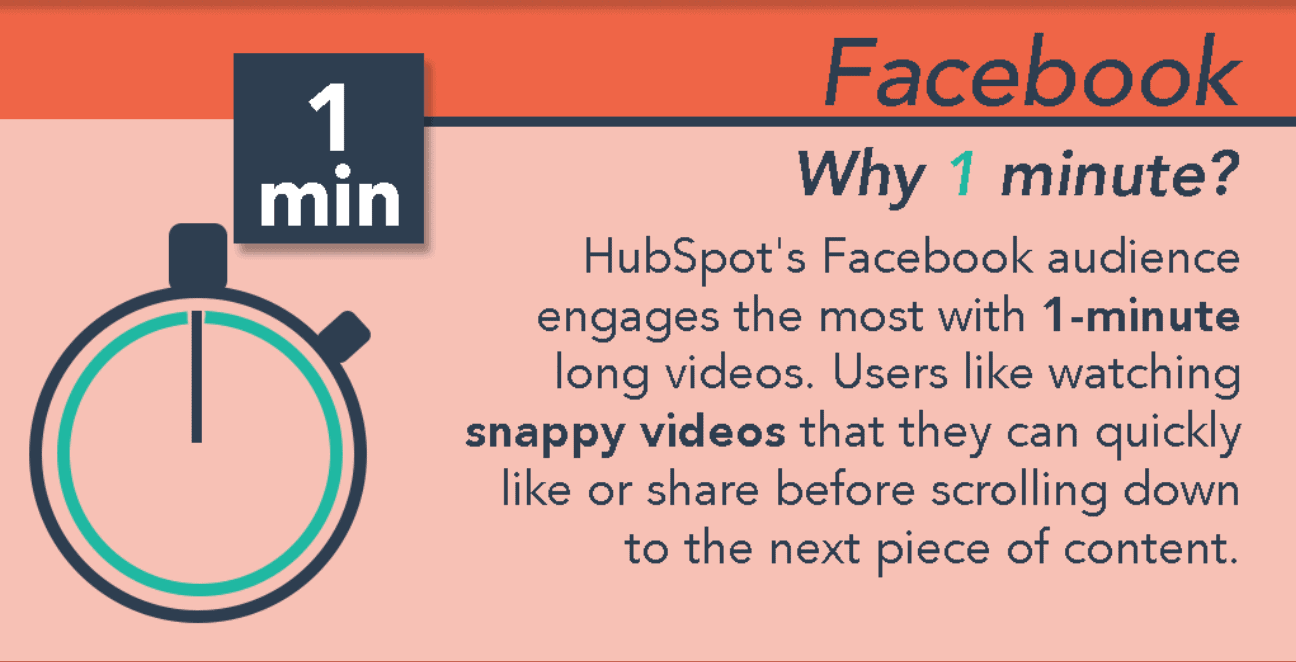 So, limit your videos to 60 seconds or less. There are many distractions on Facebook as people log in to interact with posts from their friends and pages they follow. There are also ads in the feed. When they come across your cover video, they want to watch it quickly.
Here's an example of a good cover video from Australia.com. It's only 58 seconds long and contains beautiful footage.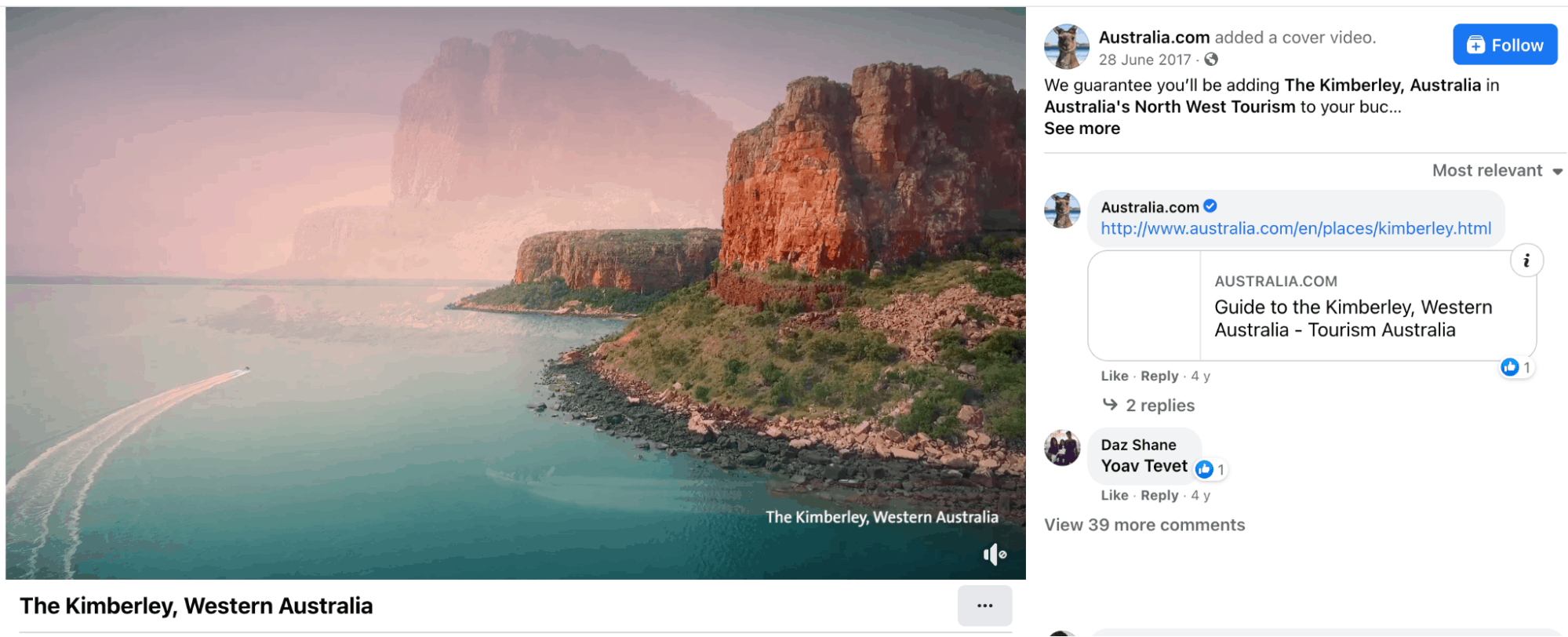 2. Use subtitles
83% of people watch videos on mute. This number climbs to 92% when you only consider mobile devices. These stats are similar to findings from the above Hubspot study where 95% of people watch videos on mute.
If you want more complete views on Facebook, you should optimize your videos for silent viewing. One way to do this is by adding subtitles, as a study found that videos with subtitles get more complete views.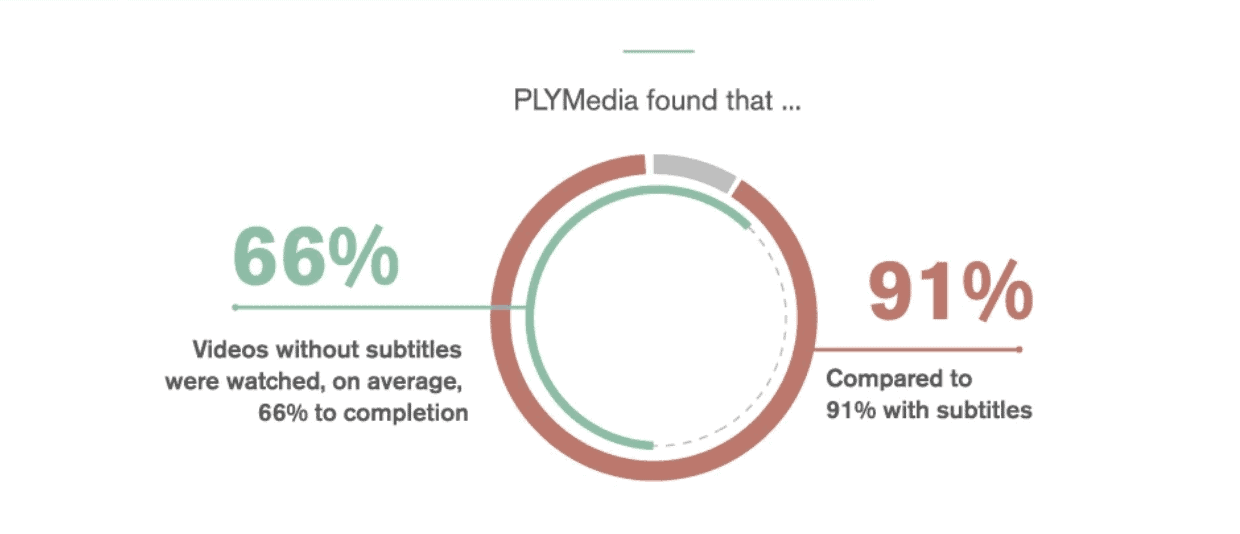 Subtitles help the Deaf or those hard of hearing to enjoy your video. They also make your video easy to follow for people new to English (or the language the video is in).
You can use FlexClip to overlay your subtitles in your videos easily.
3. Optimize for mobile
Several people use Facebook via the app. To get mobile users to watch your videos, you should optimize it for smaller devices. Before you publish your video, send it to your phone and see how it looks. You should be able to see the video and subtitles clearly. You should also be able to hear everything. If anything seems off, edit the video and check on a mobile phone again before publishing it.
4. Have a call to action
As I mentioned before, one of the most crucial steps while creating the video is to choose a goal. A goal will help you accomplish your marketing targets. One way to enforce this goal is by placing a call to action at the end of the video that asks people to take the next step. This could be to like your page or click a link and sign up or buy something.
Also, have only one call to action per post. If you include too many, it can lead to decision fatigue, and viewers won't follow through.
A good example is this cover video from Carrie Vines Photography which asks you to check out more photographs on its website.

5. Pay attention to Facebook insights
Don't just stop with one Facebook video cover. Try to update it every month or every two months at least. This will help you reach your new marketing goals better and will also engage your fans. To create a better cover video that resonates with your audience, you can use the data from your insights. It'll show which cover photos and videos from your feed generated the highest engagement.
Tools for creating a Facebook video cover
Here are a few more tools for creating beautiful Facebook cover videos. Check out their features and choose the one that suits you best.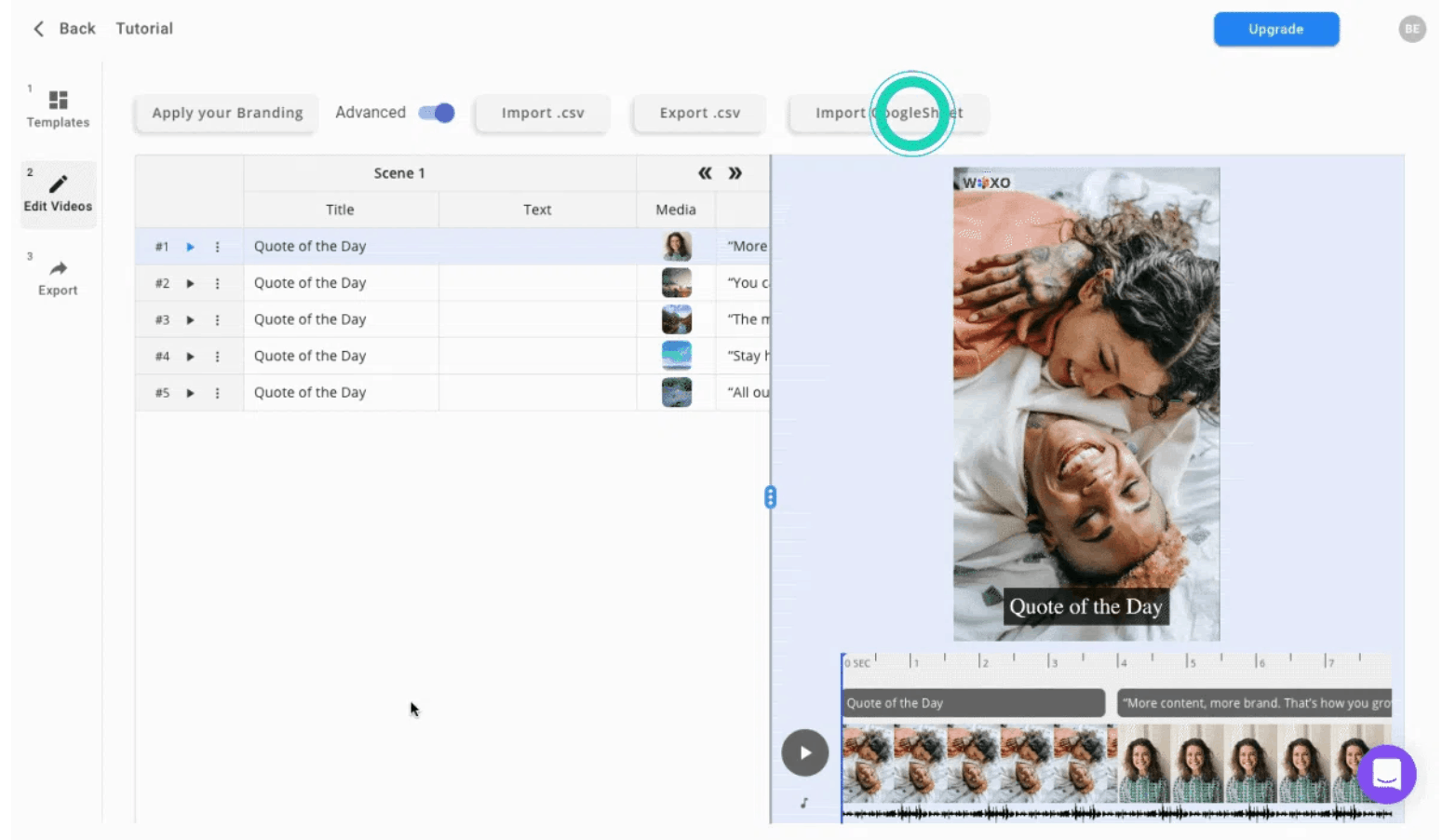 Source: WOXO
WOXO is a powerful video maker for creating video content. You can create videos for Facebook and various other networks. One of the best things about this tool is that you can create videos in bulk. It can save you a lot of time. You can even craft the content on a spreadsheet and convert it to videos.
You can quickly choose templates, add the content, edit the videos and publish them. It also makes it possible to collaborate with your team. If you want to create many cover videos and other types of videos for your marketing, this is the ideal tool.
Pricing: WOXO has a free plan. There's also Basic and Pro plans that cost $30 and $90 per month. But you can get it for life on AppSumo for a one-time payment of just $59.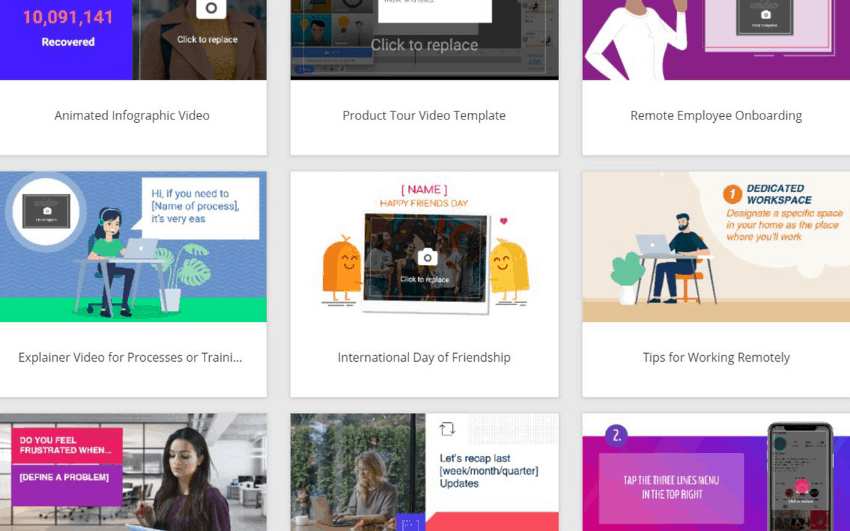 Source: Wideo
Do you want to go beyond the standard videos you can make with most video makers? Then check out Wideo. It makes it easy for anyone to create animated videos that stand out. You can simply pick a template and use the drag and drop builder to construct your video.
You can even add your own footage and images and brand the videos with your logos. This is a great tool for anyone who wants to spend more time and create unique and entertaining videos.
Pricing: Wideo starts with a free plan. The Basic, Pro, and Pro+ plans cost $59, $99, $199 per month. But you can get it for life on AppSumo for a one-time payment of $59.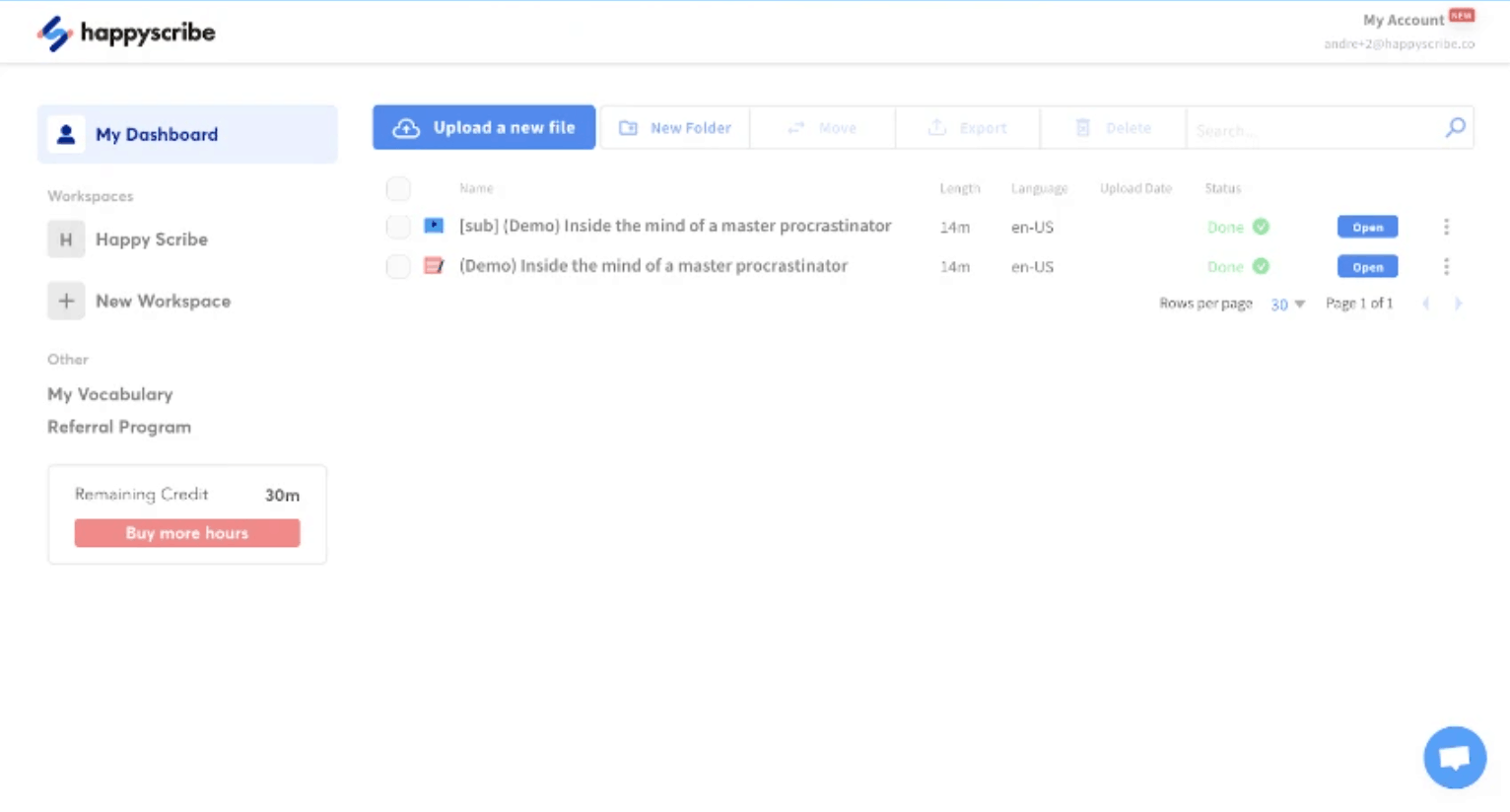 HappyScribe isn't a video maker. It's a subtitle generator that analyzes your video and automatically generates subtitles and adds them to your video. It can save a lot of time. After creating your videos with one of the makers in this list, you can run them on HappScribe to quickly generate subtitles. You can read my full review of HappyScribe here.
Pricing: The Automatic and Human-made plans cost €0.20 and €1.70 per minute. There's also a free trial.

PlayPlay is a straightforward video editor for creating your Facebook video cover. You can choose a landscape template for creating your cover and add your footage or choose one from its stock library. It's got millions of videos and Gifs.
Another interesting feature is that it quickly lets you transform podcasts into videos. If you run a podcast, you can create a clip from one of your recordings. It can tease people to check out the rest.
Pricing: The Standard and Enterprise plans cost €160 and €500 per month, with a 7-day free trial.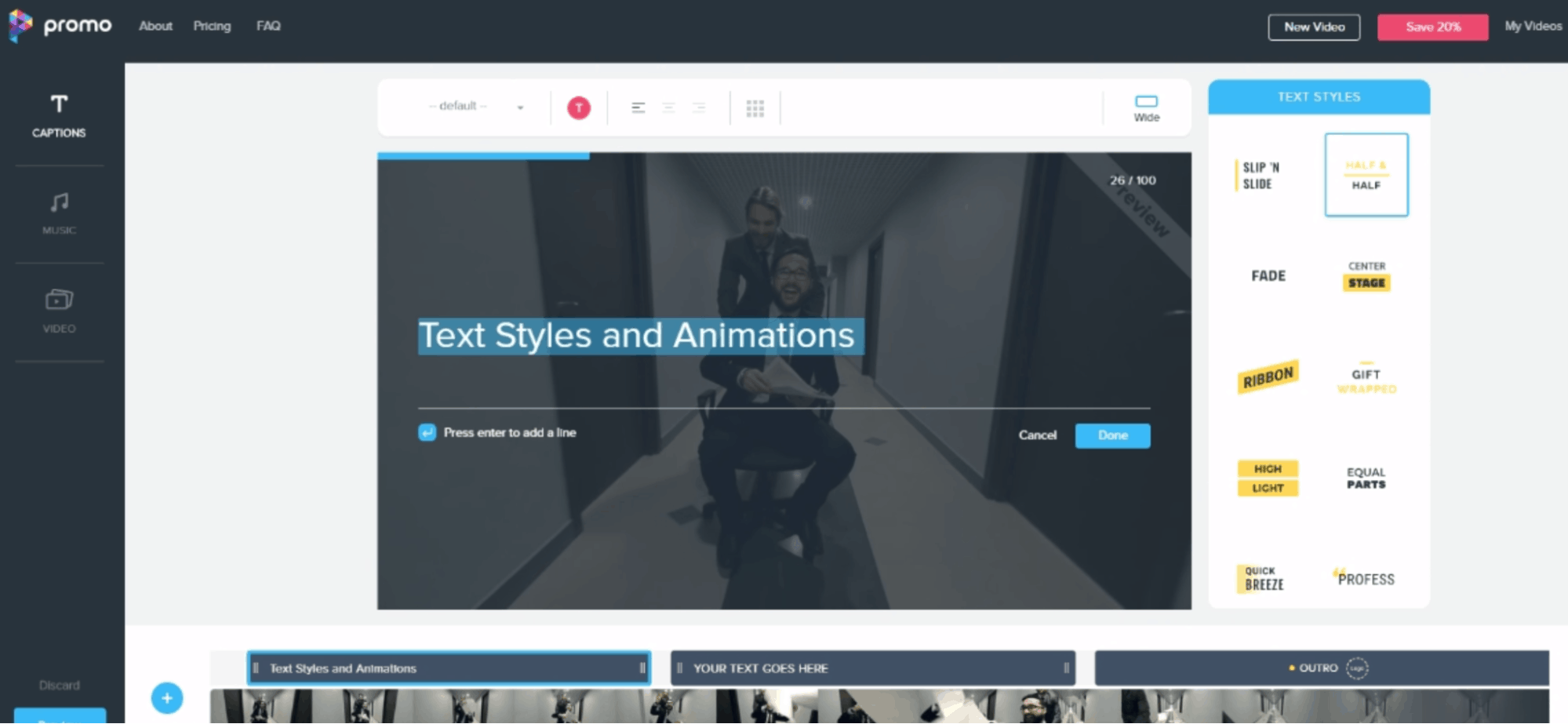 Promo is a top-rated video-making tool. You can choose templates for Facebook cover videos and modify them. You can add the footage you recorded or take advantage of the 100 million premium clips from iStock and Getty Images.
You can then download and upload it as a Facebook cover. You can even resize the same videos and use them on other social media.
Pricing: The Starter, Business, and Agency plans cost $18, $59, and $199 per month, with a free trial.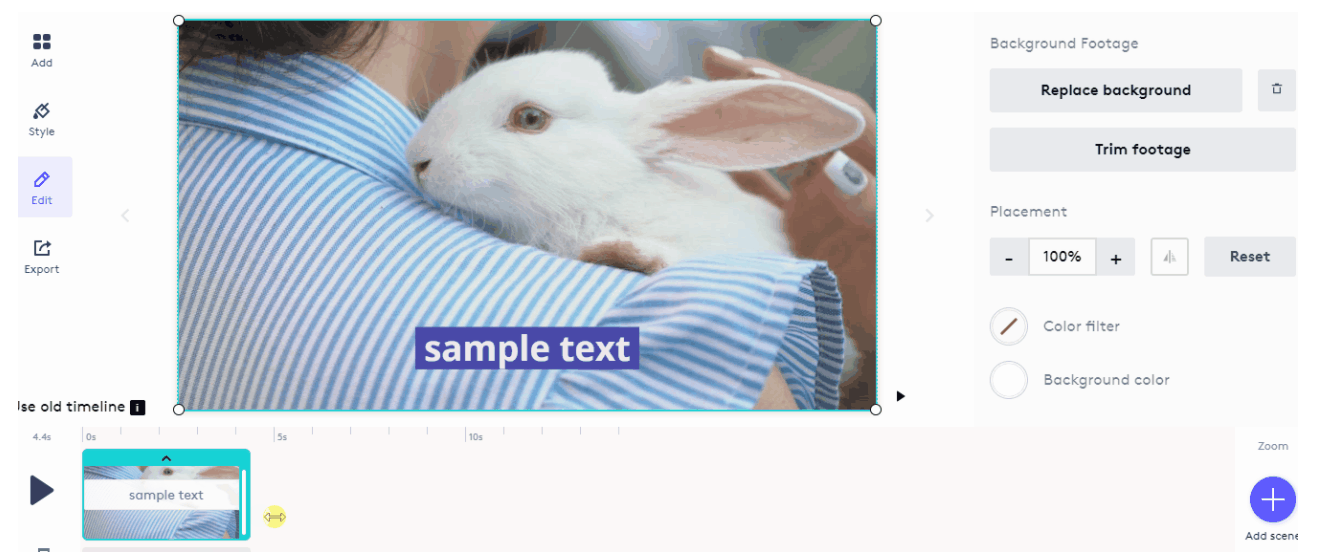 Biteable helps you create aesthetic animated videos. It's got templates and 800,000 professional clips that simplify the process.
You can create Facebook cover videos and videos for other marketing purposes. The drag and drop editor makes creating videos a straightforward process.
Pricing: It has a free plan. The Plus and Ultimate plans cost $29 and $99 per month.
Now create your Facebook cover videos
Most pages use images for Facebook covers. So, a Facebook cover video will give you an edge over the competition. You can include more information in a video, and it will attract more attention not only when people visit your page, but also when they see your latest cover in the feed.
Creating Facebook cover videos may take time, but it goes a long way to make your page appealing.
Thankfully, there are so many tools that shorten the time required to make a cover video. One powerful one you can check out is FlexClip. It usually costs $71.88 a year, but you can get it for life on AppSumo, for a one-time payment of $49 only.