Software Alternatives
12 OBS Alternatives for Recording and Live Streaming in 2023
Open Broadcast Software (OBS) is one of the most popular tools for gameplay live streaming and recording. While it offers a lot of cool features for those who want professional quality, it can be a little much for casual users who want recording and live streaming capabilities for other things besides gaming.
We've put together a list of our top OBS alternatives for recording and live streaming with an option for everyone.
Live on AppSumo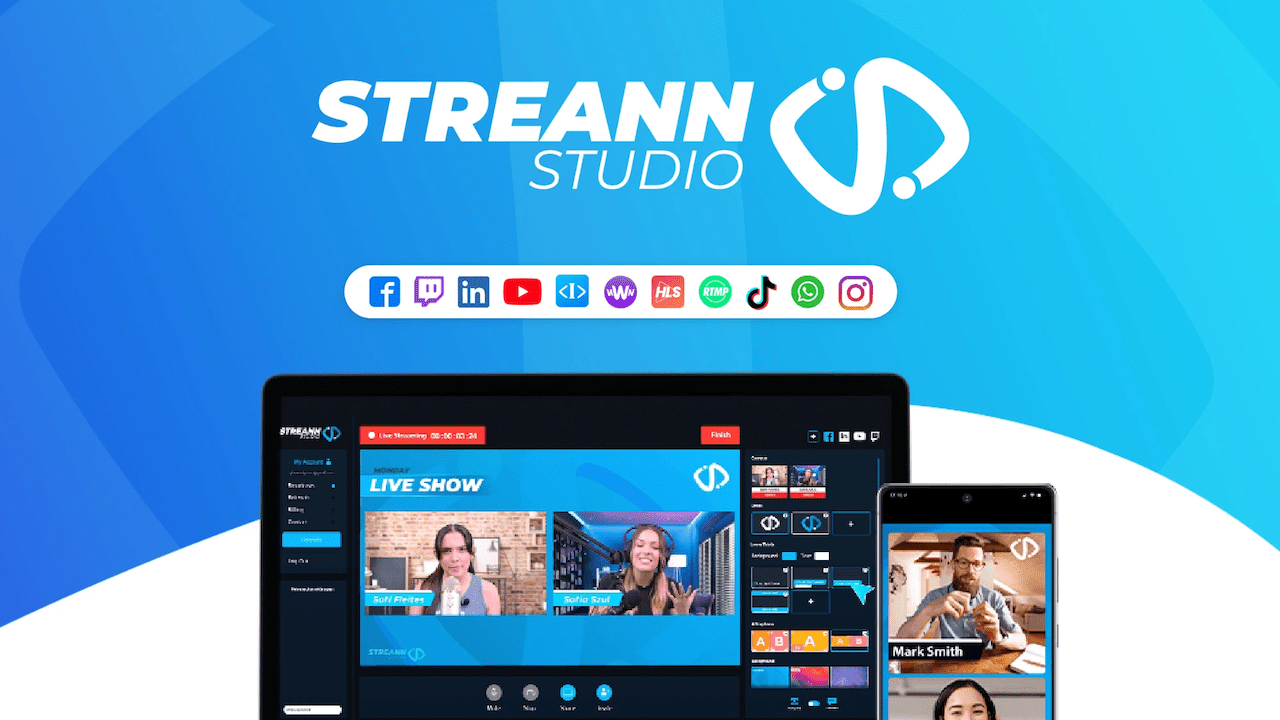 A versatile broadcasting studio conveniently located in your browser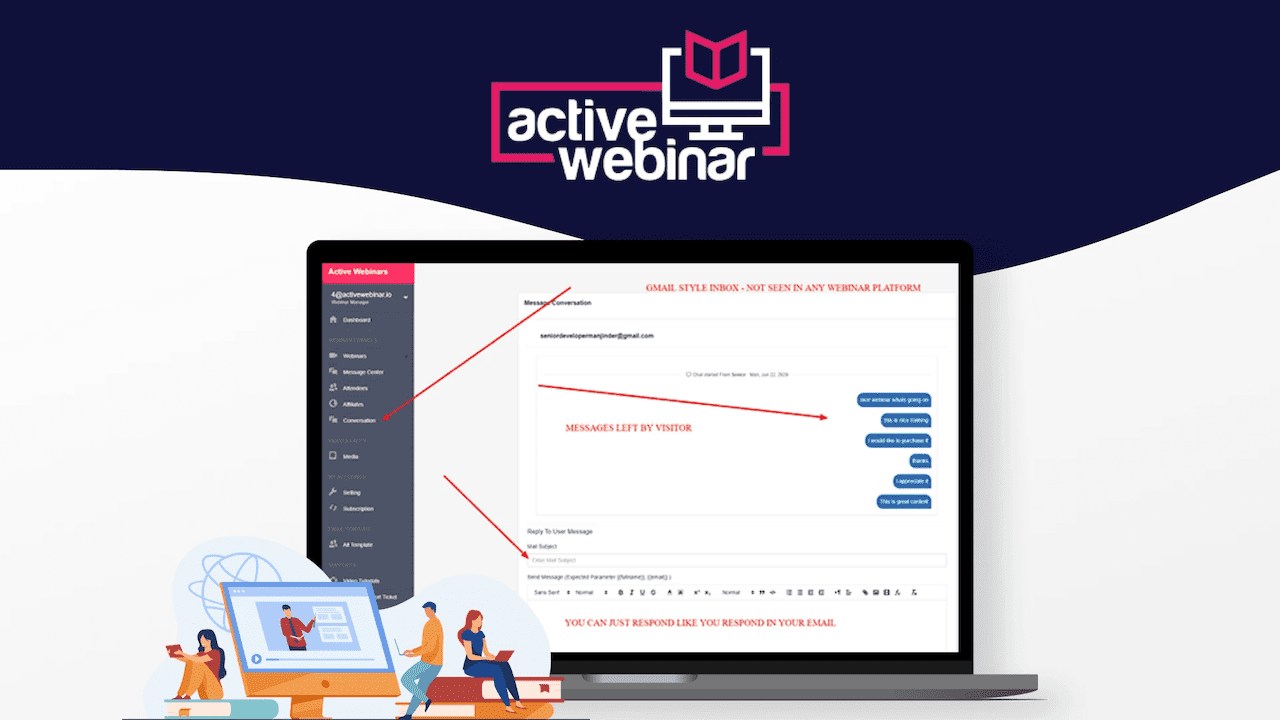 Present pre-recorded videos as live webinars and workshops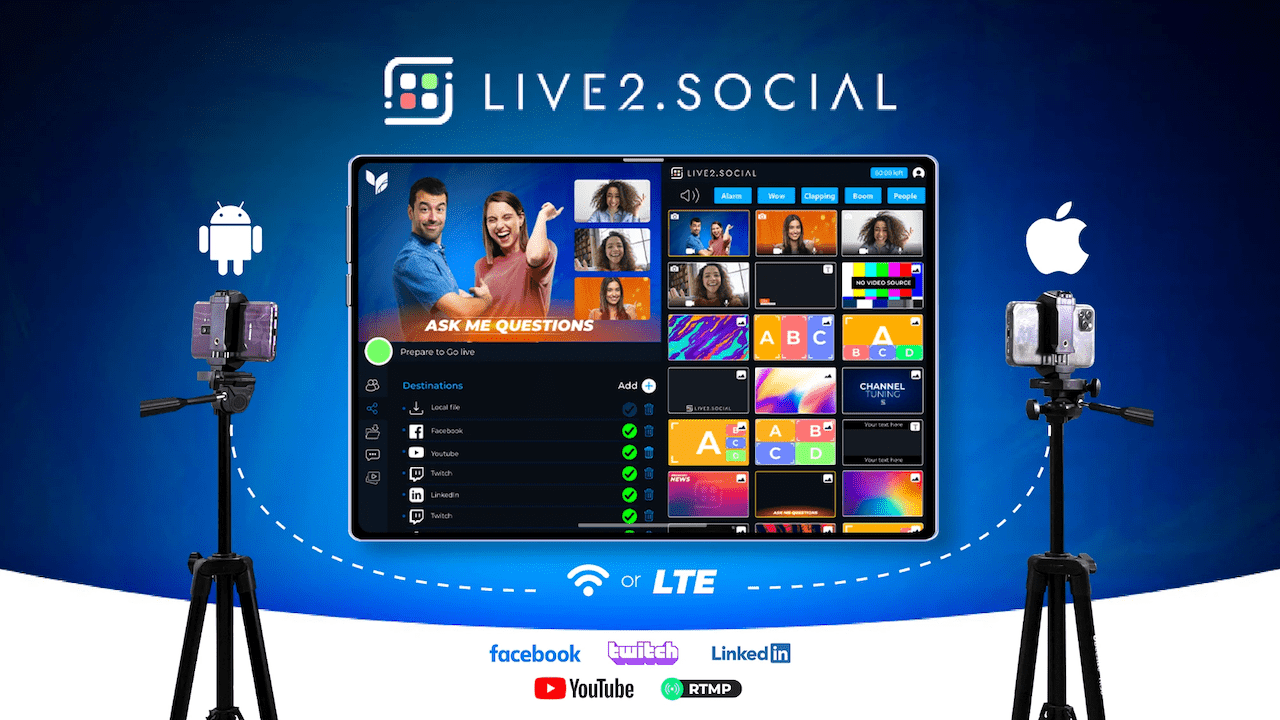 Show off your best angles with multi-camera streaming from your smart device
An overview of OBS
Open Broadcast Software was the first fully-featured, free, and open source software for gameplay recording and live streaming. OBS Studio has many features and settings for power users who want to create professional-grade productions.
OBS Studio offers high performance real-time video and audio capture and mixing. You can create scenes from multiple sources like window captures, text, browser windows, webcam, and more. The audio mixer has per-source filters like noise suppression and gain that give you a lot of control over the sound.
While OBS Studio is popular and widely used by gamers and livestreamers, it's not for everyone. With all of its features and capabilities, it can have a bit of a learning curve, and you've got to be willing to put the time in to learn how to get the most out of it. So, if you don't need anything beyond simple live streaming or game recording, you're probably better off with an OBS alternative.
Top OBS alternatives for video recording and live streaming
Here are our favorite OBS alternatives for video recording and live streaming:
1. Streann Studio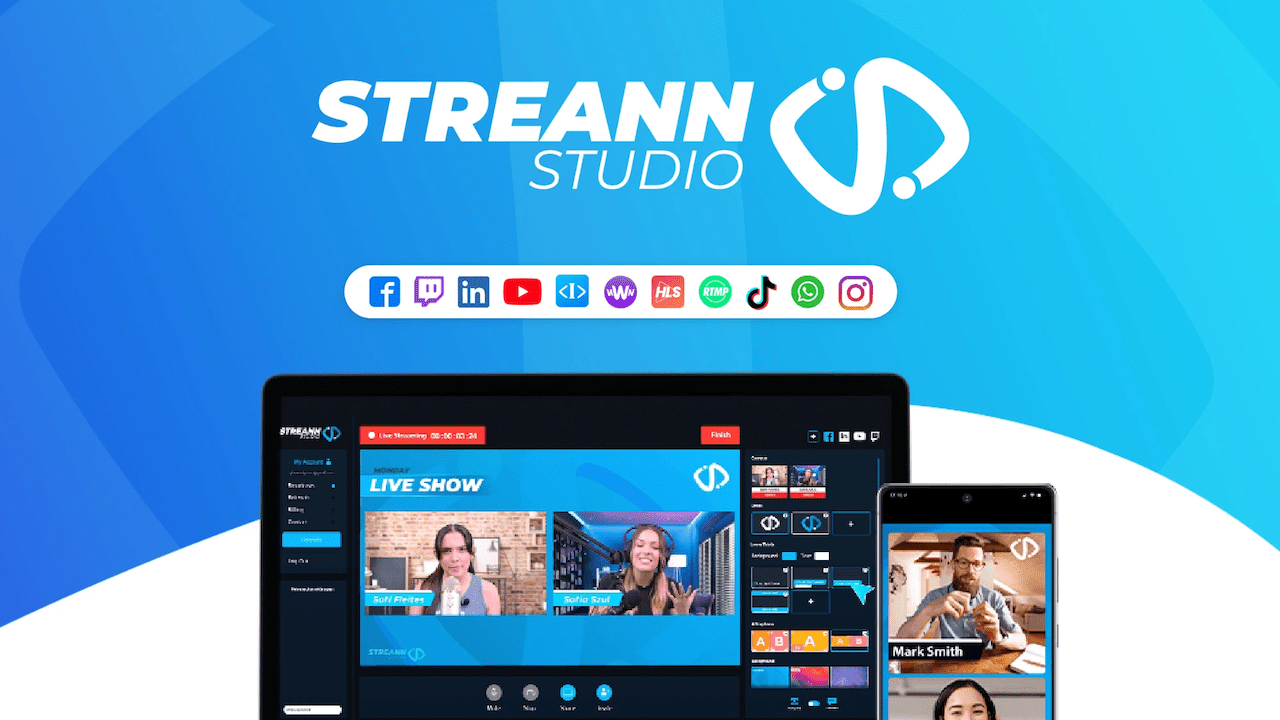 Creating regular video content can require a lot of software and apps. Fortunately, Streann Studio pulls many of your favorite live streaming functions into a single browser-based tool.
Streann Studio allows you to stream live to your favorite platforms (including social media channels like Instagram, TikTok, and Facebook). And of course, you can stream to all the major video channels like YouTube and Twitch. Stream Studio also provides you a dashboard of live video tools that enable you to edit and design during a live stream.
But not everything has to be live. You can also upload or record videos and schedule them to publish later.
Plus, Streann Studio offers a full suite of branding features. Add your logo. Change your background. Upload pre-made graphics that showcase your brand.
Who it's best for: Streann Studio is ideal for content creators and influencers.
Price: Streann Studio has a few pricing options: Basic (free), Silver ($19 / month), Gold ($29 / month), and Enterprise (request quote). And for a limited time, you can also get a lifetime deal for Streann Studio on AppSumo starting at $59.
2. Camtasia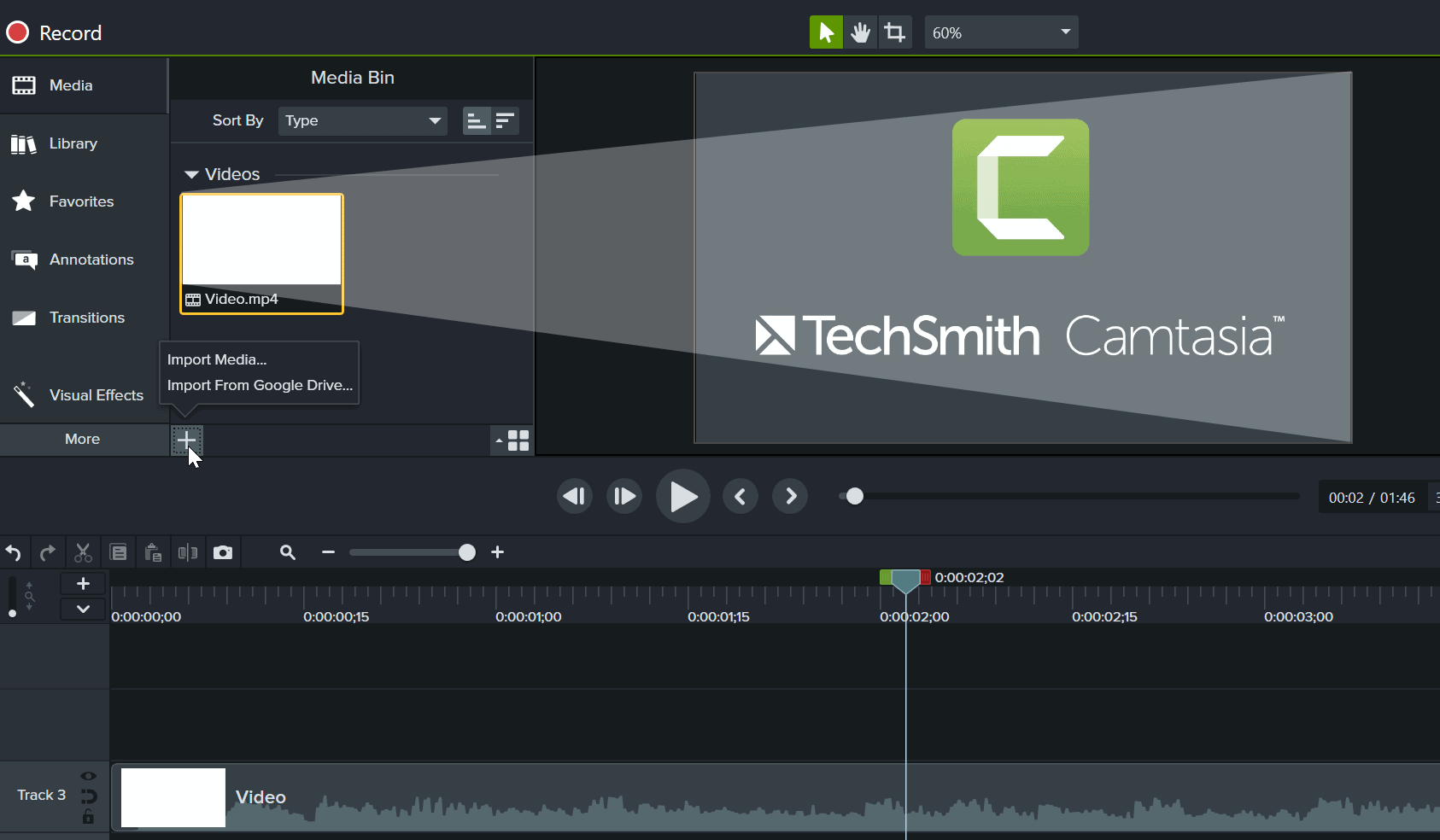 Camtasia markets itself as an all-in-one screen recorder and video editor. Available for Windows and Mac, this tool makes it easy to record and edit professional-looking videos on par with OBS.
Unlike OBS, Camtasia has very little learning curve for those new to video editing. You can get started with a template or just start recording. From software and video calls to websites and presentations, you can record anything on your computer screen. Only record the specific area of the screen that you want like the entire screen, a window, an application, or even specific dimensions.
Camtasia has a built-in video editor that makes editing easy for beginners. You can drag and drop to add, remove, trim, or move sections of video. You can also drag and drop to add text, transitions, effects, and more to your video. Then, instantly upload it to Vimeo, YouTube, Screencast, or your online video platform.
Add music and side effects to your videos from Camtasia's library of royalty-free assets. The platform also offers pre-recorded video assets that you can add to your own recordings.
Who it's best for: Camtasia is a great option for beginners who are new to this type of software or anyone who wants a built-in video editor.
Price: Camtasia for individuals costs a one-time fee of $299.99. There is a free trial option.
3. Bandicam Screen Recorder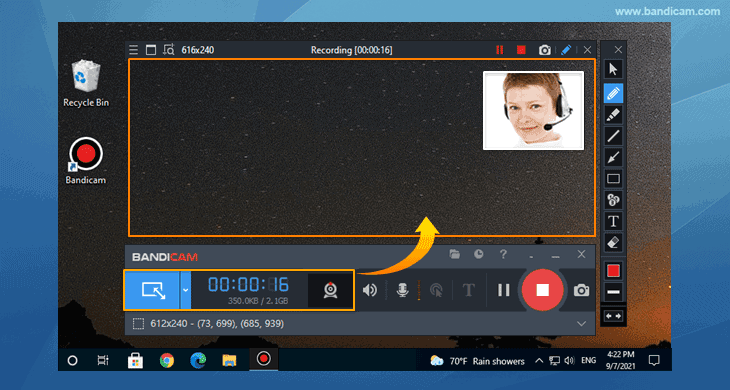 Bandicam Screen Recorder is the definition of a simple and easy-to-use free screen recording software. You can capture anything from your PC screen as a screenshot or screencast video file.
Recording your screen is as easy as pushing the button. Use Bandicam's screen recording functions to make your recording even better. You can record audio, overlay your webcam, and draw in real-time—all great tools for recording webinars, lectures, how-to videos, and more.
Bandicam offers scheduled recording, which takes one thing off your plate when you plan to record a scheduled webinar or meeting. It also offers 24-hour long-term recording for the unique circumstances where you need to record your screen for an extended period.
Add video from your webcam and narration from your microphone to enhance the recording. You can also share your recordings on YouTube or Vimeo.
Bandicam is a simple tool, but it offers everything you need for easy screen recording. However, it's only available on Windows. (Sorry Mac users)
Who it's best for: Windows users who want a simple way to record their screen without all the frills.
Price: A license for one PC is $39.95 and two PCs is $59.96.
4. Screencast-O-Matic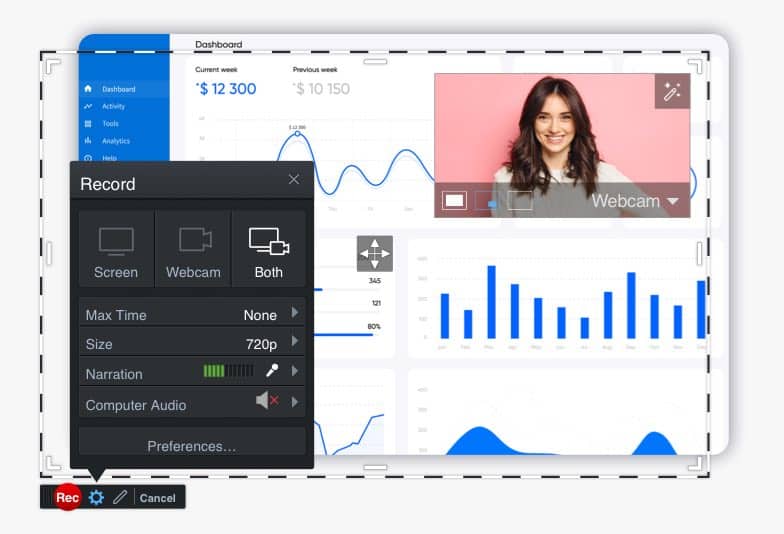 Screencast-O-Matic offers simple and intuitive tools for screen recording. Available on Windows, Mac, iOS, Android, and Chromebook, this tool also has free editing features you can take advantage of.
You can get started recording your screen in just a few clicks. Capture the whole screen or just one specific area. You can also add video from your webcam and narration or other audio from your microphone.
Screencast-O-Matic allows you to edit your videos for free using their intuitive video editor. You can add effects like overlays and include images, text, and more. You can also add music and sound effects. And the best part? No watermark on your videos even though the tool is free!
When you upgrade to cloud hosting, you can host and share content easily. You get unlimited ad-free uploads, plus a variety of collaboration tools that make it easy for you to work with your team. You can also add custom thumbnails, and customize your video player.
With the Premier plan, you can explore the built-in stock library to find videos, images, and music to enhance your videos. The stock library is divided into categories like technology, travel, healthcare, and business to make it easy to find the type of stock footage you're looking for. Without confusing licensing agreements, the stock assets on this platform can be used on any project.
Who it's best for: Those looking for a powerful free OBS alternative that offers editing capabilities.
Price: Get started recording and editing for free with options to upgrade to more feature-rich plans starting at $1.65/month billed yearly.
5. Flutin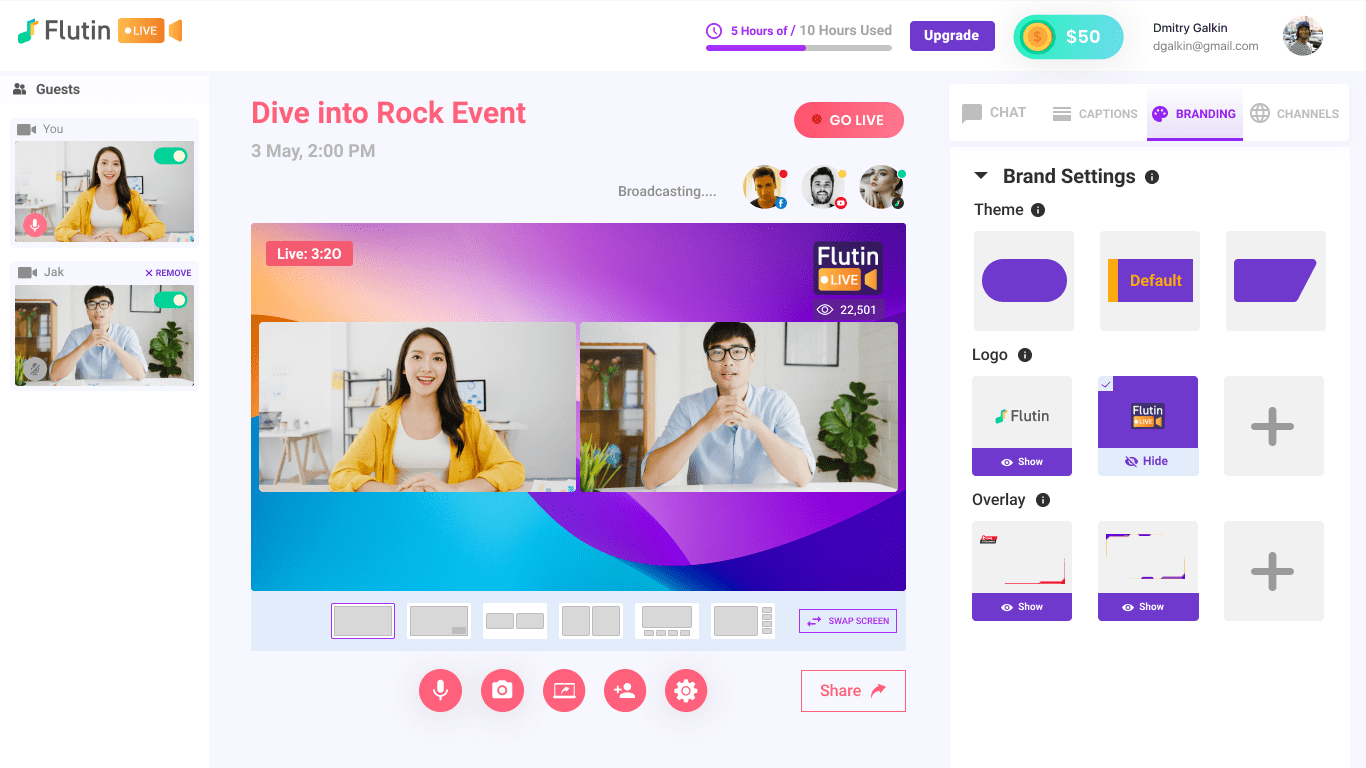 Whether you're just getting started with live streaming or well down the path, Flutin is all you need for live streaming! It is a web-based live video streaming platform through which you can create professional looking live within minutes.
Flutin dynamic streaming studio offers advanced tools to help you create branded live streams. Customize logo, overlay, change background color, and add tickers & banners. The Unified Chat features show messages from all streaming platforms on the studio along with the streaming destinations. You can highlight chats, control stream FPS control, and do a lot more with Flutin.
You can broadcast your pre-recorded or real-time video on 30+ streaming destinations like Instagram, Facebook, LinkedIn, Youtube, etc, and reach a wider audience. It is the only live streaming platform that supports Instagram streaming directly through the studio. You can also stream your live video on your website through Flutin via web embedding feature.
It is an excellent tool for marketers, businesses, and education institutes to host webinars, talk shows, or conferences. This platform allows you to add multiple people to your live by inviting guests directly to your studio. Create private live events and is the best platform to monetize your live by selling tickets, collecting tips, and paid requests.
Gamers can also make the most by streaming video games through Flutin. Multistream your gameplay video directly through the studio or by connecting any encoding software through the RTMP feature. Stream in full HD quality, share your screen with the users, and also schedule multiple pre-recorded videos into a single live stream.
Who it's best for: Entrepreneurs, influencers, gamers, religious leaders, or anyone who wants to grow their audience base through live streaming.
Price: Free plan available along with paid plans starting at $15/month.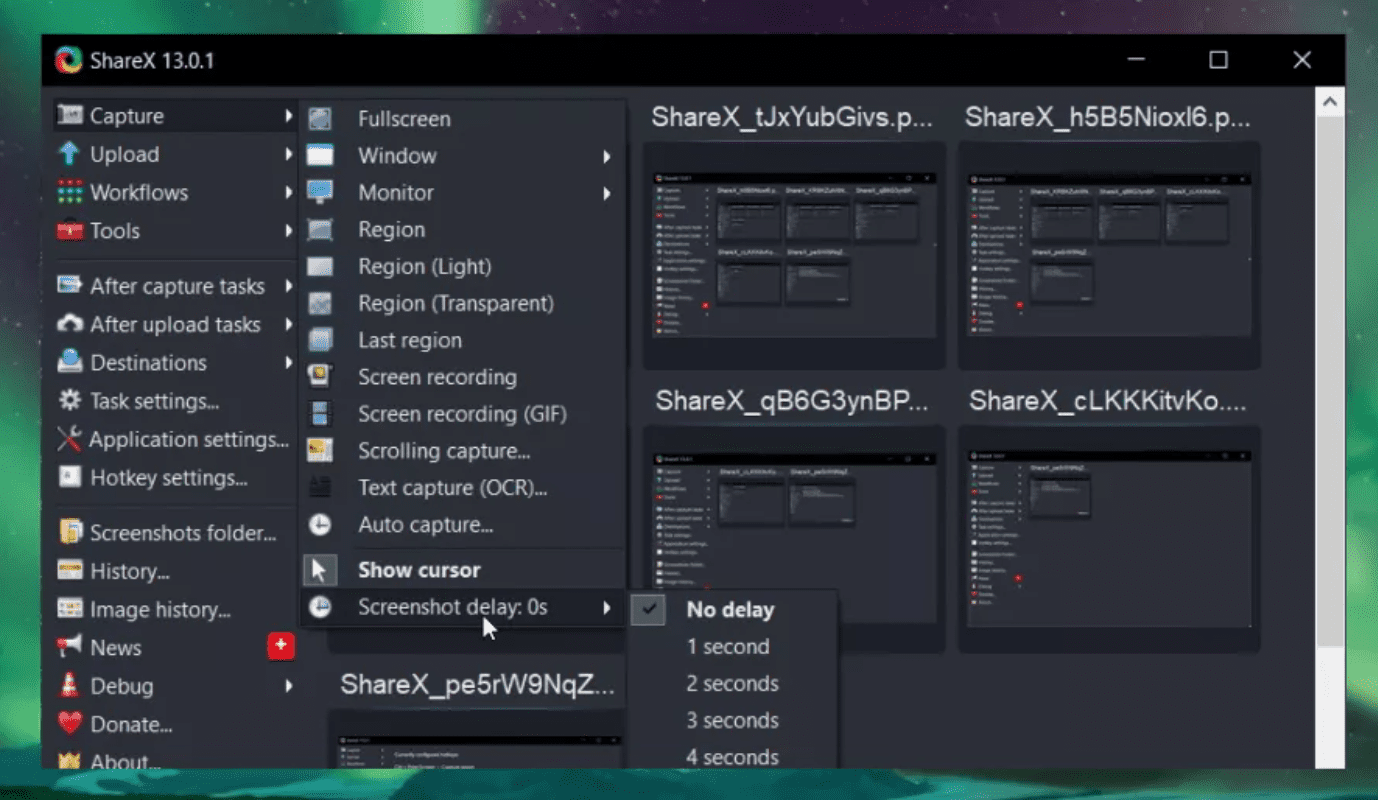 ShareX is a free, open source, and ad-free tool that has been in active development for over 13 years. Available for Windows users, it offers a variety of features and capabilities for a free tool.
ShareX provides a variety of screen capture methods including full-screen, windows, custom regions, and active window. You can also set a timer to delay the screen capture and decide whether to include the cursor or not.
One unique feature is the scrolling capture, which allows you to record as you're scrolling down the page. This is great for content that goes beyond the screen display. ShareX can also take a single screenshot from scrollable content, allowing you to keep it all in one file.
Another unique and valuable feature is the text capture. You can take a screenshot of text, and ShareX will extract the text from the screenshot using optical character recognition (OCR). Then, you can copy the text and use it as necessary, definitely coming in handy when you don't have time (or desire) to retype a bunch of text.
One of the best features of ShareX is that it supports over 80 different destinations, including image uploaders, text uploaders, file uploaders, URL shorteners, and URL sharing services like Facebook, Pinterest, Twitter, and Reddit.
Who it's best for: Windows users who want a simple, easy-to-use free OBS alternative.
Price: It's free!
7. Movavi Screen Recorder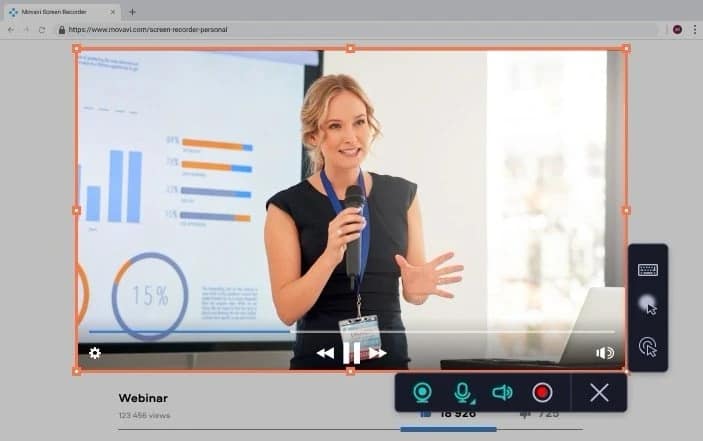 Movavi Screen Recorder is an intuitive screen recorder available for Windows and Mac. You choose what area of your screen to capture and adjust the recording settings to meet your needs. Then, hit record, and the software will start recording your desktop—or you can schedule a recording, choosing the date, time, and time limit for capturing.
Want to turn your screen recording into a full-fledged video? With Movavi, you get simple video editing tools that you can use to create your video and save the file in your desired format.
If you're recording a tutorial or how-to video, you might want to include keystrokes and the mouse in your recordings. With Movavi, you can show viewers your keyboard or set up the mouse display in your recording to walk them through the steps. You can also draw on the video during your tutorial.
Movavi isn't just for screen recording. You can also record audio only from your computer or microphone, completely separate from the screen recording. Capture webcam footage or take a photo using the webcam alone as well.
Use Movavi to create screencasts using your microphone, webcam, and computer audio. You can record the computer screen and audio separately or at the same time.
Who it's best for: Screen recording newbies and those who want advanced features without the complexities of professional grade software.
Price: Get started for free with options to upgrade to more feature-rich plans starting at $34.95/year.
8. XSplit Broadcaster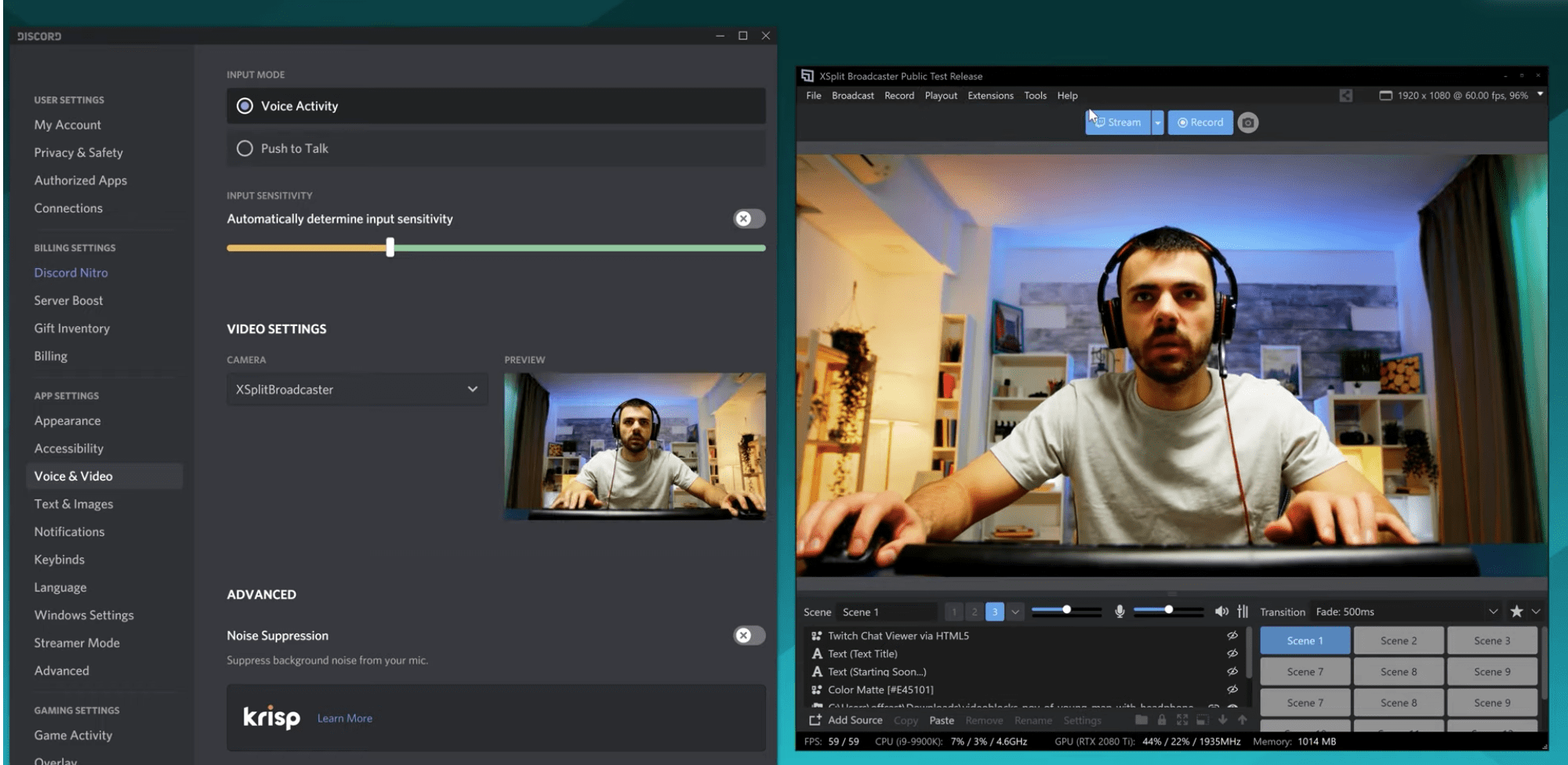 XSplit Broadcaster can be used as an exact replacement for OBS Studio because it offers both live streaming and recording capabilities. With many different customization options, XSplit Broadcaster is trusted by some of the biggest events in gaming and esports.
XSplit Broadcaster features a powerful user interface that allows you to customize all aspects of your recording. Add Skype calls with a click of a button or use the screen capture feature to capture your Zoom, Discord, or Teams calls. Drag, drop, and resize images, videos, GIFs and web pages.
Stream to any of the most popular broadcast platforms using the native plugins or a custom RTMP. You can stream and record multiple outputs simultaneously, including multiple audio tracks that you can adjust separately for each scene. Use the built-in chat plugins to keep the conversation going during the broadcast.
This software has some additional helpful features for events. Add different animations and broadcast effects to your scenes as well as custom transitions. You can also reduce unwanted background noise in the app and project any scene to another monitor or display.
Create a media slideshow by looping multiple images or videos to create your away screen. This is also a great feature to use when you want to show your appreciation for or thank your event sponsors and supporters.
Who it's best for: People who want more customization options and those who plan on running virtual live events.
Price: Get started for free with the option to get Broadcaster Premium for $15/month
9. Streamlabs OBS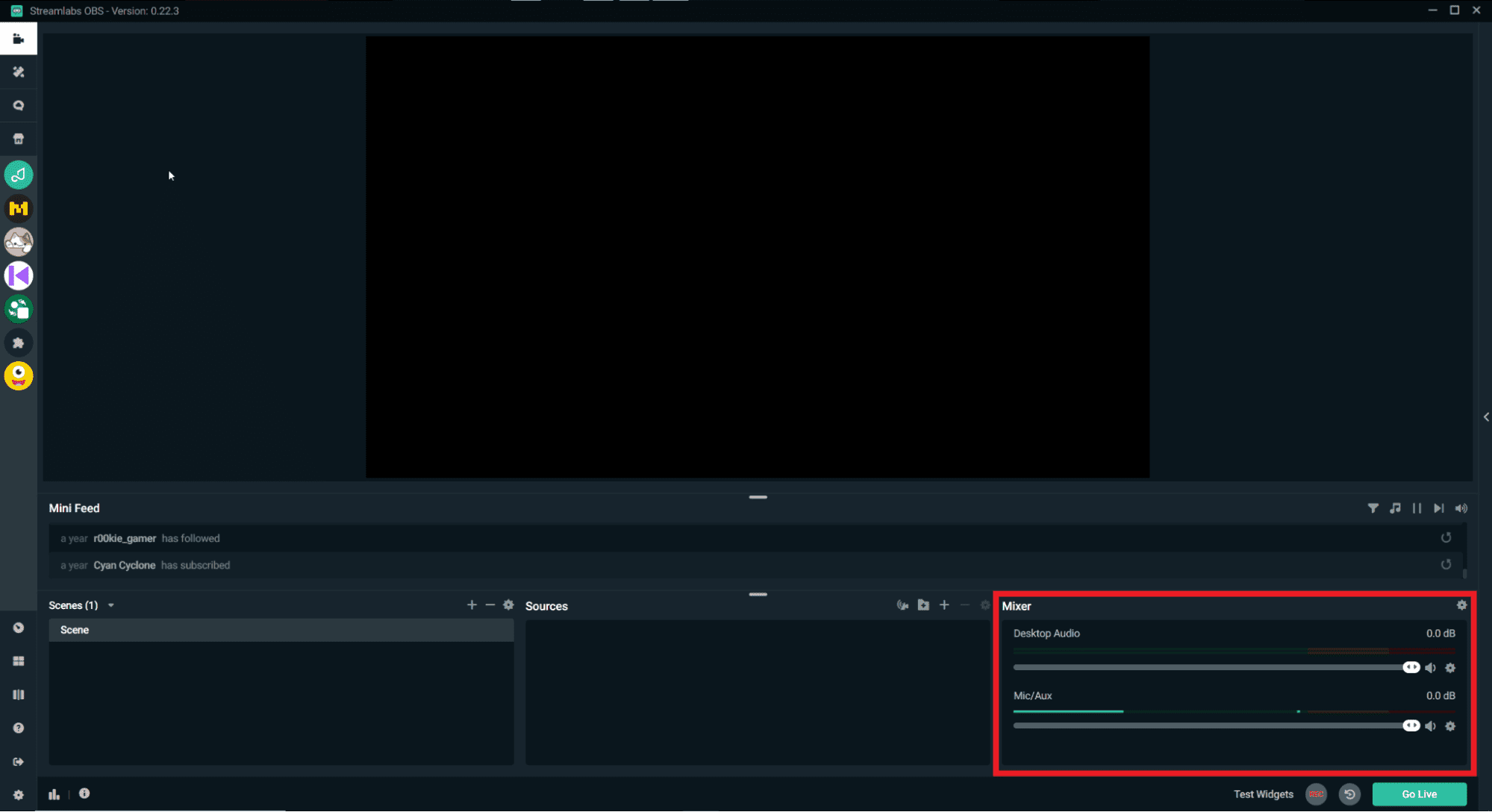 Streamlabs OBS is a free, open source live streaming and recording software available for Mac. With this software, you can broadcast your live stream directly to Twitch, YouTube, and Facebook, making it popular for gamers and live event organizers.
With Streamlabs OBS, you decide what your dashboard looks like. Personalize your experience with the layout editor. Drag and drop elements to create a unique user interface where everything you need is front and center.
You have control over your recording. Choose which sources you want to appear in your recording. For instance, you might have the alert box, event list, and chat box appear in your livestream for in-the-moment engagement, but leave it off your recording to avoid distraction.
Gamers have the replay buffer to quickly and easily save replays of their live streams or replay clips for viewers. Streamlabs OBS also offers dynamic in-game overlay for single monitors, allowing you to view recent events and the chat box all on one screen.
Want to create a highlight reel for your live stream or event? Use Streamlabs' free video editing tool to easily edit and create highlight videos—no video editing experience necessary.
Who it's best for: Mac users and gamers who want a one-to-one replacement for OBS Studio without the steep learning curve.
Price: It's free!
10. Lightstream Studio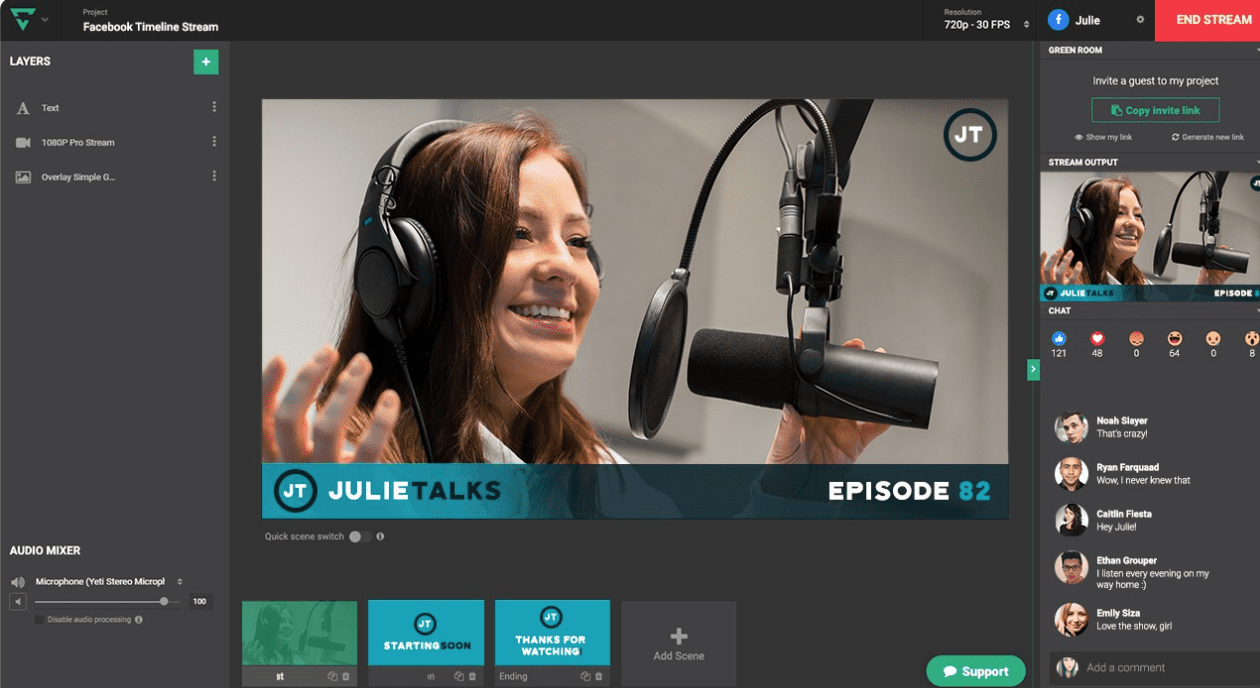 Lightstream Studio markets itself as a tool that makes advanced live streaming simple. And it's easy to see why. Lightstream offers cloud-powered broadcasting that allows you to go live in minutes with just a computer and an Internet connection. Just select your destination, click "Go Live," and start streaming!
Lightstream Studio is built for console gamers and creators who want a quick and easy way to live stream without sacrificing customization features. All you have to do is access the tool from your browser, no downloads necessary. When you're ready, you can go live on Facebook, YouTube, or Twitch in just a few clicks.
With Lightstream Studio, you can build your ideal stream as you have unrestricted control on where things are laid out. Create unlimited projects, scenes, and layouts for your streams so they look exactly the way you want them to.
Engage your audience during the livestream using third-party integrations. Make use of on-stream alerts, motion graphics, and social media messaging to keep your audience engaged and interacting during the stream.
Get a remote control for your stream. You can use your mobile device to start and stop your streams or switch scenes. This is a great option for those who are streaming from a location that's not right at your computer.
Lightstream Studio also features high fidelity audio capture so you can sound as good as you look. This is ideal for musicians or talk show and podcast hosts for whom audio quality is equally important.
Inviting guests is as easy as sharing a link. Guests will wait in your "Green Room," until you add them to the stream. You control access all from the studio.
Who it's best for: Those looking for a browser-based OBS alternative that offers customization for live streaming.
Price: Get a 7-day free trial with plans starting at $7/month billed annually.
11. StreamYard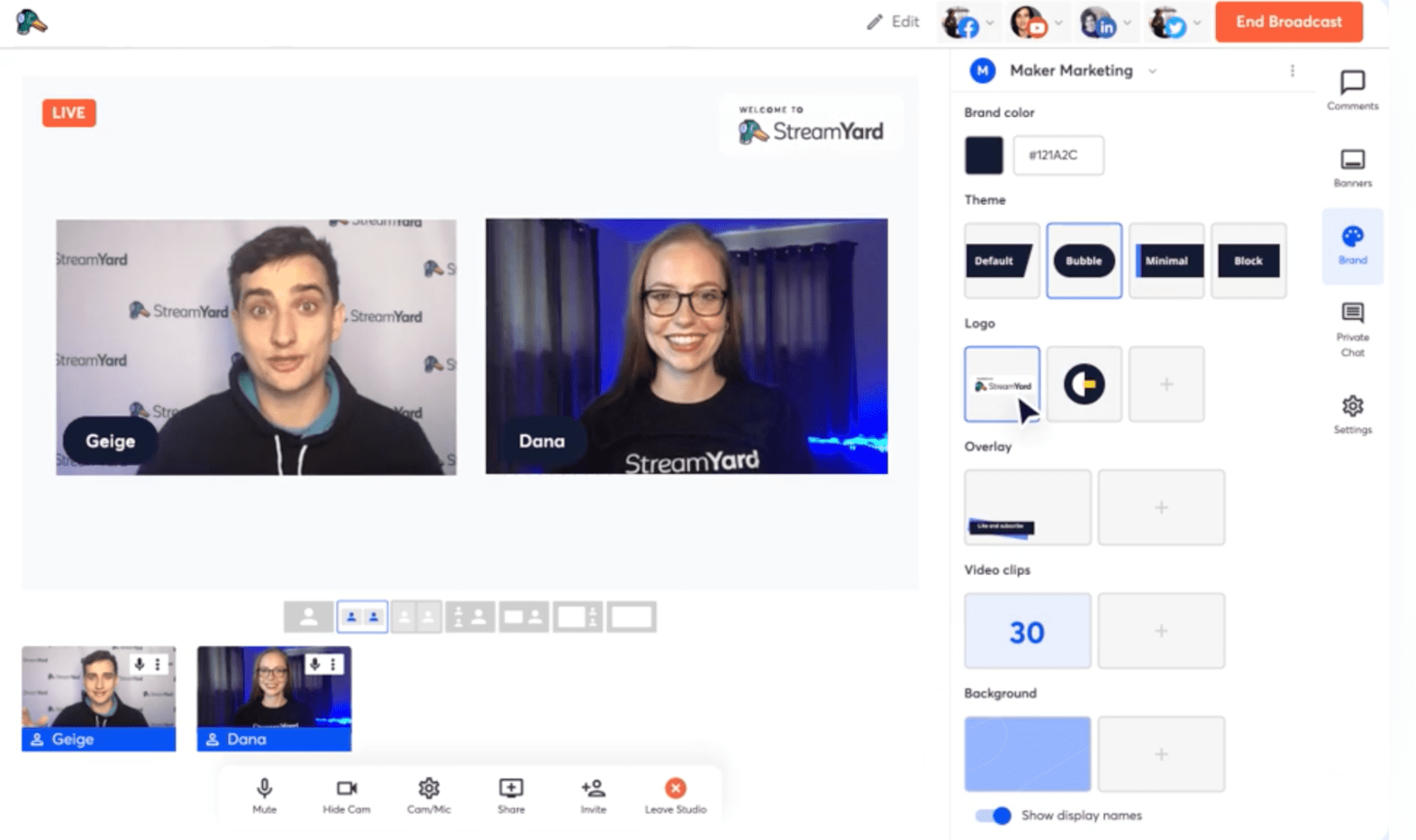 StreamYard is a browser-based live streaming studio that makes streaming easy, stable, and professional. This platform allows you to customize your streams so that they are on-brand, making it ideal for brands and organizations as well as individuals.
For people holding webinars, conferences, talk shows, or podcasts, StreamYard is a great option for hosting guests. Invite guests to the studio in one click, allowing them to join from any device—no downloads necessary. You can broadcast with up to 10 people on screen with the option to have more backstage.
Stream live on up to 8 social media channels at once right from your browser. The platform allows you to seamlessly go live on Facebook, YouTube, Linkedin, Twitter, Twitch, and RTMP outputs simultaneously. You can share comments and give shoutouts to viewers across platforms.
StreamYard also offers all the tools you need to interact with your audience (and allow them to interact with you!) Highlight comments that come in from various platforms, answer questions, and spotlight viewers to make your audience feel like they're part of the conversation. You can even invite audience members on screen during your live stream to be guests. All you have to do is share your link.
Use the giveaway tool to host a live contest during your show that viewers can enter simply by commenting on your live stream. This is a great way to encourage participation and build loyalty. The giveaway tool chooses a winner at random from all of the participants who comment on your stream.
Who it's best for: Live talk show and podcast hosts who want to easily host guests on their show and increase audience engagement.
Price: There's a free plan available with paid plans starting at $20/month billed annually.
12. Vimeo Livestream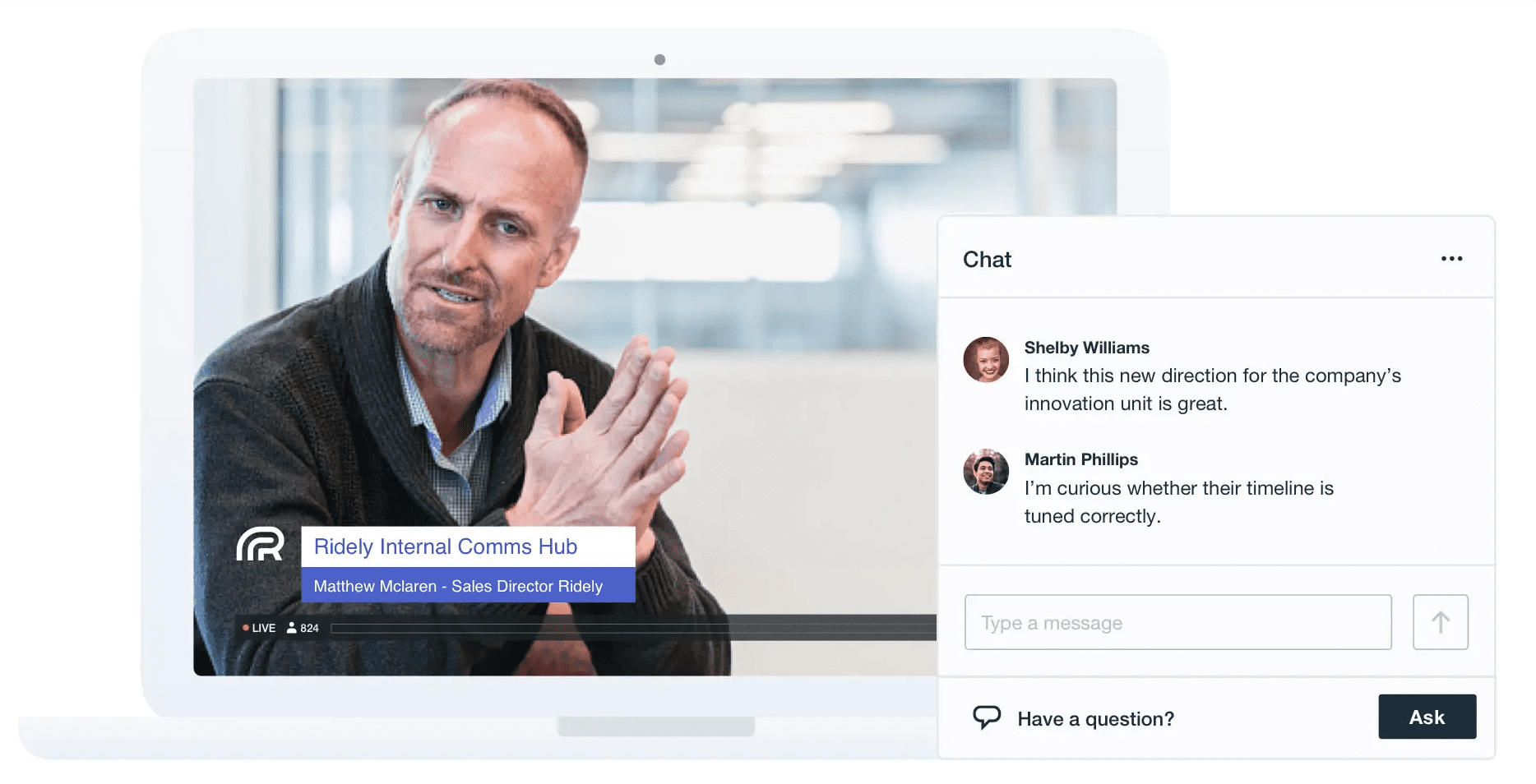 Vimeo Livestream is a live streaming solution that's now a part of popular video hosting and sharing platform, Vimeo. Their live streaming solutions are feature-rich, offering options for corporate, conferences and events, meetings, subscription channels, and more.
If you want to reach your audience in real time, Vimeo Livestream allows you to live stream your conference, webinar, or meeting to people anywhere in the world. You can stream from any device to your website or social media platforms, simultaneously streaming across channels.
With adaptive streaming, Livestream allows you to provide viewers with the best video quality possible across devices, even with a limited bandwidth.
One unique thing about Livestream is that it allows you to monetize your streams, which is ideal for anyone hosting a conference, webinar, or other event. You can do a pay-per-view model through an OTT subscription service.
Create custom registration forms for your events to gather audience information. You can also include engaging visual content by adding lower-thirds, transitions, logos, and chapter markers.
Add interactive elements to your livestream like a moderated chat, Q&A, or live poll. Use calls-to-action to direct viewers to additional relevant content in your library, and capture email addresses at opportune moments during your stream.
You can centralize all of your live and on-demand video in one, secure place where viewers can access at any time. You can even monetize your video library.
Who it's best for: Vimeo users who want to livestream and organizations that plan to hold live virtual events or monetize their video.
Price: To use the Livestream, you need to have a Vimeo Premium account which costs $75/month billed annually.
How to pick the best OBS alternative for you
Choosing the best OBS alternative for you will depend on what features and functionality you're looking for.
If you're looking for something that matches up with OBS one-to-one, you might try XSplit Broadcaster or Streamlabs OBS. If you just want a screen recorder, Camtasia, Bandicam Screen Recorder, and Screencast-O-Matic might be the best fit for you. If you're just looking for live streaming, StreamYard and Vimeo Livestream are excellent options.
Looking for different OBS alternatives? Be sure to browse AppSumo deals to see what new video software we've got deals on this month!