Marketing
8 Marketing Strategies to Implement in 2023
Growth.
When it comes down to it—it's all a small business really needs to care about. It's the commonly desired outcome that underlies every strategy, every objective, and every KPI of basically any business.
So why is it so hard to achieve?
For small businesses and freelancers, it may feel as though growth is only accessible if you can get your hands on huge piles of cash.
We're here to tell you that's not the case, thankfully.
Growth marketing has emerged as a potent practice for business growth in recent years, utilizing data and digital tools to identify and act on high-return marketing opportunities.
But what is it, really? Why is it so powerful, and what are the strongest, most foundational growth marketing strategies you can implement today to multiply your business's bottom line?
What is growth marketing?
Though you've probably heard the term slung around, growth marketing (also sometimes called growth hacking) is still a relatively new practice.
The approach marries the existing body of work around the theory of marketing with the use of digital analysis and tools. Combined, you can garner insights on where and how to most effectively achieve rapid, scalable growth—which is the highest goal of any growth marketer.
In this way, growth marketing is as much a management philosophy as it is a business practice.
Companies like Airbnb and Uber are good examples of the ideal of growth marketing.
They both prioritized aggressive growth, reach, and influence in their earlier years over traditional business metrics like profitability and having a positive balance sheet.
Of course, the results were mixed. But there's no denying the effectiveness of the approach in getting their services out there to a global audience and making their respective founders very wealthy.
Why do you need it?
So why should you consider growth marketing over the tried-and-tested legacy marketing approach?
For starters, your competition is likely on board the growth marketing hype train—and not just because it's trendy. In business, if an approach is effective, it will be used against you.
And growth marketing is certainly effective. At this point, no one would deny the utility of SEO (search engine optimization), email marketing, and A/B testing—all of which are growth marketing tools.
To help you on your journey, here are 8 easy-to-implement, high-return growth marketing strategies used by small businesses to achieve insane growth.
8 effective growth marketing strategies for small businesses
1. Leverage user-generated content
Here's yet another acronym to add to your business dictionary: UGC.
UGC, or user-generated content, is what it sounds like—material generated by consumers relating to the brand or company.
The most common examples of UGC include user reviews of products, pictures or video stories of the product experience on social media, or testimonials.
Clever marketers can repurpose this content in their own marketing communications, which is not only cost and time-effective but also offers several unique benefits.
One major benefit is an enhanced feeling of authenticity. Audiences absorb positive sentiments about a company to a greater degree when it's coming directly from real people like themselves.
The most famous example comes from Starbucks, which challenged its customers to design their own versions of the company's red cups with the hashtag #RedCupArt, with far-reaching results.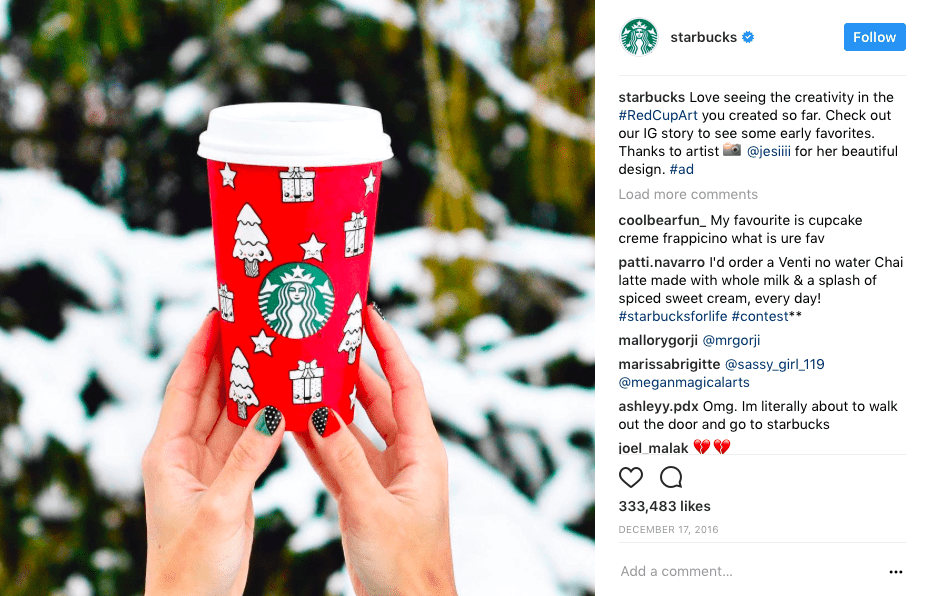 Thousands of posts from customers eager to get their designs featured were generated as a result of this challenge. That left Starbucks with a lot of marketing material at the sweet cost of zero dollars.
EmbedSocial suggests that 93% of marketers who practice both UGC and non-UGC techniques agree that UGC content performed better than traditional branded content on social media.
How might your business do the same? Alternatively, consider whether your enterprise already has UGC at the ready that you just haven't utilized in your marketing yet. This could be something like product reviews or customer images.
2. Hyper-personalize your campaigns
The mass marketing approach is a privilege awarded to companies with products and services broad enough to be targeted to anyone at all. Think Coke, for example.
Chances are, this isn't a viable option for your business. So flip it on its head—what about micro-marketing?
Micro-marketing is the practice of adjusting your marketing communications to suit the needs and preferences of an increasingly smaller group of people.
The idea is that the smaller the group of people, the more personal you can make your communications. And more personal communications indicate true familiarity, care, and attention. This leads to a greater response.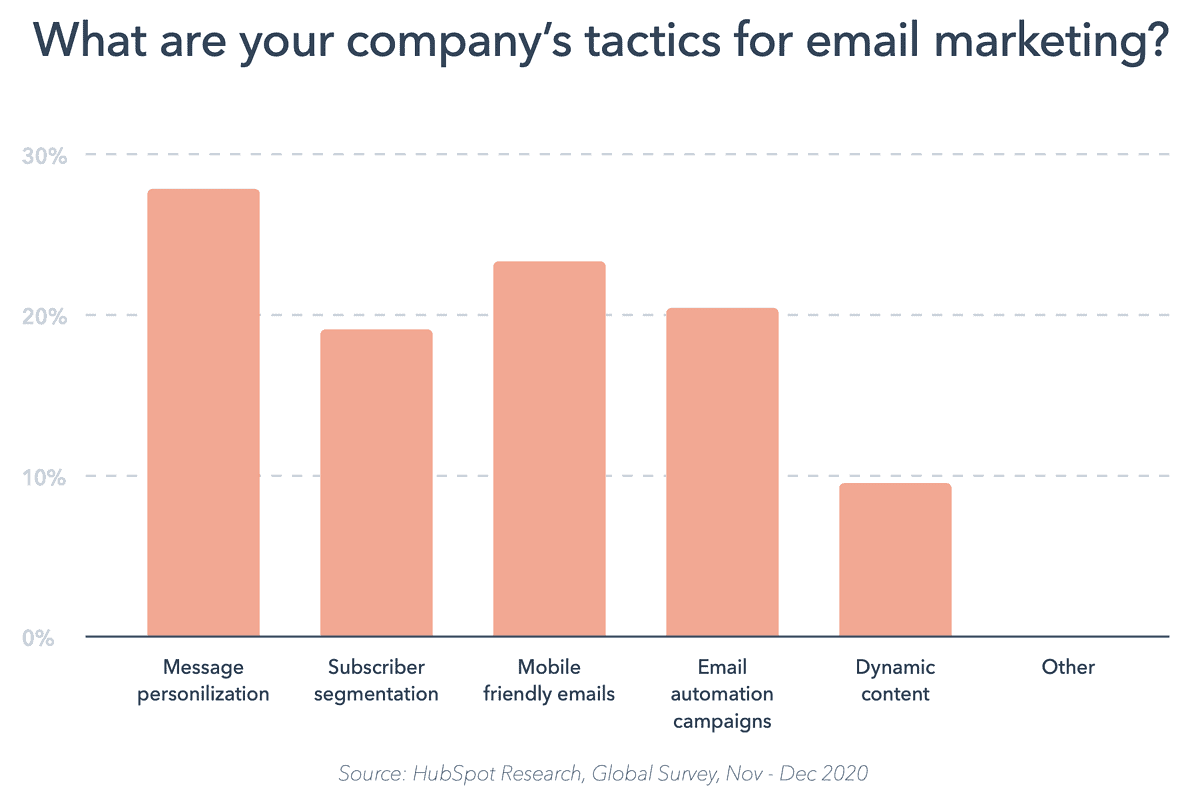 This is why 99% of marketers say that personalization helps enhance customer relationships.
But how do you go about making your marketing hyper-personal?
It starts with great CRM (customer relationship management) software. This is software that collates data collected from customers into a database where meaningful insights can be identified.
For example, Salesforce lead scoring ranks prospective customers to assess their viability in the sales funnel. With the highest-ranking leads identified, you can then craft highly-targeted campaigns directed to them that draw from their preferences, purchase behaviors, and other elements to increase the chances of conversion and retention—key growth metrics.
3. Practice omnichannel marketing
Omnichannel marketing is the practice of crafting seamless customer experiences across a multitude of marketing channels.
Distinct from simply running your communications across several channels, omnichannel marketing aims to offer individual customers the same repeatable and reliable purchasing experience they'd get on your primary channel (say, your ecommerce site) across all the other touchpoints of your business.
For example, if you were running a price promotion campaign across print and digital channels, an omnichannel approach would seek to synchronize the percentage discount, creative materials, copy, and landing page to each other. This offers a consistent experience regardless of where the customer is acquired.
In practice, doing omnichannel right is simple enough. You can synchronize creative content across your business by using talented copywriters, for example.
The real challenge comes from instituting an omnichannel approach from within the operational departments of the business. But, if you can achieve that, you stand to benefit by satisfying customers equally no matter the source, leading to far greater positive word-of-mouth, and hopefully, growth.
Benefit how much, exactly? Well, Omnisend identified a 287% greater purchase rate with omnichannel campaigns compared to single-channel in their research.
4. Create relevant content regularly
If you're like most entrepreneurs, you probably think of content production as a necessary evil.
It requires constant input and attention, the return on investment isn't immediate, and it likely means you're going to have to spend a lot of time updating your social media pages.
But, when done right, producing content your customers value is a sure-fire way of increasing brand familiarity, multiplying conversions, and unlocking foundational growth.
Content production shows authority on a subject, engages prospective customers, and ranks you higher in search and discovery.
Look at how this language tutoring company uses content to its advantage.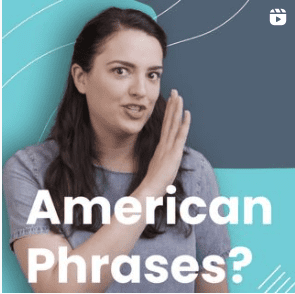 By offering bite-size snippets of genuinely valuable content to its language-learning audience (this example teaches some common American conversational phrases), they turn what is typically used as a pure advertising channel into a place to engage, learn from, and share with other language users—AKA, other prospective customers.
5. Repurpose old content
Speaking of content, you don't have to go hiring a social media agency and hiring content marketers to offer something truly valuable to your audience
Instead, why not go through the archives?
If your business direction hasn't changed beyond recognition, then you likely have a treasure-trove of content ready to be dusted off and repurposed for new growth.
Could that old blog that still has strong search intent be split into a series of social media posts?
What about that infographic you commissioned, could you turn it into a video to support your YouTube presence?
Repurposing content is great for a cash-strapped business, as it can often be done without the use of professional help. If you are repurposing images from previous campaigns, you can even use a free online photo editor to avoid paying someone to do it. If done correctly, it won't be perceived as old by the audience.
6. Invest in white-hat SEO and link building
If you're not familiar with the intricacies of SEO and link-building, we get it.
It's complex, somewhat mysterious, and subject to constant change.
This is why it's probably a good idea to outsource it to experienced, trusted professionals.
It's expensive but totally worth the investment. Performed correctly and consistently, white-hat SEO and link building are reliable methods for getting your business to the top of Google's first one for key search terms.
"White-hat" is Google's term for SEO that is above board. It's fair, compliant with Google's guidelines, and conducted in a way that benefits users. Practices like link and keyword-stuffing, or using automated link-building software are "black-hat" examples, and they could cause you to incur penalties.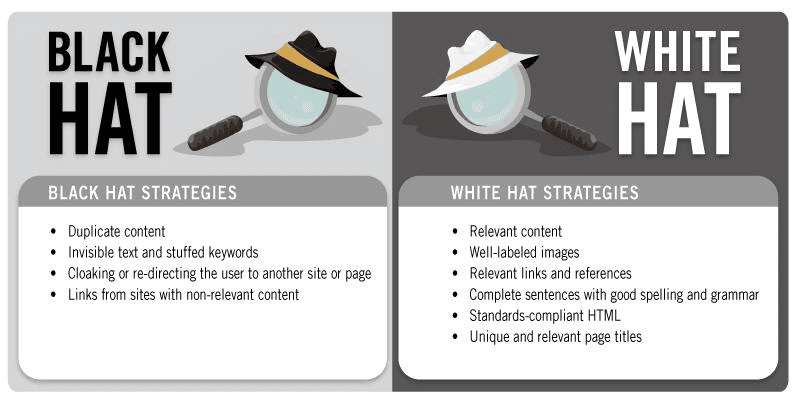 Here's some insight from Justin Grossbard, the co-founder of the foreign exchange market comparison company Compare Forex Brokers on the power of link-building.
"If you want to grow your business it is helpful to develop yourself as an expert in your field. Stay knowledgeable on your market and contribute guest posts or quotes to other websites that will link back to your business. That is why I am constantly educating myself and offering insights on the foreign exchange market."
7. Offer something free and valuable
This may seem old-hat to you entrepreneurs who've been in the game for a while, but its long-term usage does nothing to reduce its effectiveness.
People love free stuff. Maybe now more than ever.
There are a million ways to do this, from free trials to welcome gifts, promotional stationery, high-end branded gifts and basically just giving your product away for free.
The power and efficiency of giving away free promotional products can be truly astonishing in terms of impressions. An ASI report suggests that a branded pen that costs $1 will be kept for an average of nine months and generate 3,000 impressions. That's 1/10th of a cent per impression.
You can slap your logo on any number of white-label products destined for promotional giveaways. But there are a few tips and tricks here to maximize their effectiveness.
First, give something that has high utility. Bags, pens, and clothing are all good examples, as they can and probably will be used a lot over time.
However, when designing your promotional products it is essential that you brand it properly. There is no point in investing in merchandise if everyday people do not recognize and remember your brand. That is why it's recommended to use a combination mark logo in these cases, as visuals and words together offer multiple visual cues that increase retention of the logo in people's memories.

8. Work with micro-influencers and affiliates
We spend most of our time hammering home our company's messaging to our existing and target audiences.
The thing is, you're often preaching to the choir. Being comfortable and preaching to your existing audience won't lead to the kind of explosive growth you're looking for here.
So, instead, why not leverage an existing audience by working with micro-influencers and affiliates?
They've worked hard to build a large number of highly-engaged fans, and if your niche overlaps with theirs in some meaningful way, collaboration is all it would take to reap the benefits of their tireless efforts (and vice-versa).
For example, see how these travel nursing agencies partnered with nursing career guidance company BetterNurse to take advantage of its audience (professional or trainee nurses).
By being featured on a webpage where nurses from around the world congregate, they have effectively created an onboarding funnel.
But that's not all—BetterNurse benefits from this as well by earning a referral fee for every nurse who signs up.
Think about how you can work with influencers and affiliates—maybe you could turn your fiercest competitor into your closest ally.
Unlocking growth
If there are a thousand ways to skin a cat, then there are at least a million ways to grow your business.
Putting growth at the top of your priorities (even over profitability) is a worthy strategy that has paid off for some of the world's most influential companies.
Be creative, don't be afraid to try new things, and understand that explosive growth could be one under-examined strategy away.